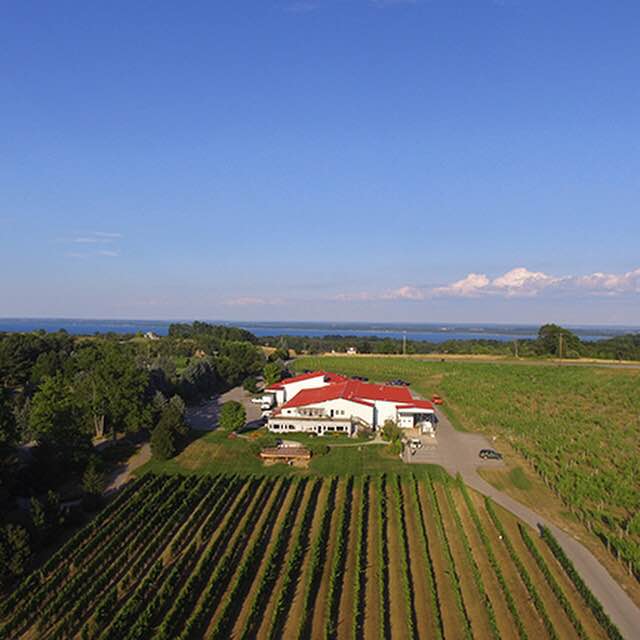 Michigan Vineyards 360-Degree Video is a combination of video sequences from six wineries in the Traverse City, Michigan area with narration by Dan Matthies of Chateau Fontaine. We also interviewed Eddie O'Keefe of Chateau Grand Traverse, his brother, Sean O'Keefe of Mari, Kasey Wierzba of Shady Lane, Cornel Oliver of 2 Lads Winery and visited Black Star Farms.
The video was filmed on a Ricoh Theta 360 camera. One can explore YouTube's Virtual Reality content on a computer or an iOS or Android device.
When viewing through a browser, press the arrows in the navigation circle in the top-left corner or use the cursor to grab and pull on the video image. The experience is best if using a mobile device. One can see a 360-degree version of the video by physically moving the phone or tablet around in all directions. The experienced VR user can use google cardboard VR device or a more sophisticated VR device - to do this go directly to the YouTube page.
We also will post more traditionally filmed interviews with Traverse City winemakers over the next few months. That the region is starting to receive critical attention for its Riesling is evidenced by its getting a full chapter dedicated to its wines in Stuart Pigott's recent book The Best Wine on Earth: The Riesling Story.
This video is Grape Collective's first experiment with 360-degree video. The format is intriguing. There is something very exciting about being able to virtually walk through a vineyard with a winemaker as he tells the story of the regions and its wines. We are also excited about the potential use of this immersive 360-degree video experienceat the Grape Collective's Wine Studio - our multi-use media and retail space on the Upper West Side of Manhattan where we hold tastings, show soil samples from the vineyards and video interviews and distribute printed stories.
We were inspired to try our hand at 360-degree videos by wine journalist and Grape Collective contributor Amanda Barnes. Check out her 360-degree videos on http://www.aroundtheworldin80harvests.com/
For more on Michigan wine, check out Dorothy Gaiter's column on Left Foot Charley