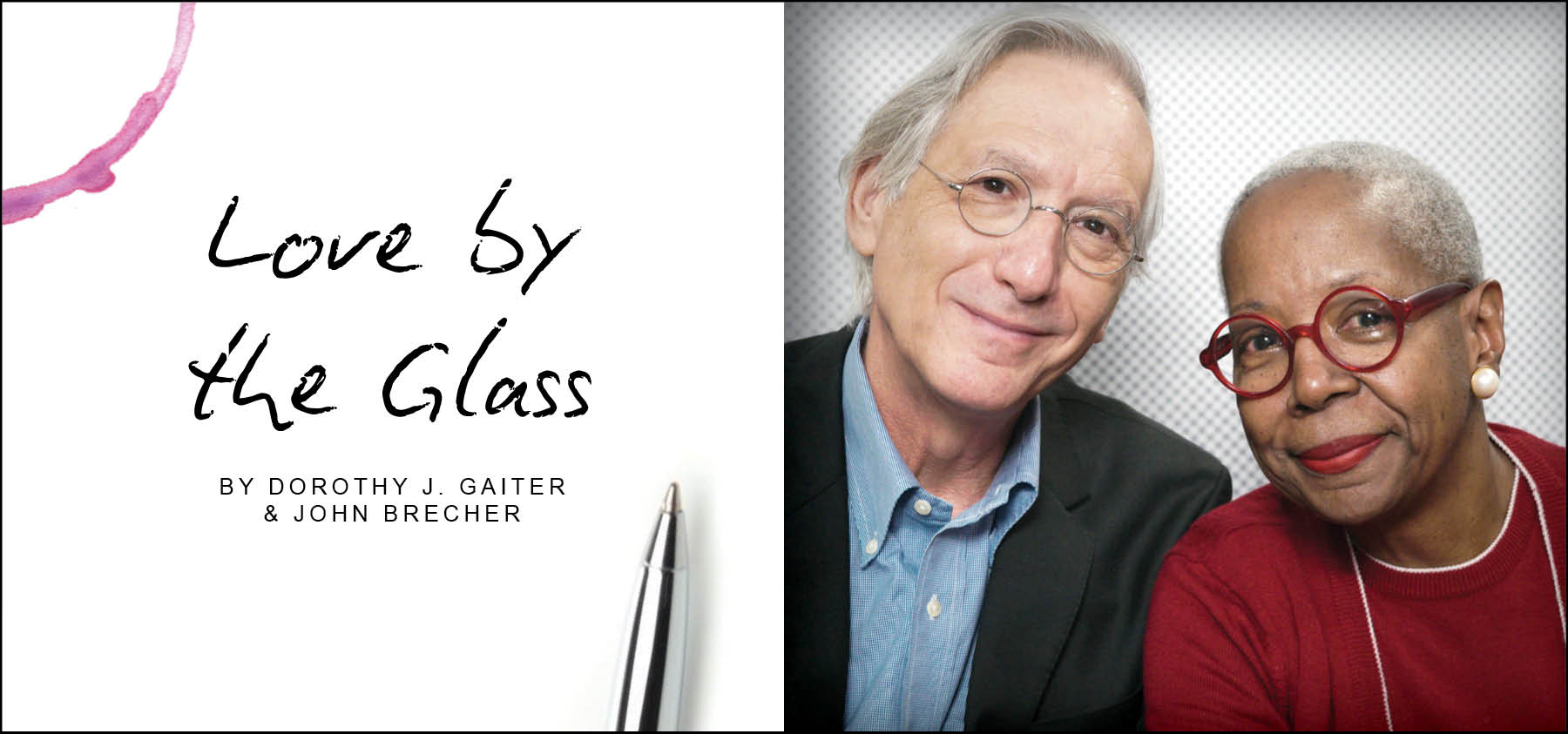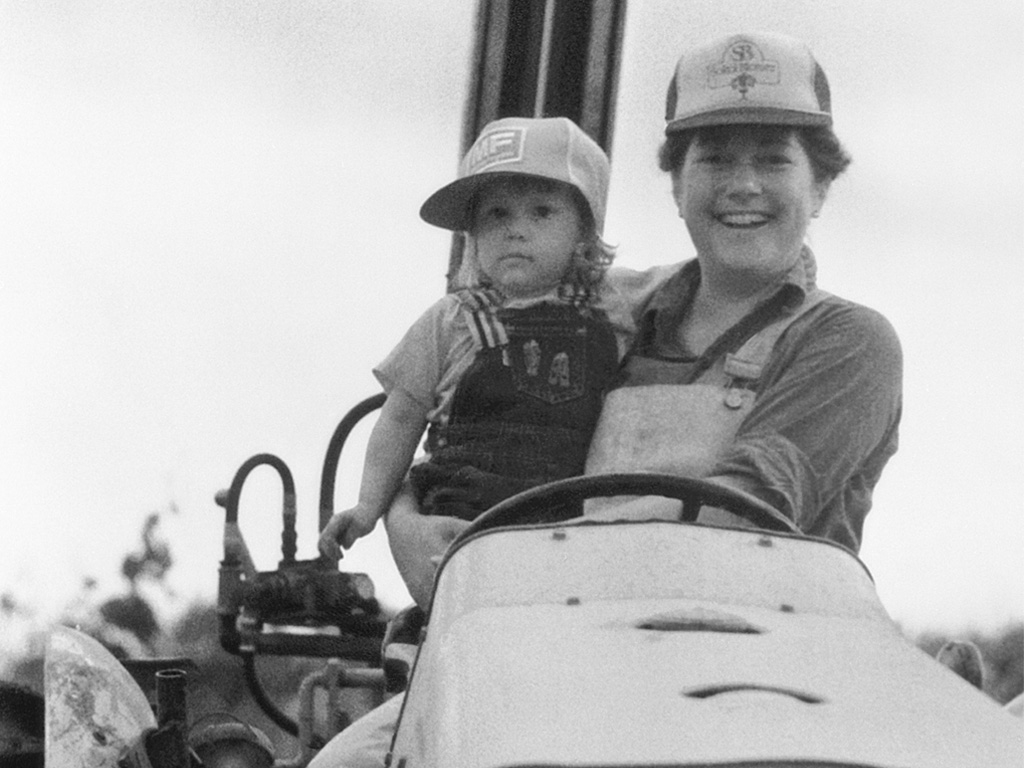 The Oregon wine industry has been growing so fast and so beautifully. And then the fires hit, killing at least 10, burning about a million acres and leaving unprecedented damage. We wondered how the wineries and their communities were faring, so we turned to a pioneer, Susan Sokol Blosser, who founded Sokol Blosser Winery in 1971 with her then-husband Bill Blosser in what later became the Dundee Hills AVA of the Willamette Valley. She has been deeply involved in the industry ever since.
Sokol Blosser, Eyrie, Adelsheim, Erath, Ponzi -- these were the first wines from Oregon we tasted in the late '70s, when the industry was new. We discovered them on layovers in Portland on train trips, long before we ever wrote about wine. We first met Susan in 1998. After all these years, Sokol Blosser continues to be a name to look for, especially for Pinot Noir and Pinot Gris.
(Susan Sokol Blosser with Alison Sokol Blosser aged two and a half)
A few portions of the Willamette Valley have experienced wildfires this year. The regions to the south have been most seriously affected. The state has had traumatizing experiences with wildfires over the years – and their aftermath. As our talk with Sokol Blosser, 75, shows, there has been a rolling effect statewide from the fires as communities have mobilized to help the great many people in need and to address pressing issues in the wine industry related to the fires. And once again, members of the wine industry have come together to help each other. Last year, after a large buyer of contracted grapes refused about 2,000 tons, claiming they were ruined by smoke taint, winemakers came together and established the Oregon Solidarity Project, which made and sold wine from those grapes, giving profits to the growers.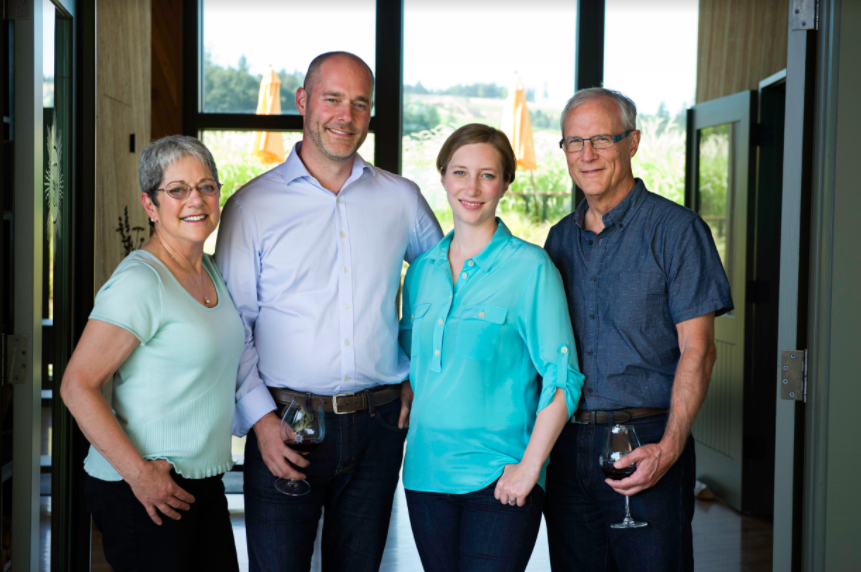 The owner of Simple Machine Winery in southern Oregon reported earlier this month that fires destroyed his winery and 12,000 bottles of wine. Neighboring wineries and vineyard owners have donated grapes to Simple Machine and offered the use of their wineries to make a 2020 vintage, according to The Oregonian.
(Susan Sokol Blosser, son Alex Sokol Blosser and daughter Alison Sokol Blosser and co-founder Bill Blosser, photo by Carolyn Wells-Kramer)
It's not just Oregon, of course. California and Washington have also been hard-hit. The three-state death toll at midweek was 35 and expected to grow and for a couple days cloudy remnants of the acrid smoke that was choking the West Coast carried clear to the East Coast. When we asked Sokol Blosser, "In all of your years, did you ever imagine something like this would ever happen?" she responded: "Well, no, not fire. In the early days, the biggest worry we had was rain and cold, but now we harvest a month earlier than we did when we started because of climate change. So birds decimated the crop. We had rain ruining the crop back then. Those were big worries for us."
Susan Sokol Blosser in 1991 took over the title of president of the now 125-acre, 90,000-case estate when Bill, who had worked as a planner, returned to planning. In 2008, their two younger children, Alex, now 47, and Alison, 40, became co-presidents. Alex is also head winemaker and Alison is also CEO. Bill, 76, is chairman of the board and the couple's eldest child, Nik, 50, an expert on public policy, is a board member. Nik Blosser has been Oregon Gov. Kate Brown's chief of staff since 2017. Here are excerpts from our conversation with Susan Sokol Blosser, which have been edited for space.
How are you and your family doing?
Well, we're doing well, but Mother Nature has stopped sending us gentle hints. She's really smacked us on the side of our heads to get our attention. That's my feeling. This has Biblical proportions where if you look nationally, it's fire, flood, pestilence and drought. It's the apocalypse. And then what actually put me over the top was to find out that Ruth Bader Ginsburg died. I've been pretty distracted since then. I've spent all morning making donations to various candidates. I have a book called "Rage Baking," which I just love.
What happens now?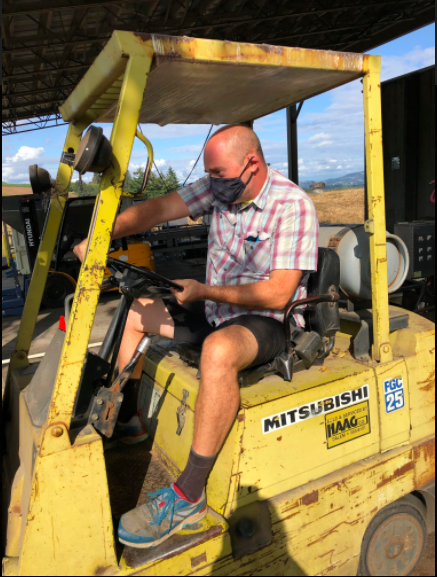 Alex has now been winemaker for over a decade and he said, "Well, smoke is one more thing that winemakers in Oregon have to watch out for in addition to rain and heat." And so they are. In the winery, they're taking measures to reduce [grape] skin contact. The Oregon winemakers are as a group getting together and talking about options and what they can do.
One of the things that comes from the early days of the Oregon wine experience is collaboration. If I had to have three words, I would say collaboration, perseverance and resilience. And this is collaboration among the winemakers and collaboration with Oregon State University, which has started testing on smoke effects on wine in different parts of the state. Southern Oregon has been hit much worse than we have in the Willamette Valley. For us at Sokol Blosser, we have had smoke haze, but we have not been near the fire.
(Alex Sokol Blosser, He's co-president and winemaker and Alison is co-president and CEO.)
How is the wine community coping? Farmers are a hearty lot, but this?
We will get through this. We will put one foot in front of the other. There's going to be another year. I think we passed that on to our kids because that's the skill set that has gotten them through this very difficult time. When everything closed down, Alison had to lay off 14 of our 50 people. It was heartbreaking. She had tears in her eyes as she was doing it.
How has COVID-19 affected your winery?
The state of Oregon, the governor, has an initiative to give masks to every agriculture worker at no charge, to every agricultural employee. We're in the middle of harvest and we don't want to lose our key labor supply, who are mainly Latinx. Luis Hernandez, our vineyard manager, has been with us since 1988. I hired him as a tractor driver and at the time he was a skinny kid, unmarried. Today, he is a contractor who has a whole group of workers and he's building his retirement home. Really, the upward mobile story, a wonderful guy. Anyway, he's decided because of the danger of COVID and how it is affecting the Latinx population, he's not hiring extra pickers. He's just using his main crew and so that has affected how fast we can pick. So this is all the way down the line.
We're feeling the effects of COVID, the effects of everything that has happened. We just had a big rain event which helped move the smoke out, but that's hard on the grapes. At times like this, you want to bring in a big crew and get everything off [the vines], but he can't do that so we are limited to how much we can pick so there's a lot of effects here that we're dealing with and we're just working around it to make it work and that's what everyone is doing. We're not alone in that.
With everything that's happening, how is business?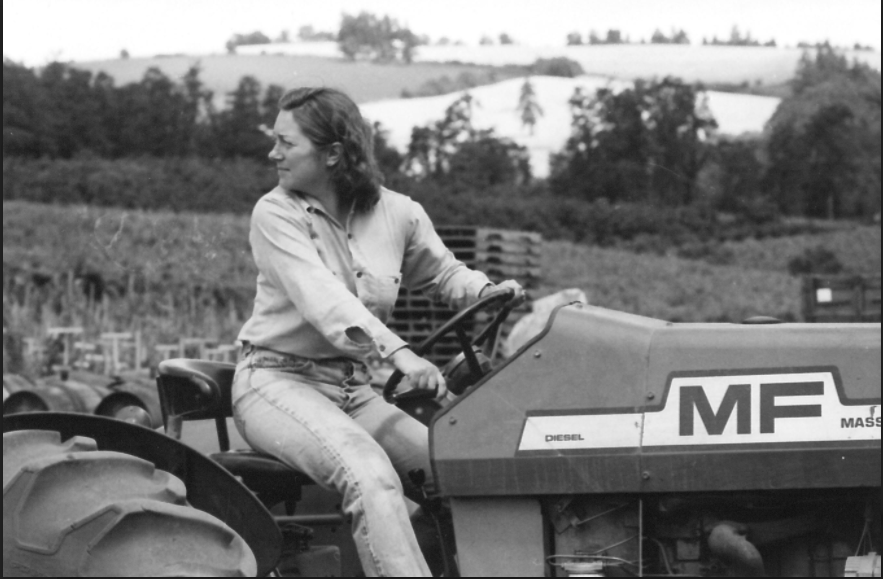 With lockdown, particularly on-premises had totally dried up in Oregon. Our tasting room was closed for months but is open now with very limited capacity. What's so interesting is that sales are up. It is great. A lot has been retail and direct-to-consumer. We deliver wine, we have pick-up. We work very hard to get this. That's what I think of when I talk about pivoting and perseverance. This is going to push people to persevere and to move with the changes. Pivot is a new favorite word. To adjust to the circumstances and keep going. That's what I see my kids doing and I'm just terribly proud of them. Because they're not just licking their wounds. They're saying OK, this is what we're dealing with, this is what we've got to do. I think this has happened throughout the wine industry.
(Susan Sokol Blosser)
Restaurants have gone out of their way to give food to particularly the hospitality workers or just anyone in the wine industry who has lost their job or been laid off. I know about this partly because the Dundee Hills Winery Association worked with three different restaurants in Yamhill County and got donations and bought meals from the restaurants, $20 a meal, and gave those meals to laid-off industry folks.
They asked my nonprofit, the Yamhill Enrichment Society, or YES, which is a 501c3, to be the fiscal agent so that people who donated could make it a tax write-off. The mission of YES is to transform the lives of Yamhill County children through literacy and music enrichment. It's been a really exciting experience making a difference in the lives of Yamhill County children. Yamhill County is a relatively poor community. The more we can do for these children the better off these kids will be.
Oregon's wine industry has been on an upward trajectory. When you and Bill planted your first vines in 1971, there were a handful of wineries. Now there are more than 700. Will this stall the industry's development?
We are cautiously optimistic. But that is the same term that I've used for the last 50 years because you never know what's going to happen and I've always lived by the mantra that crisis is opportunity.
Dorothy J. Gaiter and John Brecher conceived and wrote The Wall Street Journal's wine column, "Tastings," from 1998 to 2010. Dorothy and John have been tasting and studying wine since 1973. In 2020, the University of California at Davis added their papers to the Warren Winiarski Wine Writers Collection in its library, which also includes the work of Hugh Johnson and Jancis Robinson. Dottie has had a distinguished career in journalism as a reporter, editor, columnist and editorial writer at The Miami Herald, The New York Times, and at The Journal. John was Page One Editor of The Journal, City Editor of The Miami Herald and a senior editor at Bloomberg News. They are well-known from their books and many television appearances, especially on Martha Stewart's show, and as the creators of the annual, international "Open That Bottle Night" celebration of wine and friendship. The first bottle they shared was André Cold Duck. They have two daughters.

Banner art by Piers Parlett