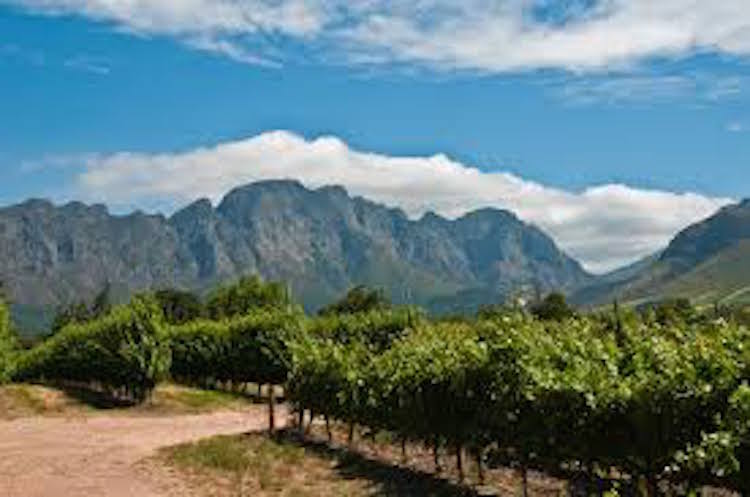 Visitors to Cape Town are often dazzled by the beauty of the mountains and valleys and the delicious wines. Since the end of apartheid, South African wine exports have soared. The Constantia and Stellenbosch regions are best known in the United States but there are some lovely artisanal and affordable wines from smaller regions worth seeking out.
Nitída Cellars
Durbanville, a small town in the Western Cape region of South Africa about 20 miles from Cape Town, is the home of 12 small wineries including family-owned and family-operated Nitída Cellars.
Bernhard and Peta Veller bought this small sheep farm in Kloof, in the middle of the Durbanville valley, in 1990 and bootstrapped the winemaking operations into award-winning Nitída which is named for the genus of a local tree. Of the 37 hectares, 12 hectares are under vine. The farm is also home to two cows, a flock of sheep, a sheepdog, another dog, two pigs, two cats, a baboon and an owl.
The Durbanville climate is Mediterreanean with cool morning and evening mists and light breezes from the Atlantic Ocean. The Western Cape wind naturally reduces yields which also improves flavor and concentration.
Nitída employees devote themselves to ensuring optimal ripeness in part by careful pruning and leaf removal. The grapes are selectively harvested by hand, destemmed and then sorted by hand. Fermentation occurs in open-top fermenters and punchdowns, six times per day. Bernhard, an engineer, designed an automatic punchdown system that emulates traditional hand punching.

The Vellers and nine full-time employees (with seasonal help during the harvest) make 11 wines – a sparkling wine (50% Chardonnay/50% Pinot Noir), four reds (Calligraphy – a Bordeaux blend, Cabernet Sauvignon, Pinot Noir, and Syrah) and six whites (Riesling, late harvest Riesling, a Semillon/Sauvignon Blanc blend, and three Sauvignon Blancs).
2012 Calligraphy is a layered blend of Merlot (54%), Cabernet Franc (21%), Cabernet Sauvignon (17%) and Petit Verdot (4%) from 14-year-old vines. The wine is aged in 100% French oak (38% new oak) for 12 months and then is lightly filtered before bottling. The Calligraphy is well-balanced with rich blackberry, cassis and cherry flavors with tobacco and cedar notes and soft tannins. It would pair well with meat, game, poultry and mushroom dishes. ($26.99 at Grape Collective)
Dieu Donné Vineyards
In the valley below the Drakenstein Mountains in the Western Cape is Franschhoek, a small town in about 50 miles from Cape Town.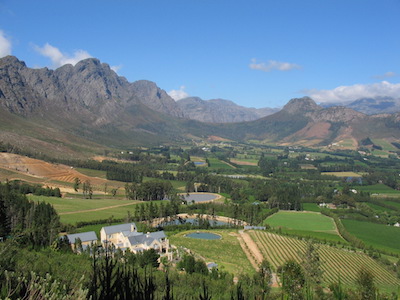 Although it was originally settled in the 17th century by the Dutch, it was subsequently, settled by the French, hence the name Franschhoek, meaning "French Corner." Franschhoek boasts dozens of wine estates as well as many small family wineries. The most famous wines in the region are from Shiraz and Chardonnay.
Dieu Donné (meaning "god-given") Vineyards is located high on the steep south-facing slopes of Franschhoek Mountains. Its cool climate ensures the slow ripening of the grapes. The soil has a lot of weathered granite in it which obviates the need for irrigation.
Robert Maingard, a French-Mauritian, acquired Dieu Donné Vineyardes in 1987. The winemaker, Stephan du Toit, is one of the few South-African winemakers with the distinction of being a Cape Wine Master.
Dieu Donné makes 14 wines, many of which have won awards: a Sauvignon Blanc, three Chardonnays (one unoaked and two with oak), a rosé, a Cabernet Sauvignon, a Cabernet/Shiraz blend, a Merlot, a Merlot/Cabernet blend, a Shiraz, a Shiraz/Viognier blend, a late harvest dessert wine and two sparkling wines. Only three of these wines are imported to the United States: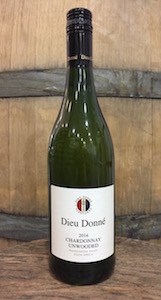 2014 Unwooded Chardonnay - The grapes are harvested by hand in February. Then the wine is made under a blanket of CO2 and dry ice to protect the juice from pre-fermentation oxidation which enhances the fruit lavors. Dieu Donné then ages it on its lees for six months without oak. The wine is round with undertones of citrus and minerality. It pairs particularly well with fish, shrimp and light dishes. ($12.99 at Grape Collective)
2011 Shiraz - These vineyards are not as high elevation as the Chardonnay but are also harvested by hand in February after slow ripening of the grapes during the cool summer. The wine is pumped over and macerates for 21 days on the skins. Fermentation is completed in the barrels, and then the wine matures in French casks for 12 months. The wine is full bodied with soft tannins and spicy and toasty notes. ($15.99 at Grape Collective)
2014 Cabernet/Shiraz - The vines are high (400 meters above sea level) on steep southwest facing slopes. The grapes are harvested by hand and then the wine was macerated for 12 days on the skins, fermented in the barrel and then aged for six months in French oak barrels. The wine has soft tannins, dark plummy fruit and a bit of spice from the Shiraz.