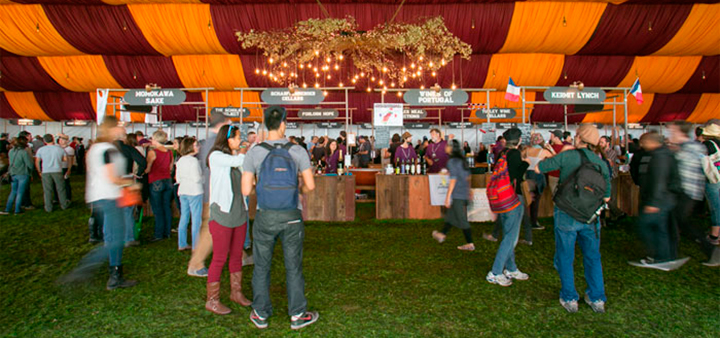 We all love wine, but there is a certain, er, (occasionally self-perpetuated) air about it. So leave it to Outside Lands — begininning this Friday! — to make wine not only "cool," but Kanye West cool. The music festival in San Francisco, started back in 2008, will bring an estimated 40,000 to 60,000 attendees in the Bay Area per day. And while most of them will be there to catch acts such as Yeezy, Tom Petty and The Heartbreakers, The Killers, personal highlight Ray Lamontagne, and even Tiësto (who DJ'd the opening ceremony to the 2005 Summer Olympic Games in Greece), it's important to note that the poster itself — the one billed around the far reaches of the interwebs — lists WINE as a headliner.
Yep, WINE. Or for our purposes: wine. Who all is going to be there? AP Vin, Banshee, Bonny Doon Vineyard, Broc Cellars, Calder Wine Company, Cannonball Wine Company, Claypool Cellars, Franciscan Estate, Ghost Pines, Hess Collection, Hobo Wine Company, Idell Family Vineyards, Inman Family, J.Lohr, Joseph Phelps Vineyards, Kinero, Long Meadow Ranch, Menage A Trois, Momokawa Sake, Navarro, Olivia Brion, Paperboy Wines, Pellegrini Wine Company, Preston Farm and Winery, Qupe, Red Car, Renwood, Robert Sinskey Vineyards, Roth Estate, Rowland-Tebb, Scharffenberger Cellars, Scribe, Sean Thackrey, Summer of Riesling, Wagner Family of Wine / Caymus, and Wind Gap.
To make sure you get everything out of your experience — hopefully you already have tickets as they're sold out now — here are a couple pieces we've done with a handful of the wineries...
It was a real honor to have two thought leaders in Randall Graham (of Bonny Doon Vineyard) and Dottie Gaiter in the same room when the latter interviewed the winemaker earlier this year.
We're sure they'll be offering up one hell of a Pinot Noir...
And we love wineries like Broc Cellars that provide us with an opportunity to enjoy California's "underdog" grapes. Then there are the big dogs like Menage a Trois and Hess, super-popular brands worth nosing.
But for the most part, we have a lot of questions we're hoping to have positive answers to. Think biodynamic Sinskey will be tasting their rosé? And what will Qupe and Wind Gap bring to the table? Is Preston going to be strictly winery, or will there be a little farm produce to accompany the tasting. Is Sean Thackrey making an appearance...?
The music? Primus's Les Claypool has Claypool Cellars. And you know Kathleen Inman of Inman Family is all about the tunes — heck, they even jam out in their tasting room.
You meant the festival music? Right. Well, see the full muscial lineup below.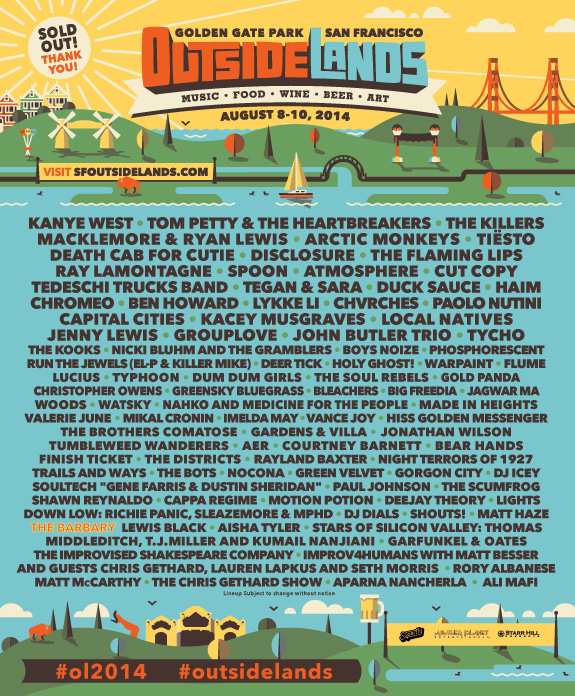 For more information, visit SFOutsideLands.com.