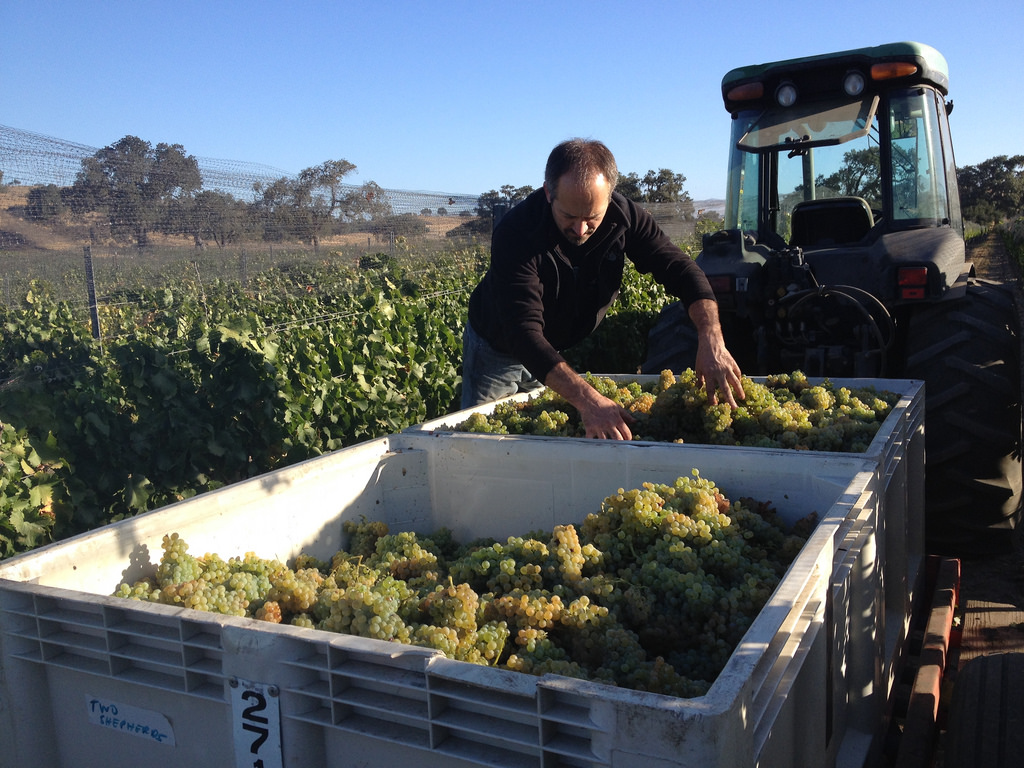 Are you fatigued by the eight grapes that take up about 93% of California's vineyard acreage? If so, check out The Seven Percent Solution, organized by the folks at Bergamot Alley. It's a wine tasting highlighting lesser known grapes, and the producers who are drawn to seek them out.
I got a chance to speak with Megan Glaab of Ryme Cellars, a participating winery. How many California wineries start by crushing a ton of...Aglianico? I was wondering if this penchant for less-heralded/planted grapes also bonded The Seven Percenters in regards to both winemaking and beyond. Glaabs reply:

"I believe when you get 20 winemakers in one room you'll find 100 different winemaking philosophies! While there is overlap in some areas, everyone has their own methods, techniques and interpretations. That's what makes this so fun and keeps things interesting.
What unites us as a group is the eagerness to explore. We are all interested in trying the world of wines, not just what is in our backyard. By discovering new varieties and tasting wines from different regions around the world, we are all inspired to try new things here. We don't believe that Pinot Noir, Cabernet Sauvignon, Chardonnay, etc. need be the only game in town."

And does getting together and tasting each other's wines inspire a winemaker to work with new grapes? Or at least add a few to the wish list? William Allen of Two Shepherds chimed in
"As a winemaker, many varieties intrigue me, and you only get one shot a year. However I am committed to Two Shepherds working with as many Rhones as possible, foremost.

I was inspired to make my only non Rhone, Trousseau Gris by fellow 7 Percenters like Wind Gap, Jolie Laide, and Forlorn Hope, and because I live across from the vineyard. I am also debating a tiny amount of Russian River Zinfandel, perhaps 1 barrel, after tasting a few non 'Zin like' Zinfandels from Broc.

In 2014 I am adding Carignane to the portfolio, inspired by Stark Wine, but unfortunately lost Grenache Gris, that was inspired by Idlewild, though made very differently. I am planning a lighter style Carignane, as is the Two Shepherds style, and am very excited. Also above mentioned Zinfandel, and I keep debating with cool climate Cabernet Franc. I'd love to make a Chardonnay just to show how wonderful a lean Chardonnay can be. (It was one of my earlier garagiste wines.)
My priority is Rhones, however, and I am scouring to replace the Grenache Gris vineyard, add Picpoul (very hard, less than 10 acres) and Counoise, if I can find any of these. I am also interested in Rolle, inspired by Ryme, however in California you are required to use the Italian name of Vermentino, unfortunately, not the Rhone variant, which perplexes me."
The Seven Percent Solution tasting is taking place in not one, but two California locations.
Thursday, May 8th, 5-8pm
Folsom Street Foundry, San Francisco
Saturday, May 10th, 1-4pm
Bergamot Alley, Healdsburg
Note: The Healdsburg tasting is sold out.
Wineries participating: Arnot Roberts, Bedrock Wine Co., Broc Cellars, Copain Wines, Dirty and Rowdy, Donkey and Goat, Edmunds Saint John, Forlorn Hope,Idlewild Wines, Jolie-Laide, Leo Steen, Lioco, Matthiasson, Nico Wines, RPM, Ryme Cellars, Sandlands, Stark Wine, The Scholium Project, Two Shepherds, Unti Vineyards, and Wind Gap.