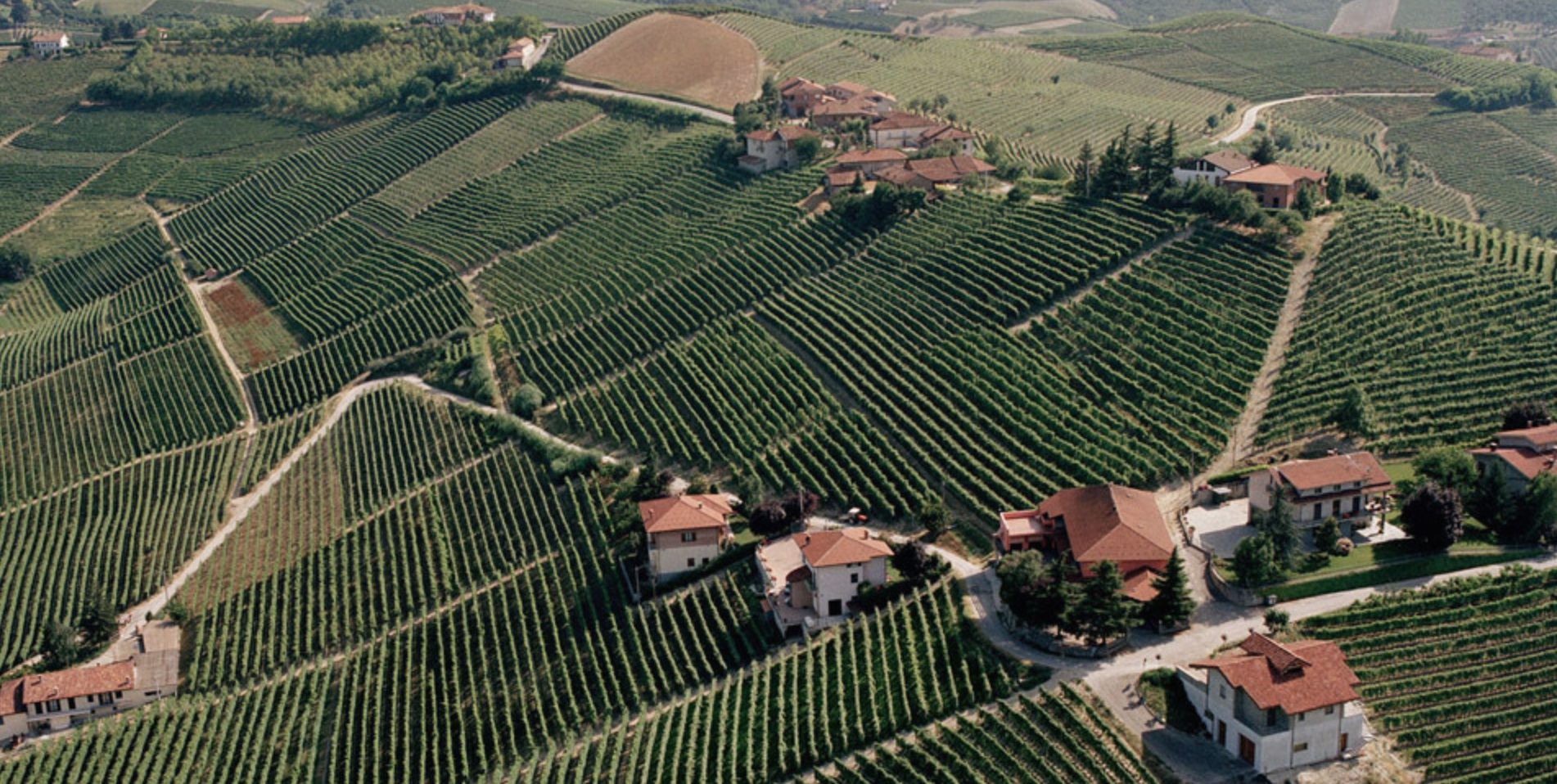 Many cooperatives make mediocre wine - not Produttori del Barbaresco ("PdB"), a cooperative which is consistently one of the top Barbaresco producers. It also distinguishes itself by delivering high quality wine at a more reasonable price than most other Barbarescos.
Background
A predecessor collective comprising nine small growers, Cantine Sociali, was formed in the late 19th century but closed in the 1930s during Fascist rule. Its founder, Domizzio Cavazza, insisted that the collective's Barbarescos be made only from Nebbiolo (unlike many other 19th century Barbarescos that included Barbera and other grapes) which resulted in higher quality wines and greater demand for them.
PdB formed officially in 1958 with 19 growers and focused on quality rather than quantity. Post-War Italy was poor and therefore, it took many years before demand for more expensive wines grew. PdB struggled financially in the early years because it aged its wines for many years before release and had no less expensive wines to sell in the meantime.
Since then, PdB has increased to include 56 growers over 250 acres (100 hectares). Each grower dedicates all of his production to PdB which obviates the growers' using their best grapes for their own wines, a problem that some cooperatives face. Growers receive incentives to maximize the quality of the grapes by minimizing yields and other practices.
Initially, wine was made in the basement of a local church but three years later, the cooperative built a winery across the square where it makes the wines to this day.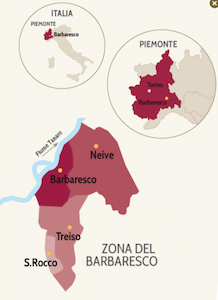 The Appellation
Barbaresco is a small area in the Piedmont about halfway between Milan and the French border. Nebbiolo wines have been made in Barbaresco for more than eight centuries. Barbaresco is north of Alba whereas Barolo, the other major source of great Nebbiolo wines, lies south.
The Terroir
Although Dolcetto, Barbera and Moscato grapes are also grown in Barbaresco, the cooperative grows only Nebbiolo grapes. Nebbiolo is particularly sensitive to climate and soil.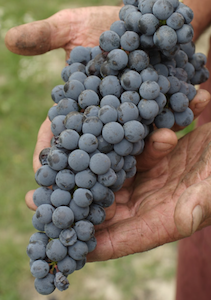 The terroir of the PdB vineyards is a complex blend of clay and limestone rich in calcium with veins of sand. The vineyards are on steep slopes (600- to 1300-foot elevation) with southern, southwestern and southeastern exposure. Nebbiolo, which is late ripening, does particularly well in such elevation and exposures. The climate is fairly typical of the continent with temperatures ranging from 15˚F in the cold, snowy winters to 95˚F in the hot summers. This is slightly lower and warmer than Barolo vineyards, in part because of the vineyards' proximity to the Tanaro River.
PdB includes nine single vineyards within the Barbaresco appellation, or about 17% of the total vineyards in the DOCG district. The lowest elevation vineyard is southwest-facing Rio Sordo; the next level, south-facing Asili, Rabajà and Pora; the next, Pajè and Muncagota (also known as Moccagatta); and then the highest, Ovello, Montefico and Montestefano.
Production
Aldo Vacca, whose father was the first director of PdB, and his team make beautiful expressions of Nebbiolo using traditional Piemontese methods. Despite 14+ % alcohol, these are graceful wines when mature. These powerful wines typically take decades to mature. All are vinified in stainless steel tanks, typically for 18 to 28 days, and then aged for up to four years in large, old wood botti and in the bottle.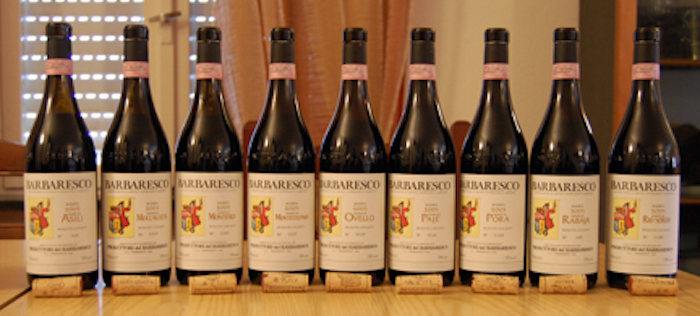 Above photo courtesy winehousemail.com
Its classic Barbaresco cuvée is a blend of grapes from the nine vineyards. It is fermented for 24 days on the skins, pumped over two to three times per day and then aged for two years in large oak casks.
In exceptional years, PdB produces cru riservas from each vineyard in addition to its standard Barbaresco cuvée as well as a Barbaresco cuvée riserva. PdB lists the names of the growers of the grapes in each riserva on the back label. The first year PdB produced any of these special crus was 1967 following the lead of Renato Ratti who introduced a single vineyard Barolo in 1965. Since 1982, it has had nine distinct crus.
All of the single-vineyard crus are macerated on the skins for 28 to 40 days, undergo complete malolactic fermentation and are aged for three years in large oak casks and then, in bottles for six to twelve months.
Rio Sordo, an 11-acre vineyard at the lowest elevation, is about 0.5 mile from Pora on an open hillside and next to Gaja's Sori Tilden vineyard. Despite the similar vinification, the Rio Sordo riserva is generally shorter-lived, up to about 10 years. The cru was first produced in 1978.
Asili is a 5.6-acre vineyard with poor soil which is expressed as greater minerality in the wine. First produced in 1970, this single-vineyard cru is very long lived.
Pora is a 26-acre vineyard with more fertile soil than the higher elevation vineyards, perhaps because it is closer to the river. First produced in 1967, this single-vineyard riserva typically ages well for 20 years.
Rabajà is a 9-acre vineyard with southwestern exposure where the two ridges of Barbaresco meet. This cru was first produced in 1970.
Muncagota is an 11-acre vineyard with southeast exposure and calcareous soil. The wines are big, tannic wines that can age for decades. This riserva was first produced in 1967.
Pajè is a 4.5-acre vineyard, and though close to Asili, it is at lower altitude on a different ridge. This cru was first produced in 1982. The higher calcium levels in the soil and wind from the river results in wines of greater acidity that stay fresh as it ages.
Ovello is a 50-acre vineyard with soil rich in clay. The wines are very tannic when young but with strong fruit. First produced in 1967, it can be aged for decades.
Montefico is a 10-acre vineyard which is warmer than the other vineyards. This is a big but elegant wine. It was first produced in 1967.
Montestefano is an 11-acre south-facing vineyard which is the steepest of the vineyards. This cru, first produced in 1974, is usually the meatiest and longest lived of PdB's Barbarescos.
Since 1975, PdB also has been producing a lighter style, fresh and juicy Nebbiolo, DOC Langhe, from younger vineyards or from vineyards with grapes that do not meet PdB's quality standard for Barbaresco, that is meant to be enjoyed young. The Langhe is macerated on the skins for 22 days and then aged for six months in large oak casks. (2014 Langhe $20.99 at Grape Collective)
In a good vintage, approximately half of the PdB production is the standard cuvée Barbaresco, 30%, single vineyard crus and 20%, Langhe. Annual production is about 550,000 bottles.
Recent Vintages
2010 has been proclaimed as a fantastic year for Barolo but the 2011 Barbarescos are generally better than the 2010s because many 2010s were hurt by the rains. Produttori del Barbaresco did not make any of special riserva Barbarescos in either 2010 or 2012. In such years, those grapes that would normally been used for the riservas are included in the standard cuvée Barbaresco resulting in a spectacular standard cuvée for a relatively modest price. (2012 Barbaresco $32.99 at Grape Collective)
Other excellent vintages include 2001, 2004, 2005 and 2007.
Taste
The Langhe tastes of bright, red fruit with some spice and smokiness and nice acidity.
The Barbaresco is deep, complex and full-bodied. It exhibits classic black cherry fruit with pepper and other spices is a juicy and aromatic Barbaresco showing traditional-style Nebbiolo fruit and minerality with elegant tannins and finish. It is approachable now but has enough structure to age for 10 or more years.
The riservas have a dark purply red color and are rich with ripe and dried cherry and cassis flavors. They also often exhibit mint, pine or other herbal and mineral qualities. The Rio Sordo and Muncagota are typically approachable earliest of the single vineyard crus. Generally, the Pora and Rio Sordo, the most earthy; the Asili and Pajè, the most elegant, Montestefano and Montefico, the most fruity and smoky, and the Ovello, the most forward.
Food Pairings
Langhe pairs well with salumi and other cured meats, red sauce pastas and pizza.
The classic cuvée and the single vineyard riservas pair well with risotto, rich pastas, poultry, game and other meat and aged cheese.