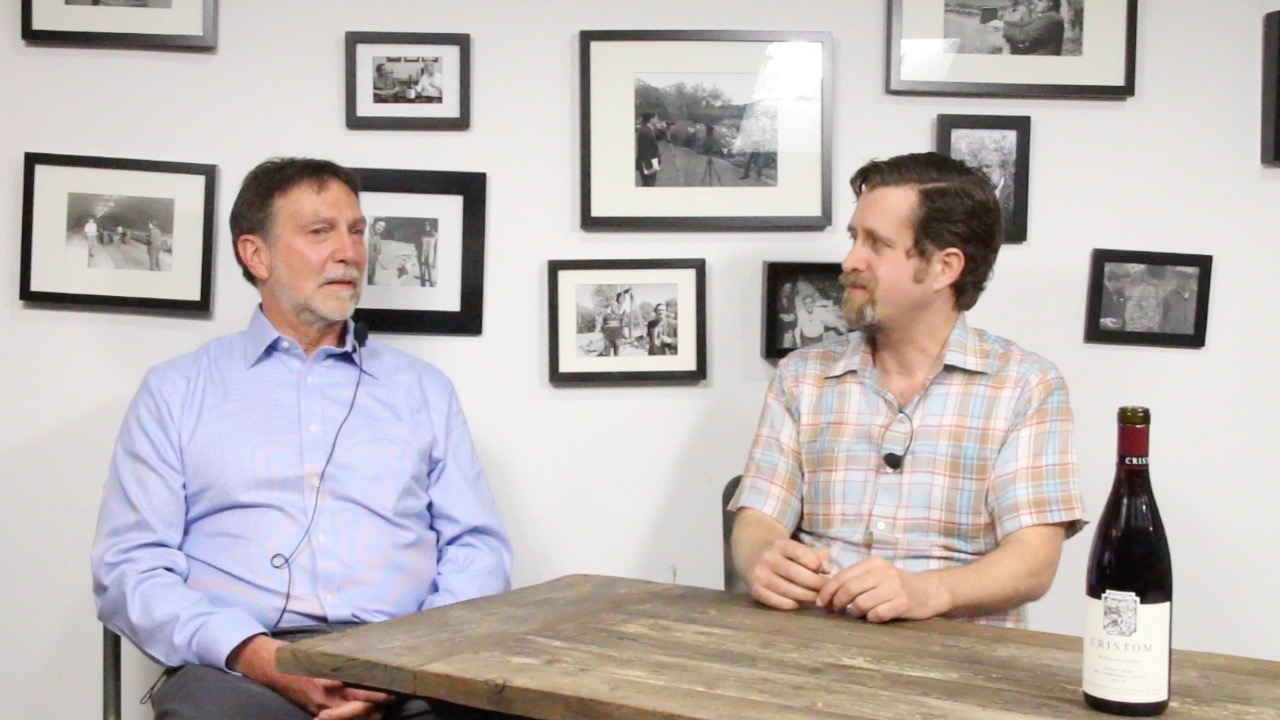 Oregon has become known as the home of American Pinot Noir. The Oregan Pinot Noir romance started in 1965, with David Lett of Eyrie Vineyards planting the first Pinot Noir vines. In 1970, there were just five bonded wineries in the Willamette Valley. Today there are 15,000 acres of Pinot Noir in Oregon which is close to 90 percent of all wine being made there. Today most of the wineries continue to be small family-owned and worked. Oregon remains a nice counterpoint to the big money that has taken over Napa Valley.
However, Oregon is becoming more fashionable. It has some fancy international residents, including Burgundy's Domaine Drouhin, who started making wine there in 1988. The German winemaker Ernst Loosen has also taken an ownership share in artisanal winery J. Christopher.
In a recent Grape Collective column, Dorothy Gaiter wrote about Oregon celebrating 50 years of Pinot Noir. She notes, "Oregonians boast of their similarities with Burgundy, noting that the midpoint of the Willamette Valley shares the same latitude as Burgundy's Côte d'Or."
Pinot Noir is a notoriously difficult grape to grow and the climate in Oregon can be challenging, with a combination of heavy autumn rain and heat stress through drought in the summer. Eric Asimov in his New York Times column notes how Oregon Pinot Noir can change drastically year to year due to vintage variation and how it can be "confusing for consumers who would like a one-word association with the notion of Oregon Pinot Noir."
And yet Oregon is constantly evolving. A recent article by Jon Bonné in Punch describes how Oregon is becoming a soulmate of the Loire Valley. He points to winemakers such as Bow and Arrow and Division Wine Company who are having success planting Gamay, Chenin Blanc, Cabernet Franc and Malbec.
Willamette winery Cristom was part of the second wave of Oregon Pinot Noir producers. Founder Paul Gerrie hired Cristom's winemaker Steve Doerner and Vineyard Manager Mark Feltz in 1992 when he opened the doors. The winery is named after Gerrie's two children Tom and Christine who both work at the estate.
Steve Doerner talks to Grape Collective about the evolution of Oregon as a wine region.
Christopher: Oregon, Oregon wine, it's become one of the areas in the United States that people talk about as American wine. How did that happen? How did Oregon become an area that is so highly regarded?
Steve Doerner: Well, I think there are several reasons but primarily because it's just a really natural great place to grow Pinot Noir, and Pinot Noir is a relatively difficult variety to master. It's very site-specific and all that kind of stuff. Because it grows so well in Oregon that we were sort of blessed that almost everybody, at least in the Willamette Valley, is making some Pinot Noir. It's sort of like we became specialists right away rather than planting 50 varieties and throwing something on a wall, see what would stick. That helped a lot. Of course, Pinot Noir is one of the great grapes of the world so that helped.
Then I think the people that were originally there as well as the newcomers have done a really good job of marketing themselves. They started the International Pinot Noir Celebration back in, I think it was '87, and invited people from all over the world to that event. In fact, originally, that event was supposed to alternate between Burgundy and Oregon. We were going to share the stage because it was supposed to be international. We said, "We'll do the first one," but nobody in Burgundy sort of picked up the mantle, and so it just continued to stay in Oregon.
I think that was a lot of people's introduction to it. They would come out to that event, which was a lot of fun, and we had a lot of guest speakers from everywhere. I think every great Burgundian producer has been there at least once, so that helped a lot. Then there were spin-offs from that. In 2000, they started another group called Oregon Pinot Camp, which was just for the trade. Also, hugely successful.
We've managed to, I don't want to say corner the market on Burgundy, but I do think that because we don't have more production in other places or anything, I think just because we're somewhat specialized, that it's helped drive the reputation. I think if you asked most people what's the next best place outside of Burgundy that makes Pinot Noir, hopefully, it's the Willamette Valley.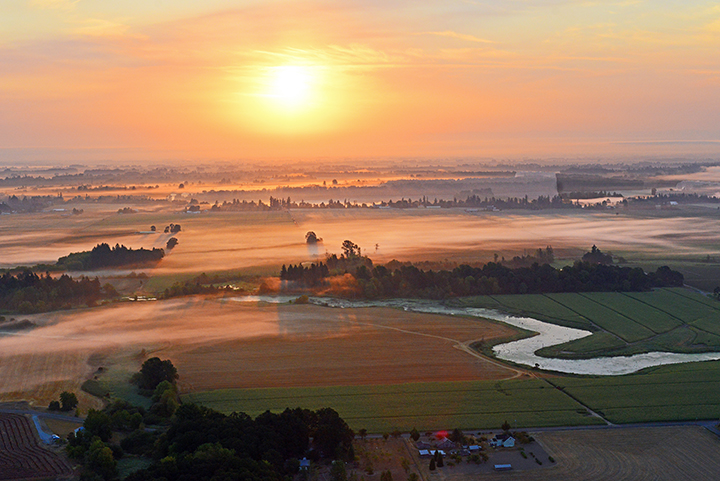 Sunrise over the Yamhill River in the Willamette Valley
Talk a little bit about the history. Who was the first person to go out there, stick a shovel in the ground and say, "I'm going to make wine?"
There were wineries way back in the mid 1900s. Basically, everything got killed during the Prohibition. California maintains some vineyards because they were selling either sacramental wine, or just fresh fruit, or shipping it all over the place. They can grow quantity much better than Oregon can. It basically killed the industry.
The first thing that came about after the Prohibition were all fruit wineries. There were quite a few of them. I think there were like 40 wineries that started within 20 years of the end of Prohibition. There's only one of those wineries left and that's the oldest bonded wine in the States called Honeywood, and it's in Salem. They mostly make fruit wines. Still, it was all fruit wines.
Then several other people came and were planting in just Roseburg and stuff. There's a guy named Richard Summers who first started a winery called Hillcrest there. I think that was in the early '60s. The first Willamette Valley producer was David Lett, and I think he first came in 1965. From the get-go David, to our whole industry's credit, planted Pinot Noir and Pinot Gris. It sort of set the stage for everything to come. It wasn't always Pinot Noir. I was making Pinot Noir in California in fact. Pinot Noir was not always the darling grape that it sort of became for a while.
They also planted Chardonnay, and Riesling, and some other things. I remember stories where growers would say that, "Well, in order to get the Chardonnay, you've got to take this Pinot Noir." Which is sort of ironic today. It wasn't immediately easy for those guys.
Then, soon after, he was followed by Dick Erath, Dick Ponzi. Myron Redford came earlier. David Adelsheim was in there not quite as early. Then there were, I don't know if you can say waves because it's sort of in a continuum, but there were certain sort of benchmark events that helped solidify the industry. There have been lots of people coming since then.
How long have you been making wine in Oregon?
I moved to Oregon in 1992 so I've had 24 vintages there now. I had 14 in California. I actually started making Pinot Noir in 1978 and didn't have a clue what I was doing. Anyway, that's another story.
Where in California were you?
I just worked at one place there. It was at Calera. I got that job for the first vintage of Pinot Noir that Josh Jensen had just come on line with the Pinot Noir, so I got to see all the vintages of Pinot Noir up until when I left in '92. Josh was looking for somebody that did not have any real wine experience and, hence, me.
I was actually a student at UC Davis but I studied biochemistry. I asked the professor if wineries ever hire biochemists. He said, "Well, not to my knowledge. We have a great oenology program. We graduate 75 oenologists every year so that's where they pool all their people from."
About a month or two later, he got a letter from Josh specifically requesting either a microbiologist or a biochemist. My professor remembered that I'd asked him about it. He came looking for me and said, "Hey, I told you that they don't hire anybody from the biochemistry department. This guy is actually looking for someone." I felt obligated then to apply for that job and got it. Fourteen years later, I moved to Oregon.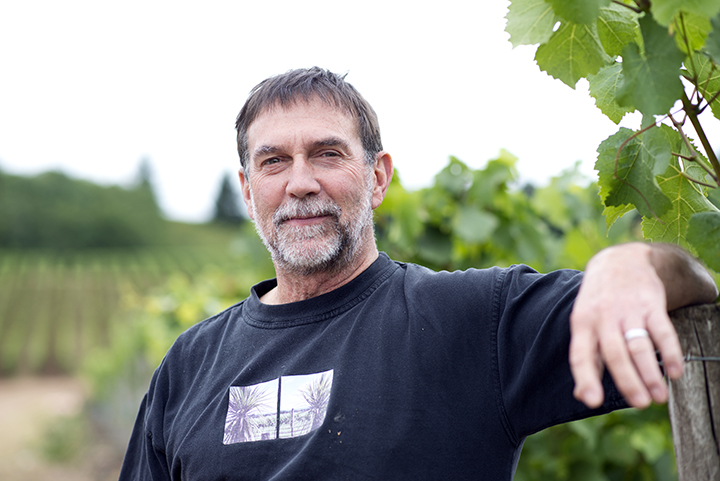 What made you to move to Oregon?
It was just time for me to leave Calera. I wasn't sure I was going to Oregon. At the time, it seemed like a really big decision. I started thinking about what I like about the industry.
In fact, there was a time when I actually questioned whether I was even going to stay in the business just because I hadn't chosen it, so to speak. I did get the bug, but it wasn't until I had already been working in it for a while. It wasn't like most people. They first have the passion and then it becomes a hobby. Then they can't help themselves, and they get involved in the business. Mine was more of a curiosity. Then when I finally got the bug, I realized how much fun I was having. It was great. I sort of wondered what else I could do that was nearly as interesting, and I couldn't come up with anything.
I really like the idea of working for a small winery because you wear so many different hats. I was the electrician, and the plumber, and the ditch digger. Then you get to pull out a tuxedo and go to fancy dinners and travel. It's part science, part earth. I couldn't think of anything that was more diverse. When I identified that in myself, I realized I wanted to work for a small winery again. I had spent a lot of years trying to figure out how to make Pinot Noir, so I wanted to make Pinot Noir.
Then it didn't hurt that, coincidentally, there was a guy who had just decided he was going to Oregon. He needed a winemaker and was sort of courting me, and that was who became the owner of Cristom. His story was actually he was from Pennsylvania and came to IPNC. He was actually a wine connoisseur and had the passion. He went to IPNC in '91, and fell in love with Oregon, and started looking for ground in '92, and found a little existing winery with both a little winery and a vineyard on it and bought it in '92. Then he needed a vineyard manager and a winemaker.
Our vineyard manager is Mark Feltz. He's been there since the beginning. I've been there since the beginning. We all kind of started August of '92. In the meantime, Paul has retired and his son, Tom, is now the proprietor, owner, manager, whatever you want to call him. He's 30. He was about eight when I started.
By the way, the winery is named after Paul, the original owner's two children: Chris and Tom. He's the Tom of Cristom and Christine is his sister.
What was it like being in Oregon in the early days? It must have been a fairly rural community.
Very much so. I was in Napa Valley when I was in California. Interestingly, even though we were still out in the middle of nowhere, I felt very connected right away. The industry up there was so welcoming. It was unbelievable because I didn't even have to ask anybody for help. They just called up and say, "Hey, if you need a hardware store, this is the best one. If you want to borrow something, we're here. Welcome to the Valley and we hope you succeed." The attitude was just absolutely mind-boggling. I thought, "Well, I'm going to have to prove myself for a while and maybe I'll get accepted." It was just the opposite.
Even though I spent about three months sort of deciding while I was looking for work whether I really wanted to take the job that Paul had offered me. Now, looking back, what was I waiting for? It just seemed so perfect for me that I never did look back.
It was like I think it had been before that. It was the early years in some sense. It's been 24 years but the industry had been around for a while. I think it's just a continuation what everybody had been doing before that and what we try to continue now. I have to be welcoming just because it was given to me that way.
For example, recently, I guess it's been three or four years now, the Jackson family bought a bunch of land up there. There are a lot of people that were sort of nervous, and wondered what's it going to do to the industry. They actually said all the things that we wanted to hear. Just because they were big, I gave them the benefit of the doubt and figured they're going to be an asset to us and why not assume the best instead of assuming the worst. I think it turned out that way. They've been very neighborly and they haven't changed the culture. They're all about sustainability, and high quality, and family businesses helping each other. They're very cooperative.
That's just one example where there are plenty of people who have come in since that could have made people think, "Well, what are you doing here?" I think there's still that attitude that there's room for everybody, at least so far. It may change. It is getting crowded.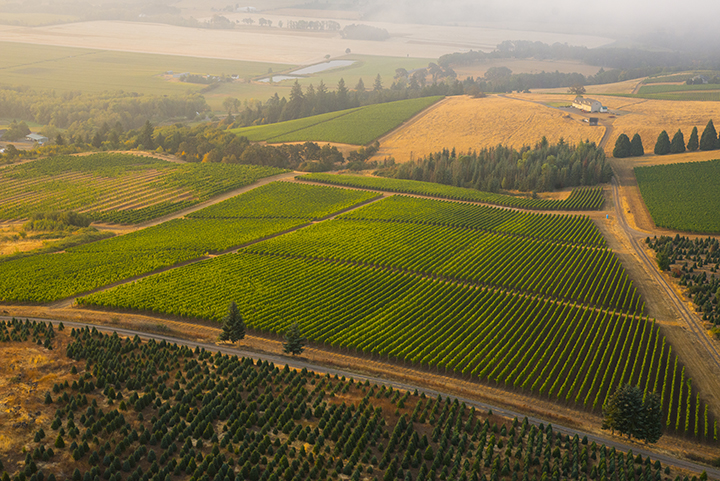 Cristom's Eileen Vineyard
I was going to ask that. It's a very different environment today than it was when you started. You have Jackson Family Wines. You have Drouhin. It's become an international destination. How has the vibe changed in the community over time?
Not that much. I think there are a lot of people who are trying to up the sort of image to a more professional one, if you will. There are a lot of garage wineries and stuff like that, but they're making really good wine. There is more money now, especially with some of the outside folks that have come in recent years. There is still this feeling that you can't really make great Pinot Noir there anyway with high yields, for example. It just doesn't work.
We sort of have to be aimed at high quality. It makes the wines a little bit expensive maybe. When you compare them to Burgundy, they look like a really great deal. We don't really feel like we're expensive but it's because to get the quality that we need, we have to keep the yields down.
I think most of the changes over the many years have probably been in viticulture, just learning how to grow the best possible grapes and finding the right spots. I still think there are lots of spots that we haven't found that are going to be great down the road.
I think it was last year, maybe, that we celebrated our 50th anniversary after David Lett first planted vines. That's still a relatively short time to go from nothing to an internationally recognized area. We still have a long way to go, too. There's a lot of potential still so it's kind of exciting.
What about the terroir in Oregon? What kind of diversity do you have?
There are quite a bit of subdivisions of three main soil types. We have originally just all marine sediments that are ocean floor that sort of just got added onto the coastline. I don't want to get into that total geology. It has basically been going on for 200 million years. The coastline has just been extending west as the plate goes underneath, the North American plate. It's pillowing up all the bottom ocean floor onto it. That's kind of underlying everything. Some of the grapes are directly on some of those soils that have been re-exposed or never got buried underneath.
Simultaneously, as that coastline was expanding to the west, there was a volcanic range that was falling in about 60 miles inland as a coastline. Over time, there are lots of salts and the volcanic material spread on top of those old marine soils. Those are the two kinds of main ones.
Then more recently during the last ice age, there was what's known as the Missoula Floods. The Cascade Range was blocking huge amounts of ice and water behind them. All of the states like Montana and Idaho just backed up all this stuff. Whenever it would warm up a bit, you'd get this break right where the Columbia Gorge is kind of at a low point of the Cascades, and massive amounts of material and ice, and water would come flooding down there. The Columbia River couldn't hold it also. It backed up and it sort of formed the Willamette Valley.
The Valley itself is almost entirely from those Missoula Floods. That's sedimentary soil as well but it's not old marine soils. It came from the east. It's quite fertile. In fact, the Valley itself grows, I think, something like 220 different agricultural crops. Almost all of the vineyards are all on hillside. They've been uplifted. Those are the sort of three main soils.
There are not that many grapes planted on the Missoula Flood soil. It's mostly either volcanic or ocean sediments. They act pretty differently. The marine soils are relatively well-drained. They're sandstone stuff and the water can run through them pretty well whereas the volcanic soils have a bit more clay in them, so they can retain moisture a bit longer.
One is not better than the other. It just depends on your season. If you have a very hot, dry season, you're probably better off in deeper volcanic soils like Jory soils, which are the deepest and they have more water holding capacity. Vice versa, if you have a cold wet year, the sedimentary soils will ripen things a little quicker and soils will dry out, and you'll make better wines off of those. In some ways, it's nice to have the diversity.
Especially recently, there's been a lot of sort of trying to subdivide all those general soil types into more specific things. We have mostly volcanic, but we've got some Jory, some Witzel, some Nekia, Ritner. Just gibberish to most people, so there's no point in really going on about these sub soils.
Do the wines have different characteristics based on the soils?
Well, yes. That sort of how the new appellation came to be. People thought they were trying to unify them mostly geographically but, hopefully, the geography would also sort of more or less be related to what the soils were. I'm not sure because there's so many other variables that you can always identify that just came out of volcanic or that came out of sedimentary.
In my mind, again sort of a generalization, as I mentioned, is the water holding capacity of the soil. If you do have kind of a hot season and you're not irrigating, of course, we haven't talked about that because you can kind of alter what that well-drained soil does if you're adding water to it, those tend to be a little bit more rustic and sort of way over on the kind of black fruited, plummy side even maybe and vice versa. The volcanic soils are going to be more red fruited stuff just because they're a little behind. You don't have to pick everything on the same date for one thing. Irrigation can change that.
There is starting to be more and more irrigation. Most of Oregon is dry farmed, but there are a lot of new vineyards especially that have irrigation. That alters kind of the general water holding capacity obviously has changed, not the capacity, but the reality of it.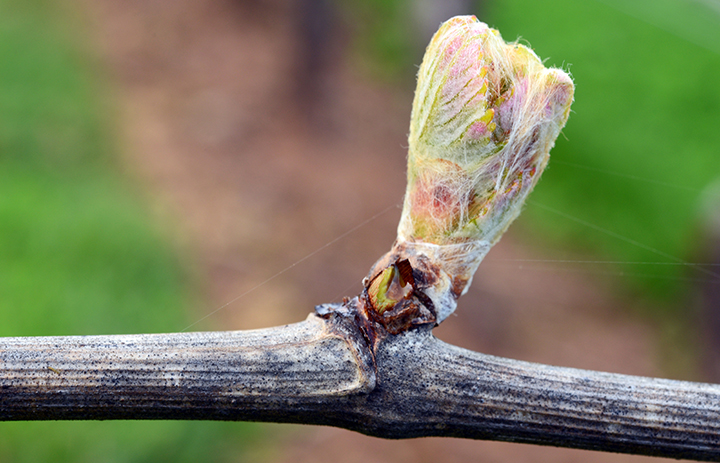 In terms of Cristom, what types of soils do you have there?
Well, we start pretty much on the Valley floors. It's about 220 feet at the bottom of our hill. We go all the way up to 750 feet, which is one of the unique things about our property, we have a pretty big elevation change. At the very bottom are primarily the old flood soils. It quickly kind of transitions into the volcanic soil. In fact when we walked to the vineyard, the first little stop I make which is very close to the winery, just up a little ways from that point on, it's entirely volcanic on our property soils. I always tease everyone and say this was the lakefront. This is where the floods ended because there is none of the sedimentary soil above that point on our property. We're not geologists, but we all think that this was where the high water mark was.
We don't have any Pinot Noir in the sedimentary soils. Actually there's a little tiny bit that would have been grafted from another variety a while back, but it's a very small portion of it. Most of the stuff that's on that first little bit of soil is Pinot Gris, and then all the Pinot Noirs are on the different farms of the volcanic soils.
We have, again, top to bottom, over 500 feet of elevation change. It's really nice because it spreads out our harvest. It doesn't all come in on the same day. From the top of our property, it's a great place, too, to look at the whole valley because you can, on a clear day, see to the east where the Cascade Range is, which is a lot further away from us. Then to the west, you can see the Coast Range and also the gap in the Coast Range called Van Duzer Corridor where most of the weather comes in. We're just to the east of that gap where most of the weather comes through. It's one of the defining things of our AVA which is Eola-Amity Hills. The whole Valley is affected by that gap. We're just sort of pretty close to it, so we get lots of winds in the afternoon and stuff.
How has your viticulture changed over the years?
Not that much. In fact, we've always felt like we were sustainable. We weren't certified or anything. We have the same vineyard manager. The winemaking hasn't changed that much either, to be honest. I did most of my experimenting stuff before I went there, and I repeated a lot of things that I'd learned in California just to see if they were transferable up in Oregon, but I haven't really changed the winemaking either.
I guess the one thing that we're starting within the vineyard now is the global warming issue. In the early years, the name of the game was to get your food as ripe as fast as you could, so we did everything we knew how in the early years to increase ripeness. We planted very densely. We planted on restricted rootstocks. We got all the cool clones that we could get. We have a relatively big canopy for the density. We have about 2,300 vine per acres. It's not Burgundian standard, but it's way more than what was there at the time. In fact, the vineyard that we purchased, we tore most of it out. We kept one piece of it, which is our Marjorie Vineyard. It only had 605 vines per acre. It was 12 foot wide rows and six feet between plats and that was common.
Getting back to my original point, I think we were so successful at getting things to ripen early that now we're thinking how to go about slowing it down. You can't really undo the density. As we're planting new vineyards, we actually are spreading it out a little bit more just to sort of mitigate the competition almost because we no longer feel like we got to get this ripe as fast as we can. We're actually trying to slow it down.
How much has global warming impacted your viticulture?
Obviously, there are climatic changes that have been going on forever. You get warm years and cool years. I do feel even though it has been a very short period of time since I've been there, and I hadn't been in Oregon prior to '92, I felt like most of the decade of the '90s was how it had been for as long as grapes were grown in the Willamette. It was relatively cool vintages, wet vintages, and a struggle to get things right.
Then we came into the decade of 2000s and we all had strings of really hot vintages. I just sort tongue-in-cheekily said that was the decade where the term "global warming" sort of applied. Everything was pretty hot.
Then in the decade of the 2010s, we've had earliest vintages, the latest vintage, the wettest vintage, it's been all over the board. Mostly warm and it's caused by global warming. Now, I define this decade as climate change. As the East Coast has witnessed, global warming doesn't always mean it's hot. You can be buried under snow, right? That's what's really strange.
In, I think, '15, I think we started harvesting September 2nd or 3rd or something. In 2011, it was just a few years before, we didn't start picking anything until October 17. Within those few vintages, they were six and a half, seven weeks apart between the start of those two vintages, which was pretty extreme. I say we're now into the global warming phase.
A couple of things that have been happening, and not just in our state, but sort of in all the valleys, ground that had been considered to be too high, for example, to plant grapes on is now becoming sought after because it's going to ripen a little later. It maybe a little cooler. North slope is no longer an absolute no-no. The north slope is no longer thought of as don't waste your time on it. South slope locations are maybe not as good as they used to be just because they're very warm. That sort of thing, I think, has come into play.
Also, yields. We've always had really low yields. Like these last two vintages, we intentionally let the yields get a little higher to try to slow things down. One of the things you can try to do is keep some hang time on the vine to put a little bit more crop out there to make the plant have to work harder.
Irrigation, again, I mentioned is something that I think now most people would say, "Why not?" It sort of pays for itself in just getting the fruit up to production early. You don't have to use it just because you have it. It's sort of a good insurance policy assuming that it's going to continue being warm.
Some vintages, unfortunately, I think myself and most everybody else have added water to fermenters. I don't like to talk about it that much, especially on camera. The reality, I think, is we make better wine by doing that. I would prefer to put it on the grapes than put it in the fermenter. In fact, I call that a post-harvest irrigation. It's things like that that I think people are consciously thinking about for dealing with global warming. I don't know what else we could do, to be honest.
There are technologies. Oregon's smaller businesses, not many people can afford the sort of reverse osmosis and stuff that could help in those years. I don't have any problem with technology like that. Barrels were a new technology at one time. It's just a tool in your box. What's unfortunate is if you abuse it. It's not the technology that's bad, it's what you do with it.
I understand anybody that gets a hot season and they have very high alcohol. If they have a way to remove it and make the wine better, that's great. If you have to rely on that technology every vintage to make wine, then I think you're growing the wrong variety in the wrong place. What do you do? You've got your vineyard. It's planted. It's a tough question. Again, I think having a toolbox is great. That's sort of my whole philosophy about how I make wine. I try to do as little as I can, but I will do something if I feel it's necessary.
The real question is when is it necessary for you versus when is it necessary for somebody else? Everybody has a different threshold for what they're going to let the wine do by itself versus trying to jump in a little bit. We don't inoculate on the red wines. We don't filter the red wines. I don't even settle after pressing. I try really hard to make the wines how I feel like they've been made for hundreds of years. I used to say forever but now I realized with the natural wine movement, that's really doing nothing. I'm not afraid of using sulfur. I'll acidify when necessary.
I use a lot of whole clusters in the fermentation in the stems, it raises you're PH dramatically. If I like the whole clusters as much as I do, I'm sort of obligated in a way, or not obligated, but I feel like the added acid is very necessary to combat the PH that the stems give you. It's a bit of a compromise. I'd rather not have to add acid but I usually do. Not every vintage, not every lot, but I'd say I added more than I would have liked to 20 years ago. We own a filter. I filter the white wines and I've had to still filter some that are not dry. I have yet to filter a red wine, but I would if we had a problem.
I think Josh actually hired me primarily to sort of bias me towards Old World methods, but then have a technical background to try to jump in and stop things before they got out of control. That's always been sort of the idea. To let the art go as far as it will, and then use the science when you absolutely have to.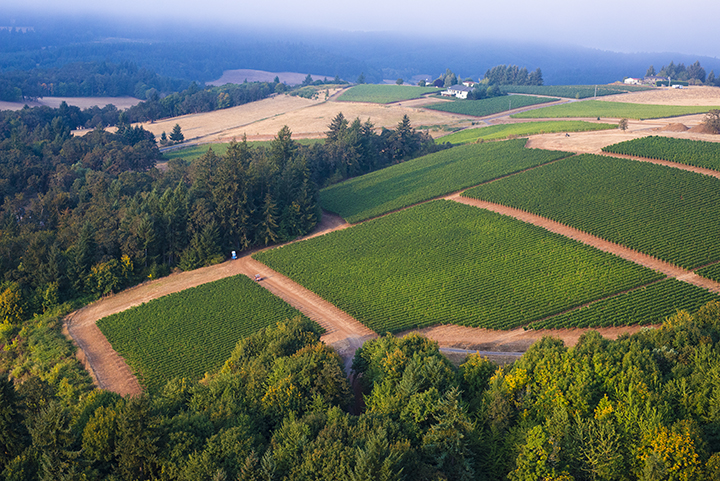 Cristom's Jessie Vineyard
Even the Finger Lakes are making Pinot Noir now. How does Oregon position itself in terms of Pinot Noir?
Well, again, I'm not very good at marketing so I don't know as an industry how we're trying to position ourselves. I think the word balance is thrown around a little bit too much but, again, I think it's hard not to. You want balance in the vineyard. You want balance in the style of the wine. I think that the Burgundies are, and again this is a total generalization, I don't think you can pigeonhole any region into "this is how they taste." They tended to be more acid-driven, maybe more earthy. I don't want to say dirty. I love them but there's just this sort of a terroirness. You used to be able to tell a Burgundy because it just had all this kind of life in it, in a way.
California, was, again, I hate to generalize. I made wine there for a long time. Some fabulous wines coming out of the state, so it's hard to say that this is all California. Again, to generalize, they were very fruit-driven, almost on a very ripe side of ripe, more like preserved instead of fresh fruit.
We like to say that we're somewhere in between. We've got a little bit of that earthiness of Burgundy and a little bit better acid maybe, but you can add acid. Again, for California, maybe they don't have as much natural acid, but there's nothing stopping them from making the acid correct in the wine. I guess in trying to globally say how Oregon tries to position themselves, we're sort of in that sweet spot of having good fruit, and pretty good acid, and making balanced wines.
New Zealand is making some really good wines. I still think that they haven't found their best spots yet either. There's a lot of buzz about that Okanagan. That to me is, again, in a general way, sort of a continental climate. It's the most removed from the oceans. In New Zealand, it gets pretty hard in the summer, pretty cold in the summer, which you'll say, "Well, that's more like Burgundy," because Burgundy is pretty continental. I like the influence that we have from the coast. I think some of the best places in California are also coastally influenced. That's not really traditional because Burgundy doesn't have that.
Certainly, we know now, finally, that Pinot Noir can be grown in lots of places. They might be a little bit different from each other but they're delicious wines. We can't knock our partners for doing the best job in their respective places.
This is not a fair thing. I don't know what made me think of it. When I was at Calera, our story at the time was limestone was vital to making Pinot Noir because Josh spent years looking for it. He was convinced that was true. He instilled that in me. He spent a lot of his energy finding the vineyard that was very remote, and hard to farm, and low yield and everything but it had limestone. That was our big marketing thing. Josh used to say that every great Burgundy he ever had was grown on limestone. You can't argue with that. I tongue in cheekily say, "Every bad Burgundy you ever had was also grown on limestone."
I don't think there's a magic bullet for any of it. We don't have much limestone in Oregon. At least I don't know of any vineyards plotted on limestone. I don't think it's that one thing that makes or breaks a wine. I think you have to have vines that are healthy but somewhat stressed, et cetera, et cetera. That's true of all the different regions. They all have some things that are positive and maybe some things that are challenges.
I feel really lucky because it's pretty easy to grow grapes in the Willamette Valley. We have dry summers. We don't have 2,000 years of viticulture to have diseases that have developed. We don't have Pierce's disease. We don't have oidium that the French have to deal with. We don't have neighbors that are a meter away doing something terrible to influence the harvest.
Most of Oregon is in some sort of a sustainable program. We like to pat ourselves on the back a lot about that, but it's pretty easy to do it there. We're very fortunate because it's a great place to grow things. Like I said, the Valley itself, I think, grows over 200 different commercial crops. It's a great place to grow.
Read other Grape Collective articles on Oregon wines.
Interview with Jay Somers of J. Christopher
An interview with Maria Ponzi
A Teutonic story
On Whoa Nelly
Dorothy J. Gaiter on the Willamette's birthday