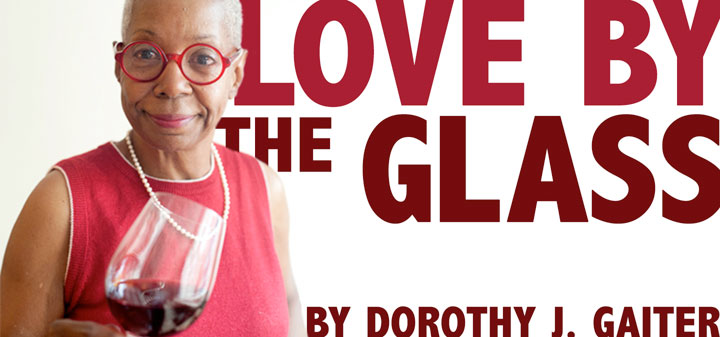 March and April were momentous months for my little family. We celebrated our 35th wedding anniversary; Zoë, 23, an amazing drummer, completed a 25-state tour with her rock band, including performances at South by Southwest; and Media, our dazzling fashion writer, turned 25.
To celebrate Media's birthday, the first of these occasions, we went to The Dutch, a cool place in Greenwich Village that Media loves. Her beau, José, joined us, but Zoë was still on tour and we missed her a lot. (We were all together later for our anniversary dinner, including Zoë's beau, and it was a fabulous night.)
Most of the time, John and I each get a wine list—yes, usually I have to ask—and what we order is a joint decision. This time, he surprised me with his find on the marvelously eclectic wine list: a 2011 Melon de Bourgogne from the Willamette Valley in Oregon. If you think that's weird or even a typo, well, you can understand why John wanted to order it. Melon de Bourgogne is the grape of that sublime-with-seafood wine Muscadet, the most popular white of the Loire Valley of France. This one was from a winery that was new to us: Whoa Nelly! And if you think that's also weird, well, you can doubly understand why John ordered it.
When beverage manager Chad Walsh brought it to our table—no one there knew who we were—we smiled. The label sported two cowgirls, one on her horse jumping over a fence, and these very wise instructions: "Pour before drinking."
We also smiled for another reason. Nowhere on the front label were the words Melon de Bourgogne. They were on the back. The front said "Whoa Nelly White." Years ago, we interviewed Daniel Gehrs of Daniel Gehrs Wines in Santa Barbara County, California, because he made a charming, fruit-forward wine labeled Muscadet. Several years later, he stopped making it. He explained to us that the U.S. government had allowed him to use the name Muscadet for three vintages, but after that enforced its policy forbidding American winemakers from using place-specific names from other countries. This has been reinforced through trade agreements. Even though there is no town called Muscadet, it is a famous region. Gehrs could have called his wine Melon, but he just didn't want to explain that his wines were not made from melons. It is pronounced Meh-LOHN, by the way.
The Whoa Nelly! Melon was an utter delight: pitch perfect and flinty, with juicy lemon and green apple. It was great for our birthday celebration.
Anne Ebenretier Hubatch makes Whoa Nelly! wines as a side project to her more upscale label, Helioterra, and another side project with a cooperative négociant business called Guild Wines. She told me she makes her wines in an urban winery, custom-crush cum wine-bar cooperative called the SE Wine Collective in Portland. She buys grapes and surplus finished wines from other wineries and blends them to her taste. Hubatch, 36, who is from Sheboygan, Wisconsin, ditched plans for medical school 15 years ago when the wine bug bit her, leading her to a degree in winemaking and apprenticeships with some of Oregon's best winemakers. An admitted Pinot Noir addict—"I have to have it every day"—she launched the Whoa Nelly! line only two years ago, she says, when her Helioterra line was being priced out of the wines-by-the-glass range. Whoa Nelly! is "always fun, always affordable," she told me. The light-hearted branding is the work of a friend who is a graphic designer.
After we'd had a few sips of the Melon, Walsh circled back to our happy table to get our verdict. "She absolutely nailed it," I told him, to which he replied, beaming, "She did, didn't she?" Muscadets can be insipid, characterless wines, some left a little sweet to cover flaws. This was tart and yet ripe—a perfect ying-yang balance, and it had pleasant heft, a fullness in the mouth. I immediately thought of oysters.
"I'm super passionate about white underdog, geeky whites," Hubatch told me, adding that she has made a Pinot Gris exclusively for Whole Foods and has made an Arneis, a floral white that hails from the Roero hills of Piedmont in Italy. This was her first Melon. It became so successful that all of it now goes into her Helioterra line.
Hooked, we tried more Whoa Nelly! wines. The 2012 Pinot Blanc was a wonderful example of this grape variety. It had its usual peachy nose and it was piercingly focused. It also had a little of its usual pleasant funk. "A wine to talk about," John said, and we did. "It's complex yet highly drinkable, which is a neat trick, especially for whites," he added. It had an intensity about it and a long, peachy, lime-apricot finish. "It's an earthy, lusty white," I wrote in my notes.
The 2011Pinot Noir opened into a funky, Burgundy-like wine. "Like the Pinot Blanc, it embraces its funk," I wrote in my notes. "Lots of earth, very drinkable." John added, "If we served this to guests, they'd think it's a Burgundy. Restrained and refined."
"People are hungry for well-made, affordable wines," Hubatch says. Yeehaw! You've got that right, Pardner!
Dorothy J. Gaiter conceived and wrote The Wall Street Journal's wine column, "Tastings," from 1998 to 2010 with her husband, John Brecher. She has been tasting and studying wine since 1973. She has had a distinguished career in journalism as a reporter, editor, columnist, and editorial writer at The Miami Herald and The New York Times, as well as at The Journal.