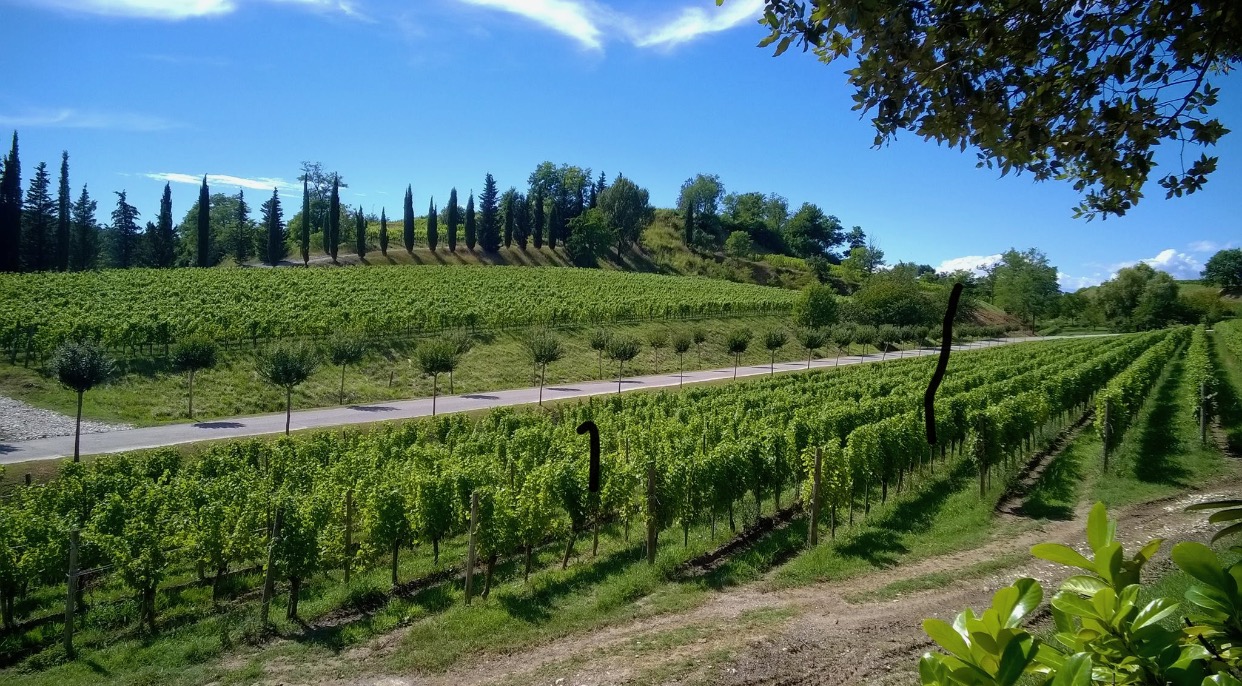 The Collio DOC, within the Friuli-Venezia Giulia wine region, is at the most eastern edge of northern Italy, bordering Slovenia to the east. Vines have been grown on the sunny hills of Collio (the local dialect for hill) since ancient times and the area is recognized as one of Italy's top regions for white wines of great structure and complexity. Two of the top wineries in Collio are Marco Felluga and Russiz Superiore, both owned by Roberto Felluga, fifth generation wine producer.

The Felluga family's winemaking history dates back to the late 1800s, when Roberto Felluga's great-great-grandfather Michele started buying and selling wines in Istria (then part of the Austro-Hungarian Empire). Michele's son Marco added grape growing and wine making to the family business in what is now southwestern Slovenia. After World War I, Marco's son Giovanni continued the family's wine trade by opening a cellar in Collio in the 15th-century fortress town of Gradisca d'Isonzo in 1938. When World War II broke out and Istria became part of Soviet-dominated Yugoslavia, the family lost their farm and moved to Collio. Eventually two of Giovanni's seven children established their own wineries, Livio Felluga and Marco Felluga, the latter now includes the Russiz Superiore estate.

Roberto Felluga stopped by Grape Collective to talk about what makes the Collio wines so special.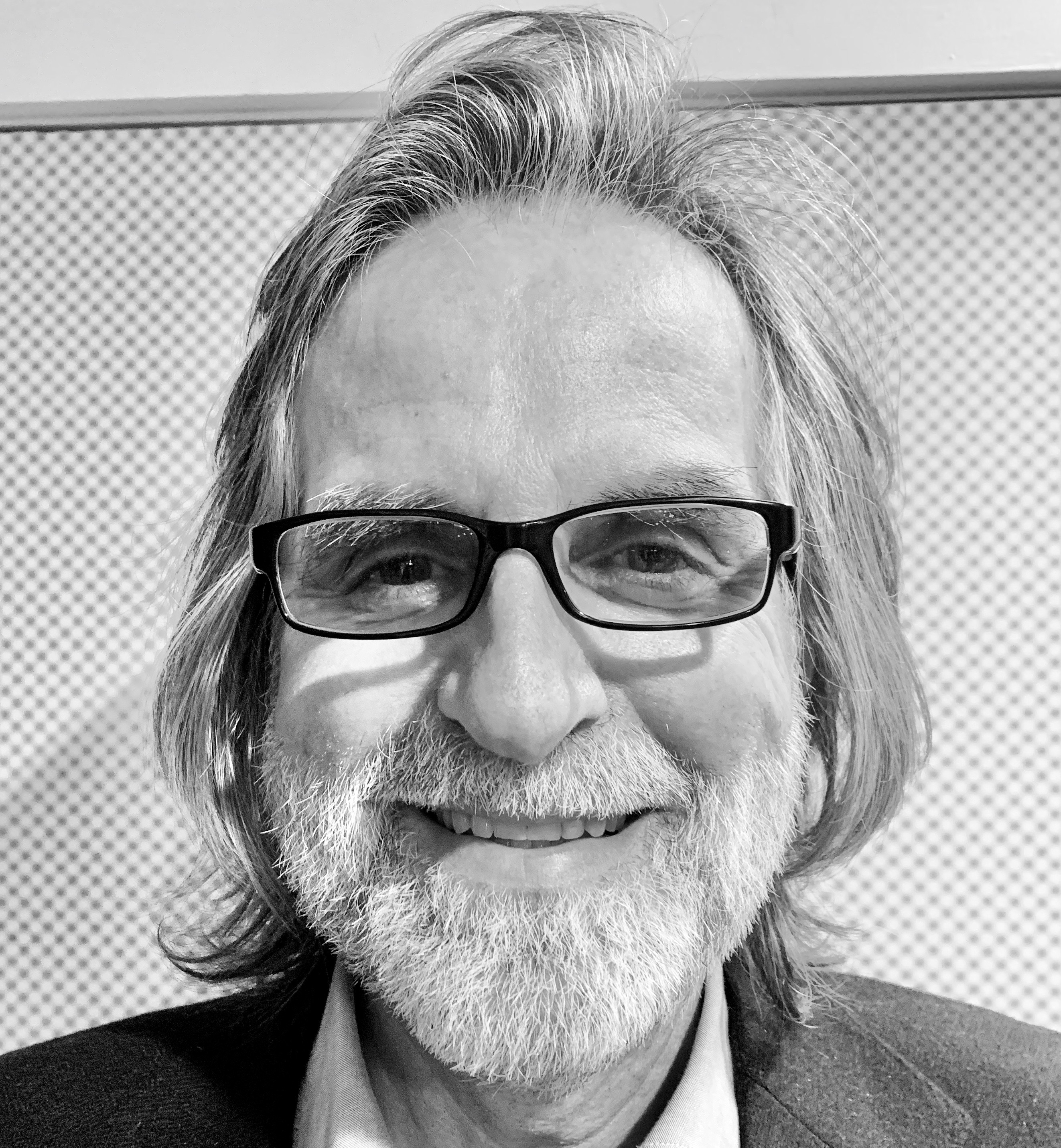 Lisa Denning: You're fifth generation winemaker. When you were growing up, did you always think you would be in the family business?
Roberto Felluga: When I was young, I was with my father in the vineyards and in the winery and I liked the atmosphere and I've always felt it was exciting to be in this kind of job.

Tell me a little bit about the history of your winery.
We started to produce wine, not in Collio, but in Istria, an area on the east side, that was occupied by many nationalities: Austria, Italy, and now Slovenia. We started to produce Malvasia there, more than 150 years ago. Then before the Second World war, my grandfather had the good idea to increase the market from Istria to Friuli in Veneto and he also opened a warehouse in Grava, an island, and in 1938, a winery in Gradisca d'Isonzo, Collio because he saw the very good potential for wine in Friuli.

It was a good idea because he lost everything in World War II and my father and the family decided to continue to be in the wine business in Friuli. The family was together making wine under one label, Felluga, until 1956 when the two brothers, my father and his brother, split up. My father remained in Gradisca d'Isonzo and he founded the Marco Felluga winery. My grandfather went to another appellation in Collio, and my uncle Livio founded Livio Felluga winery.

Did they split because there was conflict within the family?
No, no. During their lives, maybe they had an agreement to buy vineyards together but yes, maybe it was just different personalities. It was a good idea for the family because now we have two different important wineries. And in 1967 my father decided to buy Russiz Superiore. This is a very old estate, more than 700 years old.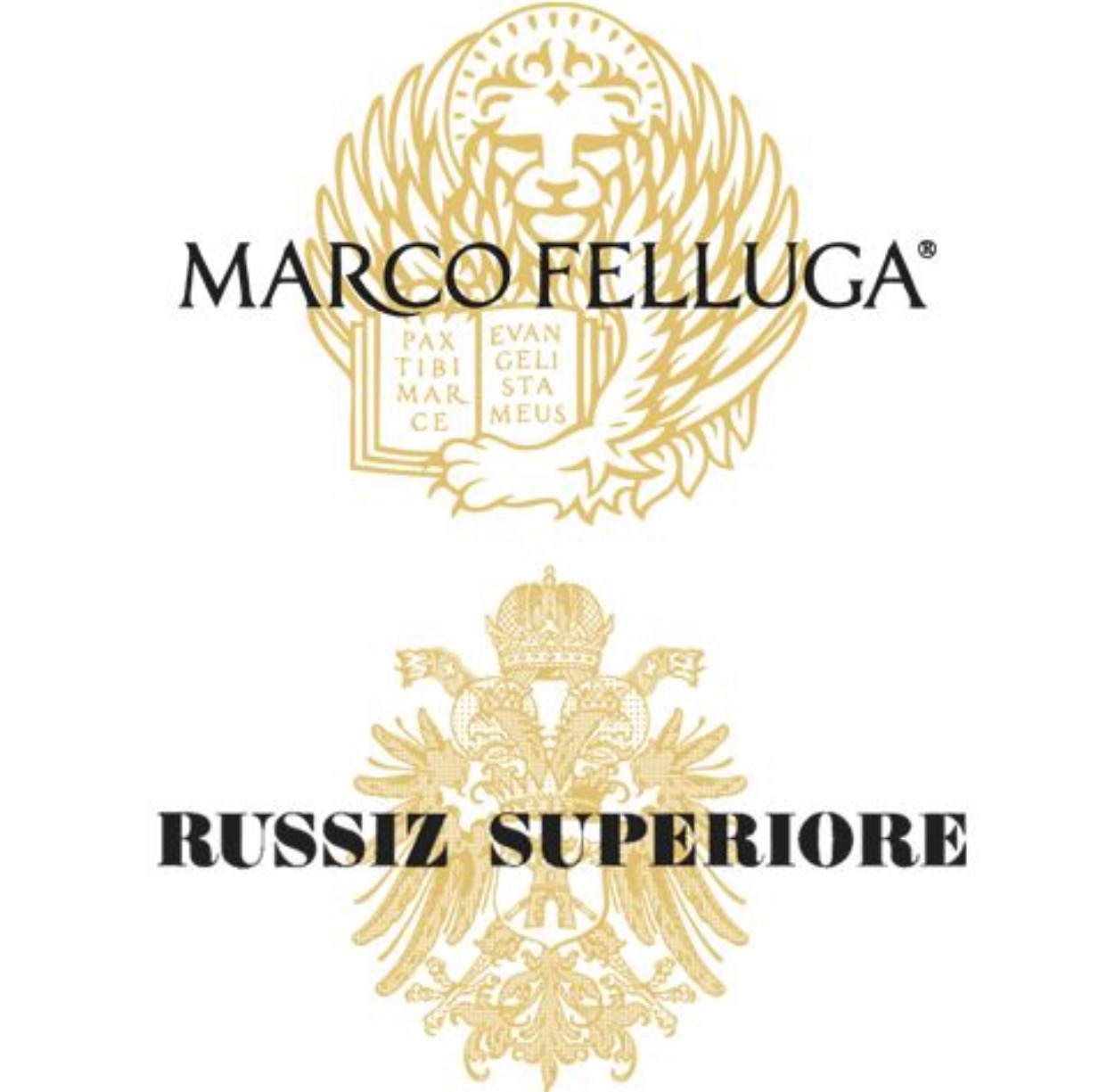 The two wineries, Marco Felluga and Russiz Superiore, have different crests: the former is characterised by a lion, the latter by a double-headed eagle. The Marco Felluga lion is an homage payed by my father to the Venetian Republic. This choice is due to the fact that, in the 15th century, the Republic of Venice governed the fortified citadel of Gradisca d'Isonzo, the current headquarters of the Estate, fostering its prosperity and development. The eagle of Russiz Superiore is a tribute to the Thurn und Taxis, a noble family that arrived in Friuli in 1273. They ruled for many years the lands that are today devoted to the wine production. Their presence in the Russiz Superiore area has made even brighter the 700 year of history of this unique land.

Interesting. Have you now taken over the winery from your dad?
Yes. I have been running the winery for many years. My father is still alive, he is 93 years old this year. He decided more or less 20 years ago to leave me two different estates.

Can you tell me a little bit about the Collio appellation?
Collio has a very small population and is a very small area. There are 7,000 hectares, but only 1,500 are vineyards and with a very good balance between the forest and the vineyards. We are very close to the ocean and to the mountains. We are the northernmost population with a Mediterranean climate. We have the end of harvest at the beginning of September. During the harvest time, there is a big difference in temperature between the day and night. Everywhere they say we have minerality from our soils, but also we have a special characteristic in our wine because more than 20 million years ago the area was the ocean, the Adriatic. The wine is a little bit salty, because this comes from the characteristic of this soil.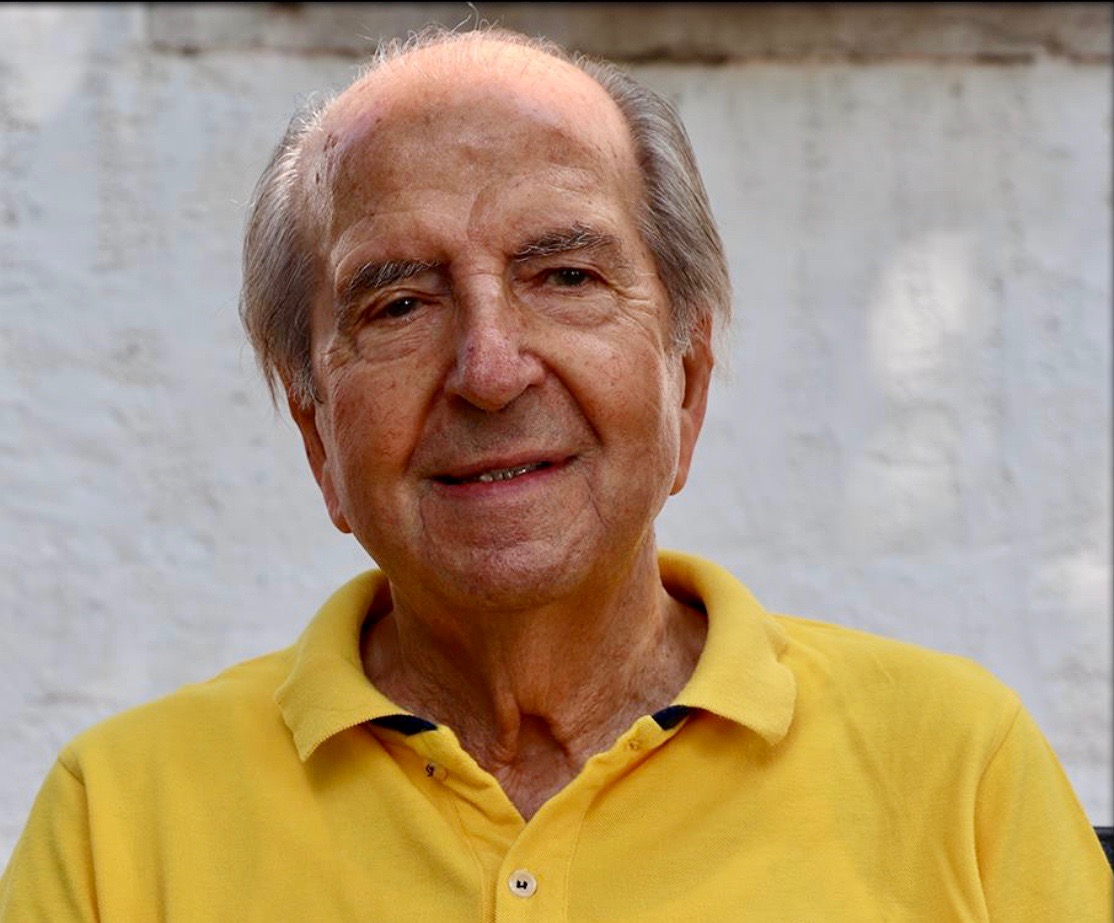 How has the winemaking in Collio changed since your father started the winery back in the 1960s?
From the production point of view, nowadays we know more about the vine and the wines compared to the '60s. This led to a greater awareness and to the birth of innovative techniques related to the work in both the vineyard and the cellar. Another element that differentiates my work from that of my father is the constant and high-paced transformation of the external environment. This presents us with daily challenges that we welcome with passion, energy, and curiosity. Some of them are, for example, the reduction of both the alcohol and the SO2 in our wines.
(Above photo: winery founder Marco Felluga)
Regarding the whole Collio area, during the 1960s a lot of things changed. This land had a renaissance as a region producing white wines, as Chianti did for its reds. The Collio Consortium, a union of wine producers, was established in 1964, right after the Chianti and Barolo ones. Then, in 1968, it was recognized as an appellation by the Italian Ministry of Agriculture.
Can you tell me a little bit about the terroir of your two estates, Marco Felluga and Russiz Superiore?
Marco Felluga, in Gradisca d'Isonzo, and Russiz Superiore, in Capriva del Friuli, are two estates located in the same appellation, Collio. The Collio's hilly terrain, called 'ponca' in Friulian dialect, or 'flysh,' was formed during the Eocene period and is composed of layers of sandstone and loam rock (limestone and clay) that once were the ocean floor. The traces of this distant past can be seen even nowadays. In fact, sometimes, when we work, we find out some shells and fossils coming from this ancient coral reef. These soils are impermeable so rainwater flows off their surface, producing little erosion and preventing standing water.

Marco Felluga has its vineyards in 4 different zones located at 4 different altitudes: Farra, San Floriano, Cormons and Oslavia. They vary from 260 feet to 1100 feet above the sea level. The fermentation and vinification of our single variety whites are done using stainless steel tanks then they spend a few months in the bottle. On the other hand, the Russiz Superiore area is considered the cru of the Marco Felluga Estate, It counts 100 hectares, 50 of which are vineyards characterized by a unique one which surrounds the main house and our relais. Approximately 15-20 percent of the single variety white wines are fermented in oak barrels, while the remaining ones are fermented in stainless steel vats. The wine ages on the lees for eight months and then in the bottle.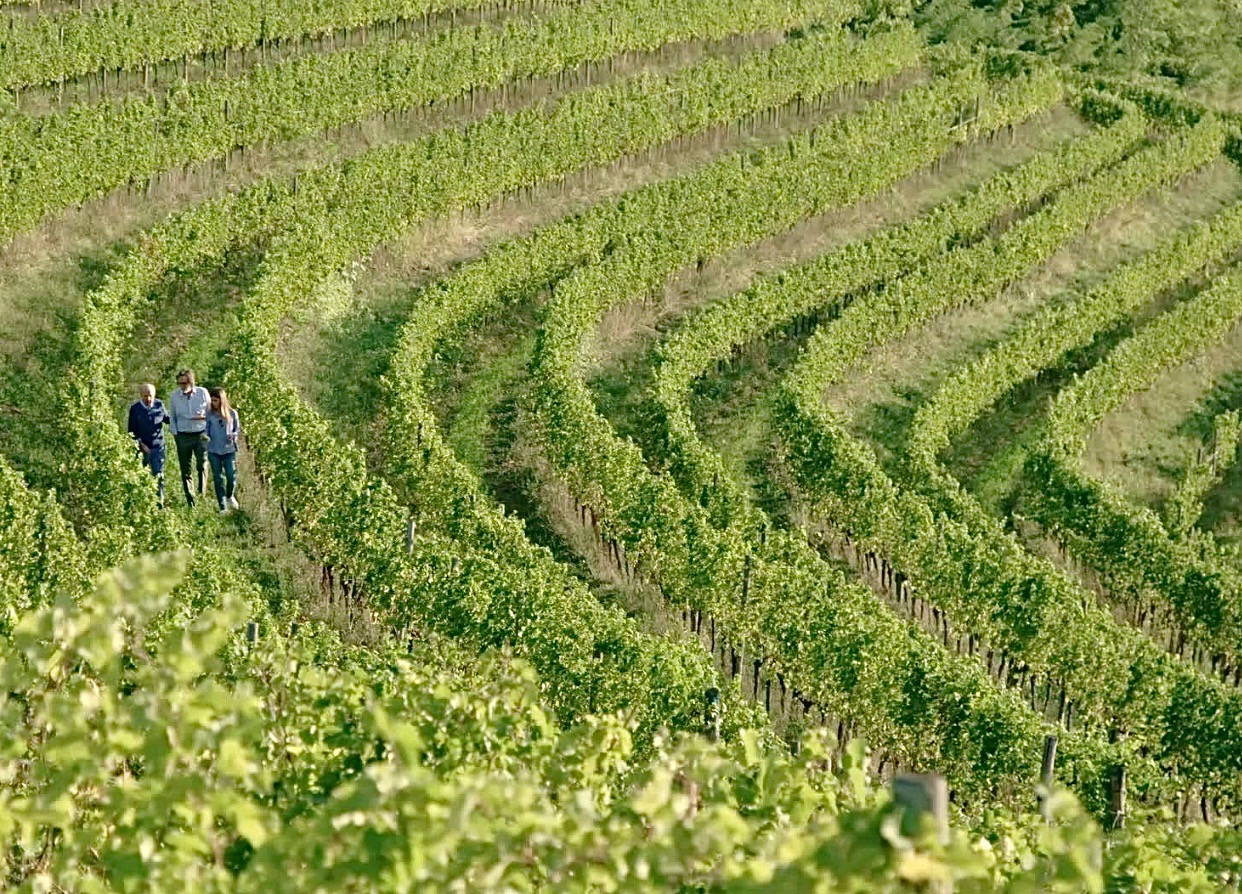 What are the different grapes you grow in your vineyards?
Pinot Grigio, Sauvignon, Friulano are in Marco Felluga and Russiz Superiore. For us it's very important to blend too. Our Molamatta in the Marco Felluga and Col Disore in Russiz Superiore are blends of white grapes. We also grow Chardonnay and Pinot Bianco, as well as red grapes.
(Photo: Three generations of Fellugas in the vineyard: Marco, Roberto, and Ilaria.)
What percentage of your wines are red?
20 percent of our wines are red, while 80 percent are white. Generally speaking, the Collio appellation produces 85 percent white and 15 percent red. The red wine, when we speak about local grapes, we speak about Refosco, the name of the wine is Ronco dei Moreri. We are also well-known in the area of Collio for Cabernet Sauvignon and then we have another important grape, Merlot.

We call some of our varieties 'international local grapes' because after phylloxera we imported grapes like Pinot Grigio, and Cabernet Sauvignon. During the last 200 years we cultivated our own Pinot Grigio — it's not something fashionable that we started over the last 20 years — so we could say that we have our biotype here in Friuli. During the last 60 years, my father made a selection of the plants, so that now we can do a massal selection of them. In the past, if somebody liked a wine, he went directly to the producers and asked for the plant. It was an empiric selection, not a scientific one. Today, people have more data and know, in advance, all the characteristics of a specific plant and grape. A long time ago it was different and the selection was harder. Now everything is more controlled. The nurseries can have 10 different Pinot Grigios with different characteristics. They can offer you different plants with different characteristics, and that leads to the production of a great variety of wines.
Your Father was also very interested in promoting the Pinot Bianco grape. He felt that people didn't really know about it.
Pinot Bianco is also another very important wine for us. We have a Pinot Bianco classic, and we have also have a riserva. Also the Pinot Bianco is in our blended wine called Molamatta de Marco Felluga. I believe very much in this kind of grape. It is elegant, with body, and can age very well. Collio is a very good habitat to grow this grape. It's the little brother of Pinot Grigio, not because a lesser quality, but because it's less well-known.

Let's talk about sustainable practices you follow at your wineries. Are you certified organic?

Russiz Superiore is part of the VIVA Project, a program designed by the Italian Ministry of the Environment that is aimed at improving the sustainability performance of the Italian wine industry through the analysis of and intervention on four markers: air, water, territory, and vineyard. Given the importance of the subject, the scope of the program, and the brilliant results obtained by the Russiz Superiore Estate, the leadership decided to include Marco Felluga in the VIVA Project as well.

Regarding the work in the vineyard, it is carried out in full respect of nature, without resorting to herbicides and using only natural fertilizers. In particular, here at Marco Felluga and Russiz Superiore we employ a cultivation system called integrated farming, 'lotta integrata,' which puts together the best practices of both the biologic and the organic field. Moreover, we are part of a group of researchers who study the current wine production and cultivation practices and investigate how the viticulture can improve in terms of sustainability and respect for nature.

For what concerns the energetic solutions, we currently rely on E.ON, an Italian energetic operator, which provides its customers with electricity derived from renewable sources. In the next future, we would like to become even greener. That is why we have started a process to install solar panels in all our estates and offices.

And I see we also need to be sustainable not just for the vineyards and the wine, but also for the employees. We are a family company and with the two different estates, we are not more than 45 people. Yes, for me the most important concern is to take care of of the people who work at the winery.

What is your philosophy of wine making?
The philosophy is that we are in a small area with a small population and our respect for the territory and its history is what sets us apart. We work each and every day with passion and energy to produce wines that best represent their land of origin, the Collio. This area, protected by the Julian Pre-Alps and located a few kilometers away from the sea, is one-of-a-kind. In fact, despite being located in northern Italy, the Mediterranean climate makes sure that our wines have a great balance between minerality, acidity, alcohol, longevity, structure and fruity scents.

Another pillar of our winemaking philosophy is the constant pursuit for balance between tradition and innovation. In fact, our family — six generations of far-sighted winemakers — has always tried to respect the heritage and knowledge bequeathed its ancestors. All that without forgetting the importance of curiosity, research, and innovation, which are fundamental aspects when it comes to the future of viticulture.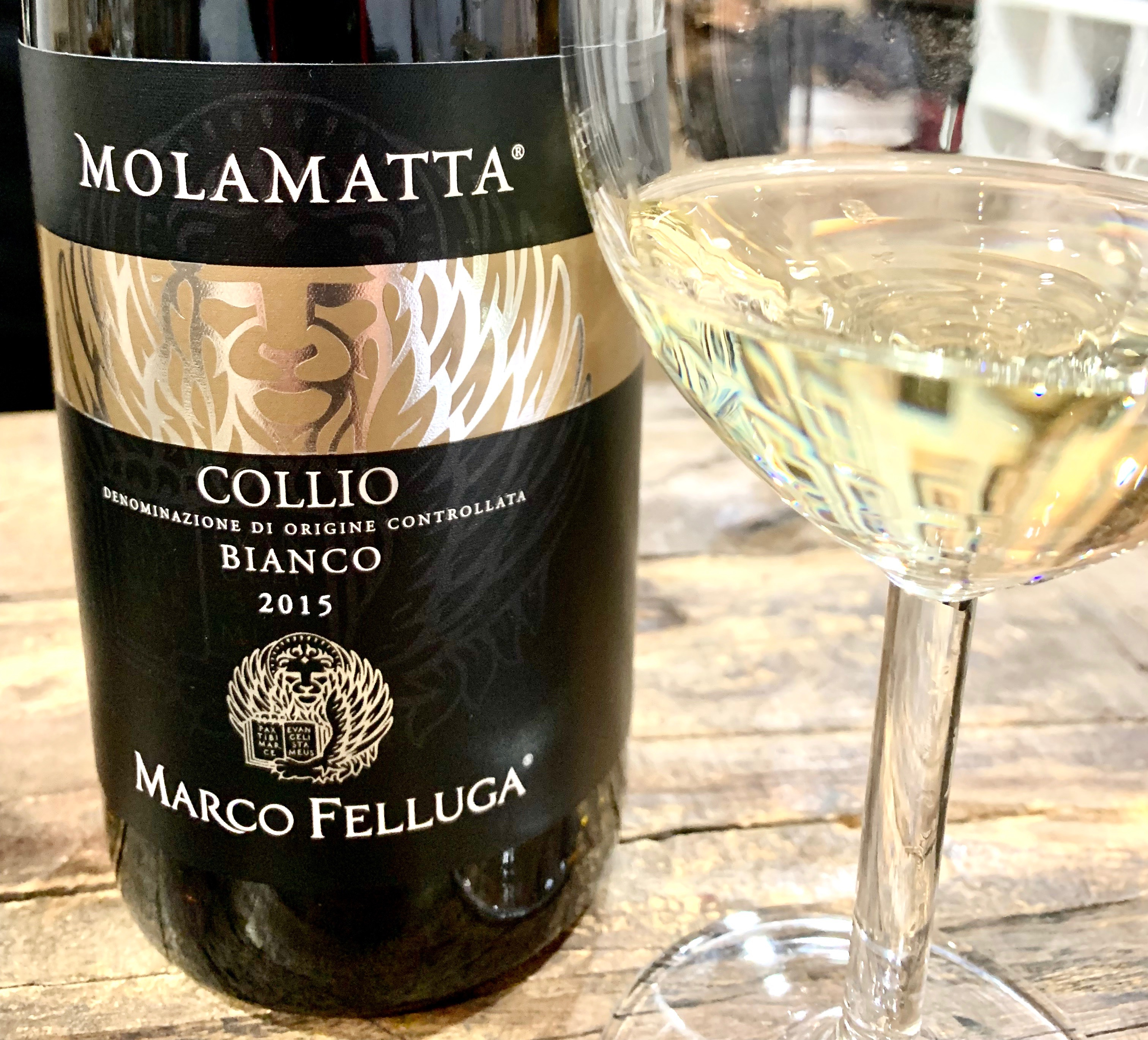 Some of your white wines are still opening up ten to twenty years in the bottle. What is it about these whites that enables them to be fresh and delicious after all that time?
In the wine we have a good balance between fruit, body, acidity, and alcohol and the wines develop complexity over the years. They have the structure to be able to do this. It comes from the characteristics of the soil and the microclimate that gives a good acidity. This is very important. We also have a very good balance between grapes and leaves and our process is to follow nature. Every year is of course completely different and we do a little skin contact, but our goal also is to reduce the amount of sulfur every year. At the moment we're not allowed to say, "no sulfites in the wine", because we have a little bit of it because it's a natural process of the vinification. But we hope in the future to be without added sulfites.

Have you noticed climatic changes that have affected your winemaking since you took over the winery?
The wine is not different, but we start the harvest very early now. I remember when I was younger, maybe 40 years ago, we started the harvest between the first and the second week of September. Now we start in the middle of August sometimes.
Do you feel like there are marketing obstacles for your region, for example with Pinot Grigio. A lot of people still think of it as a cheap supermarket wine?
Yes, this is a good question because also I'm a president of a regional association of winemakers and I try to follow the interest for the whole region. For Collio, it's a different production, a different place than other areas that make Pinot Grigio. And now there is a new, very big DOC, Delle Venezie, between Friuli, Veneto and Trentino that accounts for more than half of the world's Pinot Grigio production and has strict production methods. But in Collio, we are very traditional. We have older vineyards, older biotypes, and also for us, Pinot Grigio is completely different because it's a wine with a lot of body and character. You can drink the wine when it's young or you can age it. It's a different Pinot Grigio from anywhere else.

Do you feel that the Pinot Grigio specifically from your area of Collio is far superior to those from other areas?
Yes.
How do you get the word out? Americans don't know all the details about where it's coming from and they may shy away from the most expensive one on the shelf, not knowing it has a higher quality.
I know that maybe sometimes people are not so open to try Pinot Grigio, but they have to taste it because at the end the wine has to speak for itself. We are happy because in the market in the U.S. with our Mongris, the Pinot Grigio from Marco Felluga, we have a lot of satisfied customers. We need the producers, and people like you and the sommeliers to get out and talk about the wine and explain to the customer that these are special Pinot Grigios.

How much of your wine is exported?
Less than 40 percent is exported. We are in 50 different markets. And outside of Italy, the most important market is the U.S. and we have a very good partner, Brian Larky of Dalla Terra, who started importing us into the U.S. and we are happy with the company.

What do you feel as a winemaker is the most challenging part of the job?
There is a challenge to interpret the nature every year. Each year is different but this is exciting. I like it and I feel privileged to be in this kind of business, and I'm very happy also to have followed my father for many years.

What do you like to drink when you're not drinking your own wines?
I like to taste wines from everywhere. I like wines that aren't too full-bodied, the wine has to be elegant, like the wines from Burgundy.

Read more about wines from Collio in Dorothy Gaiter's Grape Collective article, "No Respect: Why You Should Reconsider Pinot Grigio and Beaujolais."
Read more from Lisa Denning at The Wine Chef.