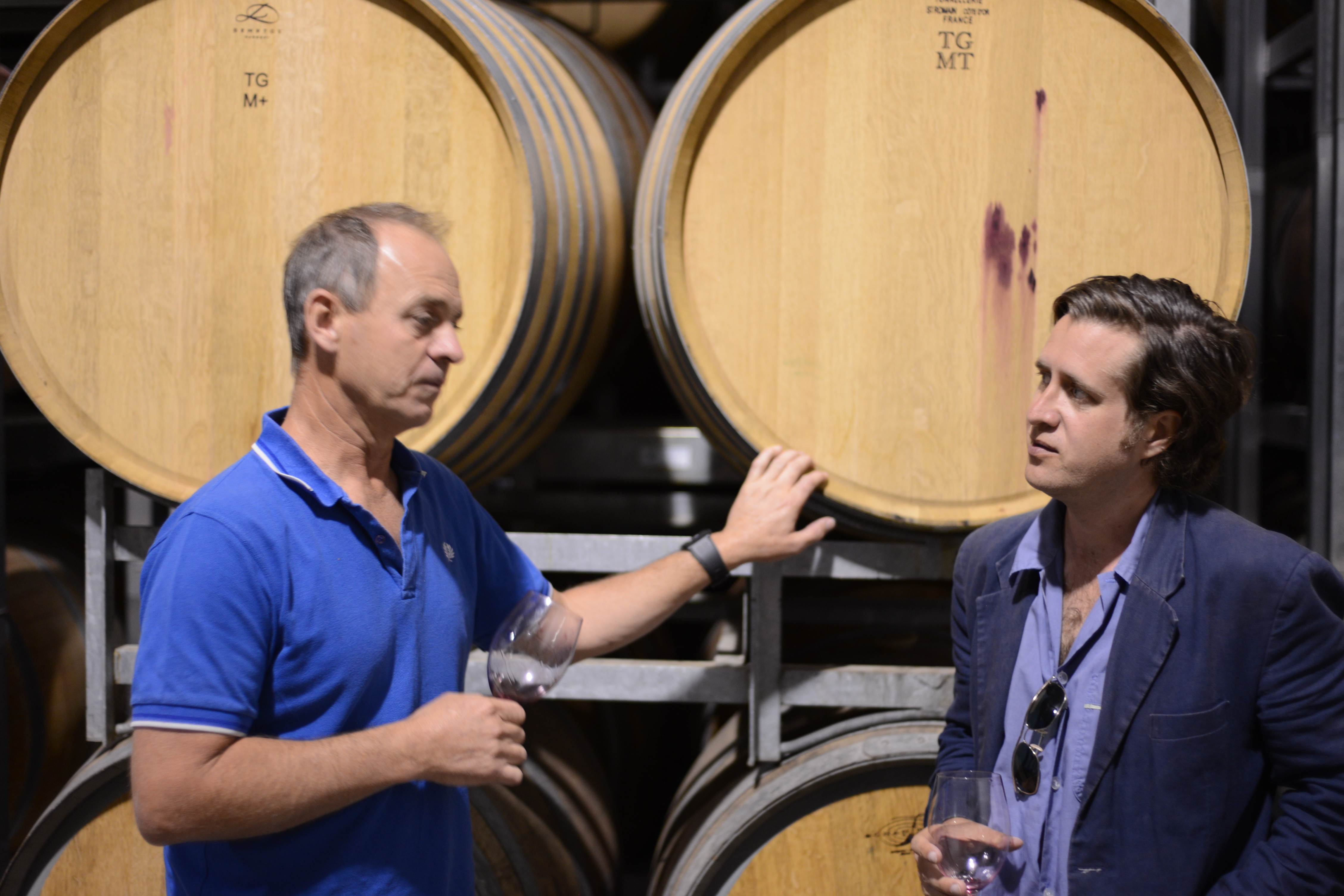 Steve Pannell's family founded the Mosswood Wines, one of the original wineries in the Margaret River. After stints making wine in Burgundy and then at Wirra Wirra in the McLaren Vale, he worked for wine giant Hardy's where he rose to chief red winemaker. In 2004 he left corporate winemaking to start his own boutique label S.C. Pannell. He now enjoys working with some of the finest grapes in the McLaren Vale including 70+ year old dry farmed Grenache and 90+ year dry farmed old Shiraz.
Grape Collective: Tell us a little bit about you when you were at Hardy's, which is now Constellation. That is an enormous company, right? That's the epitome of corporate winemaking to a degree and now you're making your own wine.
Steve Pannell: Yeah, I left Hardy's and I was looking at 280 million bottles of red wine per annum. I left because I was starting to lose my passion for wine. I was teaching people about winemaking, but my knowledge stopped from where I stopped making wine and I really wanted to get back to making wine with my hands, and not only that but making wine that I really love to drink not just to sell.
The commercial element of large corporations is important I suppose and it's always going to be a factor, but also the success in terms of competitions and appreciate and garnering journalists' attention is what I was driving. That's the style, and that's not what I'm interested in doing. I'm very selfish and myopic about making wines now that I like to drink and, I think the rest of it will take care of itself if that's the case.
Grape Collective: Tell us a little bit about your grape growing philosophy. Growing grapes for yourself and growing grapes for a big corporation, I imagine, have to be two diametrically opposed ways of thinking about agriculture.
Steve Pannell: Yeah, with large companies you have growers growing grapes for you and you can influence their decisions, but if you take ownership of running that then anything that goes wrong becomes your fault, so there'll always be a gap between a grower and a purchaser of fruit about where he's trying to grow as many tons as profitably as he can you're trying to get the best quality.
For me these days with my own vineyard, I still have growers, but it's a different story. I know when I want something done, it's 100% done how I want it to be. I can prune harder. We're grafting some Tempranillo onto some Riesling over there and it's not an issue for me to just drop the crop straightaway. It's a much longer-term objective for me with regard to that.
Owning a vineyard is important. It's not always the be all and end all, it's got to do with the relationship you have with the grower. It's like business, if you have a good relationship with somebody it works.
Grape Collective: Is there anything that you do from a viticulture standpoint that's unique. You mentioned dry farming earlier.
Steve Pannell: Yeah, there's a lot of changes that have come to Australia. I'll give you an example, it would've been only 8 years ago that we really started to thin vineyards in terms crop and balance. I went to an Italian grower that had been growing for 60 years and said, "We need to thin this off."
He was like, "What, chop bunches off?" He was so upset by the idea of chopping bunches off that he would disc the bunches into the ground so you wouldn't see them. The big change in the last 10 years is exactly that. Pruning harder, chute thinning, bunch thinning, leaf plucking, better use of irrigation.
In certain climates in Australia we're going to have to irrigate, not all the time, but getting a better natural balance to express your soil. The concept of, I hate the term terroir, but the unique element of any wine is where it comes from and so the ability in terms of viticulture and winemaking to protect that unique character, that requires you knowing and finding that unique character, is very important. It influences all your decisions.
Grape Collective: Why has the Barossa developed a higher international profile than the McLaren Vale?
Steve Pannell: Historically McLaren Vale was used in a blending all across Australia so its grapes were sold to many wineries from the Hunter Valley to Victoria to large companies in the Barossa, and it was used to give wines mid palate in blending.
As a consequence of that not all the grapes that are grown here end up in the shop with a label of McLaren Vale. What we're trying to right now is people are tasting these wines with McLaren Vale labels. They may have drank lots of them in the past, but not known what is McLaren Vale, and that's the biggest difference between the Barossa and McLaren Vale.