We were at a large tasting hosted by the Association of African American Vintners in Oakland a few months ago when John sampled a Grenache Blanc, a variety we generally consider more solid than exciting. This was an exception. It had a combination of generous fruit, tropical life and an earthy roundness that made it complex and delicious. When John said all of this, the man who poured it smiled and said: "That's good to hear because otherwise I wasted a whole lot of money on terra cotta pots."
John rushed to get Dottie to taste the wine. Then we vowed we'd find out more about this man and his wine.
The man is Raymond Smith, owner of Indigené Cellars, with a winery in Carmel Valley and a tasting room in Paso Robles. It turns out he has a story quite unlike any other we've heard over the years, featuring bottling lines, the value of mentors and even a soul food supper club for at-risk youth in San Francisco.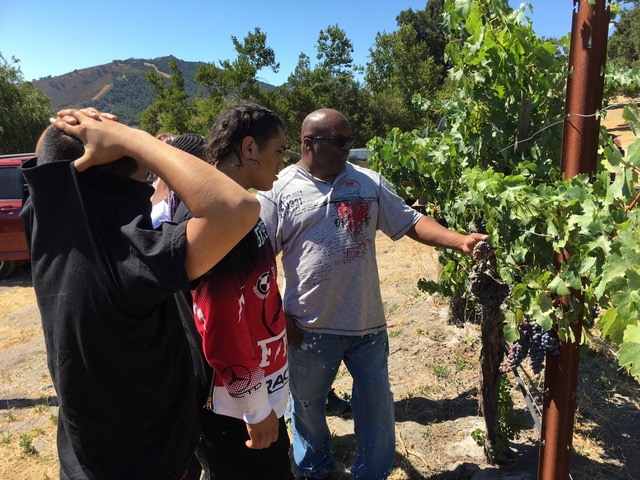 And many amphoras.
Amphoras are ancient, but also a little bit of a trend in local winemaking. Famed Napa Valley winery Dalla Valle Vineyards has used some since 2018. In a recent press release, winemaker Maya Dalla Valle said the use of amphora "adds to the complexity of the wine without introducing higher quantities of new oak to overpower the fruit and nuances it contains."
Smith, who is 59, studied journalism in college, but he found a job at a large winery in Paso Robles. "I learned all about bottling and barrel work, like the mid-part of winemaking," he told us when we called.
A few years later, someone contacted him about helping to start a mobile bottling operation. "So we got this business up and running," Smith said. "These guys were the money part and I was the sweat equity part, the guy who had the knowhow. It changed my perspective of winemaking from learning from one guy to learning from 400 guys because I was traveling all over California and meeting new people and learning about new ways of blending wines, new ways of making wines."
As a result, Smith speaks with intimacy about multiple regions of California in a way we've rarely heard.
In a short time, Smith bought the bottling business. That's when his education really took off. He told us he always had mentors, winemakers who were eager to discuss everything with him. Many had one thing in common: "I always for some reason was hooked up with some crusty old Italian guy. I always met Italian varietal makers for some reason and kind of stayed close to them and these were guys who I had a deep relationship with."
We think his secret was that he listened. As he put it: "I had no problem ever saying I didn't know and once I did that they had information for me every time I showed up."
...