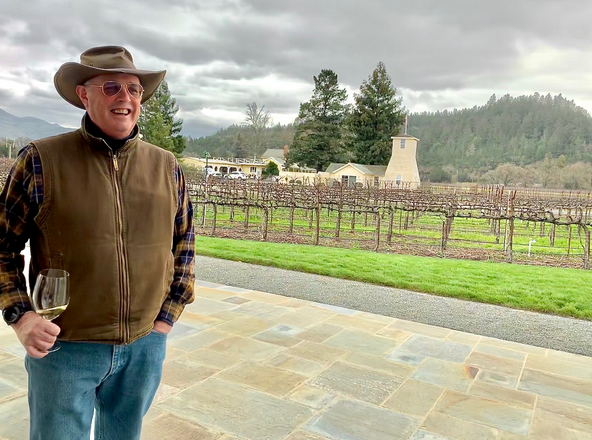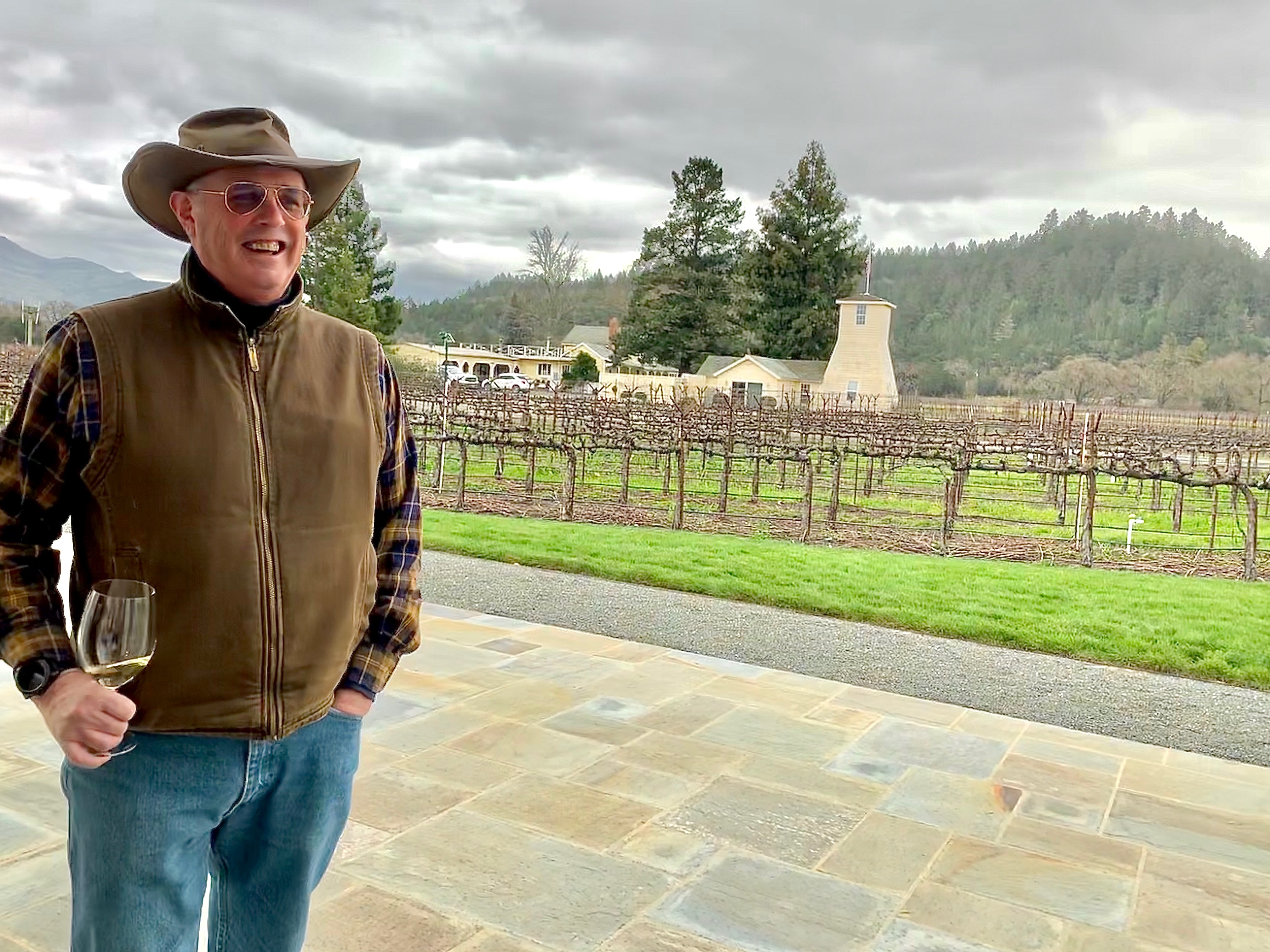 Gamble Family Vineyards, founded by third-generation farmer Tom Gamble, sits in the heart of Napa Valley and produces wine made from grapes grown throughout many of the top AVAs: Oakville, Mt. Veeder, Rutherford, and Yountville. Gamble, along with winemaker Jim Close, crafts small production wines that incorporate Napa Green and and Fish Friendly Farming techniques.

The Gamble family came to Napa over 100 years ago as cattle ranchers. Gamble grew up on the family farm with chores that included herding cattle and working irrigation lines. As a young adult, he recognized that viticulture was the wave of the future for Napa and planted his first vineyard in 1981. After years of growing and selling grapes, Gamble bottled his first vintage in 2005 under the Gamble Family Vineyards label.

Since then, he has earned a reputation as one of Napa Valley's most knowledgeable and capable farmers. Tom stopped by Grape Collective to chat with us about making wine in America's most famous wine region.

Lisa Denning: Your family has been farmers and cattle ranchers since the early 1900s but you're the first generation to make wine, correct?
Tom Gamble: Yes, I'm the first one to go over to the dark side and be a buyer of grapes versus a seller.
Can you tell me how you got interested in winemaking?
I think for a lot of reasons. It seemed it was a natural progression from being only a grower of grapes. There's an economic consideration, too, as far as maintaining the sustainability of the farm. Meaning that you want to build in at least part of your grape sales into a vertically-integrated sort of business model. A successful wine brand is more valuable, the grapes are more valuable in a wine brand than they are just being sold. So there's an economic sustainability to allow one to hold onto the land longer for more and more generations. It all keeps coming back to sustainability for both the family and the environment and the farms you have.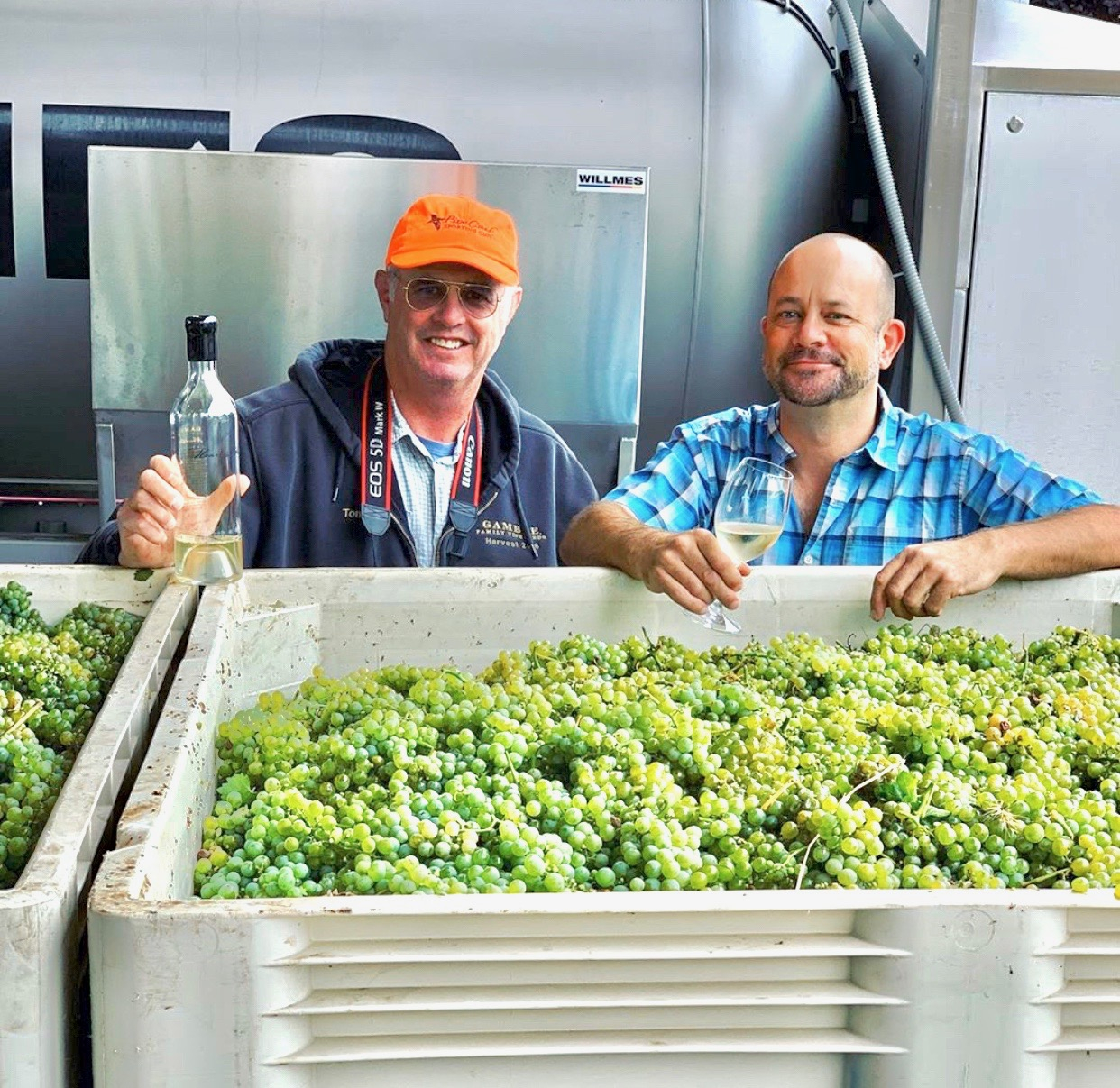 There's also just the reason of passion. "I have some great grapes. I have quite a reputation for growing grapes. Why not take it to the next level, see what we can do with it?" So it was really an entrepreneurial fling. I had no background except for working in wineries as a grunt and as an intern. I had a few basic winemaking classes but I was not an expert winemaker by any means.

So I jumped in and I decided I would have a winemaker, as well. I first started with a partnership and we had a consulting winemaker. And then when I started Gamble, Jim Close became my winemaker. He's British, has the same sort of wine palate that I do and we make wines out of passion so it's a good fit.
(Photo: Tom Gamble (left) and Jim Close with Sauvignon Blanc grapes).
Was there also a bottle of wine you had that made you say, "Wow, I really want to be a part of this"?
Yes. I had a Chateau Souverain when it was up on Howell Mountain in 1961. There was a small vineyard that my mom and dad had in the first house they lived in, and 1961 was the year of my birth, so they retained some of those cases of wine. Before the end of the interview, I hope I remember the winemaker's name. He was an iconoclast of the time and he became a mentor to people like Warren Winiarski.

So while Mr. Mondavi was doing revolutionary things, Souverain was doing things on a very small scale and was one of the first cult winemakers of the post-war era. I did not have that wine until it was at least 20 years old and it was still magnificent. So I think that was one of those first "aha" moments. I remember there being some other wines as well, like the Freemark Abbey wines from the '70s.
I can also remember tasting the Vietti Barolo for first time and it was a mind-blowing experience because I was used to Cabs and never had a Nebbiolo wine before. I went, "OMG, maybe I'm going to have hair growing on my teeth" because the tannins were so strong but you could just tell it was going to age forever and it was a very complex wine. I'm not sure what era that one was made. I believe it was in the '80s, that particular wine.

So those were very specific wines. And I remember being right out of college and being exposed to the old world. I worked for Becky Wasserman for a little bit of time there in '78 in Burgundy, in Beaune. It was a mind-blowing experience tasting through Burgundy and learning just enough to be overwhelmed in a good way. And it was, I think, that same trip that I was exposed to the wines of the Loire and the great whites of Bordeaux, which really started me off on my passion for Sauvignon Blanc. Some of those are my original experiences that I can think of right now.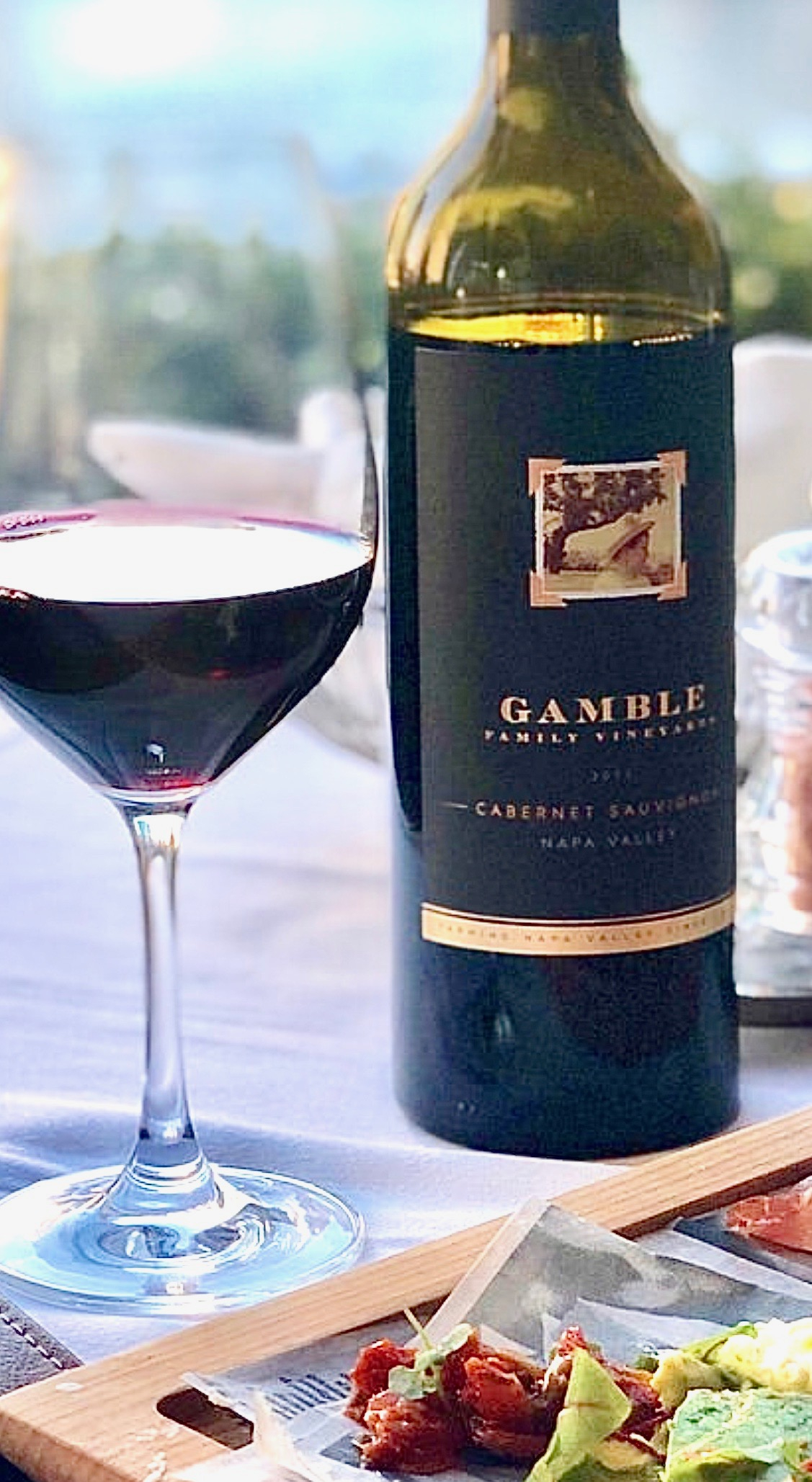 What is your philosophy of winemaking and the style you're going for?
I would say a dialed-back Napa Valley, somewhere in between the current very extracted, very alcoholic wines that can come out of Napa Valley, but not all the way as far dialed-back as the 1960s or '70s era that made 12% alcohol wines that needed a decade of aging. Somewhere in the middle where you have plenty of ripeness in the fruit, plenty of approachability upon release, but something that will still age. So if you forget about it in your cellar for several years you won't be disappointed when you open the bottle. In fact you'll probably be pleasantly surprised. Balanced, nuanced, not the loudest voice in the room is how I think I would describe our wines. And we find plenty of people who go "Wow" when they try it.

You worked in Piedmont at Vietti for a little while, as an intern, correct?
Yes, I did for part of a summer. It was just for the summer after college because I had to go back home and work for Bob Long of Long's Vineyards. He and the Vietti family had a relationship, so that's how I got the job. Bob said, "You know shit about wine so go work for these guys." And I said, "Okay."

It was really fun and I was there when there was a limited amount of winemaking, but there was plenty of work to do in the cellar and I think I did a good job doing what they told me to do. But it was the whole experience of being there and seeing another part of the world of wine, which was absolutely fascinating and mind-boggling.

That's one thing that's so exciting about the world of wine in that it encompasses the globe and it's fascinating to see how other cultures handle a wine and in the more ancient areas of winemaking where everything's so nuanced and the wines are made to go with the local cuisines. Italy, France, there's so many different sub-regions that we never hear of in the States.

Did your experience in Italy and then with wine exporter Becky Wasserman in Burgundy influence your ideas of the kind of wine that you eventually wanted to make?
I think it solidified what I was thinking about doing but it would be almost 20 years before I would be making wine myself. And working for Bob Long for a year or two certainly also influenced me because he was more of a traditionalist in the way he approached winemaking. So I think all those factored in and blended together in some je ne sais quoi, the whole is greater than the sum of the parts.

What is your total production?
We make wines just for purchase at the winery and also those only for the wholesale trade. We make 3,000-and-change cases for our winery, wines that are available to our membership and people who visit us. And then we probably make 4,000 to 6,000 cases, really depending upon the year, for the wholesale world. So anywhere between 7,000 And 10,000 cases. They're completely distinguishable wines from one another.

The winery allows us to experiment with wines, as a relatively unknown winery, that are more complex and more expensive and probably would be hard to sell in the outer world without a real hand-sell and experiential relationship to it. And then we also make wines to get the word out that Gamble is there. So hopefully they'll like the wine they buy in a store, and then when they go to Napa they'll stop by and we can make them like our wines even more. And we don't have to make them, they do!

Can you tell me about the different wines you make and the vineyards the grapes come from?
I grow grapes in Oakville, Rutherford, Mount Veeder and Yountville, primarily. Those are where we own vineyards. And then we work with a little vineyard in Calistoga and another one in Coombsville where we teach the owners how to farm and often do a lot of the farming for them.

For the vineyards we own in Oakville, terroir is the key. A lot of people seem to have different definitions of terroir. So just to clear up what I think is the most concise definition of it, it is all the environmental factors that impact the site, whether it's on a slope, the way the sun hits it and what time of day it'll hit it, the dirt, obviously the winds in the area, what's growing around it, whether it's my mother's herb garden at the family home to the wild plants that are growing nearby. I think it all has some sort of a subtle impact, at least, if not overt.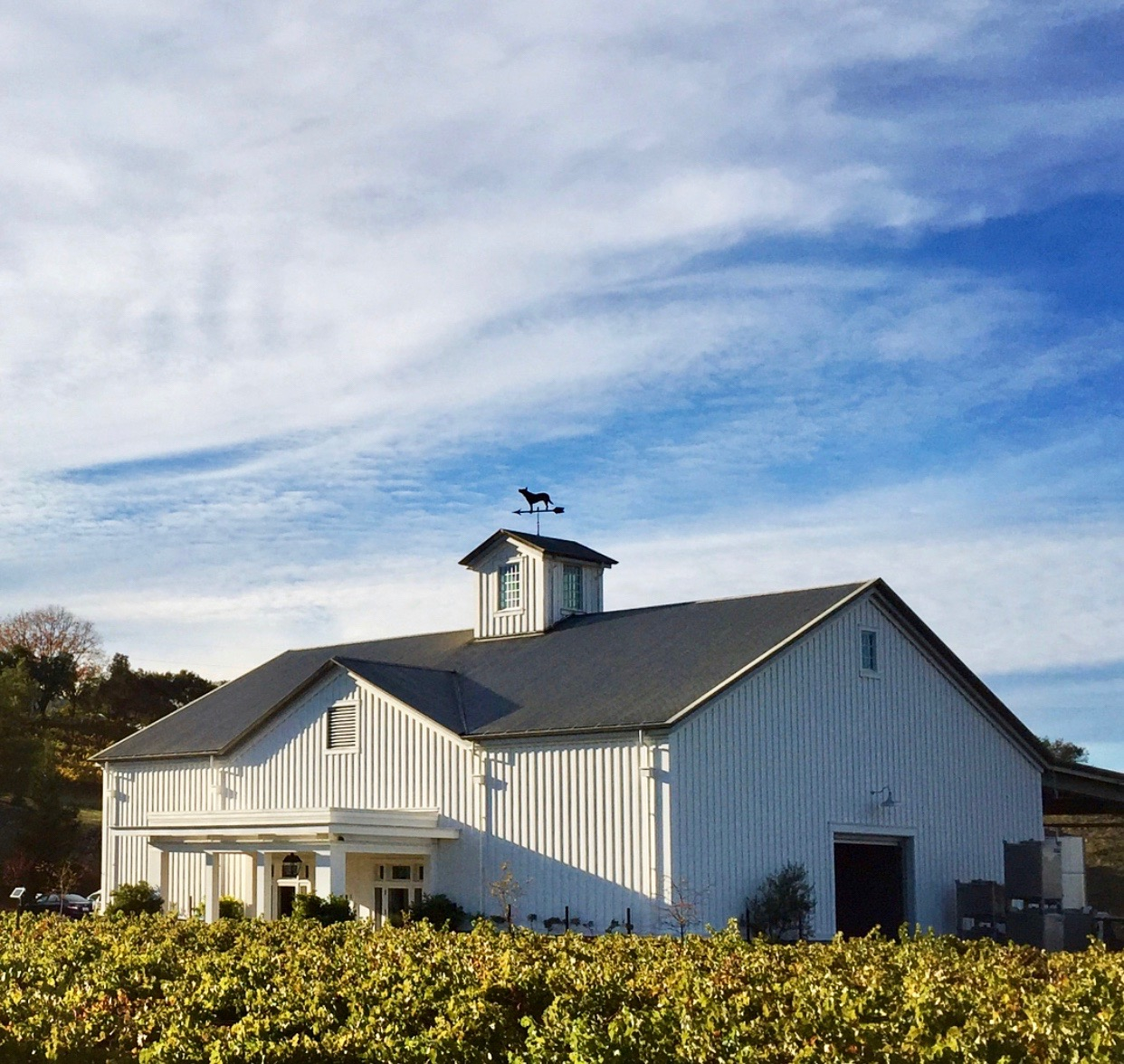 The family home is a small rocky knoll-top vineyard. It's only four acres. It was three and a half and then there was a piece that my mom had gardened for for a long time but she decided to reduce the size of her garden and so we planted that half acre. So it's extremely rocky and one slope faces the northwest and the other slope faces the southeast. It's not a tall mountain, it's a small knoll top, but it is amazing to me, even now, what the subtle differences are in how the grapes ripen, given the aspect that they lie upon, whether it's the northwest or the southeast side. So we pick to maximize the complexity of that particular wine and some of those grapes are actually in this Paramount bottle of wine that's before us.

We pick one side at one day and another at another date and then all the soils at the base of the hill tend to be richer as these rocky volcanic soils merge into the richer bottom-line soils. And row by row we decide where to stop picking going down, because the vines go up the hill and there's a reason for that, too, but then we save for a later pick date those richer soils further down the hill which need a little more hang time.

That is an extreme example where the soils are a little more uniform but not completely uniform, with three different soil types, or four, if you count the river wash on the edge of the vineyard of the Sauvignon Blanc. And the closer you get to the hill, the Yountville hill, this vineyard is sandwiched between our two main tributaries, Napa River and Conn Creek.

Then on the western side is the Yountville hill. And that starts to shade during the growing season in the afternoon. Because it's low-lying river land, the fog tends to stay in there about an hour or plus longer than it would, say, at the winery, which is only a mile away. So all those aspects make it a wonderful Sauvignon Blanc growing area. And we have multiple clones of Sauvignon Blanc growing on those three and a half acres of soil types.

The soil types, they're a little drier as you go east and a little richer as you go west, but you learn how to farm it and tend the vines just a little differently. And, really the difference and nuances in soils is sometimes very nuanced and it's the teasing apart of those nuances that make for a unique wine and keep the adventure alive.

I sell grapes from the Sauvignon Blanc to at least five other producers as well as the ones I take in for myself. And it's so fun to sit with them and try the wines side by side and see how they interpreted the very same grapes that I brought into the winery. We do the best we can so nature is most influential on the vines, but then they decide when they want to pick and how they want to interact with the wine in the winery. And it makes for different expressions of the same site. It's fascinating.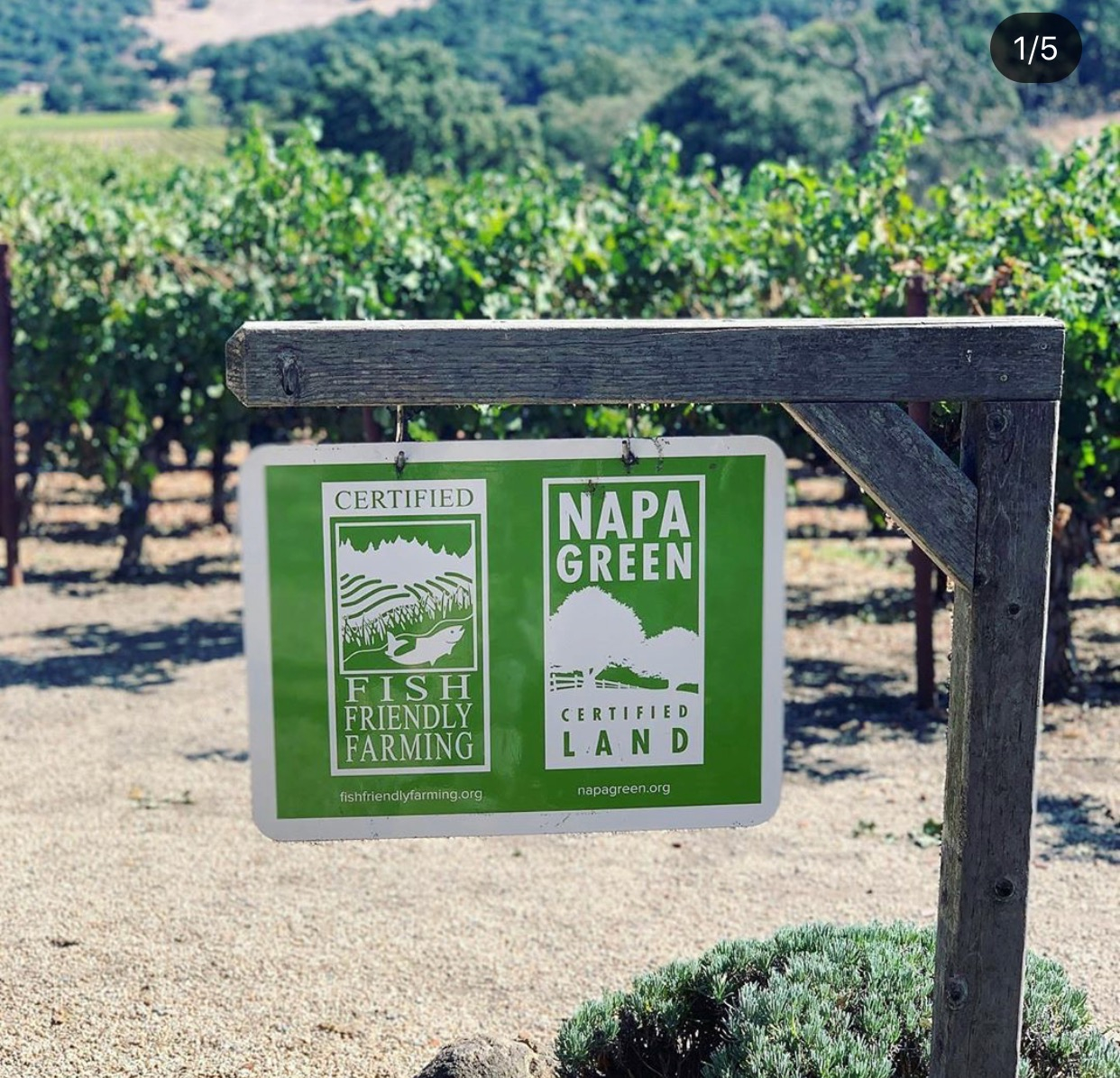 Your Sauvignon Blanc vineyard is farmed organically, correct?
It is. Now we are beyond organic, as I like to call it, and we also incorporate Napa Green techniques and and Fish Friendly Farming which really gets you thinking about the regenerative processes. You're thinking about the impacts coming from outside the vineyard and and what's leaving your vineyard. For instance, organic doesn't speak to permanent cover crop, permanent cover crop helps revitalize soil. It also maintains the soil so micro particles of dirt don't run off in a rainfall. So we're trying to go from sustainability organic to actually regenerating anything that might have been lost in the last 60 or 70 years.

And then it's also about taking care of the rivers that may be surrounding these properties. It's about building wildlife habitat, not actually taking it away, which was kind of what we did in the post-war era. And so that's thinking about even the organic applications that we make. You can overdo it and you've heard about too much fertilizer that will actually kill it. Too much horse manure or something more salty is often said with that in mind. So you're thinking about how you can regenerate the subterranean life of mycorrhiza and earthworms and my friend the gopher.

But then you take care of gopher problems by building bird houses. And it sounds kind of stupid and dumb but these little things make huge differences — birdhouses, owl boxes, raptor purchase. And then planting plants that host good bugs, beneficial insects that will then go after the bugs that are bad. And so you're not trying to wipe out any sort of species.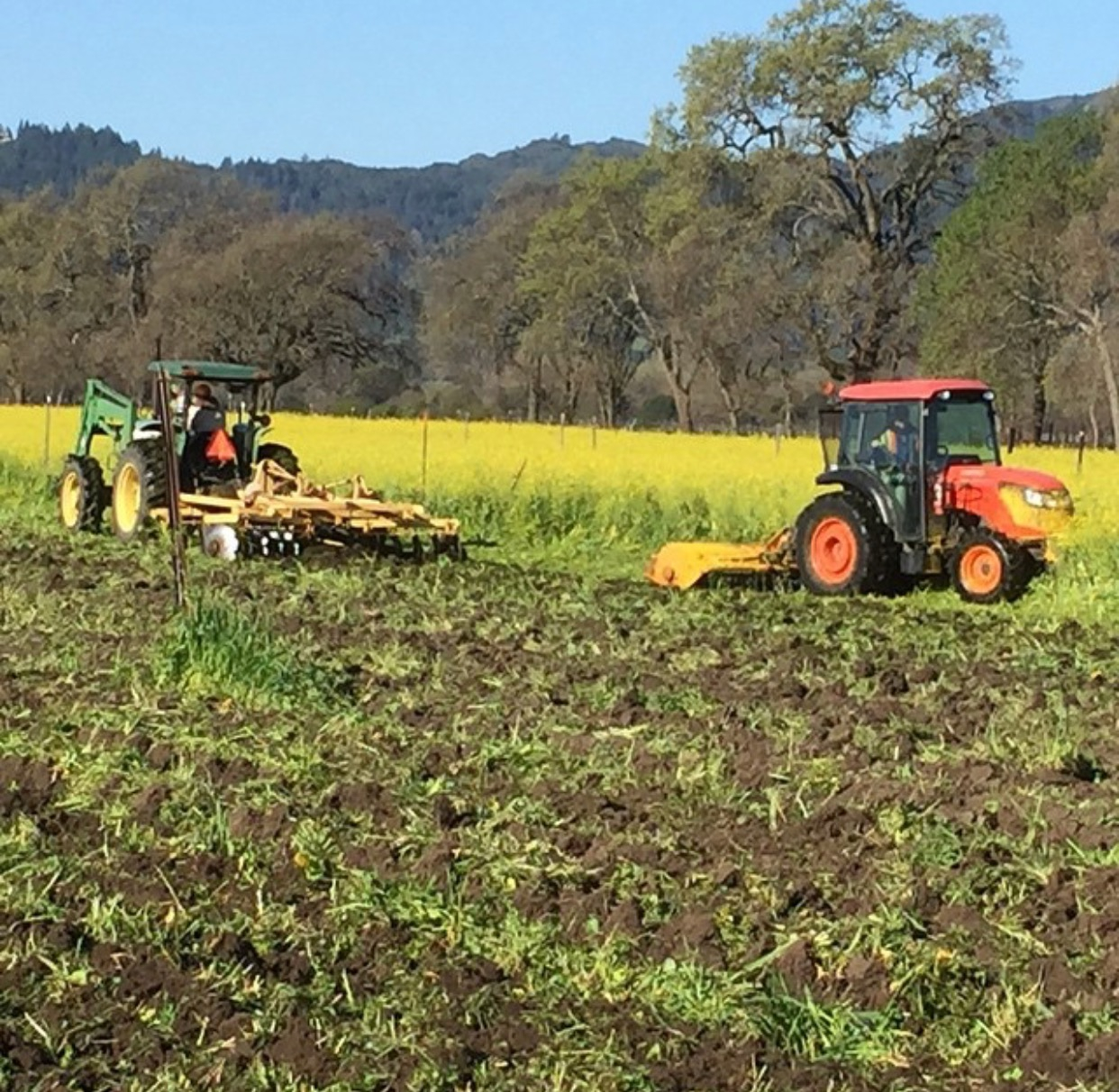 You're trying to have a balance between, you don't want to say good and bad because the bugs are all natural, but you're just trying to balance out those forces, to restoring the rivers, from getting rid of the native species that have colonized to planting native plants that will hold the river banks together better. And it turns out that a lot of those native species are good habitats for good bugs, other than the nonnative species, so you have less disease pressure as a result.
(Photo: Converting the mustard cover crop into green manure).

So that's what I mean a bit by going beyond organic. Every step of the way is important. Every generation since World War II has become more and more enlightened about processes and there's always a generational step to take. The stuff that was used when I was a little boy in the '60s, it's terrifying. But what we do now, while there's always more to be done, we should applaud what we have done, too, and not criticize each other or point fingers that someone isn't doing enough. Everybody is doing more than they used to.

Have you noticed climactic changes since you've started in the wine business that has affected how you approach your viticulture?
I'm not sure. I actually am working with a climatologist right now and we're doing some very deep dives and we're talking about worst-case scenarios versus likely outcomes. I'm getting all these reports done and it's a fascinating study. He retired from another scientific background and he's passionate about this. And what we're seeing in Napa and in Sonoma County is that we're kind of in the sweet spot of climate change. There's all these countervailing factors. If there is going to be sea level rise, actually the San Francisco Bay will come up and if you're right by the Bay you're going to have some problems, but it could actually mitigate the climate further north in the Valley, like in Oakville. The cooling trends of having bodies of water could offset the overall warming, especially the warming that would happen in the evening.

The other thing is that in the middle part of the Valley, we do get this marine layer that comes over the mountains from the ocean and that warmth draws in the marine layer. So that could also be a mitigating factor. Nobody knows exactly what's going to happen. We know that change is going to happen, but we also know that permanent cover crops can help reduce soil temperature. We know that if we plant our vines a little higher, we know that the European trend towards having grapevines real close to the ground was to absorb heat. So if you actually raise them up, you can actually manage about a two degree differential in temperature change.

So should we be doing all we can to mitigate our impacts on the environment and climate change? For sure. Can we be thoughtful about our responses? Yes. Do we still worry? Yeah, we do. Because our lives are dependent upon it. But can we do more to mitigate it? Yes. It's a challenge but it's also a fascinating challenge. And I'm really glad that I'm farming where I am because I think it's going to be harder for those living further from the coast to mitigate the changes.

What do you think distinguishes Napa wines from wines around the world?
That's a really good question. I think it's the attention to detail for the high-end wines. I think that there is so much invested and it is considered the highest and best use of the land. We have to produce good wines, at least us little guys, because we can't just live off this big Napa reputation — we have to keep advancing it.

We have this knowledge base, we have the the base of terroir to combine them together and, let's face it, there's more wine, there's more good wine coming. And that's really exciting to try and I think that we are able to stay ahead of the curve because we invest so much in figuring out how to always do things better, how to always do things more sustainably. And I think Cabernet Sauvignon has a long life in Napa and I think all the other varieties of Bordeaux do, as well. I grow Cabernet Franc, Merlot, Petit Verdot, a little bit of Petite Sirah, and Sauvignon Blanc. I used to have more varieties but I've had to just focus on those. And I do have a handful of Syrah vines left over.

Is there trouble finding good people to work in Napa?
It is more challenging, especially on the entry-level people, because they are paid entry-level wages and it's really hard for them to find a place to live. Those who are very motivated will get it done and there are creative solutions to that. But there's definitely a demand for talent out there and there's always been demand for the best talent.

But it is challenging. And in the vineyard it's a little more challenging but we are not as bad off or as challenged as other areas because we pay the best. So every farm worker, if he's really wanting to stay in that industry, that's where he ultimately wants to be.

What do you like best about your job?
That I wake up every day and I'm driven. Sometimes it's the broadest definition of passion that creates that drive. It's the passion that's not always fun, but you're striving to do something that just motivates you deeply, whether it's thinking about how to always improve your vineyards, how to make them sustainable for the next generations — always thinking about the the next generation. I don't know if I have fully incorporated seven-generation thinking, but I try to. And not only just for the planet but for the people, including my family and those who may come after me. Because the way I'm doing things is for the longterm so hopefully somebody wants to come after me.

What's the most challenging aspect of making wine for you?
I think that the most challenging aspect is staying awake during the harvest time because there's a lot of 18-hour days during harvest!

Napa Valley is in a sweet spot environmentally and it makes for really great growing conditions for vitis vinifera, the parent of all the wine grapes that we grow. But in a year like 2011 when there's a serious weather challenge — it was a very cool and wet vintage — and getting the grapes to a wonderful ripeness to make the best wine you can was very challenging.

Wine is not a recipe. It is a vintage. And to tease out the nuances of that vintage versus just following a recipe, that could be the biggest challenge in winemaking, because you have different climatic conditions every year. Sometimes they're subtle, but like in 2011 they were a big deal and I thought we did a really good job given what the gods gave us.
Do you host visitors at the winery?
We do. You can call us up and make an appointment by reservation. We have a wonderful staff that will tell you how to find us because we don't have a sign on the road and we will take care of any transportation needs you have while you're out there or even other wineries you need to see. Napa is still a very cooperative area.

But, yes, we're perfectly able to host small groups and it's all very intimate. There's no bar, it's all sit down and it's one group with one of my private client managers that sits down with them. It's as educational as you want it to be and as experiential as you want it to be. There's no real pressure to churn and burn. So you learn a little bit about my history, about where we grow the grapes and of course taste great wines. I like to stop in when I can and say hello.

What do you like to drink when you're not drinking your own wine?
Oh, if I'm going to have something alcoholic, I do like other wines and I am forcing myself to be better about grazing through other wines, to keep my palate from stultify. Typically when I get home I'll like a light white wine that's refreshing, probably pretty high in acid and crisp. Because I'm usually kind of famished and I should have a glass of water or two before I have that glass of wine. But it's almost to refresh the palate. My wife's a wonderful cook and we'll have a red wine that's on the lighter side with most dinners because we have very light dinners.

I'm partial to a lot of Pinots. I tend to prefer French Pinots, but there's lots of nice things in that other place they make wine, Sonoma. And then I do like trying to see what the guys from Loire are doing on the white side. So that could be kind of the everyday wines. And then there's obviously nights where we'll spend a little more money and I might go back to Barolo, or I might go to a Burgundy — nothing beats a great white Burgundy.