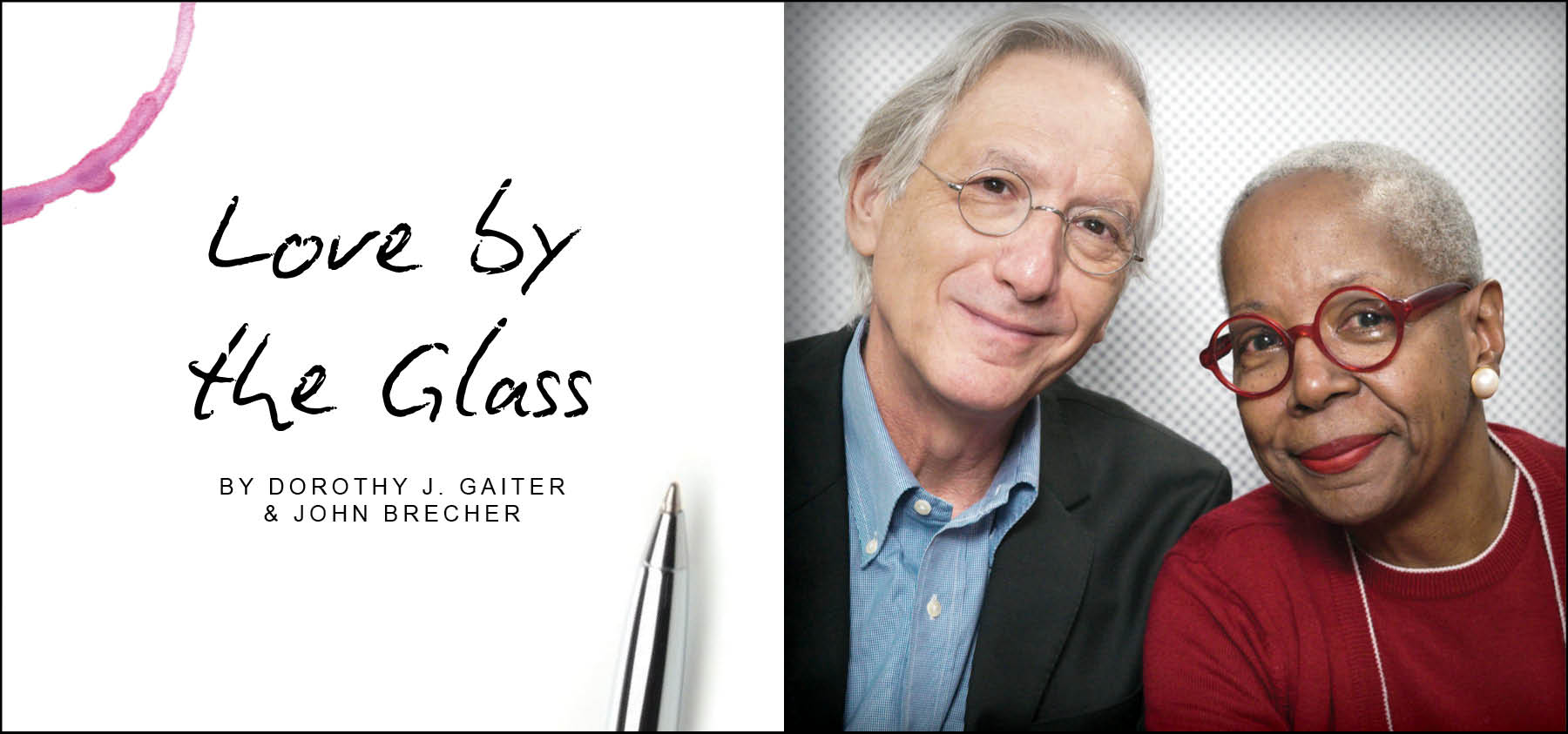 What is your Champagne? Many people have one. It's not necessarily the best Champagne you've ever had any more than your song is the very best tune you've ever heard. It's the Champagne that means something special to you. Ours for decades has been Taittinger. It was only recently that we discovered how Vitalie Taittinger plans to make sure it remains true to our memories.
Memories? When we took our first long-distance train trip, from Miami to New York in an Amtrak deluxe bedroom, in 1978, we decided to take Champagne. We didn't know much about it so we picked up one that was on sale, Taittinger Brut La Française. We popped it open as the lights dimmed outside and the whistle blew. There was something that made it special, and it wasn't just the train talking.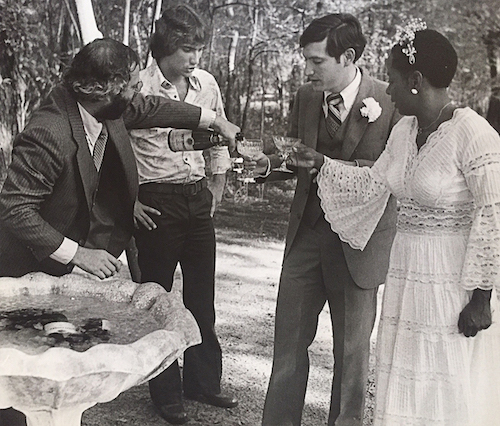 So when we got married the next year, we served Taittinger – 18 bottles for 16 people. We saved one bottle for our cross-country honeymoon trip on trains to Napa, restocking along the way. When we left The Miami Herald in 1980, colleagues gave us a Taittinger Comtes de Champagne 1973 Blanc de Blancs, which we opened our first night in our first New York apartment, long before the furniture arrived. When we visited Champagne a couple years later, the first bottle we had was Taittinger Brut Absolu. When our younger daughter Zoë was born, we touched Taittinger to her lips.
(Photo: Dottie and John's Tattinger birdbath)
We wondered about other people's special Champagnes, so we reached out to a few faculty members and fellows from the Symposium for Professional Wine Writers at Meadowood Napa Valley, where we gave keynotes and taught earlier this year.
"I do have an 'our' Champagne! Delamotte has always been a favorite, and for our wedding a friend gifted us a double magnum. My wife and I opened it at a family reunion this summer and toasted with over 50 family members. The only thing better than a bottle of Champagne is a really big bottle of Champagne, and lots of loved ones to drink it with!" Mary-Frances Heck, Senior Food Editor, Food & Wine
So what's yours? We know that columns about Champagne are usually reserved for the end-of-year holidays, but they shouldn't be. We also know there's a big world of sparklers these days. For the first time ever, our house red and white are both bubblies. The white is Drusian Valdobbiadene Prosecco Superiore Brut (about $15 with a case discount) and the red is Medici Ermete "I Quercioli" Secco Reggiano Lambrusco (about $12), which is marvelously dry.
But Champagne is unique.
"Every November for the last ten years, I've gone to Kermit Lynch to buy several different bottles of nonvintage Champagne made by Veuve Fourny & Fils. I love everything about their wines—the crispness and elegance offer a perfect start to every holiday meal and gathering I host (and pair well with everything from chips and nuts to creamy farmhouse cheeses and baguettes). And their bottle design is sophisticated and fancy in just the right ways. My mother-in-law usually visits us for either Thanksgiving or Christmas, and I like seeing her delight when I pull out a bottle of their premier cru and pop the cork!" Julia Cosgrove, VP, Editor-in-Chief, AFAR Media, Afar.com.
As we wrote recently, Salon le Mesnil is one of the most stunning Champagnes there is, while the best Champagne we ever had was a magnum of 1976 Bollinger "La Grande Année" that we drank for the Millennium celebration. We love Grower Champagnes. No-dosage Champagnes, which are very much in vogue, fascinate us. Still…
"We do indeed have 'a' Champagne —Ruinart Rosé. During an anniversary dinner about 15 few years ago (before I 'got into wine'), my wife and I wanted a nice Champagne to celebrate. The list was intimidating so we asked for a recommendation. The sommelier recommended Ruinart Rosé based on our taste preferences and price point. We loved how he described the wine and the history of Ruinart. It was so elegant and delicious and one we revisit often to remember that special anniversary dinner." Frank Morgan, DrinkWhatYouLike.com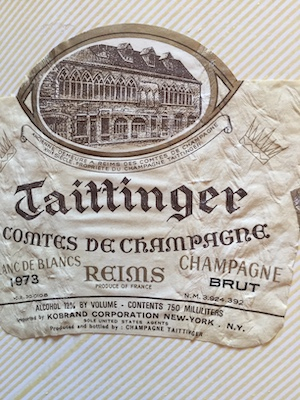 One reason we've come back to Taittinger so often is that we find it just plain pleasing. It has all of the great attributes of Champagne – lovely bubbles, brioche, minerality, great acidity – and it's wrapped seamlessly into a package that we can enjoy all night. It's possible this is because of a higher proportion of Chardonnay — the Brut La Française is 40% -- which gives it a special freshness (other houses often use more Pinot Noir and Pinot Meunier).
Vitalie Taittinger, who recently hosted a luncheon tasting and invited us, said that Taittinger's quality was thrown into question several years ago. We had read this: By 2005, Taittinger, in Reims, had become something of a conglomerate, with many family members who wanted to cash out, some for tax reasons. So they sold the whole enterprise to an American private investment group. The next year, Pierre-Emmanuel Taittinger, who is Vitalie's father and the grandson of the founder, bought Champagne Taittinger back, along with Domaine Carneros in California.
With a smaller group in control, including Vitalie's brother, Clovis, management seems clearer and more agile. Vitalie told us: "We are focused 100 percent on quality. Maybe even just a few years ago it was not 100 percent. But today I am very proud because the vineyards are doing very well. We are very proud to be recognized for our sustainability, to keep the maximum energy to the soil and bring it to the wine afterward. Today this is a company which is more lively than ever."
The family hired a new chef de caves or cellar master, who was at the luncheon, Alexandre Ponnavoy; he was born the year we were married. And it opened a new winery. It also became the first Champagne house, Alexandre said, to plant vines to make bubbly in the U.K., which is a new hotspot for fine sparkling wine. It expects to release the first wines from that site in about 2023. Taittinger now makes about 6.4 million bottles of Champagne a year.
"'My' Champagne is Laurent-Perrier Cuvée Rosé! A few years ago, I decided that the only proper way to start my birthday right was to have a glass of Champagne for breakfast. I happened to have this bottle on hand so I went ahead and popped it--just for me! Normally I would have saved it for company, but that glass represented that liberating moment of choosing to honor myself, all I had been through, and all my hopes and dreams for the year ahead. It was special. Now, I buy a bottle every year and it's my most delicious birthday tradition." Sarah Tracey, sommelier and founder of The Lush Life.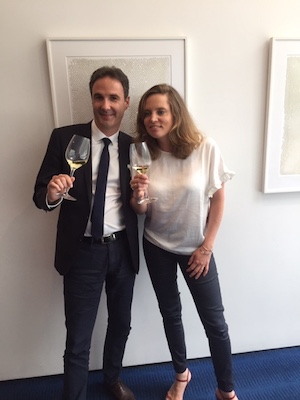 Vitalie and Alexandre repeatedly used the word "energy." They discussed how important sustainability is in the vineyards so the vines and ultimately the grapes have energy and that it took more than two years to locate property with the right energy, the right living soil, in the U.K.
(Photo: Vitalie and Alexandre)
When we asked them if they could describe Taittinger's house style, Vitalie said: "Chardonnay is the first line of our Champagne. You have some energy, something which is very clear, very clean. Our cuvées are always very precise, focused." And Alexandre added: "It is very important to have structure, to have body, to have energy."
As it happens, Seth Eli Barlow, a freelance wine writer, had responded this way to our query with a Champagne that is mostly Pinot Meunier:
"I'd have to go with Champagne Moussé Fils L'Or d'Eugène. This was the first Grower Champagne to ever pass my lips and for me, it was so bright and fruity and energetic, it became the 'lightbulb' moment that completely changed how I thought about Champagne, especially at the table with food."

We'd never really thought of the energy in a glass of Taittinger, but that might be one reason we have found it so exciting, and did again at our luncheon tasting. The Brut La Française ($64.99) was as smile-inducing as ever and took us right back to the train. The 2007 Comtes de Champagne ($215.99, the most recent release) was profoundly beautiful. In her notes, Dottie called it "complete and elegant" and John called it "rich and fulfilling."
"My favorite Champagne is Lallier Grand Cru Rosé. It is my 'house' Champagne. It tastes like a strawberry Creamsicle. It's not sweet, but lush and creamy. It works for fancy foods as well as my favorite, shrimp po-boys." Julia Coney, wine and travel journalist (juliaconey.com)
So what are you waiting for? Like Julia, you shouldn't just have "your" Champagne on that one special day. The dog days of summer are a perfect time to break the bank a little with a nicely chilled bottle of Champagne. Surprise your loved one, or treat yourself, like Sarah. There's much more inside that bottle than wine.
"One bottle has stuck with me in a particularly visceral and emotional way: The Moët & Chandon Brut Imperial 1976, which my father found in the corner of his cellar a decade ago and brought over to our apartment (we had invited my parents over for dinner); none of us assumed that it would still have much life left in it, but as soon as he popped the cork with a barely audible hiss, the room filled with unexpectedly evocative tropical-fruit aromas, which were followed by a bass-note of mushrooms and forest floor, all of it cut through with still-vivid acidity on the palate. To this day, that bottle is a reminder that wine has the ability to surprise, charm, and weave magic like nothing else." Brian Freedman, wine, spirits, travel and food writer, restaurant consultant and contributor to Food & Wine digital and Forbes.com
Dorothy J. Gaiter and John Brecher conceived and wrote The Wall Street Journal's wine column, "Tastings," from 1998 to 2010. Dorothy and John have been tasting and studying wine since 1973. Dottie has had a distinguished career in journalism as a reporter, editor, columnist and editorial writer at The Miami Herald and The New York Times as well as at The Journal. John was Page One Editor of The Journal, City Editor of The Miami Herald and a senior editor at Bloomberg News. They are well-known from their books and many television appearances, especially on Martha Stewart's show, and as the creators of the annual, international "Open That Bottle Night" celebration of wine and friendship. The first bottle they shared was André Cold Duck. They have two daughters.
Read more from Dorothy J. Gaiter and John Brecher on Grape Collective