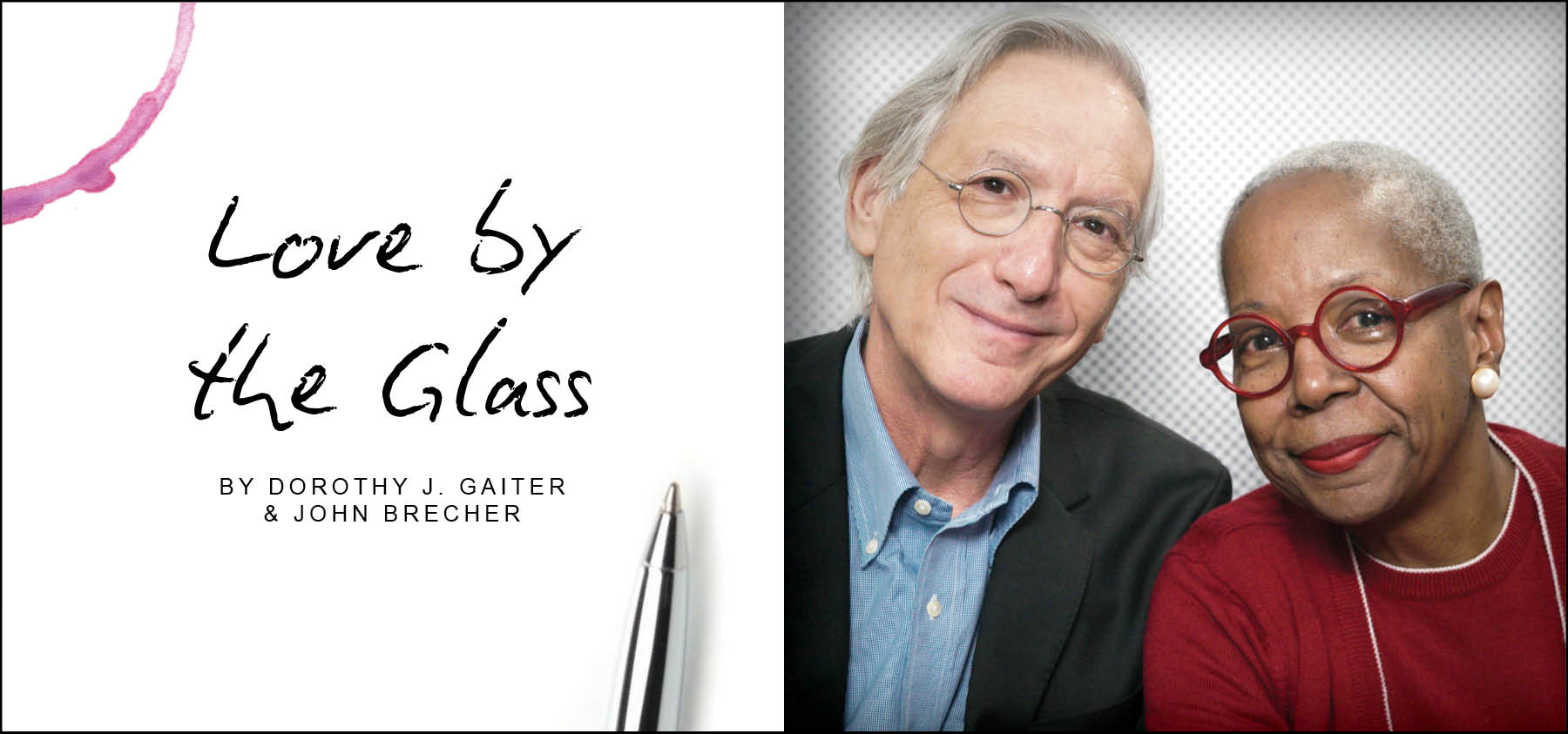 The two notes came back-to-back this month: One asked if we could recommend "a good Merlot that won't require I go back to work." The other asked for "a very good Napa Cab for under $100." We thought the timing was interesting. After all, this is when wine writers roll out their "best" or "most exciting" wines of 2019. We did a version ourselves, suggesting some bottles that would impress your wine-geek in-laws.

One issue with those lists is that the wines tend to be expensive, hard to find or both. Those notes reminded us that, even at the holidays, what most shoppers want year round is value – and value that doesn't require a treasure hunt, although that can sometimes be entertaining. So we thought this would be a good moment to lay out how we scope out a wine store – what we look for, what we avoid – when we are looking for wines that won't break the bank. This has changed quite a bit over the years as the wine world has evolved.
One note first: If you don't have a wine store that you enjoy visiting, that has a helpful staff and a carefully curated, ever-changing selection, find another store. There are many that will make you feel good about wine shopping.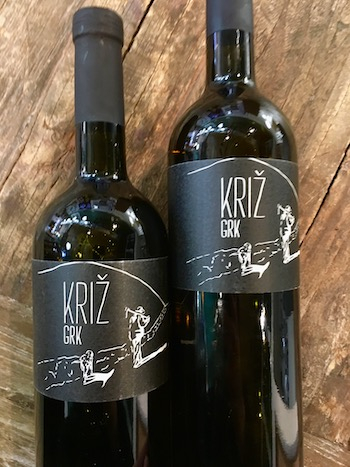 That said, let's pretend we're wearing a hidden camera and you've just walked into The Generic Wine Store with us. We can spend forever in a wine store and get excited about a Grk from Croatia — and no, that's not a typo -- but that's us. This is just a quick trip, though. What will we see?
First, we'll mostly skip California Cabernet Sauvignon and Chardonnay, which could cut the store in half. We know that sounds harsh and it's terribly painful for us to say because we grew up on those wines. We know some wonderful people who make them and, indeed, there are still outstanding examples (quite a few are listed among the in-law wines in the column above, so be sure to take a look). The problem is that far too many California wines, at all prices, have slick labels on the outside and sweet, leaden wines on the inside. This makes these aisles a minefield and who wants to pick through a minefield to find tasty wines?
By the way, yes, we also skip the Merlot aisle, but in answer to our reader's question, it's hard to find a more charming Merlot than Toad Hollow, which costs about $15. Trefethen is a good name, too, at about twice that price and worth every penny. We take a quick look at the California aisle for any unusual varieties, because those are often made by passionate winemakers who simply love that grape. We wrote earlier this year, for instance, about the rise in Italian varieties made in the USA.
Our first stop is the French aisle. Whoa. We can feel you rolling your eyes and saying, "They must be rich Francophiles." We're neither. France continues to produce some of the best-value wines in the world. The Loire Valley alone is a gold mine of tasty, well-priced, well-made wines, from Muscadet and Sancerre to less well-known wines like Quincy. Beaujolais (not Nouveau, but the real thing) is one of the world's great bargains – good in winter, good in summer, good at many temperatures and with just about any food. Our house white for years has been a Bordeaux, not because we're part of the plutocracy but because Château Haut-Rian is lovely, versatile and available for as little as $10 when purchased with a case discount.
We pay special attention to the Burgundy aisle. Burgundy? Home of some of the world's most expensive and prized wines? Yep. Many Burgundies from smaller villages or just generic Bourgogne are terrific values. We don't always find one we want to get, but we look. Just the other day – we couldn't believe it – we found a Bourgogne Passetoutgrain, a lip-smacking blend of Pinot Noir and Gamay that we rarely see in the U.S. (It was $27 from Domaine Fontaine-Gagnard and it was a fruity, nicely acidic, food-loving treat.) And for those who say they no longer like Chardonnay, we recently bought a plain-old white Bourgogne Les Femelottes from Domaine Chavy-Chouet that is 100 percent Chardonnay for $29.99. It was beautiful: classy, elegant and focused, with a long, gorgeous, rich-fruit finish.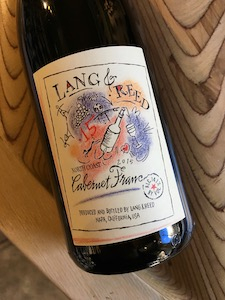 As we're walking around the store, we're keeping our eyes peeled for Cabernet Franc from everywhere. This is the hot grape of the moment, traditionally used as a blender but now getting its 15 minutes. We'd say the movement is still a work in progress – too many wineries seem afraid of Franc's sometimes sharp tastes and hints of bell pepper – but it's still a good bet. Lang & Reed is our favorite name for Cab Franc in Napa, but we've also liked Ehlers Estate and Chappellet, which cost more than double the $28 Lang & Reed North Coast version. If you like them, try a Chinon, the classic Franc wine from the Loire Valley.
We usually check out the Argentina aisle. There's all sorts of interesting stuff happening there, but Malbec is still the core and we're always looking for a new one at a good price. Catena is a great name. (We find it hard to go far wrong with an inexpensive Malbec, while expensive ones can often be so over-oaked and sweet that they lose the grape's true-earth personality.)
Aha, there's the Italian aisle. Let's see what they have from Sicily, and especially from Mount Etna. This is one of the most exciting wine areas of the world right now, not too many years after Sicily was best known for bulk wine. Donnafugata and Tasca d'Almerita are reliably good, although the names of the grapes can be unfamiliar. We just had a Grillo, a lively white, from each of those wineries and both were outstanding – vibrant, with an orange blossom nose and a touch of roasted almond that gave them depth -- and affordable (around $20). And we had an Etna Rosso from Tenuta delle Terre Nere that was medium-bodied, perfectly balanced with red cherry fruit on a foundation of minerals and delicious with pork ($25.99).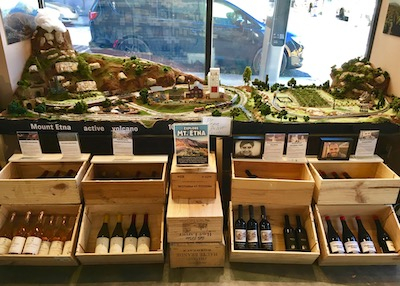 How hot is Mount Etna (figuratively)? Our daughter and new son-in-law visited on their honeymoon last summer. And at the Grape Collective wine store in Manhattan – that's the brick-and-mortar part of this Website – our boss, with Sistine Chapel-like dedication, built a large model train-set diorama of the volcano and its surrounding area, including vineyards.
We take some time to look at wines from Oregon and Washington. The Northwest is exciting. Oregon is best-known for its Pinots, but more good Chardonnay is coming from there, too. If we see an Oregon Pinot or Chardonnay at a good price point, we'll check it out. For a long time, Oregon wines were a bit too expensive for our blood, but the prices have moderated over the years. We're big fans of Washington Syrah and Riesling…
Riesling? There, we said it. Yes, we do keep an eye out for dry Riesling. We know it's a lost cause to convince many people to try Riesling – "ew, it's too sweet" – but dry Riesling is so special and a great food wine. It also tends to be a good deal because it's not popular. (We love well-made sweet Riesling, too, but that's not usually part of our shopping for everyday wines.) Fine Riesling isn't just made in Germany, but in many places in the U.S., especially Michigan and New York...
Which leads to one last thing: local wines. We look to see if a store has wines from its own state. Every state has wineries – Georgia, for instance, has at least 30 – and they need and deserve your support. We're always amazed how restaurants and stores will proudly feature local beers and not offer a single local wine. This must change! Yes, local wines can sometimes cost more than you'd think, but many of the wineries are still young and your neighbors could use the love. We just bought a no-sulfites-added Harlots & Ruffians white from La Garagista in Vermont – Vermont! – and it was fascinating and discussion-worthy.
When we shop, we try to buy enough wines to get the six-bottle or case discount, often 15%. We highly recommend doing that, so you don't have to shop as often and you have many choices at mealtimes at home. If you do that, however, make sure you keep the wines well. If you don't have a little wine cooler – and you can buy one for $150 or less – just make sure they are kept in a cool, dark place. This wouldn't work for long-term storage, but we hope you'll be so excited about these wines that they will disappear quickly.
Make a New Year's resolution to find a wine store that makes you happy and where you will relax, not stress. You can travel the world in a wine store – and sometimes even take a model train around the base of Mount Etna.
Dorothy J. Gaiter and John Brecher conceived and wrote The Wall Street Journal's wine column, "Tastings," from 1998 to 2010. Dorothy and John have been tasting and studying wine since 1973. Dottie has had a distinguished career in journalism as a reporter, editor, columnist and editorial writer at The Miami Herald and The New York Times as well as at The Journal. John was Page One Editor of The Journal, City Editor of The Miami Herald and a senior editor at Bloomberg News. They are well-known from their books and many television appearances, especially on Martha Stewart's show, and as the creators of the annual, international "Open That Bottle Night" celebration of wine and friendship. The first bottle they shared was André Cold Duck. They have two daughters.
Read more from Dorothy J. Gaiter and John Brecher on Grape Collective.
Banner by Piers Parlett