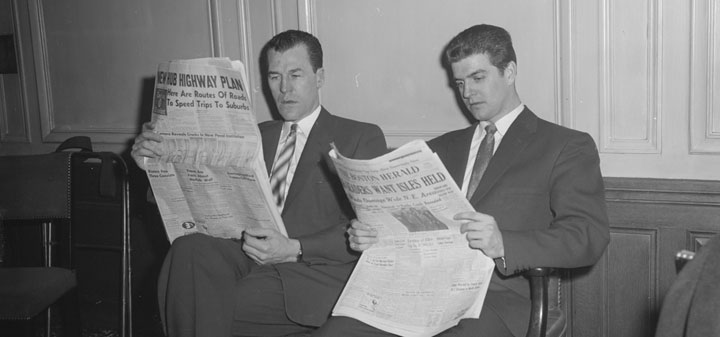 The Guardian on how to win at the wine list. "Côtes du Rhône offers great consistency and quality, and countries like Romania and Hungary are producing good value wines at the lower end, and are worth looking out for."
The Telegraph also asks how to pick a good wine off of a wine list. "These are usually those with reliably warm climates, so Australia, Chile, South Africa, the south of France, Sicily, Spain. I don't mean to suggest these places always provide the most interesting, complex, cutting-edge wines. But within the first, less-expensive half of a wine list, these areas are more dependable than cooler-climate spots."
Lettie Teague in The Wall Street Journal on a wine list that doesn't break the bank. "Mr. Ahn eschews the title wine director or sommelier. "Just call me a waiter," he said—although the wine list he has put together doesn't look the work of a waiter."
Time Magazine on 7 things you didn't know were in your wine. "Heavy metals are metals and metal compounds that can adversely affect our health when consumed in the right (or wrong, as the case may be) doses."
Cosmopolitan proclaims you are really smart for drinking cheap wine. "The takeaway? Your friends may act Very Important for drinking $50 bottles of wine, but you can be perfectly, legitimately pleased with your $12 bottle of Barefoot."
The Huffington Post on how to decode and American wine label.
In the Washingtonian, Washington Nationals wine has nothing to do with Washington.
Eater asks what wine pairs well with everyday snacks.
In the New York Times Magazine a group of upstart are redefifing California wine and enraging the world's most important critic. "But the winemaker who leases the Wenzlau vines next door — Rajat Parr, a former sommelier who is a co-owner of two wine labels, Sandhi and Domaine de la Côte — can't understand why anyone would drink them. He believes that the grapes are picked far too late, when they're far too ripe, and that the resulting wine is devoid of both subtlety and freshness."
In The Drinks Business a sommelier hails wine and weed pairings.
Alice Feiring reviews Lettie Teague's new book.
Punch recommends six sparkling wines under $25.
Eric Asimov's New York Times wine school takes on Cava. "Yet a handful of cava producers, working conscientiously in the vineyards and diligently in the cellar, have demonstrated that it can be among the most distinctive of all sparkling wines."