Wachter-Wiesler is located in the Eisenberg - a small wine region in the south of Burgenland, in Austria. Their grapes are grown on a unique soil called greenschist which conveys an elegant minerality to the wines.
Christoph Wachter is the fifth generation to make wine at Wachter-Wiesler having taken over the winemaking in 2010 at the age of 21. He talks to Grape Collective about the uniqueness of greenschist soils, the elegance of Blaufränkisch and his move to organic farming.
Christophe, tell us about your family's estate.
Yes, it is a family estate. I am the winemaker of the fifth generation. My parents are still young, but I took over responsibility for the cellar, the vineyards, and also the sales back in 2010. My father is the mayor of the villages of Deutsch Schützen-Eisenberg, where we live. I was lucky in that he gave me the responsibility for everything in 2010.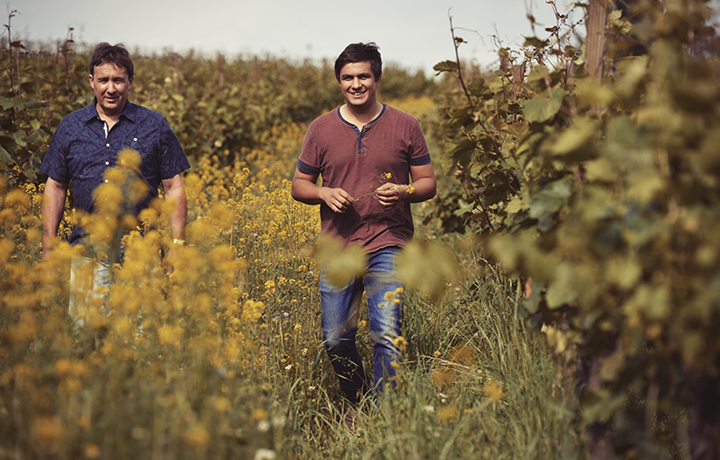 Franz and Christoph Wachter
How long has the family been making wine?
As I said, I am of the fifth generation. There was always wine growing in our region, since phylloxera. There was always Blaufränkisch, where we are focusing now.
Your father was the mayor, is he...
He is still.
He is still the mayor?
Yes.
What does it mean being the mayor in your village? Is that kind of a big deal?
He is very...famous is probably the wrong word. He is very friendly to everyone, so 80% of the votes were for him. He is a good person.
Does that mean everybody has to drink your wine, otherwise they get more tickets?
Yes.
That is a good way of doing it, right?
You have to sell wine.
Exactly, exactly. Talk about the terroir in the region.
Eisenberg terroir is very special, and it is greenschist. You do not find greenschist anywhere else in Austria planted with vines, you just find it in the highest part of the Alps. That is 4,000 meters, no wine is growing there, so it really is a small spot where greenschist is found. Where we can find it, and we plant Blaufränkisch there. I really want to show this in the wines, show the origin, and it is special as such. I do not want to cover this, we want to show this in the bottle.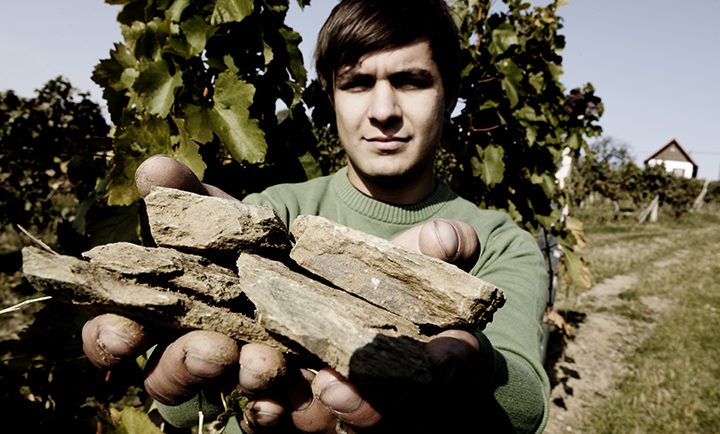 What is greenschist like? How is it different from other types of soils? Is it green?
It is not really green, it is just called greenschist. In our case, it even looks brown, because of the oxidation of the iron. Eisenberg is translated to English as "Iron Mountain," so there is a lot of iron in the soil. The stones are more blue-green, and if they get in contact with water, and air, it is oxidating the iron on the soil. It is getting really brown. That is what you also taste in the wine, the iron in the soil.
So there is a minerality?
Of course, a lot of minerality in the wines, yes.
Christophe, how has winemaking changed from generation to generation?
I have tasted a few of our really old Blaufränkisch wines, from the '70s, '80s, and it always was Blaufränkisch. Of course it changed; now we are doing less quantity, lower yields, extremely low yields. We still work, again, with big barrels now. We are really focused on this tradition, because I think the less influence you give to the wine and cellar, the more unique the wines are, and that is what I really want to show. I want to show the unique soils of the region, and that Eisenberg is unique, or can be unique if you are careful with grapes. Blaufränkisch is a bit of a diva, so you have to totally be careful and sensitive. Yes, whatever we are bottling then is very special, and it tastes likes this nowhere else.
You said Blaufränkisch is a diva - why is that?
You can make massive Blaufränkisch, but I hate this to be honest. I want them to be very fine, very dancing on the palate, and yes, you have to work on it very softly. Also, in the vineyards beforehand, you cannot harvest high yields, you have to keep them low. We tried to bring everything in balance with organic farming, and yes, it works.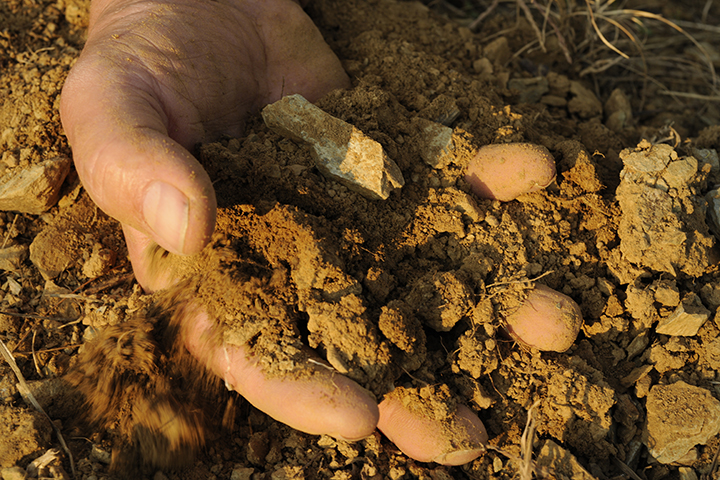 You mentioned organic farming - talk a little about that. What is the philosophy of viticulture at the estate?
Yes, I want to be there for my wines. I want healthy soils, so we bring out our own compost. We have enough rainfall over the year so we can keep everything green. We even have sheep in the vineyard after harvest. Over the winter, there is not too much snow in our region, so we really can keep them outside. For me, it has to be everything in balance. I really look to have healthy soils so the grapes can feel well, and produce super quality.
Is there a philosophy of winemaking once you have picked the grapes?
After picking? Yes, we do everything with natural fermentation. We do the stemming. We do not crush, we ferment in open vats, so all the single vineyards, and especially the old vines, are fermented separately in open vats. We just do the punch down by hand, maximum twice a day. As I said before, we are very gentle. People were laughing when they saw us doing this, but on the other hand, I do not care. I really want to focus on finesse, and we do everything like this. Then, yeah, fermentation. When it ends, we put everything in barrels, big barrels. We stopped using barrique in 2010, because as I said before, the lower the influence, the better for me for the wine.
How is it working with your father? He is busy doing mayor things now, but is he saying, "Christophe, do your own thing," or is he saying, "Christophe, follow the tradition?"
I can do whatever I want, to be honest. They really are behind me, my parents, they help a lot. They really like the wines which we are doing now, so it is probably again, a step back to tradition, to be honest. We do not influence anything. We give the wine time. Yes, it works. It really works. We taste a lot together, and we do like it. As it is, as it develops, yes it is fun.
Talk a little bit about the wines that you make right now.
More than 80% of our wine is Blaufränkisch. What I really want is, I want to make drinkable wines. I hate fat, too-much-of-everything wines - over-oaked, over-extracted. I want to see my wines probably dancing on the palate, not jumping around. Blaufränkisch can be so delicate; if it is super right, it will show the soil. Thanks to my grandfathers and great-grandfathers who planted a lot of it, and so I still have very old vines for us. Old vines are for me, between 30 and 60 years old. I can work with a lot of these old vines.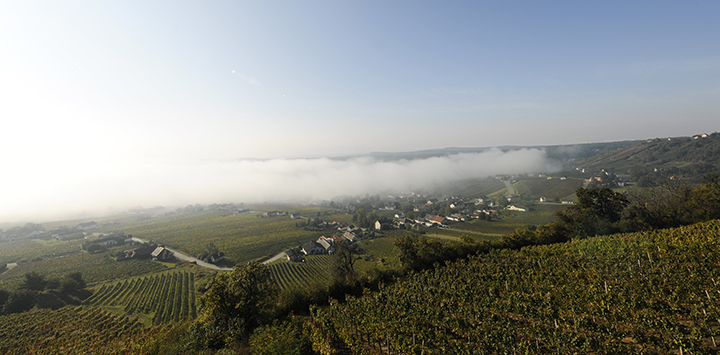 In terms of your evolution as a winemaker, are there things that you have learned over the years that have influenced you?
Yes, I was in winemaking school in Austria when I was 14, so I was not even allowed to drink. You learn everything, but a lot of stupid things, so you forget most of it. You have to see a lot, so I probably would have done a bit more, but I was at least in Portugal, which was a very big thing for me. I got a lot of inspiration from Dirk Niepoort, yes. It was one of the most important things that I did in my time as a winemaker.
What sort of ideas did you take away from there?
You know, Portugal is a hot region, but if you taste the wines later in bottle, they are so fresh. They are so pure, so mineral. They do make a lot of fun wine. I learned really to love freshness in wine there, and Blaufränkisch for me is a very delicate, very fresh and pure.
What do you think needs to happen for Austrian wine to become more well-known? It is certainly well-known within a community of wine lovers, but it is not one of those breakout regions.
Probably, we have to have a bit more producers than we do now. There are quite a few at the moment, but we have to have more. There has to be more Blaufränkisch on the market, more Grüner Veltliner on the market, more Riesling from Austria on the market. I think what I see on the shelves here at the moment is already the good producers, which are really following, most of them, the fine way. Not the massive "everything wines." Yes, there has to be more I think, because these wines have the potential to be on the wine lists.