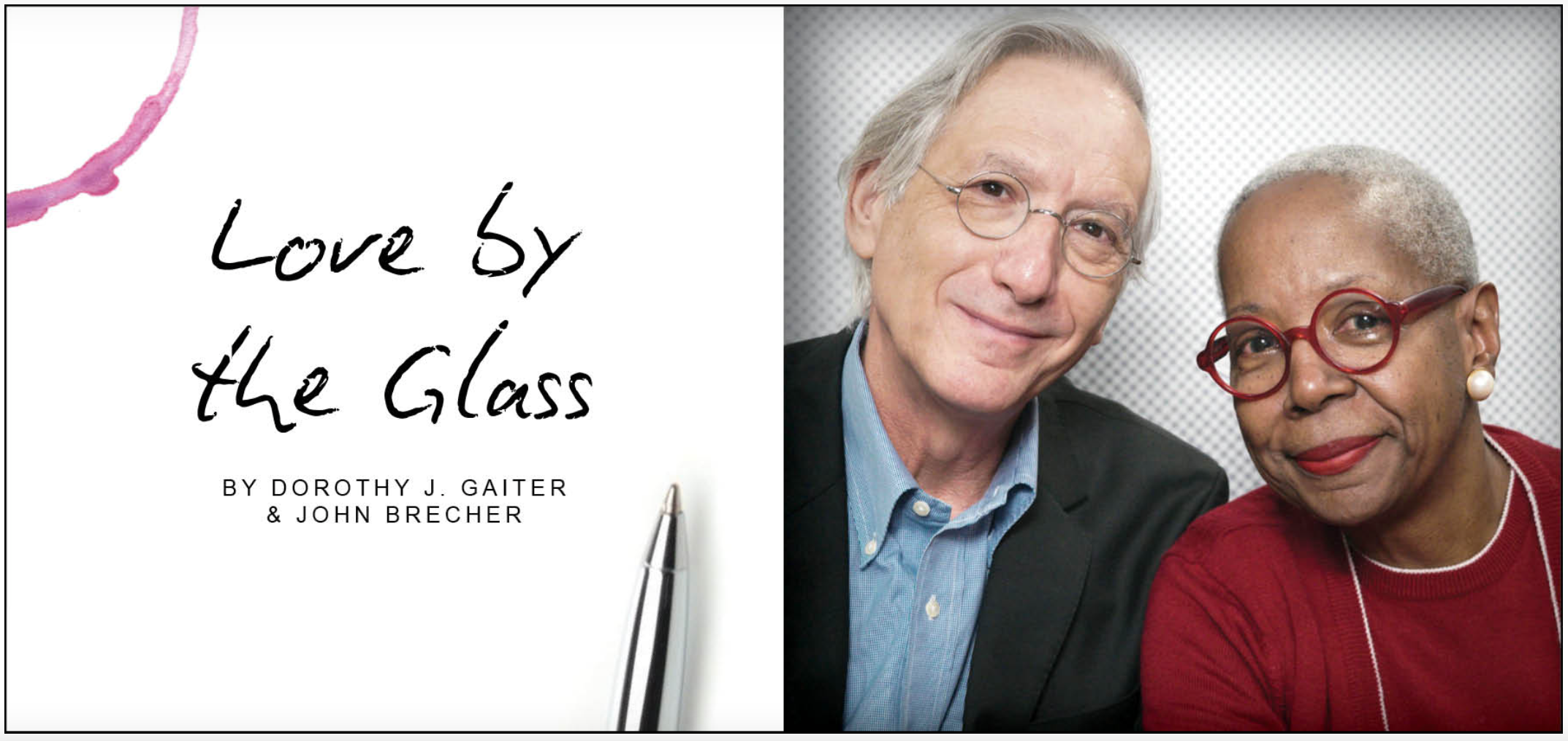 We are celebrating our 50th anniversary.
We met at 9 a.m. on June 4, 1973, on our first day in the newsroom of The Miami Herald. We were 21. We made it official almost six years later, but we consider that moment the true beginning of us.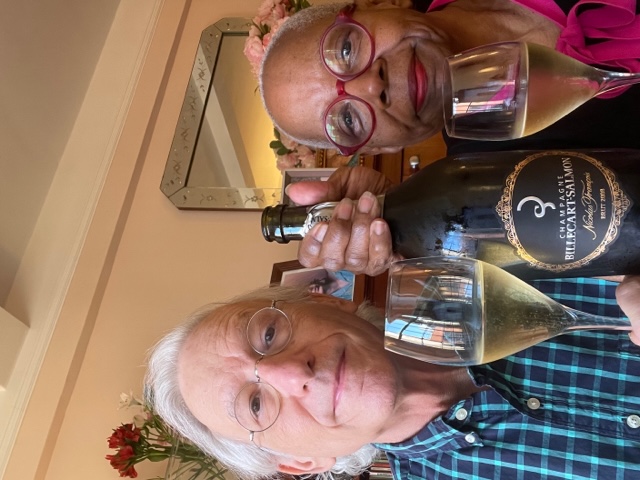 Two separate interviewers over the past couple of months have asked us the same question: Was there one wine that provided your "aha" moment? We both stumbled on that for a few seconds. So many wines were special to us; we wrote a memoir about many of them called "Love by the Glass: Tasting Notes from a Marriage." After those interviews, we thought about that question, how we had answered it, and what other wines were signposts for us. Let's go through a few of them and why they are not just relevant to our lives but maybe important to the world of wine going forward.
(We kicked off our celebrating with 2008 Nicolas François Billecart-Salmon sent by the winery)
--Anonymous French red and white. We did not grow up with wine, except for the requisite holiday Manischewitz, Mogen David, or Korbel, and knew nothing about it when we met. For our first date (not the Bob Dylan concert or the dinner of vegetables we picked a week later), John thought he could impress Dottie with a bottle of wine with roast chicken he prepared at his place. He went to a wine store near his apartment and on the counter was a white wine from France, three for $9.99. John was clueless, so he had said he'd take three. The salesman had said if he bought a mixed case of reds and whites from the same maker, he could get it for $2.83 a bottle. What a deal! We enjoyed the wine and it made us curious about what wine was and where it came from and what other worlds it might open.
We wonder if 21-year-olds walked into a wine store today and picked up an anonymous bottle for, say, $15, would it be interesting and tasty enough to begin a journey? We believe that far too many wines on shelves these days, from legendary wine regions even, are industrial, sweet and one-dimensional and that worries us about the future of the wine industry.
--California Cabernets 1968 and 1974: Mondavi, Heitz Cellar, Beaulieu. As journalists, we had read about some excitement happening in the U.S. wine industry focused on the new Robert Mondavi Winery in Napa. We found a bottle of Mondavi and we understood the excitement. This was even before we took notes and had little to compare it with, but there was something about it that tasted like America, with elegance and stand-tall fruit. We loved it so much that when we visited Napa in 1975, we drove directly from the San Francisco airport to Mondavi. On our honeymoon in Napa in 1979, we bought a bottle of Beaulieu Georges de Latour Private Reserve 1968 at the winery ($35) and drank it in a vineyard next to our inn. In 1980, we had a bottle of 1968 Heitz ($35). At a fascinating retrospective tasting of wines from the Bella Oaks vineyard this year, including the excellent new Bella Oaks Vineyard winery's proprietary wines, we tasted the Heitz Bella Oaks 1976 and at 47 years old it still wowed us.
We have been working journalists our whole lives. Our parents were hard-working, middle-income people. We worry that younger people without significant resources these days can't afford better Napa Cabernet and therefore won't fall in love with an American treasure. To further complicate things, price and quality often don't correlate.
--Rutherford Cellars Muscat of Alexandria. On our honeymoon in Napa we dropped into one winery after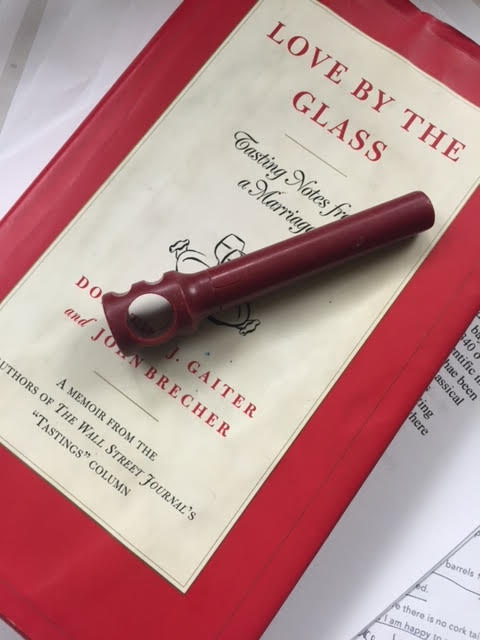 another to taste wine. That wasn't much of a feat. There weren't that many in 1979. At that point, we had been tasting wine from all over the world. We had read books and looked at a lot of maps. We really liked wine. But one moment changed us. We went to a place called Rutherford Cellars, where the owner-winemaker, Bernard Skoda, poured his wine while his wife, Evelyn, helped with the glasses. At the end, he poured a sip of his Muscat of Alexandria. With that wine more than the others, he watched Dottie sniff and then taste it. When she closed her eyes and smiled, he came close to breaking down in tears. That was the moment – that was when we really understood that a winemaker's soul is in every thoughtful bottle. Seeing her husband's response and learning that we were on our honeymoon, Evelyn gave us a corkscrew that we still cherish. When we taste a wine born of vision and passion, it's like we're truly meeting the winemaker.
(Our memoir with the corkscrew from Bernard and Evelyn Skoda of Rutherford Cellars)
Today, we worry that it's harder and harder to have this moment. We know that many winery visits today are all about "the experience." Winemaking and tourism have become largely intertwined. Meeting anyone on the winemaking team or a member of the owner's family may only be possible in some places if you are monied. But good wine is someone's creation. Appreciating that elemental truth is fundamental to a lifelong passion for wine.
--Château Lafite-Rothschild 1968. In 1978, we saw a bin on the floor of a Miami wine shop filled with Château Lafite-Rothschild. This was the first time we had ever seen a first growth. And it was only $8! Actually, 1968 was a famously terrible year in Bordeaux and, we learned later when we looked this up, some experts wondered why Lafite even sullied its name by bottling this. But we'd never tasted a first growth before and, to us, it was a miracle, with a kind of structure and nuances that we had never imagined before.
Obviously, we appreciate that not many young would-be wine lovers can afford top Bordeaux now and don't know what the fuss is all about. But we have another concern: With so much emphasis today on vintages, and so much information available on social media about every wine in every year, is it possible we would have been scared off the 1968, one of our aha bottles? Maybe. Our advice for value has always been: Get wine from reputable winemakers in lesser years and in better years buy wine from no-name winemakers. It's still good advice, but we didn't know that at the time.
--Domaine Duchet Beaune Cent-Vignes 1969. For Dottie's birthday in 1980, John asked a French restaurant in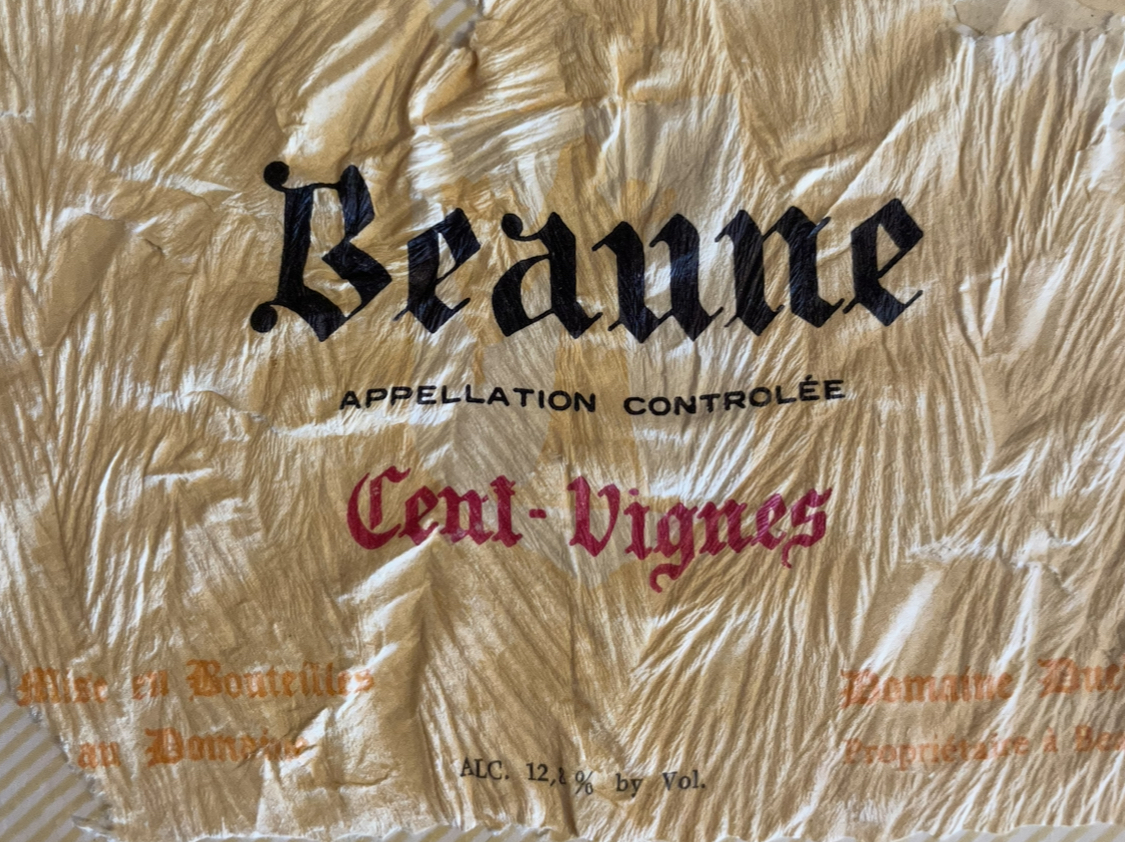 Manhattan called Entre Nous to make a special meal and left it up to the chef-owner to choose the menu and the wine. The wine was this Burgundy. It was our first great Burgundy. It had an earthiness and depth – a real-ness – and an ephemeral quality that we'd never experienced before. We fell in love with Burgundy that night.
Our concern here is not with Burgundy, though its prices have skyrocketed. It's with restaurants. We have been to too many restaurants that have wonderful wine lists, but the prices are so high we have ordered beer. Oh, the humanity! But, seriously, so many people have had their aha moments at restaurants, where someone guided them to a special wine that was in or at least near their price range. We know this still happens, but not as often as it should.
--The Eyrie Vineyards Pinot Noir 1979. We used to take cross-country Amtrak trips. In 1983, at a stop in Seattle, a wine store big on wines from the Northwest had a Pinot Noir from a winery called The Eyrie Vineyards in Oregon. Wine from Oregon? We bought it and opened it right away as we pulled out of the station. It was a revelation, with a heavenly nose and luscious fruit, yet a kind of come-hither restraint. We didn't know the U.S. could make a Pinot Noir that tasted like this and we were hooked.
Our big concern here is not about Oregon, which appears to be thriving, or Pinot Noir, which never looked back after "Sideways." Instead, we worry that other states are not receiving the same support from their own residents, and from their neighbors, that Oregon did way back then. Wine now is made in every state, but we don't know how much assistance local wineries get. People enjoy visiting local wineries – many are packed on weekends, which is great -- but are local wineries featured at local wine stores and at local restaurants? Is there an active culture of championing local wineries the way there was then, and there is now, in Oregon? That little shop in Seattle made us lifelong Oregon supporters.
--Mondavi Sauvignon Blanc 1978 "Botrytis." You might be thinking that, wait, Mondavi called his Sauvignon Blanc "Fumé Blanc," and that is true. But he made a tiny amount of sweet Sauvignon Blanc that he called Sauvignon Blanc to avoid confusion. At a restaurant (yep, restaurant again) that was later destroyed on 9/11, we asked the wine director if he had anything special we should try. He said he had visited Mondavi, tasted this and managed to get 12 half bottles. Our notes on this go on and on, with words like "nectar-like" and "unbelievably clean."
Even after all these years, we worry that most people don't give fine sweet wines a chance. To us, they are some of the greatest wines in the world. We served 1989 Château d'Yquem, the incomparable Sauternes, at our daughter Media's rehearsal dinner (we laid it down for her when she was very young, when we could afford it). A great sweet wine would change anyone's mind about sweet wines, but they have to be given the opportunity.
--And, finally, our life-changing aha wine: Steinberger "Kabinett" 1975 from Germany. In 1978, a merchant in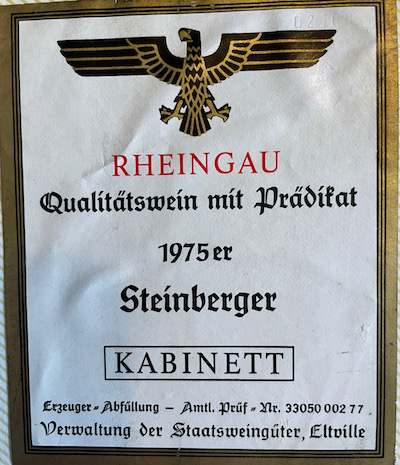 West Palm Beach, Fla., asked John if he liked German Riesling. We grew up in the Blue Nun Liebfraumilch era of German wines. John gave him a definitive "No!" The wine merchant said "try this" and handed him a bottle of Steinberger. We couldn't believe how it tasted – so focused, so pure and beautifully balanced, with a little prickle and never-ending tastes of green apple and pear. This taught us the most important lesson of all in wine: Don't prejudge; don't assume what you do and do not like; be open to new tastes. And always listen – not just to merchants and wine writers and sommeliers, but listen to the wine.
We love Riesling. Our concern is that, no matter how much we and other wine writers try, it's difficult to convince people to drink Riesling. It's too sweet, they say – and, to be honest, we do worry that, as the years have gone on, even Rieslings that claim to be dry don't seem very dry. But a dry, crisp, focused Riesling – from Germany or Michigan or New York's Finger Lakes or other regions – is a wonder of the world. It could be your next aha moment. After all, no matter how many you have had, there's always another around the corner, even for us, after 50 years.
Dorothy J. Gaiter and John Brecher conceived and wrote The Wall Street Journal's wine column, "Tastings," from 1998 to 2010. Dorothy and John have been tasting and studying wine since 1973. In 2020, the University of California at Davis added their papers to the Warren Winiarski Wine Writers Collection in its library, which also includes the work of Hugh Johnson and Jancis Robinson. Dottie has had a distinguished career in journalism as a reporter, editor, columnist and editorial writer at The Miami Herald, The New York Times, and at The Journal. John was Page One Editor of The Journal, City Editor of The Miami Herald and a senior editor at Bloomberg News. They are well-known from their books and many television appearances, especially on Martha Stewart's show, and as the creators of the annual, international "Open That Bottle Night" celebration of wine and friendship. The first bottle they shared was André Cold Duck. They have two daughters.
Banner by Piers Parlett