If I asked you to think about classic wine country, I'm sure images of beautiful Tuscan rolling hills would come to mind; or maybe some classic French château in Bordeaux, or Burgundy. Perhaps you would envision something closer to home, like vineyards you've visited in Napa, or Sonoma. Of course. These all make sense.
Now what if I told you, Brazil.
Wait. What?! Brazil??!!
Yes, Brazil.
Contrary to the typical images of steamy jungles that would come up for most of us, and thereby horrible conditions for growing grapes, Brazil makes some wonderful wines.
The trick to understanding how, is to look at the map. In the very south of the country, in the state of Rio Grande du Sul (highlighted red, below), is an area called, Serra Gaucha.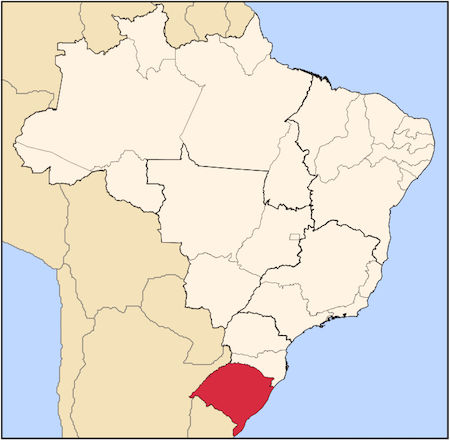 This is Brazil's wine country. It is so far south that it is removed from the typical Brazilian heat. Here the climate is mild, with the same type of hills and valleys you would find in most other wine producing regions. As a result, there are many microclimates, depending on the elevation of the hills. Within the region, most wine comes from the Vale dos Vinhedos area, which has a stony, shallow, terroir; comprised largely of basalt and andesite. Settled by northern Italians in the late 1800s, there a large number of grape types grown here, as well as a large number of wine producers. If you'd like to know more about the history of Brazilian wine, please read Amanda Barnes' article on Grape Collective.
One of Brazil's largest wine producers is the Miolo Family Vineyards, which has several vineyards in the region. I had the pleasure of tasting their 2015 Tannat, which has everything a red wine lover could ask for; richness, earthiness, spiciness, layers of dark plum, black cherry flavor, and chocolate on the palate, the right amount of tannins, and a great finish, all rolled together; along with a great price tag.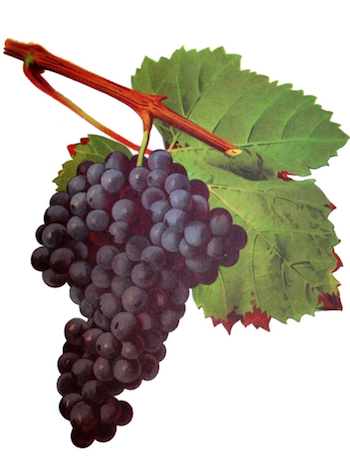 Heaven. It comes from one of their estates in the very south of the region, called Candiota. Without question, it's one of my top 10 from 2017. For Tannat lovers, you should also read Peter Zusman's piece on the grape.
(Pictured, right: The Tannat grape)
Interestingly, while Miolo is one of Brazil's largest wine producers, with approximately 40% of the domestic fine wine market, they didn't actually start making wine themselves until 1990. In the beginning, Giuseppe Miolo, from the Veneto in Italy, began the family wine business in 1897 after settling in the Val dos Vinhedos region and only grew grapes for other winemakers. That continued for nearly one hundred years. Thankfully, the knowledge of the grower's art has served them well, and their wine is now sold around the world.