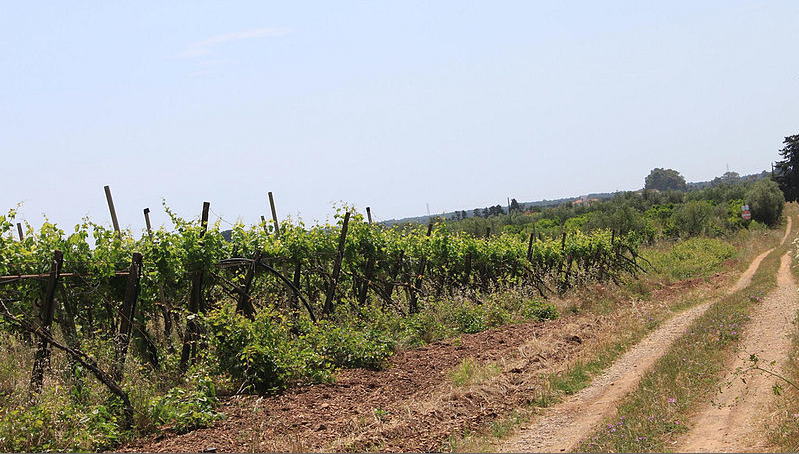 Geography & Climate
Apulia, or Puglia in Italian, is a long, narrow wine region in Southern Italy bordering the Adriatic Sea to the east, the Ionian Sea to the southeast, and the Strait of Òtranto and Gulf of Taranto to the south. Its southernmost area, called the Salento peninsula, makes up the heel on the boot of Italy. Apulia is approximately 7,500 square miles and is surrounded by the Italian region of Molise to the north, Campania to the west, and Basilicata to the southwest.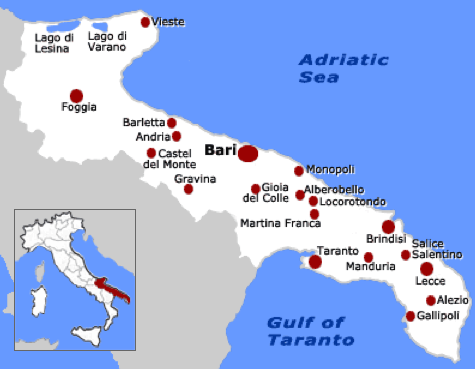 Unlike most of Italy, Apulia is predominantly comprised of flat, fertile plains, although some hilly and mountainous terrain can be found in the north. The region can be roughly divided into two viticultural sectors by an imaginary line crossing between Brindisi and Taranto. To the north, the climate is temperate, and even somewhat cool at certain heights in the Murge plateau. The more southern portion of the region features a Mediterranean climate, and is generally sunny and dry.
Despite the considerable expansion of industry in recent years, farming is still the main way of life. The most widely cultivated crops in Apulia are olives, grapes, cereals, almonds, figs, and tobacco. The area is responsible for close to half of Italy's total olive oil production, and maintains a reputation as a bountiful source of red wine.
Grapes
Apulia has been producing wine for over 2,000 years and an array of grape varieties are planted. The most significant red grapes cultivated in the region are Negroamaro, Primitivo, Malvasia Nera and Uva di Troia. The Negroamaro grape, characterized by its dark color and thick skin, is the most widely planted variety in Apulia, and the sixth most planted in Italy. Wines made from Negroamaro tend to have a very rustic style, combining perfume with an earthy bitter quality. White grape varieties include Verdeca, Bianco d'Alessano, Bombino Bianco, Malvasia Bianca and Trebbiano.
Wine
Apulia been dubbed "Europe's Wine Cellar," as it has generated abundant quantities of wine, typically producing more than any other wine region in Italy. Historically, the wines were generally rugged or rough, and not very high in quality. A fair amount of it went into inexpensive jug wines, was blended into generic wines, or was shipped north to Turin for use in making vermouth, or to France where it was used to add structure to French wines when the local harvest was inadequate.
In the late 20th century, as the world's wine market began to demand wines of higher quality, the mass-produced blending wines for which Apulia was known lost their value. With consumers choosing quality over quantity, and looking to regions like Argentina, Chile and Australia for affordable options, the winemakers of Apulia needed to modify their approach to making wine. Vintners are now seeking to create wines that successfully balance sweetness, acid, density, and alcohol content.
These days, Apulia sill produces more wine than any other Italian region, normally making up about 17% of the national total. It is also tied with Sicily as Italy's number one grape producer.
Interesting Facts
The region of Apulia was settled by several Italic tribes and by Greek colonists before it was conquered by Rome in the 4th century B.C.

Apulia has 25 DOCs, more than any other Southern region in Italy, and they include Castel del Monte, Locorotondo, Martina Franca, Salice Salentino, Copertino, Squinzano and San Severo. Only about 2% of the wine produced meets DOC standards.

The red wines of Salice Salentino, made primarily with the Negroamaro grape, have attracted a following overseas because they generally offer an impressive value.

Copertino is known as a center of winemaking in Apulia, producing wines made from the Primitivo grape. Thought to be the ancestor to the American Zinfandel, winemakers are creating Primitivo that rivals its American counterpart.

The key wine towns or Apulia include Lecce (often called 'The Florence of the South'), Locorotondo, Manduria, Martina Franca, and Salice Salentino.

The cuisine of Apulia includes orecchiette pasta, breads, fennel, aged ricotta cheese, broccoli, cauliflower, and eggplant.


Although the official language is Italian, the local dialects include Barese, Foggiano and Griko, which is considerably closer to Greek than Italian.