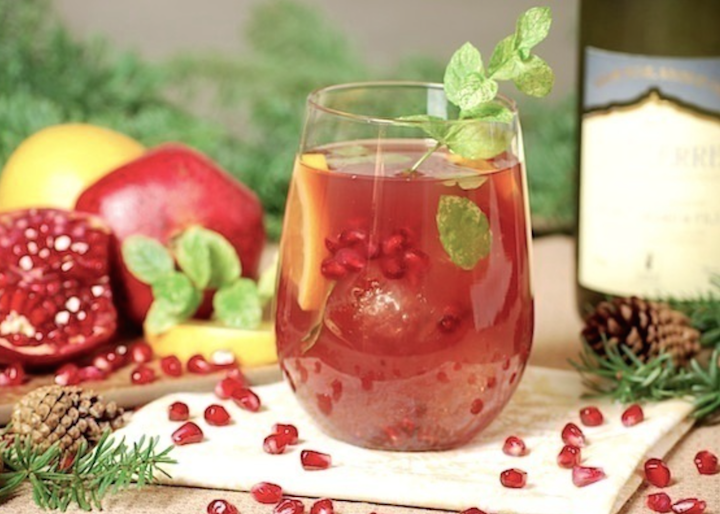 The holidays are fast approaching and that means cocktail parties, family gatherings, winter feasts and celebrations galore. Whether you're enjoying a traditional Christmas spread, a late-night New Year's tribute, or simply a cozy dinner at home, this year skip the eggnog and toast the season with one of these festive wine cocktails.
Pomegranate Orange White Wine Cocktail
(pictured above, courtesy Karen Miner)
Ingredients:
4 ounces dry white wine (like Sauvignon Blanc)
3 ounces pomegranate juice
1 ounce fresh orange juice
1/2 ounce Camus cognac (or similar)
5 mint leaves
ice
Directions:
Tear mint leaves roughly and put in glass. Add wine, juices and cognac. Fill glass with ice. Serves 1.
Rosemary-Scented Champagne Cocktail
(courtesy Karen Miner)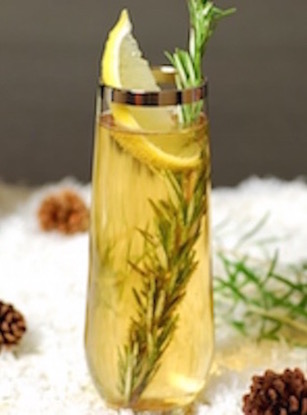 Ingredients:
5 ounces Champagne
1/2 ounce Flor de Caña 7 Year Rum (or similar)
1/2 ounce rosemary simple syrup (recipe follows)
lemon wedge
Directions:
Combine rum and rosemary simple syrup in a Champagne flute. Fill glass to the top with Champagne. Squeeze lemon into cocktail. Serves 1.
Rosemary Simple Syrup
Ingredients:
1/2 cup sugar
1/2 cup water
1 sprig rosemary (about 5 inches)
Directions:
Pull leaves off rosemary sprig and add to a small saucepan with sugar and water. Bring to a boil, stirring to dissolve sugar. Reduce to a low boil for about 5 minutes until mixture is thickened. Remove from heat and strain. Let cool completely. Store in refrigerator. Makes about 1/2 cup.

Mulled Wine Sangria
(photo courtesy Randy Mayor)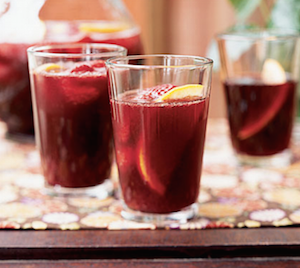 Ingredients:
1 bottle Merlot or other red wine, chilled
1/3 cup sugar
1 sachet mulling spice blend
1/2 cup fresh orange juice (about 1 large orange)
1 (16-ounce) bag frozen unsweetened strawberries
1/2 orange, thinly sliced and cut in half
1 (12-ounce) can club soda
Directions:
Combine 1 cup wine, sugar, and sachet in a small saucepan; bring to a simmer. Cook 5 minutes. Remove from heat; cool. Discard sachet. Pour mixture into a pitcher; add remaining 3 cups wine. Chill thoroughly. Add juice, strawberries, orange slices, and club soda. Serves 6.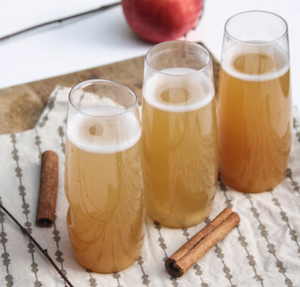 Spiced Apple Cider Champagne Cocktail
(courtesy Dishing Up The Dirt)
Ingredients:
2 ounces Tennessee Cider (you can substitute with apple brandy)
2 ounces fresh apple cider
3-4 ounces chilled Champagne
Directions:
Pour the Tennessee Cider into the bottom of each glass. Add the Champagne and top with a splash of fresh apple cider. Serves 2.
Siren's Song
(photo courtesy Alexandra Grablewski, recipe courtesy Kim Haasarud)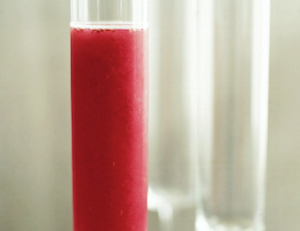 Ingredients:
3 ounces Champagne
1 ounce ginger beer
1/2 ounce raspberry puree
1/2 ounce raspberry liqueur
Directions:
Combine all of the ingredients in a cocktail shaker with ice and stir for about 5 to 10 seconds. Strain into a Champagne flute. Serves 1.