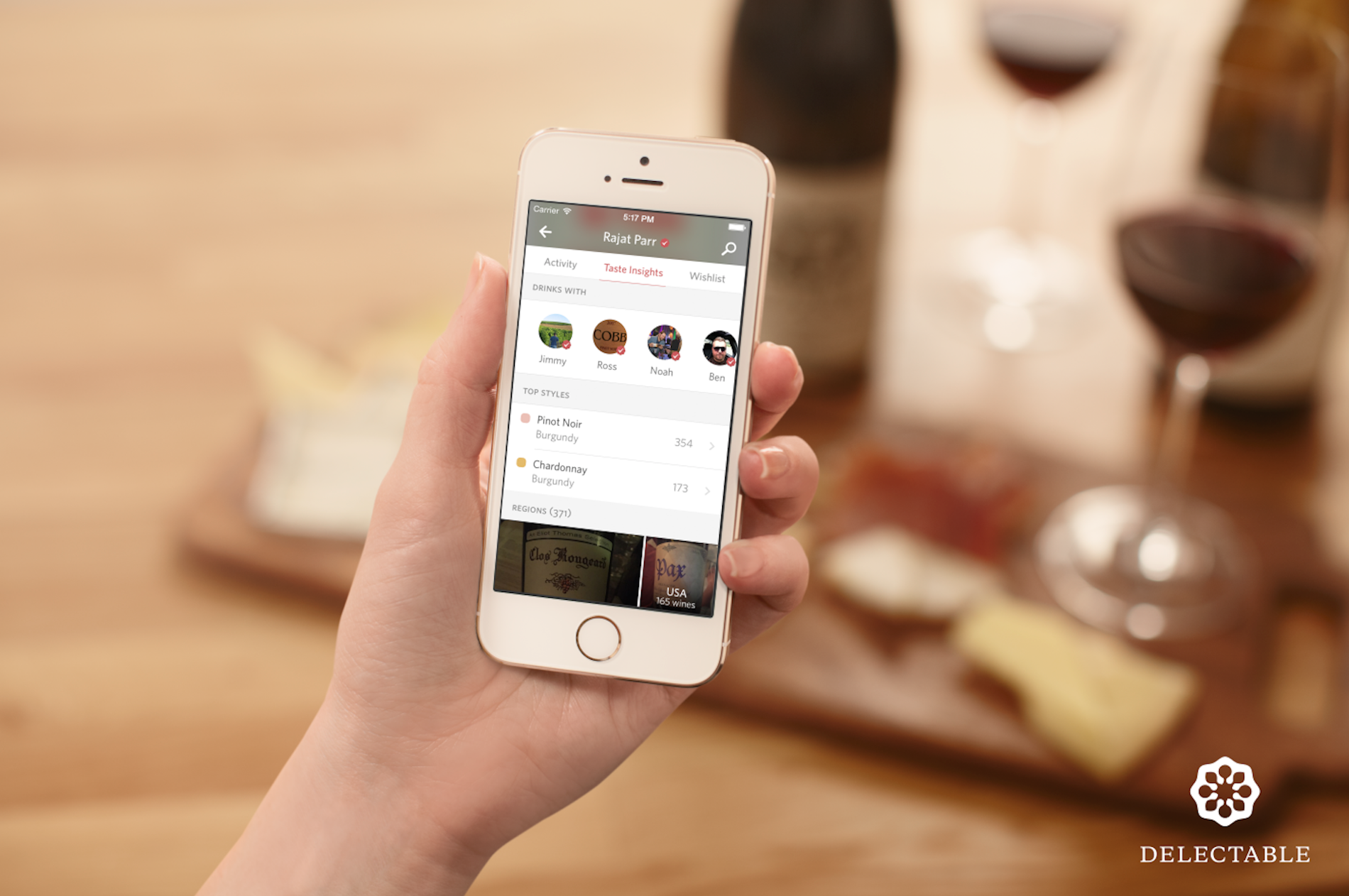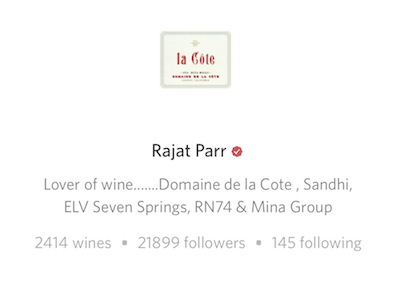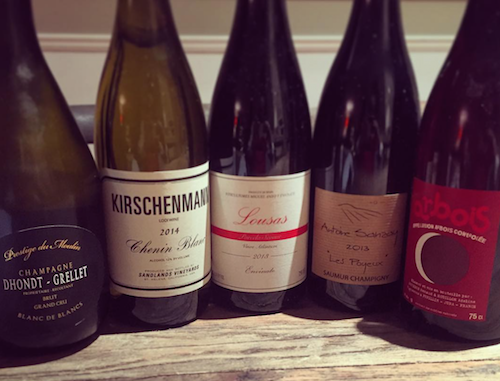 E. GUIGAL
La Turque Côte-Rôtie Syrah 1985
Rated 10
DOMAINE DE LA ROMANÉE-CONTI
Romanée-Conti Grand Cru Pinot Noir 1962
Rated 10
DOMAINE RENÉ ENGEL
Clos Vougeot Grand Cru Pinot Noir 1966
Rated 10
CHÂTEAU MOUTON ROTHSCHILD
Pauillac Red Bordeaux Blend 1945
Rated 10
HENRI JAYER
Cros Parantoux Vosne-Romanée 1er Cru Pinot Noir 1990
Rated 10
DOMAINE JEAN-LOUIS CHAVE
Ermitage Cuvée Cathelin Hermitage Syrah 1990
Rated 10
DOMAINE DE LA ROMANÉE-CONTI
Romanée-Conti Grand Cru Pinot Noir 1978
Rated 10
CASTELLO DI VERDUNO
Barolo Nebbiolo 1945
Rated 10
Above photo via Rajat Parr's Instagram: "Among the Top 5 wines I discovered in 2015."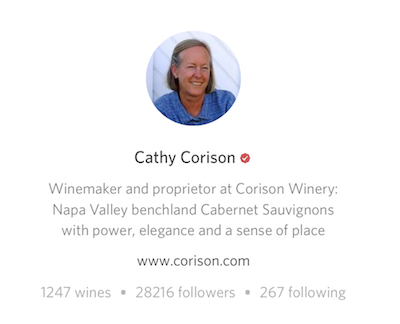 DR. LOOSEN
Erdener Prälat Auslese Riesling 2013
"Wow. Stones. Explosive in the mouth. Rare treat. Half bottle."
Rated 9.7
DOMAINE DE CHEVALIER
Pessac-Léognan White Bordeaux Blend 2001
"Love. Savory, salty mouthful. Nice bottle development. Stone fruit. Snappy acidity. Kiss of Botrytis?"
Rated 9.7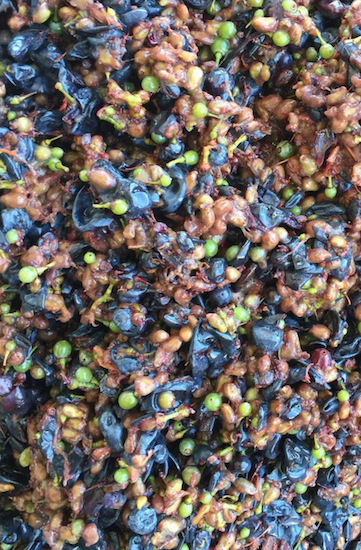 PALLADINO
Serralunga Barolo Nebbiolo 2008
Rated 9.7
DOMAINE WEINBACH
Cuvée Ste. Catherine Schlossberg Alsace Grand Cru Riesling 2013
"Honey botrytis, rich and broad. Black tea. Trenchant acidity. Lemon, apples. Balancing phenolic grip. What a treat."
Rated 9.6
ALBERT BOXLER
Réserve Alsace Riesling 2013
"Mineral verve, broad feel with razor-sharp acidity, honey and lemon aromas. Perfect with smoked salmon from the farmers market. Wow."
Rated 9.6
LUCIEN ALBRECHT
Pfingstberg Alsace Grand Cru AOC Riesling 2007
"Lovely. Botrytis honey mingling with Riesling diesel, fairly dry and quite snappy. Mineral. Broad feel. A present from the Napa Valley Wine Academy who visited during harvest and helped us press a tank. What a treat. Grateful."
Rated 9.6
GAIA ESTATE
Wild Ferment Santorini Assyrtiko 2014
"Wow. Lime/lemon custard, mineral. Dried flowers. Wonderful tension between snappy and broad/rich."
Rated 9.6
AZIENDA AGRICOLA LA TORRE
Estate Brunello di Montalcino Sangiovese 2009
"Leather, dusty floral notes, earth. Smells a bit like pears. Silky texture. Dried cherries. Plums."
Rated 9.5
Above photo via Cathy Corison's Instagram: "Closeup of MOG (material other than grape). Millions of tiny green 'shot berries' removed."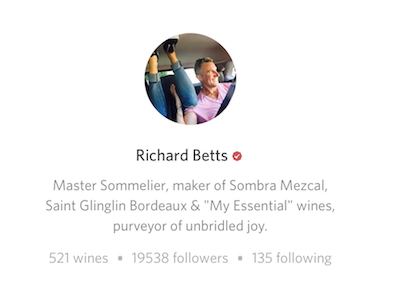 GIUSEPPE ALBERTI
Anisetto Liquore Strega
"Outrageous. Wow.... Long and crazy pretty."
Rated 10
HENRI JAYER
Cros Parantoux Vosne-Romanée 1er Cru Pinot Noir 1990
"Perfect."
Rated 10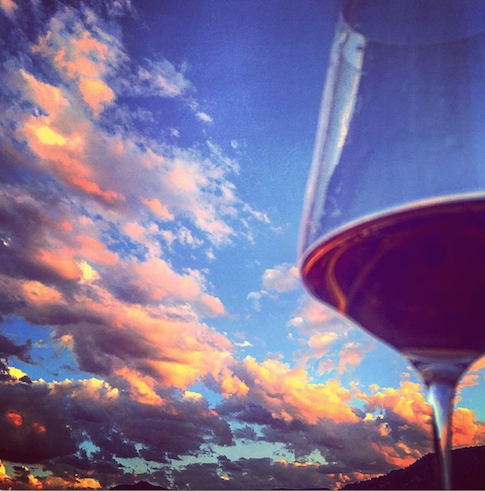 MEINKLANG
Konkret St. Laurent 2011
"Wow. This is what a concrete egg ought to do.... So good"
Rated 10
MONTEVERTINE
Le Pergole Torte Sangiovese 1982
"Wow. Kinda like the 78."
Rated 10
MAISON FRANÇOIS MARTENOT
Collection du Docteur Barolet Chambolle-Musigny Pinot Noir 1925
"Outrageous."
Rated 10
DOMAINE JEAN-LOUIS CHAVE
Ermitage Cuvée Cathelin Hermitage Syrah 1990
"Yup"
Rated 10
ALBERT BOXLER
Sommerberg Grand Cru Riesling 2010
"Best thirty bucks I've spent all year and one of the great Rieslings ever. Forever ever."
Rated 10
IL PARADISO DI MANFREDI
Brunello di Montalcino Sangiovese 2000
"The most pure expression of grape and place I've ever drunk. Love it."
Rated 10
KALIN CELLARS
Santa Barbara Pinot Noir 1980
"Best California Pinot I've ever had."
Rated 10
Above photo via Richard Betts' Instagram: "Totally digging on @jolielaidewines 2014 Trousseau Gris"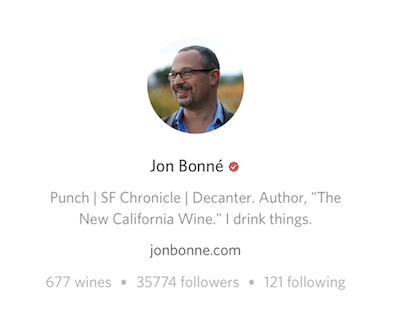 LOUIS JADOT
Clos des Ursules Beaune 1er Cru Pinot Noir 1959
"Astonishing youth."
Rated 9.7
BOUCHARD PÈRE ET FILS
Chevalier-Montrachet Grand Cru Chardonnay 1990
"1990. Astonishing. One of the whites of the night so far."
Rated 9.7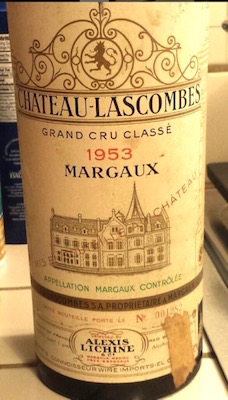 CHÂTEAU LASCOMBES
Margaux Red Bordeaux Blend 1953
"Hot damn. Lascombes relatively untrod territory for me. A timeless expression of Cabernet. From magnum."
Rated 9.7
KEPLINGER
Caldera El Dorado Mourvedre Blend 2011
"An astonishing, perfumed example of Mourvedre beauty, Foothills style. (Specific hat tip to Ron Mansfield.)"
Rated 9.6
EMMANUEL BROCHET
Haut Chardonnay Millésimé Extra Brut Champagne
"Recapping from NYE: still epic, like great Meursault with bubbles."
Rated 9.5
WWE. DR. H. THANISCH (ERBEN-THANISCH)
Bernkasteler Doctor Auslese Riesling 1971
"A beautiful night-ender. All the freshness, all the weight of Auslese (like, real Auslese), the sweetness now perfectly evolved."
Rated 9.5
DOMAINE ARLAUD
Les Chatelots Chambolle-Musigny 1er Cru Pinot Noir
"A pretty stunning reminder of (stemmish) Chambolle purity."
Rated 9.5
RHYS
Bearwallow Vineyard Pinot Noir 2011
"The year Bearwallow finally hit its stride."
Rated 9.5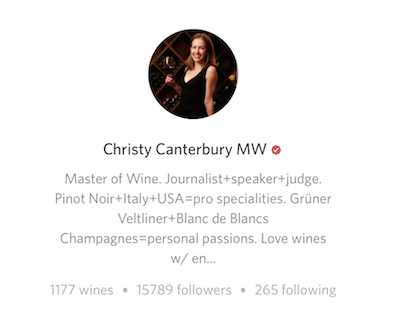 RANZ HIRTZBERGER
Rotes Tor Smaragd Grüner Veltliner
Rated 9.6
YARRA YERING
Dry Red Wine No°2 Shiraz Blend 2004
"Still youthful and utterly dazzling with wild blackberries and crushed hard spices."
Rated 9.6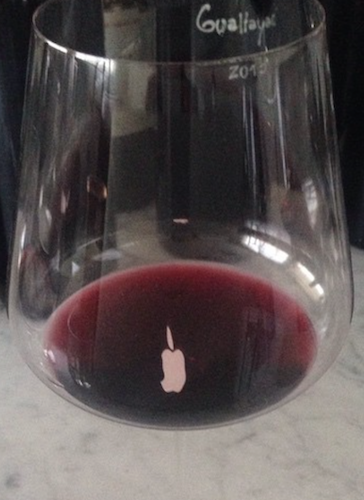 DOMAINE HENRI BOILLOT
Criots-Bâtard-Montrachet Grand Cru Chardonnay 2009
Rated 9.6
DR. LOOSEN
Ürziger Würzgarten Spätlese Riesling 2010
Rated 9.6
JACQUES PUFFENEY
Vin Jaune Arbois Savagnin 2008
Rated 9.5
DOMAINE LONG-DEPAQUIT (ALBERT BICHOT)
Moutonne Monopole Chablis Grand Cru Chardonnay 2012
"Tropical fruits meld into a lightly pastry crust flavored core. Impeccable acidic balance keeps it together now & should give it 10+ years of aging well in bottle."
Rated 9.5
DOMAINE JAMET
Côte-Rôtie Syrah 2006
"Brilliantly balanced with fondant-like tannins and racy acidity. Only 13%! Oodles of blackberries. More, please!"
Rated 9.5
HENRI BOURGEOIS
Terroir De Silex Sancerre d'Antan Sauvignon Blanc 2010
"Very possibly the most delicious and expressive Sancerre I've ever tasted. Mind-blowingly long on the finish."
Rated 9.5
Above photo via Christy Canterbury's Instagram: "This, after I thought I was already #Mac-ed out."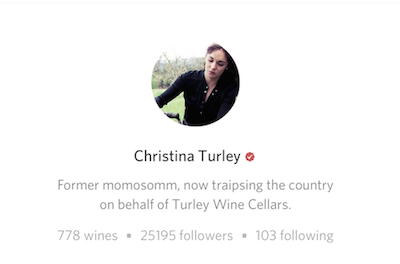 KRUG
Clos d'Ambonnay Brut Blanc de Noirs Champagne 1998
"Everytime it rains, it rains pennies from heaven."
Rated 10
HUBERT LIGNIER
Les Chaffots Morey St. Denis 1er Cru Pinot Noir 2000
"Heaven."
Rated 9.9
TURLEY
Mead Ranch Zinfandel 2013
"Well, that went fast!"
Rated 9.9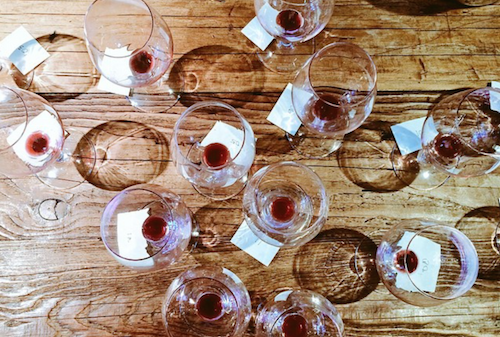 DOMAINE DE LA ROMANÉE-CONTI
Montrachet Grand Cru Chardonnay 1978
Rated 9.9
PIERRE PÉTERS
Cuvée Spéciale Les Chétillons Brut Blanc de Blancs Grand Cru Champagne Chardonnay 2009
Rated 9.8
SILVANO BOLMIDA
Bussia Barolo Riserva Nebbiolo 2009
"BEST. DATE. EVER. "
Rated 9.8
VIETTI
Barolo Nebbiolo 1971
"1971 all for fun."
Rated 9.8
PAOLO BEA
Pagliaro Secco Montefalco Sagrantino 2007
Rated 9.7
Above photo via Christina Turley's Instagram: "20 year vertical of Turley Hayne Petite Syrah today. Eye-opening & humble-making."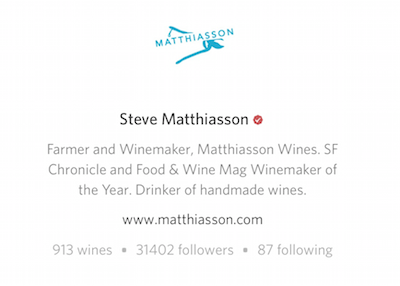 ARNOT-ROBERTS
Peter Martin Ray Vineyard Pinot Noir 2011
"A perfect Pinot. So many pinots, even good ones, are one-trick ponies. This one isn't. It has all the depth and mystery that caused me to fall in love with the grape. Best wine experience in a long time."
Rated 10
SANTA BARBARA WINERY
Santa Barbara County Syrah 1995
"Balanced, food-friendly, varietally correct, high-acid, moderate alcohol well-structured Syrah--fascinating to taste a California Syrah with 20 years on it, made in the cutting edge style of a younger producer like Arnot-Roberts, Windgap, or Jolie Laide--it was made to age and it did so wonderfully."
Rated 10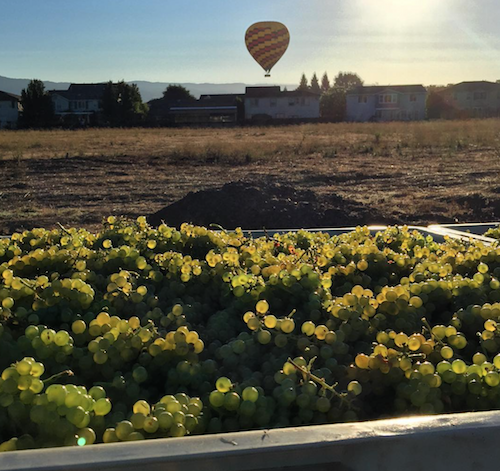 KEEP WINES
Lost Slough Albariño 2014
"2014 rose wine, napa valley, Kahn vineyard. Refreshing zingy grapefruit, blood orange, yellow nectarine. Best rose this year."
Rated 10
RIDGE VINEYARDS
Monte Bello Estate Cabernet Sauvignon Blend 2008
"2008. Probably the classiest wine in the world of wine, reflects its maker."
Rated 10
SCHLOSS LIESER
Thomas Haag Lieser Dry Spätlese Riesling 2010
"Pretty much a perfect Riesling, impeccable balance and precision, our favorite style, on the delicate side, a touch of sweetness, floral, clean, clean, clean."
Rated 10
YOUNG INGLEWOOD
Vin Clair St. Helena Malbec Merlot Rosé 2014
"Vibrant, zingy, light red fruits straight from the icebox."
Rated 9.9
FORLORN HOPE
Que Saudade Verdelho 2010
"Another case of Rorick doing big, rich, and soft, at lower alcohol, while maintaining freshness and minerality. I'd put this against any top white from anywhere in the world. Texture like a bigger burgundy or northern Rhone. 2010."
Rated 9.8
MASSICAN
Napa Valley Tocai Friulano Blend 2012
"Lemon-oil, fresh celery, sea salt, perfect with any food, great as always."
Rated 9.8
Above photo via Steve Matthiasson's Instagram: "You could emerge from a magic portal, take one look, and know exactly where you are... #napavalley"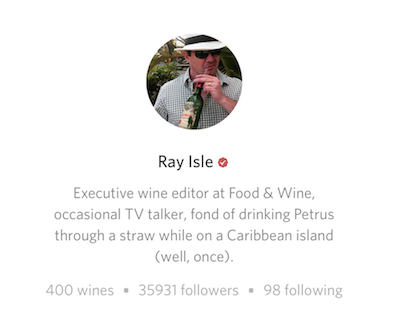 CHÂTEAU PÉTRUS
Pomerol Red Bordeaux Blend 1975
Rated 10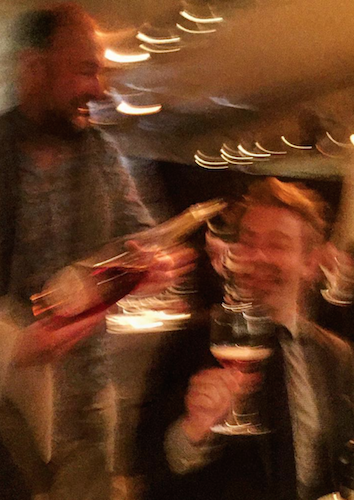 CHÂTEAU LATOUR
Grand Vin de Latour Pauillac Red Bordeaux Blend 1970
Rated 10
TRIMBACH
Clos Ste. Hune Riesling 1976
"Just spectacular. And 40 years old, though you'd never guess it."
Rated 9.8
LES CAILLOUX (LUCIEN ET ANDRÉ BRUNEL)
Châteauneuf-du-Pape White Rhône Blend 1990
"1990 vintage. Spectacular."
Rated 9.7
WEINGUT KELLER
G-Max Rheinhessen Riesling 2008
"Spectacularly good Riesling at Rieslingfeier last night."
Rated 9.7
DOMAINE LEFLAIVE
Clavoillon Puligny-Montrachet 1er Cru Chardonnay 2008
Rated 9.6
DOMAINE JEAN-LOUIS CHAVE
Hermitage Syrah
"From magnum. Kept changing every time I went back to it. Spectacular wine."
Rated 9.6
KRUG
Clos d'Ambonnay Brut Blanc de Noirs Champagne 2000
"Spectacular champagne. Also spectacularly expensive. Certainly enjoyed tasting it though."
Rated 9.6
Above photo via Ray Isle's Instagram: "Pretty much captures the #fete2015 vibe. A whirlwind of #champagne! @foodandwine #thisisfall"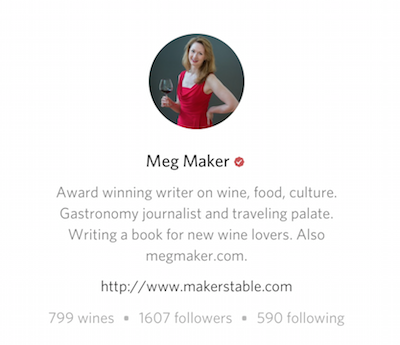 Y ROUSSEAU
"Milady" Chardonnay 2012
"Imagine lawn party in raking, late afternoon light. People in white linen mill about, or lounge on wicker, burbling with laughter, nibbling sandwiches, cutting deep wedges of cheese, and trying not to stain their fingers in platters of ripe berries. There's the pok! of croquet beyond the hedge and chattering birds; later, the crickets begin. And there is this wine. It is sunlight distilled into a glass, its breath is like the kiss of that day's breeze, its body crystalline and pure. People sip, then stop and look up. What is this wine? Some say Chablis, from a ripe vintage, or maybe a Montrachet made with restraint. It is succulent, gleaming, yet discreet. It is nearly perfect, they say, an ur-wine. It is just right for this moment—it is this moment. And it is beautifully done. 14.2% abv | $42 (sample)"
Rated 9.8
LUTUM
Durell Vineyard Pinot Noir 2013
"This wine has everything going on: earth, depth, savoriness, complexity, structure, acid, interestingness. The scent is somewhat animal, somewhat fruit, and the palate is bitter and savory and curious, with an herb-steeped meaty edge and a body that finishes in a rain shower of steely minerals. Surprising, unorthodox, almost unlikeable, and singularly compelling. 14.1% abv | sample"
Rated 9.5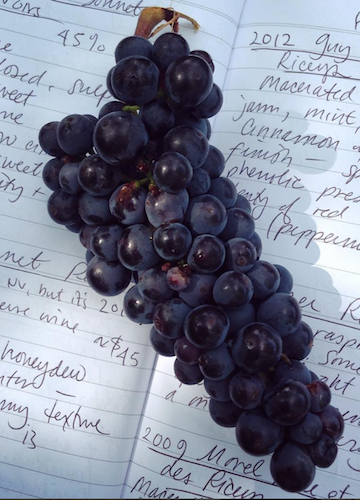 VIETTI
Roero Arneis 2014
"Silky and floral, with a fragrance of jasmine and honeysuckle and a genial palate of ripe pear—a classic note for Arneis—and yellow stone fruit. A breeze of laurel drifts through at the finish. The fruit was grown on 25-year vines in the Santo Stefano region of Roero, northeast of Alba. The wine was raised in stainless, and malolactic was suppressed. The result is delightful and succulent, pure, refreshing, beautifully stitched together. Don't serve it too cold—you'll want that gorgeous perfume of night orchard to pervade your senses. 13% abv | $20 (sample)"
Rated 9.4
Y ROUSSEAU
Russian River Valley Old Vines Colombard 2014
"Crackly up front, with green apple tartness and a lime citrus snap. But the texture is a surprise—round and luscious, a silky mouthful of melon and honeydew—and the wine's lingering goodbye is minerally, almost salty, with a finishing flare of green acid. Delicious, and a superlative deal. 12.5% abv | $20 (sample)"
Rated 9.4
RHYS
Horseshoe Vineyard Syrah 2009
"A bloody-beef red with aromatics of cracked pepper and rare meats, pronounced herbaceousness, and strident acidity. The Syrah fruit was grown at 1,340 to 1,600 feet of elevation in the Santa Cruz Mountains, on rocky Monterey shale pitched at an 11 degree slope. The result is a lean, muscular, and (now) supremely youthful wine, with nerve, verve, and clarity. Enjoy it now with vegetarian gratins, pesto, the aïoli platter, and lean meats. Enjoy it later on its own. 12.8% abv | $59"
Rated 9.4
LUTUM
Durell Vineyard Chardonnay 2013
"Far more restrained than the Gap's Crown, fresher and aromatically more pure, with sharp notes of struck flint, lemongrass, and hay. On the palate it's ample, but with a welcome snap of lemon tea and laurel. On Day Two its even more stony and serious, with salty angularity and an almost metallic sheen. Pair it with briny seafood. 13.8% abv (sample)"
Rated 9.4
VIETTI
Tre Vigne Barbera d'Asti 2013
"A Barbera with a gorgeous perfume of fennel, anise seed, wild roses, and plum skin, plus something tawny and dusty, too, like harvest fruit, like earth, like autumn. It's attenuated and linear along the tongue, very pure, with glistering acidity and a clean, squeaky-tannic finish. This is a superlative food wine; pour it with pesto, marinara, pizza, fish, poultry, cheeses. It could (maybe should) become your staple, weeknight wine. 14% abv | $18 (sample)"
Rated 9.1
FERRARI
Brut Trento DOC Chardonnay
"Conventional wisdom says to treat nonvintage sparkling wine as a fresh product, but when the wine is well made with long lees contact, it can continue to evolve and deepen. Past experience has proven that this wine can age beautifully for five or more years after disgorgement, becoming rounder and toastier. Made from 100 percent Chardonnay, hand-picked, which spent two years sur lattes. This bottle, disgorged in 2014, is indeed fresh right now, with glistering acidity and notes of green citrus and lime peel. For the price, it's a terrific wine for anytime-celebrations, and pairs beautifully with fish, sushi, poultry, fresh cheese, and salads. In two to three years it'll be ready for charcuterie, lighter meats, hard cheeses, pasta—the works. 12.5% abv | $25 (sample) | Imported by Palm Bay"
Rated 9.1
Above photo via Meg Maker's Instagram: "Before and aftermath. #winelover #winewriting #champagne #harvesttrip"
HENRI JAYER
Cros Parantoux Vosne-Romanée 1er Cru Pinot Noir 1987
Rated 10
EMMANUEL HOUILLON (MAISON PIERRE OVERNOY)
Arbois Pupillin Poulsard 1986
Rated 10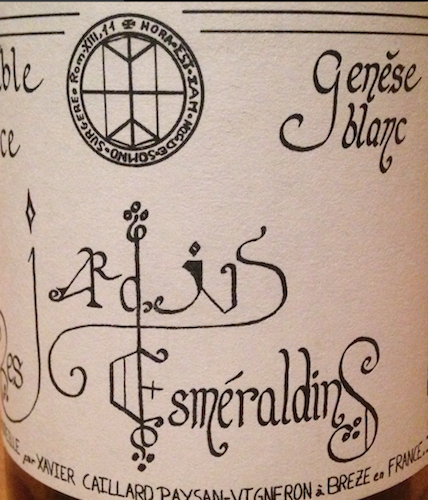 LES JARDINS ESMÉRALDINS
Genèse Chenin Blanc 2000
"Almost perfect, and of course chenin"
Rated 9.9
DOMAINE DE LA ROMANÉE-CONTI
Échézeaux Grand Cru Pinot Noir 1978
"singing singing a slightly low ullage and a pale a pale rose color but damn"
Rated 9.8
JEAN FRANÇOIS GANEVAT
Cuvée Prestige Sous la Roche Savagnin 2005
"Pure core of salt and minerals - highly highly addictive yet the 2005 needs a lot of air"
Rated 9.8
I. ET S. BERNAUDEAU
Les Nourrissons Anjou Chenin Blanc 2013
Rated 9.7
GEORGES ROUMIER
Bonnes Mares Grand Cru Pinot Noir 1990
"Showing superb, with a dense and soft core and fantastic tannins"
Rated 9.7
EDMUNDS ST. JOHN
Sonoma County Syrah 1986
"1986, maybe 18% Cabernet Franc - really exceptional, with a great density of the mid palate, layers a secondary and tertiary and a very alive tannins structure"
Rated 9.7
PIERRE GONON
Saint-Joseph Vielles Vignes Syrah 2009
"Build to last for a very very long time. not feeling of heat. Iingering for minutes. superb tannins."
Rated 9.7