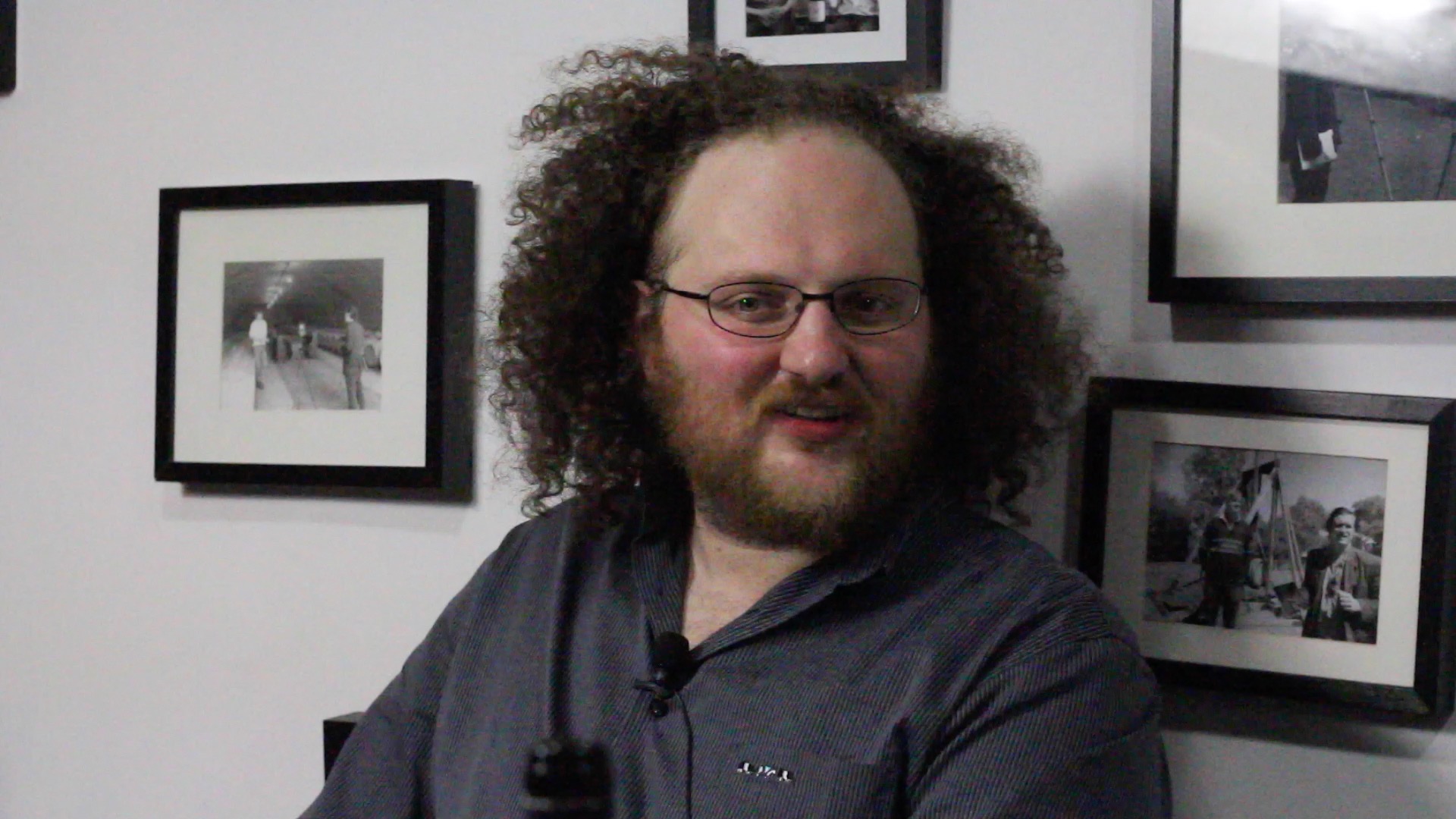 Domaine Schoenheitz is located in the Munster Valley in Alsace. The region has been a major winemaking area since the Middle Ages but was largely destroyed during the fighting of the two World Wars. The Schoenheitz family had been making wine in Austria but emigrated to France after the

The Thirty Years' War

.

They started the wine business in the town of Wihr-au-Val in Alsace in 1812

. During the 1970s, Henri Schoenheitz Sr. started the process of reviving the historical vineyards in the Muster Valley. Today

the winery is currently run by Henri Jr. and Dominique Schoenheitz, alongside their son Adrien Schoenheitz who is working with them towards taking over the operation in the future

.
Adrien Schoenheitz talks to Grape Collective about Alsatian wine, terroir and the joys of Munster cheese.
Christopher Barnes: So Adrian, how did you learn your craft as a winemaker?
Well I first studied viticulture, oenology in Rouffach, it's a school south of Colmar in Alsace. It's two years of study, theoretical study. There's also some intern courses. I've worked for Vieux Telegraph in the South of France, and Chateauneuf-du-Pape. I worked growing vines in Switzerland. After my studies I went to other parts of France. I was in New Zealand for 2012 and in 2014 I went to Torbreck in South Australia in the Barossa. I had a bit of world experience in regards to winemaking, and I've been working with my parents since the 2014 vintage.
You make wine in Alsace right now which is almost the polar opposite of making wine in the Barossa.
Exactly.
How are you able to translate those experiences to where you make wine now?
It was very interesting to go see all the winemaking in Australia, because in Alsace it's a cool climate, but over the past 10 years we had a rise in temperatures. Global warming is starting to be quite important in our region. Seeing how they work in a very dry, warm climate was very interesting in that we were able to get new ideas about improving and counteracting global warming.
What are people doing in other regions to counteract global warming?
Well for example we have Chateauneuf-du-Pape, and as you know it's also a very warm area. At Vieux Telagraph, what we are doing is using blends from different parcels to get a very nice balance, so we have very, very ripe wines planted together with lighter, high-acid wines. Also aging and maybe picking a bit earlier were also good ideas that they had. In Madiran it's a bit different because even if it's warm it's pretty close to the Pyrenees Mountains, so they have a cooler climate than Chateauneuf. They also have good concentration but they keep higher acidities than in South of France, so the problem was less important than in Chateauneuf.
Is global warming something that you see where you're making your wine in Alsace?
Well we have a lot more warm years, not every year is warm but during the last 10 years we had lots more warm years than usual. For example in the '80s decade there were only two very warm years. In the 2000s there were four or five warm years, more than double than before.
How does that impact the wines and how you make your wines?
Obviously when you have warmer years you get richer wines, the grapes have more sugar. You have a choice with the winemaking: having still dry wines but with higher alcohol, or not fermenting everything, leaving a bit of sugar and having more of a half dry, half sweet style instead of a very dry style.
In our area in Munster Valley we are quite high in altitude. We are between 350 meters to 500, so we are facing south, so we have days that are quite warm but with very cool nights. Even if we have high maturation we still keep good acid to balance the maturation.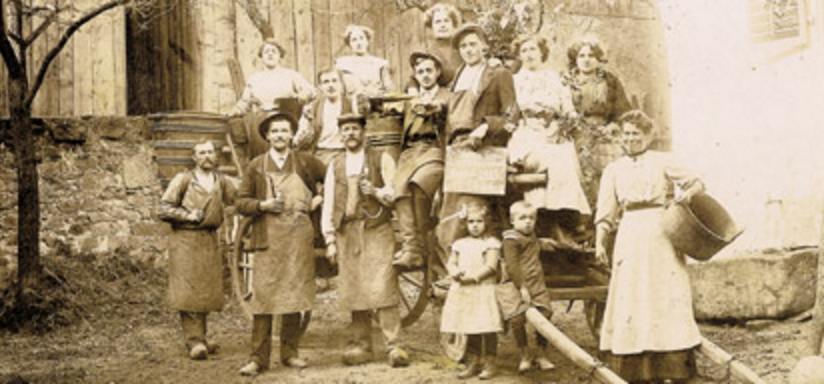 Your family has a very interesting history with wine.
The Schoenheitz family originated from Tyrol in Austria. They emigrated to Alsace after the The Thirty Years' War. They started the wine business in Wihr-au-Val in 1812. Our actual cellar was built in 1809 for a big negociant but he sold the business very quickly to our family.
We made wine for a very long time until the First World War. But during First World War most of the vineyard next to the village was destroyed because it was only five miles from one of the biggest battlefields in the region. After the First World War they started rebuilding the vineyard, but we didn't have time to rebuild everything because of the Second World War. During the Second World War the German army actually destroyed the whole village. We had no more vineyards and no more cellars.
It was actually my grandfather who restarted planting vines during the '60s, but he didn't have any winemaking knowledge because he was still a teenager during the Second World War and no one was there to teach him how to make wine. He was in a cooperative after the '60s. It's my father, my mother, my parents who started winemaking in the 1980s because they studied viticulture and oenology in Burgundy and wanted to make their own wine.
That's a fairly traumatic event, having the Nazis come and destroy your lands. How did the family rebound from that?
It's not an uncommon history in Alsace. In Alsace we have been ravaged by wars for centuries. The Second World War was just the last war they had. First, Alsace was part of the Austrian Empire, and swapped sites with the French when Louis XIV conquered the region. When he conquered the region he killed 80% of the population, which wasn't the first time. Alsace became German again after the Seven Years' War between the Prussian and the Empire of Napoleon, and stayed German until the First World War.
During the First World War we got quite a lot of damage, probably more damage in Alsace than during the Second World War. The village wasn't destroyed during the First World War but all the vineyards and the next town, Munster were. There was a battlefield in the middle of the town during the First World War. The Second World War was was bad for our village, but less bad than probably the other wars.
A lot of wars. You're in the region of Munster where there is a famous cheese.
Yes exactly, Munster cheese.
Does everybody eat Munster cheese in Munster?
Everyone actually. Everyone who likes cheese probably. It's pretty good cheese, very good with some local wines, traditional matches like Gewurztraminer. Yes, the Munster cheese is made in quite a large area, the origin of Munster cheese is Munster Valley, but also the Vosges Mountain area does Munster cheese.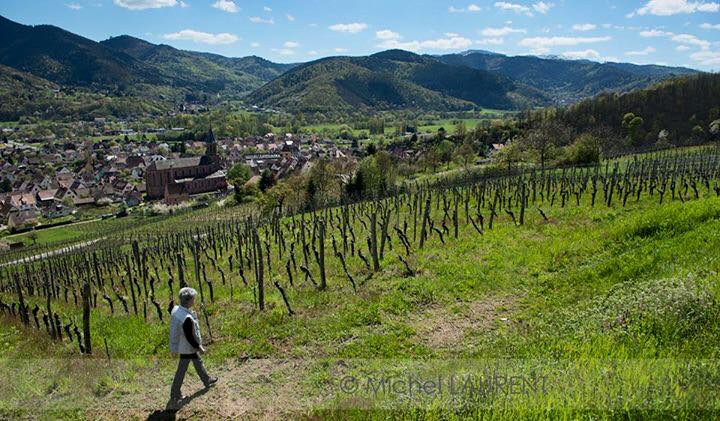 How is the terroir in the Munster Valley, is it different from other areas of Alsace?
Alsace has lots of different terroirs. In the Munster Valley it's mainly granite soil. In Alsace you will have limestone clay soils. It's more on the eastern part of the vineyards. In the valley you often have granite or sandstone. In Munster we have mainly granite.
How are the wines different in the Munster Valley than in other areas of Alsace?
In the Munster Valley we have two specific characteristics. First the microclimate. We are two south-facing slopes, so it's still warm during the day. South is the best exposure you can have, but they are very high in altitude. The lower part is 350 meters, the highest is 500, so it's one of the highest altitudes in Alsace. It's very warm during day but very cool during night. That gives good maturation but also good freshness with acid. Very balanced wines. Granite soil gives a lot of minerality. Granite soil doesn't have a lot of nutrition for vines, so we always do very low yields, but it has a high level of mineral salt, so it's very mineral wine with a very long, very persistent taste. It's not as large, as big as say clay or limestone soils, but very elegant, very long wines.
So Adrien what is your personal philosophy of winemaking?
At Schoenheitz we really want very pure, very mineral and elegant wine. We won't use a lot of wood containers, that will add more or different aromatics. We really want to keep the pure aromatics of the fruit, so we use mainly steel tanks, at least for white wines. For red wine it will be more barrel aging, but for the white we want pure style, so steel tanks.
Long fermentation. We often have a Riesling fermenting until January, February, to have more complexity and structure in the wines. For our classic wines, they need to drink more like young wines. We'll have an early bottling, around March, April but for the single vineyards, for the terroir wines, we have bottling at the end of the summer, just before harvest. So with a small aging on the lees.
What kind of wines are you making right now Adrian?
At the winery we make 22 different wines. We have a few big cuvees, one of our main cuvees is a Cremant, a sparkling wine made with Pinot Noir using Champagne methode. Cremant is pretty big now in Alsace; it's 25% of the Alsatian production. Alsace is now the second largest sparkling wine producer in France after Champagne. For us it's only 15% but it's already a lot.
We also do a lot of Riesling. Riesling is 30% of our total production with two major cuvees: Reisling Herrenreben and Reisling Lindenberg. Those are our two main single vineyards for Riesling. The villages of Wihr-au-Val, Lindenberg, and Herrenreben are the three main single vineyards for Riesling.
We have a big cuvee of Pinot Gris, or major cuvee Pinot Gris Holder. It's a very rich, sweet Pinot Gris. We also do more classic styles; classic dry Pinot Gris in the green bottle.
We do a lot red wine too. In Alsace we do only 7% of red on average, but at our site we do 15% and a very different style than most in the region. Alsatian red is most often a lighter, dry style. In Alsace we do very concentrated reds. Aged in barrels, sometimes even using new oak. A very different style.
We also have Gewurztraminer. The oldest single vineyard is a single vineyard from clay, it's a richer style than Lindenburg or Herrenreben, so it's all single vineyard for sweet wine.
What foods do you recommend with your wines?
You can have a lot of different food, it depends on which wine. The Cremant is good as an aperitif. It's also great with seafood, like oysters, or like scallops carpaccio and this kind of food.
Our two main Riesling have a dry, mineral style. For Lindenberg, I would also suggest it with seafood, fish, creamy sauces or maybe a bit more Asian styles of food would be nice.
For Herrenreben which is a bit rounder, still dry but a bit rounder, I would choose something like lobster or white meat, poultry, chicken with creamy sauce too.
The reds have a spicy, smoky style with nice tannins. The Herrenreben Val Saint Gregoire is great with red meat, steak or game. Very good with deer or wild boar.
For the Pinot Gris Holder, which is sweet Pinot Gris, it's a great wine with foie gras, very good wine with spicy food, Indian, Thai food. Pretty good with cheese.
And for the Gewurztraminer, Gewurztraminer is very sweet, very spicy and aromatic, so very spicy food is nice, also Thai and Indian, pretty good with Chinese too. Very good with strong cheese. Munster cheese, blue cheese.
I'm ready for a big chunk of Munster cheese with my Gewurztraminer.
----
The Schoenheitz Edelzwicker, a mix of Alsatian field grapes, is available at Grape Collective for $14.99.