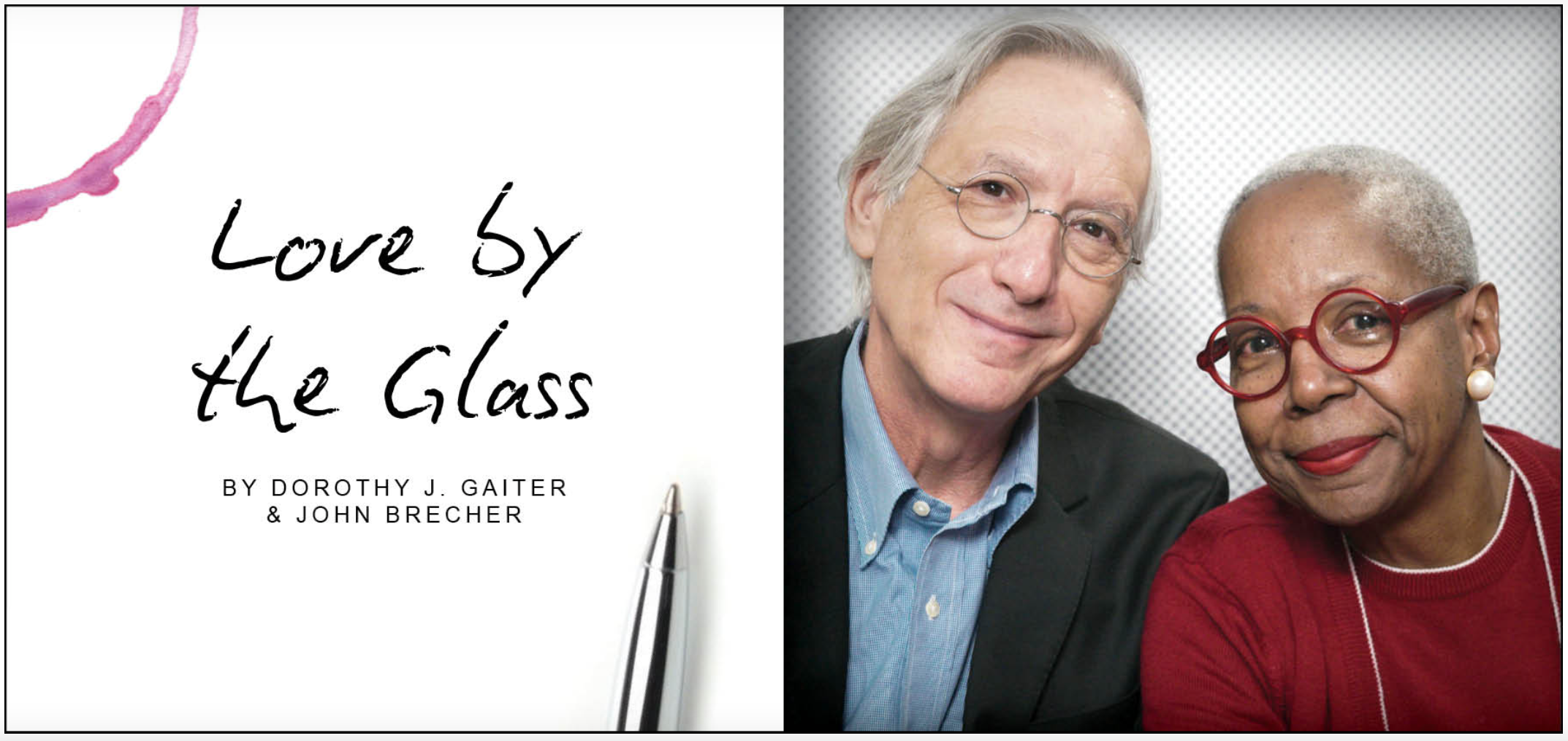 We mingled with some of the best minds in wine for three days recently and no one mentioned scores. Not once. One word did keep coming up, but it was not points. And you probably can't guess what it was.
We were at the Association of African American Vintners' 20th anniversary celebration in Oakland, Napa and Sonoma. Twenty years ago, three vintners – Edward Lee "Mac" McDonald, Vance Sharp and Dr. Ernest Bates – came together as the first members of an audacious undertaking, an association of Black winemakers. Audacious because at the time, Black faces were rare throughout the global wine industry. Although the number of Black people in the wine world is growing, from vineyard workers to those who make it and who sell it, of the more than 11,000 wineries in the U.S., fewer than one percent are owned by Black people or have a Black winemaker.
The gathering was a master class in the business of wine. We felt our brains expanding as we heard from winemakers, distributors and retailers. Dottie was a speaker on a panel called Phenomenal Women in Wine and was asked by the AAAV to present awards to recipients selected by its members who best exemplify three principles: Legacy, Education and Unity.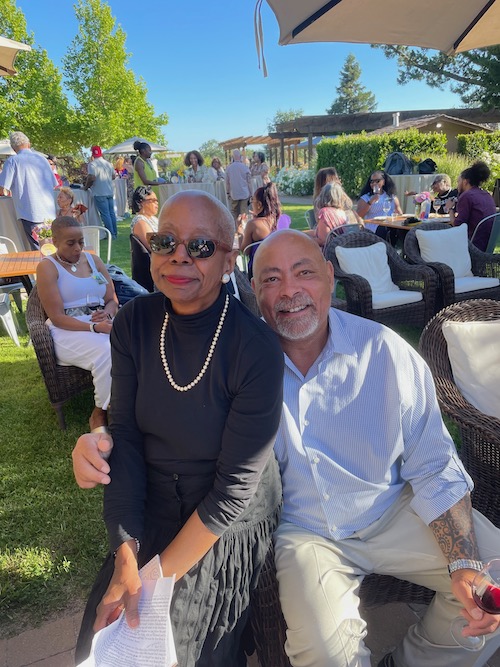 Phil Long, founder-owner of Longevity Wines in Livermore and the president of the AAAV (those in the know say "Triple AV"), said membership surged after the murder of George Floyd and the start of the resulting racial reckoning. "You've got to turn tragedy into something that means something and make it worth the fact that it happened," he told the gathering. "Until winemakers and professionals look like the people who drink wine, we've got a lot of work to do, so we're going to keep going."
(Dottie and Phil Long, AAAV President)
Speaker after speaker mentioned that interest in Black-owned wine brands increased in the past two years as people began "buying consciously." But they lamented that sales were leveling off. What's important, they said, is creating the kind of supportive infrastructure that can last. As Theodora Lee, a trial lawyer who owns Theopolis Vineyards in Yorkville Highlands, put it: "I am concerned this is going to be a moment and not a movement."
Given the depth and breadth of those in attendance, there are convincing signs that the groundwork is being laid for sustainability. However, as with other difficult things to achieve, long-term success in the wine world will require continued focus and the ability to pivot with changes, the speakers agreed. Some will succeed and some will fail. It also doesn't hurt to have influential business partners and well-placed admirers. Giant Bronco Wine Co., which helped host the AAAV event, partners with Long to distribute Longevity's wines nationally, with production up from 3,500 cases to 100,000 cases now in 50 states.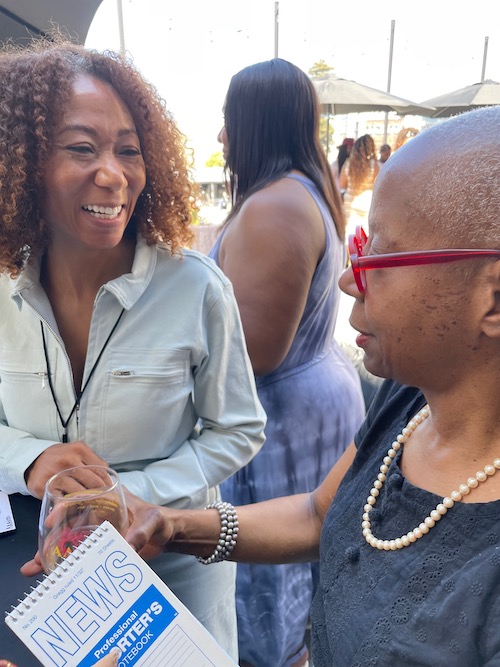 Pata Airaudi, co-owner of sparkling-wine producer Sapere Aude, has partnered with Constellation Ventures, an arm of Constellation Brands that has committed to invest $100 million in minority-owned businesses by 2030. And Jean-Charles Boisset's Boisset Collection has a large contingent of Black people as ambassadors. Boisset, a co-host of the event, also has partnered with music genius John Legend for LVE: Legend Vineyard Exclusive wines, and created a brand called JCB Unity whose sales help organizations like AAAV and Wine Unify, which works to introduce members of underrepresented groups to the wine industry and support industry veterans.
(Pata Airaudi, co-owner Sapere Aude and Dottie)
One reason for a hopeful future are the mentorships, internships and scholarships for underrepresented people that AAAV and a number of other organizations, like the Roots Fund and Urban Connoisseurs, are making available, in concert with other institutions. The AAAV was founded to raise awareness that Black winemakers and Black wine drinkers exist and to alert young minorities that winemaking and its attendant jobs could be a viable career path. Wines from 24 Black-owned wineries were poured at the celebration's final event.
Dr. Monique Bell said she became interested in researching Black people in the wine industry after attending Black Vines, an annual wine festival in Berkeley that was founded in 2010 by Fern A. Stroud, a senior information technology program manager. Black Vines, voted America's best wine festival by USA Today in 2021, showcases Black-owned wineries, musicians and other artists. Bell is an associate professor at CSU Fresno and now a leading expert on Black winemakers and Black consumers. She received the Education Award and the Unity Award went to Stroud. As Stroud said: "If you're able to open up a door, if you're able to have a conversation, just do it."

Lee of Theopolis Vineyards, who received the Legacy award, said: "When I planted in 2003, I did not know of Black vintners. But as soon as I learned about the Association of African American Vintners, I joined in 2004. And Mac McDonald … was my mentor." At that time, Lee was a grape grower, not a winemaker. Then: "In 2012, I picked in the rain and I delivered my 10 tons of grapes and the buyer rejected them. And I had 10 tons of grapes on the back of a truck and had no home for them. So I had them crushed and I called Mac and said what do I do now? So Mac was one of the winemakers who actually helped me make my 2012 Petite Sirah. And that wine won gold at Sunset Magazine and that's how we actually began in the business."
Joseph Franzia, national sales and marketing director at Bronco, his family's company, told the gathering that he was at a wine competition in 2017 when he was so stunned by a Theopolis Petite Sirah, served blind, that he demanded to know what it was. He called it "the most amazing wine experience I've had in a decade. Even today it's one of the best wines I've ever had."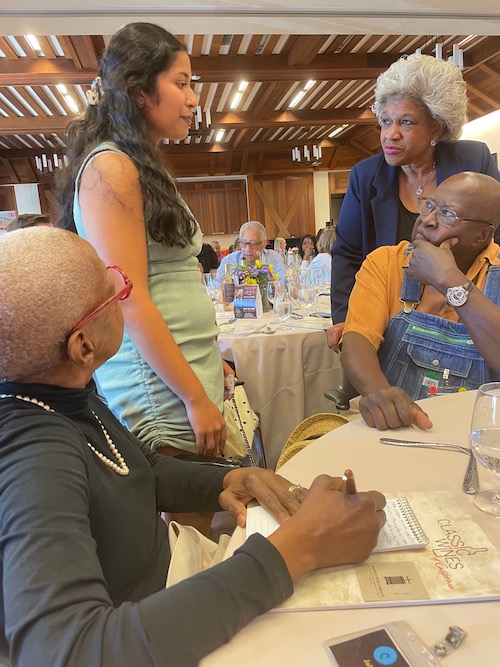 Our favorite picture from the event is Dottie speaking with McDonald, owner of Vision Cellars in Sonoma, and Lee along with Iona Joseph, the first recipient of the Theopolis Vineyards Diversity Fund scholarship at the UC Davis Department of Viticulture and Enology. Joseph, 21, who received $10,000, is studying drought, genetics, and heat tolerance in North American grapevines.
McDonald, now 79, there in his signature overalls and straw hat, thanked his business-savvy wife and co-owner, Lil, who looked on as many people thanked him for his generosity. Of the three winemakers who founded AAAV, which received guidance from Wine Country publicist Jo Diaz, only McDonald was present at the celebration. "I've tried to help as many people in the wine business as I can," McDonald said.
The focus of the event was on building a successful business, and hopefully one that can be passed down to the next generation. As Alicia Kidd, founder of The Wine Noir, an importer-distributor, and co-founder of CoCo Noir, a wine shop and wine bar in Oakland, said: "The fantasy of having a wine business is amazing," but she tells anyone who wants to get into the industry to look at the market, at financials, at numbers. "I want to see more Black-owned and minority-owned businesses become generational brands and million-dollar brands and so we have to know the numbers."
Said Jennifer McDonald, owner of Jenny Dawn Cellars, an urban winery in Wichita: "Lean into entrepreneurship and really understanding how to run a small business because as a small winery I do it all, from cleaning the toilets to making the wine to working with my distributors. Finding a good attorney, a good accountant, is key to success." She added: "The banks are reasonable if you come with data and I am happy to help anyone with that."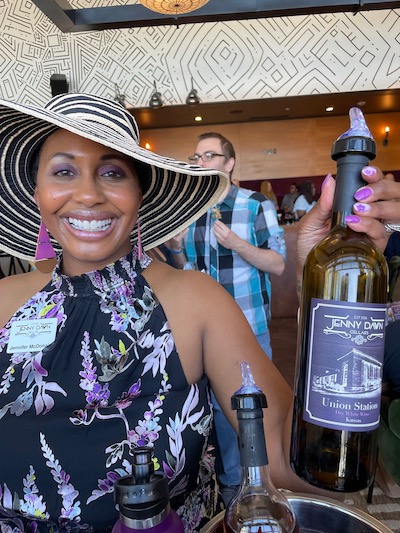 And always look forward, not behind, speakers said. Wine right now is being challenged not just by other beverages, but also by marijuana. Facebook, Twitter, and TikTok are critical, but they reach different audiences for different reasons and there is probably something new out there. Social influencers matter. And yet, there is no substitute for face time.
(Jennifer McDonald, Jenny Dawn Cellars)
Airaudi of Sapere Aude: "Know your market. Know who you are targeting. This business is very cash intense and it is a lot of cash that is going out. Know what your burn rate is. Knowing the business is key. You have to do the work. No one is going to sell your wine but you. You have to go out there and make those connections."
Malek Amrani, founder and owner of The Vice, said he expanded his brand rapidly because he never stopped traveling and introducing himself. "I showed up," he said. "I am the face of the brand."
Kidd said one key to the future is diversity. "Black women are the number one consumer right now, so if you are a wine brand, no matter what your race is, if you are a winery and if you are not tapping into Black women, your profit margins" will suffer, she said. "The Black luxury market, the diversity market is where it's happening. I'm a multicultural brand."
Airaudi added: "A lot of younger consumers don't drink wine because wine doesn't speak to them. The labels don't speak to them, the varietals don't speak to them." Many are looking for wines that are lower in alcohol, she said, adding that it's important to "understand how the next generation of consumers actually consumes and how to target them."
And that brings us to the word we heard over and over again. Just so we're clear: It's not that points and scores and gold medals are irrelevant. But it seems to us that, increasingly, point scores are so 20th century when it comes to wine marketing. What's the word?
Story.
Distributors, retailers, wine influencers and winemakers all used that word. Their point is that younger generations want to attach a story to what they consume and wine is no different. The idea that wines have stories is not new, of course. Silly tales about giant roosters and grieving dogs have cursed wine labels for decades. What consumers increasingly are looking for now is what Kiel Suggs, an executive for Total Wine & More, referred to as "authenticity in your story."
Black-owned brands have a great deal of work ahead of them. Among the difficult questions: Do they want to be known as Black brands? On the one hand, that gives winemakers more visibility in the increasing number of Black retail channels. It also is a good selling point for all consumers who want to buy consciously.
On the other hand, being known primarily as a Black brand can pigeonhole wineries. "We don't want Michael Lavelle to be a really good Black brand," as Brandon Crump of Michael Lavelle Wines, put it. "I want Michael Lavelle to be a damn good wine brand that happens to be Black. I don't want to walk into a place and they are only picking me up because I'm Black because that also becomes a thing. And I think once we become comfortable with that that's when we will see sales go down."
Crump said he loves telling his own story, about a kid from Chicago who went to Howard University and now is in the wine business. "When I can explain my story for myself, I know I am going to get that account," he said.
As Suggs of Total Wine put it: "We can put you into a store, but you have to be an ambassador for your brand."
Mac McDonald, of course, put it all into perspective at the end of the three days. "I never lost faith that this organization would make it," he said. "One of the things that we have to keep in our mind is that we can't rely and relax on the past. We better look around for the next challenges because there will be one."
Dorothy J. Gaiter and John Brecher conceived and wrote The Wall Street Journal's wine column, "Tastings," from 1998 to 2010. Dorothy and John have been tasting and studying wine since 1973. In 2020, the University of California at Davis added their papers to the Warren Winiarski Wine Writers Collection in its library, which also includes the work of Hugh Johnson and Jancis Robinson. Dottie has had a distinguished career in journalism as a reporter, editor, columnist and editorial writer at The Miami Herald, The New York Times, and at The Journal. John was Page One Editor of The Journal, City Editor of The Miami Herald and a senior editor at Bloomberg News. They are well-known from their books and many television appearances, especially on Martha Stewart's show, and as the creators of the annual, international "Open That Bottle Night" celebration of wine and friendship. The first bottle they shared was André Cold Duck. They have two daughters.
Banner by Piers Parlett