- "In the best wines, the power of the Etna terroir is clear."
Etna Fumes and Spews, but the Winemaking Goes On - Eric Asimov, New York Times
Alberto Graci grew up experiencing winemaking through his grandfather who had made wine from family vineyards in central Sicily. He was working as an investment banker in Milan when the death of his grandfather brought him back to Sicily and to wine.
In 2004 Graci sold his grandfather's land and used the proceeds to buy land on Mount Etna. Despite a long history as an important European wine region, by the early 2000s Etna had seen many years of decline. The steep slopes of the volcano were expensive to cultivate and for many, the price that the grapes received didn't cover the cost of production. Young people abandoned family plots and moved to cities. Graci is amongst the group of Etna pioneers including Foti, Franchetti, Cornelissen, de Grazia and Benanti who over the last twenty years helped to elevate Etna's reputation to the point where it is now considered one of Italy's most important wine regions.
Graci's first purchased vineyards included a plot in Contrada Barbabecchi at 3,200 feet of altitude with pre-phylloxera, ungrafted vines that reach upwards of 100 years old. Today he grows traditional Etna varietals in a number of Etna's premier contrada with altitudes ranging from 2,000 to 3,200 feet. A recent Graci project is Idda, a partnership he entered into in 2016 with Italian wine legend Angelo Gaja, on the less fashionable southwestern slope of the volcano.
Grape Collective talks to Alberto Graci about the unique proposition of making wine on a super active volcano.
What is Etna?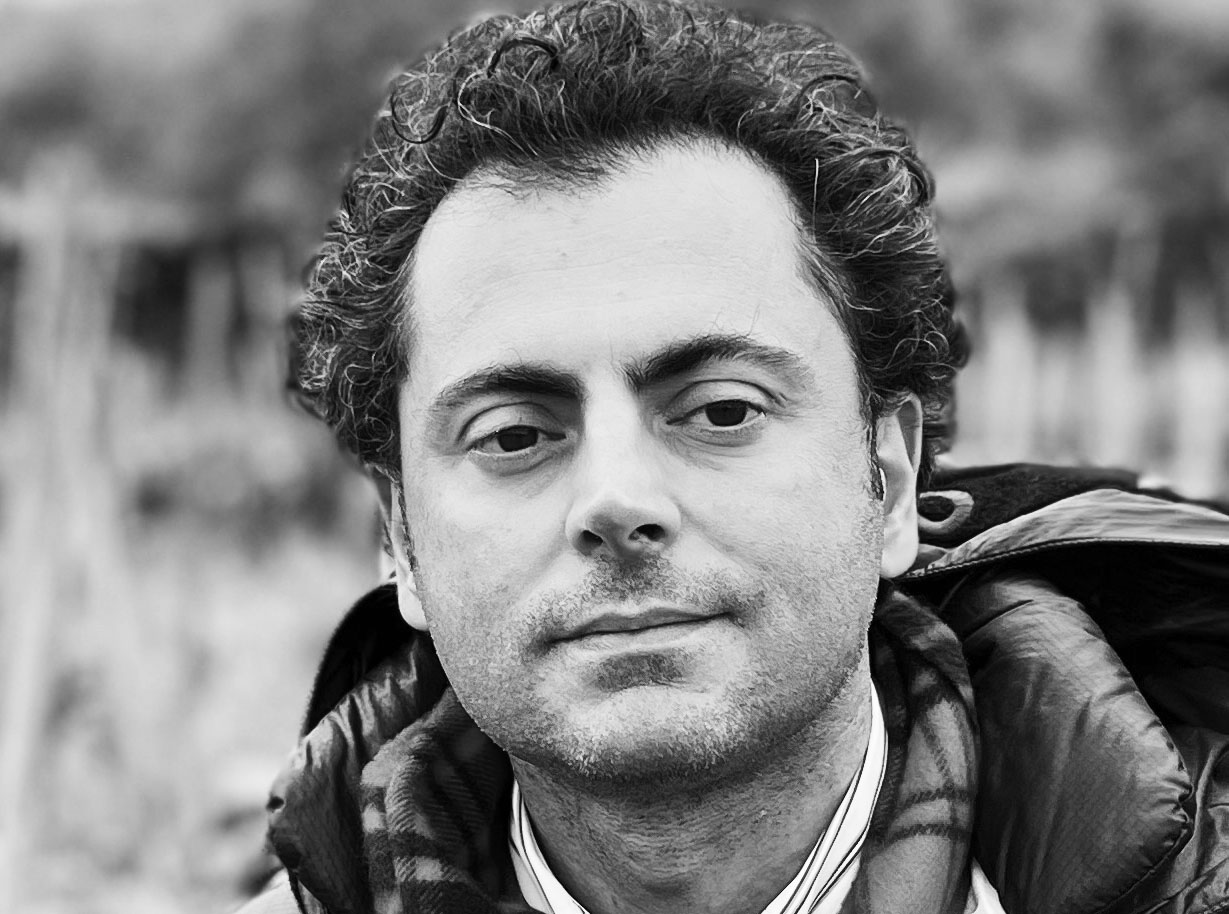 Alberto Graci: Etna is a super active volcano. Technically, an active volcano is a mountain that had minimum an eruption in the last 10,000 years, but we have something like generally 50, 60 eruptions every year. It means that activity is incredible and all this activity creates a very special environment.

Of course, this energy, for the population, for everyone who lives on the mountain, but also for the soil, is a very unique contribution because a lot of disruption, or explosive eruption, with an explosion of lapilli and black ash. So it means that a part of the soil where we cultivate vineyards or olives or everything else, is contemporary.

And then Etna is a very special environment because Etna is a place where we have 1,300 hectares of vineyards in the DOC, but we have 16,000 hectares of woods and we live in a protected park of 50,000 hectares.

So Etna, first of all, is a very unique, sustainable environment, full of energy and beauty.

And where is Etna physically?

Etna is a place that is located in Sicily. Of course, that is part of Sicily, and in particular this is the connection, also symbolically, on the weather aspect, but also in the geological aspect of two continents. Etna is in the middle between the Euro-Asiatic and the African continents.

And also, on the weather aspect, we have symbolically this connection. Etna is a place that is hot and cold at the same time. We have the sun of Africa, but we have the continental weather of the mountains. So Etna is in the middle between two continents and two different kinds of energies. It's a place of paradox.
What is the origin of the volcano?

The volcano, of course, has a different period, different era of evolution. So the volcano originated, the Etna like we know today, 100,000 years ago. And every eruption, every era, every phase of this activity, of this volcanic activity, created a beautiful diversity.


In fact, if we see the geological map of Etna, we will see several different colors, because being such an active volcano, we had a lot of eruptions in the last 100,000 years. And that's why we have an incredible variety of categories of soils. Very young, like hundreds of years, or older, like 50,000, 60,000 years, and everything is cultivated or grown spontaneously here.

Take also the identity of these different eras and these different eruptions, because every eruption is different, has a different identity, a different composition, a different evolution, a different timing also. And all these aspects give a different personality to every soil. That's why Etna is magic.
And what would you say is the definition of a supervolcano?

Etna is a super active volcano, because a volcano generally, if we go around the world, an active volcano has really fewer eruptions compared to Etna. So an active volcano is a volcano that had minimum an eruption in the last 10,000 years, but Etna has a lot of eruptions every year, sometimes 50 or 60 or more. So it means that the landscape is in continuous evolution and is continuously changing, and is also never-ending and a continuous source of energy. People that live here, they really feel the energy, but also the risk, and let's say the presence of the volcano because it's something that is a part of our daily life. A lot of time, we wake up with a big explosion of Etna, or we wake up seeing all around black ash on the soil. Or we wake up with our city full of black ash everywhere. To live in a super active volcano has an impact on the landscape, the soil, the vegetation, but also has a very important impact on the soul and the spirituality of people that live here.
What does it mean to live on a supervolcano?

I think that people who live here in contact with a volcano that is beautiful, but also terrifying, that brings with it this activity, also quite often earthquake activity, that it is a symbol of creativity and also of disruption. People that live here, they have a really very unique approach with their inner world. They give value to small aspects that today a lot of us, we forget. This is important. This volcano makes us in touch with the value of life and makes us humble and respectful of Mother Nature.
Etna has been compared Burgundy with regards to the uniqueness of the microclimate.
Every eruption is unique. And there are different categories of eruptions like explosive eruptions or effusive eruptions. So some eruptions, they are slow. They bring with them a slow flow of the lava and they create a stronger basalt and stone. Then we have the explosive phenomenon with explosion of sand and pyroclastic material. Every eruption gives a different contribution to the soil.

There is a lot of organic viticulture on Etna.

This is a very special place because, of course, we have weather that in the mountains is different than the weather that we have on the coast, the quantity of rain is really more important. So it means that we can do cultivation of the vineyard without any irrigation. So let's say in a natural way on this side, but also we can work in the vineyard in a sustainable way because it's a windy place. The position of Etna, of the volcano, high-altitude vineyards, and also the open side on the seaside, and the valleys that we have on the north and on the south, the Alcantara Valley, the Simeto Valley, they create a great flow of wind.

This wind is very important because it permits us to grow the vineyard and cultivate without treatments, and it also permits us to wait for the best moment of the harvest, even if there is a rainy period in the harvest, like it always happens. So the possibility to have beautiful ripeness and maturation of the fruit, but without any chemical use of other products that are not natural.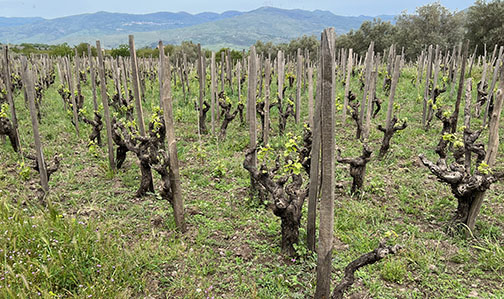 Etna is a very old wine region, but it's also quite a new wine region. Talk a little bit about the evolution of Etna as a wine region.

Etna has a very important history. Of course we've made wine for 30 or more centuries on Etna. A lot of parts of Greek literature talks about this activity, this activity of viticulture. And then, year by year, there was a great attention from the market, to Etna wine. If we arrive to the 18th century, we see that this wine was sold to all of Europe.
And at the end of 19th century, it was a very big activity. Here, there were 52,000 hectares planted. So it means that this zone, even if it's a tiny zone, had a very important quantity of vineyards, because this wine was used in the past to blend with wine from other parts of Europe, like France, north of Italy, and other countries, because of course in that period it was more convenient to use wine from a place like Sicily in the south of Italy, instead of using sugar in the wine, that today is allowed quite everywhere except from Italy.

So there was a glorious period of the market of wine in Italy and the great zone of wine, they always start from a great period of market. So in that period, all this wine was made and sold in bulk, sent to the port of Riposto, very close to here where we are in Passopisciaro, and from the port of Riposto it was sent to the port of Genoa, and there in Genoa on to the market they used to sell all around Europe.

You have here, you also have a great diversity of people from different regions and countries that have added richness to the wine community in Etna.

Sicily is a place where the richness of culture, architecture, also food, and let's say of the character of people, it was influenced by the different colonization that we had in the last 2,000 years, from Greeks to Roman and Byzantine, and then Arabic, and going on until the last influences of French, Spanish. It was very important. Every population here in Sicily gave something that was added to the character and to the landscape of Sicily. Also on the agricultural and the wine aspects, all these influences gave richness and complexities to this place.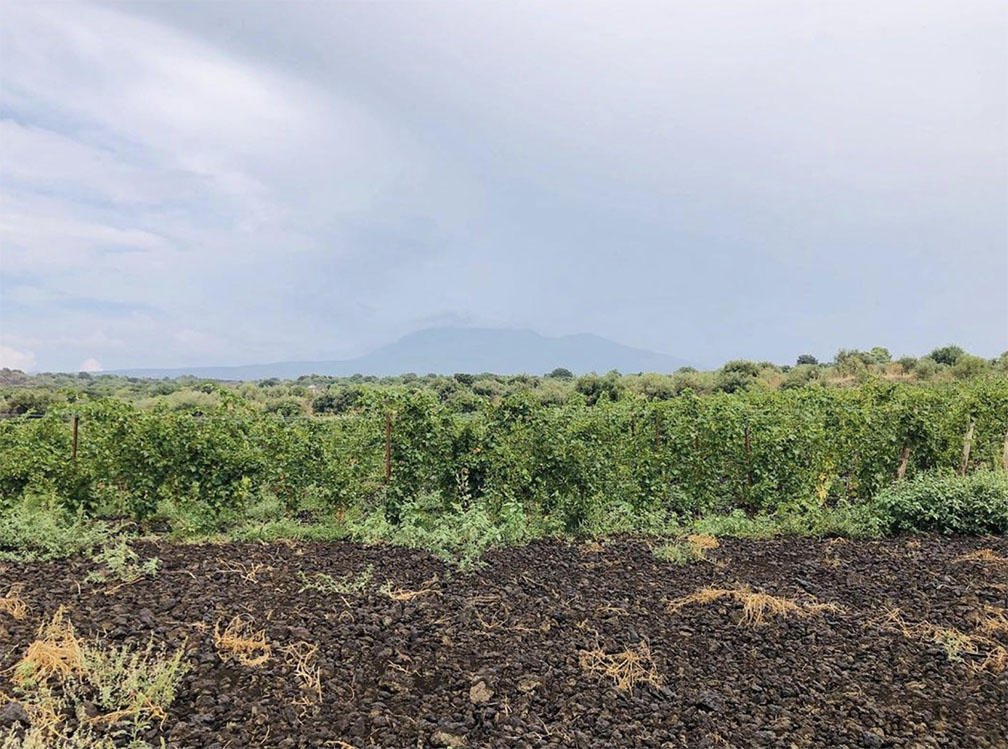 You use alberello to train your vines?

We have some alberello. Alberello is a growing system of the vineyard that was used here in Sicily and on Etna for a thousand years. It was also used by the Greeks and Romans. It's a system in which the plant grows the same shape of a small tree; "alberello" means "small tree." And generally, with the chestnut tree that sustains the plant and the single arms of the plant, and is with square disposition of the plant, in which every plant has the same system, the same distance from the other plants around.
Of course, alberello is beautiful, let's say on the anthropological side, of course it's a beautiful sign of the connection with the past. It's also a system that is very expensive because it needs a lot of hours of work, more than other more modern systems.

What is the potential of Nerello Mascalese?

Nerello Mascalase is really a noble grape because it is a great vehicle to express a place like Etna. It means that it is able to define the communication of differences that we have here on Etna. Every vineyard of Nerello Mascalase, depending on the contrada it comes from, it gives a different wine. Of course, with this common line and soul of minerality and vibrancy, but every soil is different and Nerello Mascalase is able in the wine to express these differences.
And then Nerello Mascalase on Etna gives the wine that, let's say, brings us this energy of the volcano with these vibrant tannins, with this beautiful and sour energy, and with this delicate fluidity that reminds us really of the lava flow. And this wine that is able to be enjoyed young, but also is able to have a very good evolution with time. Sestini, that was a writer at the end of the 18th century, used to write that Nerello Mascalase, it was able to travel by boat. And so wine that is able to travel in space is also able to travel in time.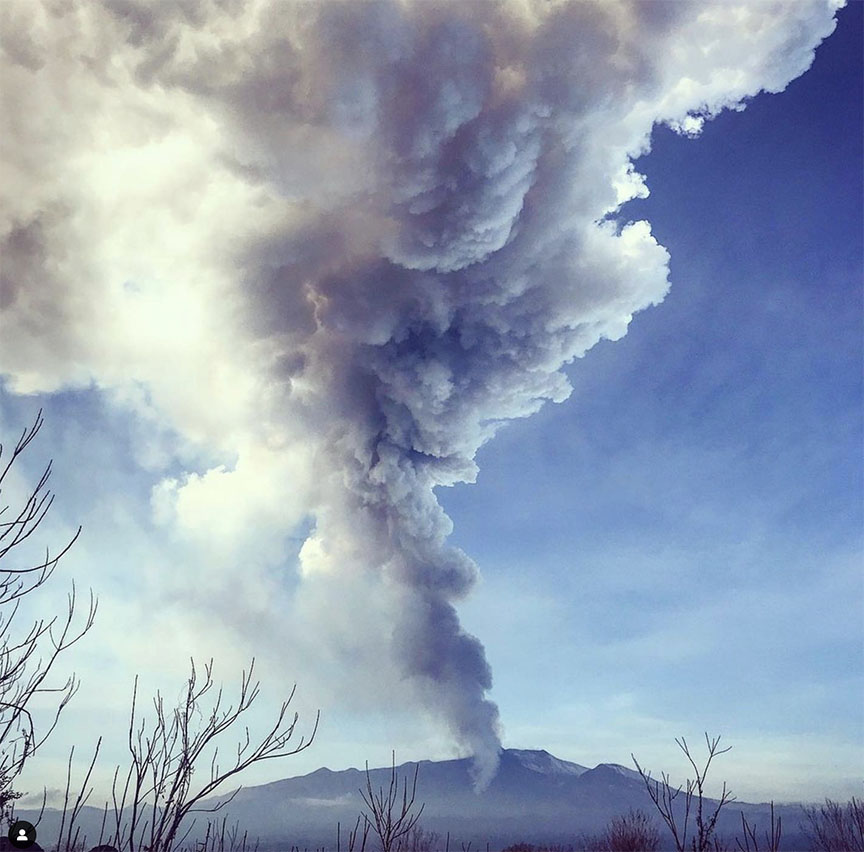 How do the older Nerello vines represent themselves in the wine?

Of course, the old vineyard represents our traditions, our culture and the generation that worked before us. If you see the walls that we have here, they all were made manually, taking all the stone from the soil to simplify the work in the vineyard. And every plant that you see around was planted maybe from someone 20, 30, 80 years ago. So it represents our past and is the route that we focus on to project our future. With changes and with improvement, but the old vineyard represents where we come from.

And Alberto, what are your hopes for the future of Etna?

I hope that Etna will continue on this way of respect for the territory, of course, for the tradition, but also with a modern view to try to go on with the goal to do everything in a better way, to do a better wine. I hope that Etna will remain on this artisanal approach. So I hope that the producers, that today are mainly artisan and family producers, that they will continue to fix the direction of this zone. And of course I hope that, and I think that it will happen, that the best wine in the world will come from Etna.

How does the volcanic soil influence the vines?

If you see this soil, they are sandy soils, very thin, like powder and black. So this soil, this sandy, thin composition, is very important because even if we are in a hot place, because we are in the mountains, so we have cold nights and we have windy weather, but also we have the sun of Africa. And sometimes, like in 2021, we have some dry periods without rains for four months or more. But this sandy soil, so thin, permits the roots to be oxygenated, and they never go to an asphyxia, to a stress. So this is a very special place to make wine.

Let's talk about polyculture. You have pistachios, you have oranges, you have lemons.

Etna is a place of polyculture. You don't see only vineyards or olives, you have apples, citrus, chestnuts, almonds and a lot of wild herbs. Then there are some parts of this place that are not planted because there is rock. And here we have some plants that were the first that start the life in this we call sciara, this black stone. And so everything is in evolution. You have incredible numbers of different biodiversities and different kinds of fruits and vegetation and trees. And all this richness is richness of life for us. We have a lot of trees. Trees means birds. So the birds, they eat parasites. So to speak about sustainability is not something about an estate, a producer. It's about a place. So sustainability is like rock, it's a style of life, it's a style of being. If you are sustainable, you must live in a sustainable way, like Etna.



For more on Etna read Stefanie Harris' Summiting Mount Etna - The Revitalization of a Volcano's Ancient Viticulture
also Marco Salerno's Salvo Foti, Revered Winemaker and Humanist, Tells Us about His Mount Etna