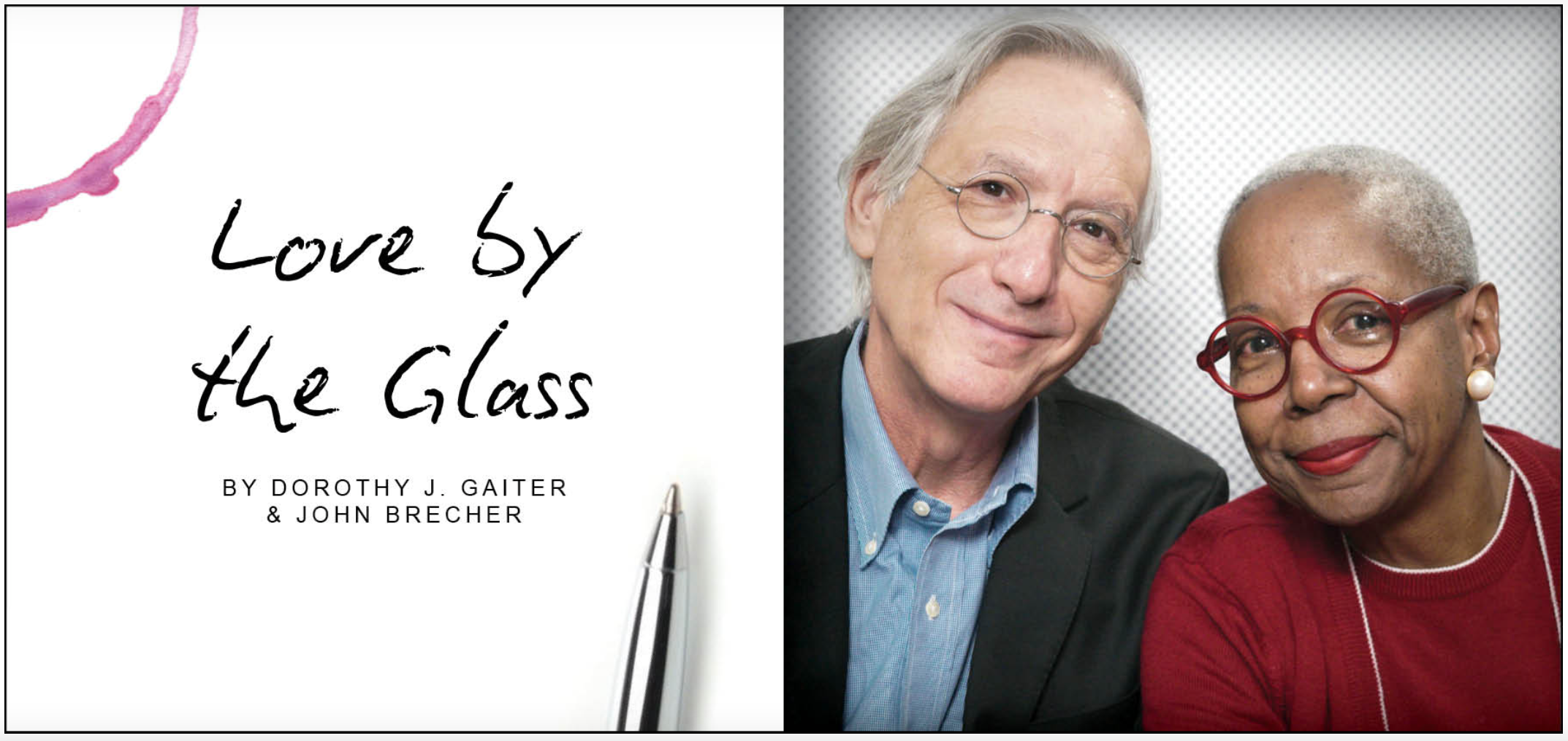 We've dined at quite a few places over the years that proudly feature local ingredients, but when we look at the wine list, the labels are from everywhere else. Considering that many states now have vibrant wine industries with fine wineries and a diversity of styles, this can be frustrating.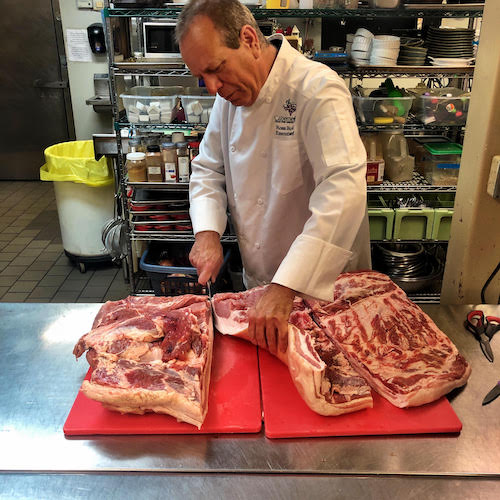 But how can a restaurant, a low-margin business in a high-risk world, eschew fan favorites like Sonoma-Cutrer Chardonnay and Santa Margherita Pinot Grigio? Meet Ross Burtwell, executive chef and owner of Cabernet Grill in Fredericksburg, Texas, and the grill's wine director, Elizabeth Rodriguez.
(Ross Burtwell, owner and executive chef of Cabernet Grill)
Burtwell and his wife, Mariana, bought the Cabernet Grill in 2002 and, just four years later, decided to replace the international wine menu with an all-Texas list. We had our first wine from Texas in the 1980s, but when Burtwell went all-Texas, the modern Texas wine industry was still in its infancy. Texas vintners told us recently that, until about a decade ago, the state's wines were often not very good.
The executive chef is famous for his Hill Country food -- his wife is the chef and their son, Hunter, is the sous chef -- but this seemed like a recipe for disaster. And yet now, Cabernet Grill is thriving, with an all-Texas list featuring more than 175 wines from about 55 wineries. You can see much of the list here, but it keeps growing and features varieties from Albariño to Zinfandel, with stops at Edelzwicker and Prieto Picudo. A look at the list will give you a good overview of Texas wine.
Burtwell gives a great deal of credit to "rock star" Rodriguez, who has had a huge role in the list since the beginning and officially became the restaurant's wine director in 2015. We met Rodriguez at the restaurant recently during a press tour sponsored by the state's agriculture department. She was so excited about the Texas wines paired with the Burtwells's dishes that we called her after we returned home to learn more about her and the list. In the meantime, we emailed Burtwell to ask why he took this gamble.
He told us it all started in the 1990s at a small restaurant during a visit to Napa Valley where "I had asked my server about a particular wine that was on the list. She turned and asked the gentleman seated behind me to answer my questions. As it turns out, he was the winemaker who had crafted that wine. Every bottle on that list was from the surrounding vineyards.
"It dawned on me at that time that this was a true tribute to the labors of the local producers, showcasing their craft, alongside inspired cuisine. I felt compelled to institute this at the resort I was working for at that time. So I took the small wine list and transformed it to an all-Texas wine list. Unfortunately, the results were fairly disastrous. The wines at that time were limited in variety, many of poor quality and had a poor (if any) reputation overall.
"Fast forward about 10 years, and I had acquired a restaurant in Fredericksburg (the Cotton Gin Restaurant later to be rebranded as the Cabernet Grill) that was set in the middle of the Texas Wine Country. Wines had improved by this time, but not the overall reputation. I was determined to honor the local vineyards and winemakers and to change the public perception of Texas wines. So we went full steam and created not only a 100% Texas wine list, but also the largest collection of carefully curated Texas wines in the nation. We met with winemakers individually and hand selected, through tasting, the best quality wines that Texas had to offer."
And what was the reaction? "I was called many names during the first few years (none of them pleasant) by a good amount of our patrons who were not happy about my choice to go all-Texas. And in all honesty, I lost a lot of our regular customers due to this. But I also got a lot of support, not only from the local winemakers, but from people who were drawn to the area to visit and support Texas wineries. The fact is my wine sales increased by 17 to 20% during the first year. People were curious about Texas wines and wanted to try them matched with Texas Hill Country cuisine. So we said to hell with the nay-sayers and just kept building our list."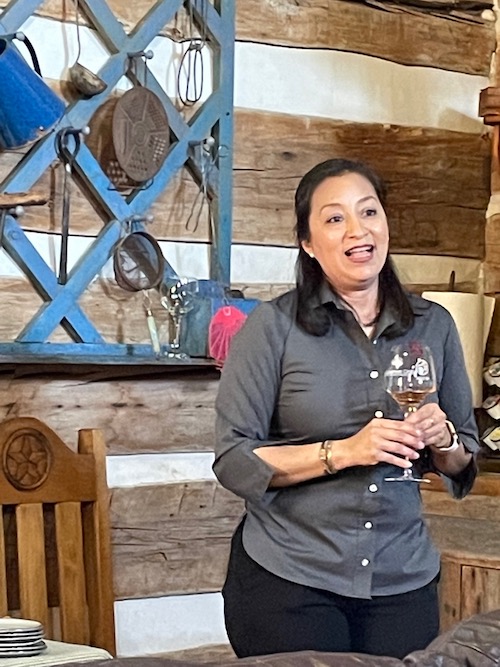 Rodriguez, meantime, was quickly working her way up at Cabernet Grill. She was born in San Miguel de Allende, Mexico, where her father was a server at an upscale restaurant. "I've always been a foodie, thanks to my dad," she told us, but her only exposure to wine was the Champagne he let the kids taste on Christmas Eve. At 15, she moved to Fredericksburg with her family and began cleaning tables at restaurants. In 2005, she became a server at Cabernet Grill.
(Elizabeth Rodriguez, Cabernet Grill's wine director)
The next year, Burtwell told his staff the restaurant was going all-Texas. "We were all shocked and surprised but very excited, too," Rodriguez told us. "When he switched, we started learning all about Texas wines."
She remembers her own aha moment with the state's wines. She was at a wine and food festival, sampling wines and food with Burtwell, when she tasted a red blend called V from Sandstone Cellars Winery. "I was like, wow, if this is what I will be learning, I want to continue. I don't know what it was about that wine – it was just spectacular."
In 2010, Burtwell named Rodriguez the restaurant's operations manager. By 2015, the responsibility of the wine list became too time-consuming for Burtwell – not just choosing the wines, but also the education of his staff. "Because I felt that having our staff fully prepared to answer most any question about each and every wine we offered was paramount to our success, training was continual and extensive," he told us.
In those early years, "we had some challenges," Rodriguez said. "A lot of wineries in Texas when we started had to learn what was growing well and what varietals to plant, so there was a lot of trial and error. So at that point in our wine list we didn't have many Cabernets or Merlots. We had other grapes -- Tempranillo, for instance.
"We were just trying to get customers away from what they were accustomed to. They weren't familiar with other grapes. We had to just kind of guide them. We would ask them what they enjoy and then we would try to find something that was similar and yet at the same time different and that they would enjoy."
Burtwell said he named Rodriguez his first wine director because she "was the one person on our staff who I knew was as passionate about exploring wines as I was. Not to mention, she had proven to have an incredible palate and an uncanny ability to suggest pairings that were always spot on. The only thing she was lacking was a bit of formal training so she could verbalize her passion for wine in a confident manner. So, I made the decision to get her the advanced training she needed and allow her to take the direction of the wine list over completely."
Burtwell sent her to Napa for a week to study at the Culinary Institute of American with Wine Bible author Karen MacNeil. She now is also general manager, WSET Level 2 Certified and Specialist of Texas Wine with the Texas Wine School. She is 41 and has two children. Burtwell, who is 56, told us "I was born in the Detroit metro area, but got to Texas as quick as I could."
Burtwell said customers are far more accepting of Texas wines now. "The perception of Texas wines began to change, and our support has grown substantially over the years. We feel thankful that we have played a strong part in that change."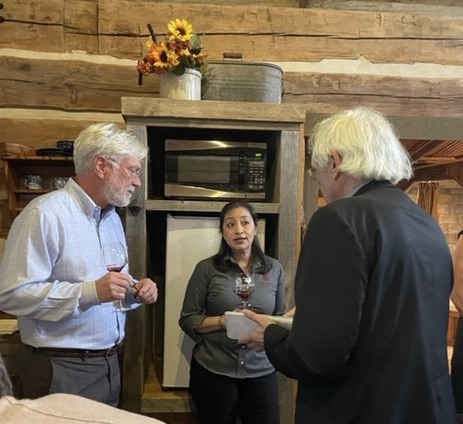 But still, we asked Rodriguez, what happens these days when a diner asks for a big, buttery California Chardonnay?
(Jon McPherson, winemaker at Carter Creek Winery, Elizabeth Rodriguez, wine director at Cabernet Grill, and John)
"Well, first of all, we have two Chardonnays on the menu, so if they want buttery, they won't be buttery Chardonnay," she said. "But we have really good Roussanne, which is kind of our Chardonnay. We have several of them on our menu and I often say let's move away from Chardonnay for a minute and let's try this…
"If you show your enthusiasm with your guests about what you are about to pour, they are with you. It's about having their trust. They're trusting with their money with something they've never had before. But if you are just honest and tell them what to expect from a wine, you pour it and it's a hit.
"And many times I tell them if you do not enjoy this wine I will take it away from the table and I will just have to drink it myself. And so far in 17 years working here, I have not had a bottle from a table I had to drink. So I think we're doing something right."
For Rodriguez, this is the bottom line: "I want customers to remember the moment when they tried something different."
Before COVID, Rodriguez and her staff of eight traveled extensively to wineries to decide what should be on the list. She meets every Saturday with the staff to taste wine, usually focusing on a winery or a grape variety. She said her servers sometimes suggest wines that should be on the list, which makes them invested in the bottles.
"Everybody that works here is very excited about our list. We try to put education first. Because if you don't know what you're selling, then you don't know anything about how to please your guests or how to find the right wine for them…
"You can't fool customers. I tell my staff all the time you have to be honest. Don't make up things if you don't know them. Let's learn about them. But don't ever make up things."
Rodriguez said she is most proud of introducing fine Texas wine to so many people – about 170 per night and more than 200 per night on weekends.
"I'll have a customer say thank you, that was a great wine, I already ordered a case from the winery and sometimes they go back to the winery and say they want to join the wine club because we had the wine at Cabernet Grill and loved it.
"And that's when I say, OK, my job here is done."