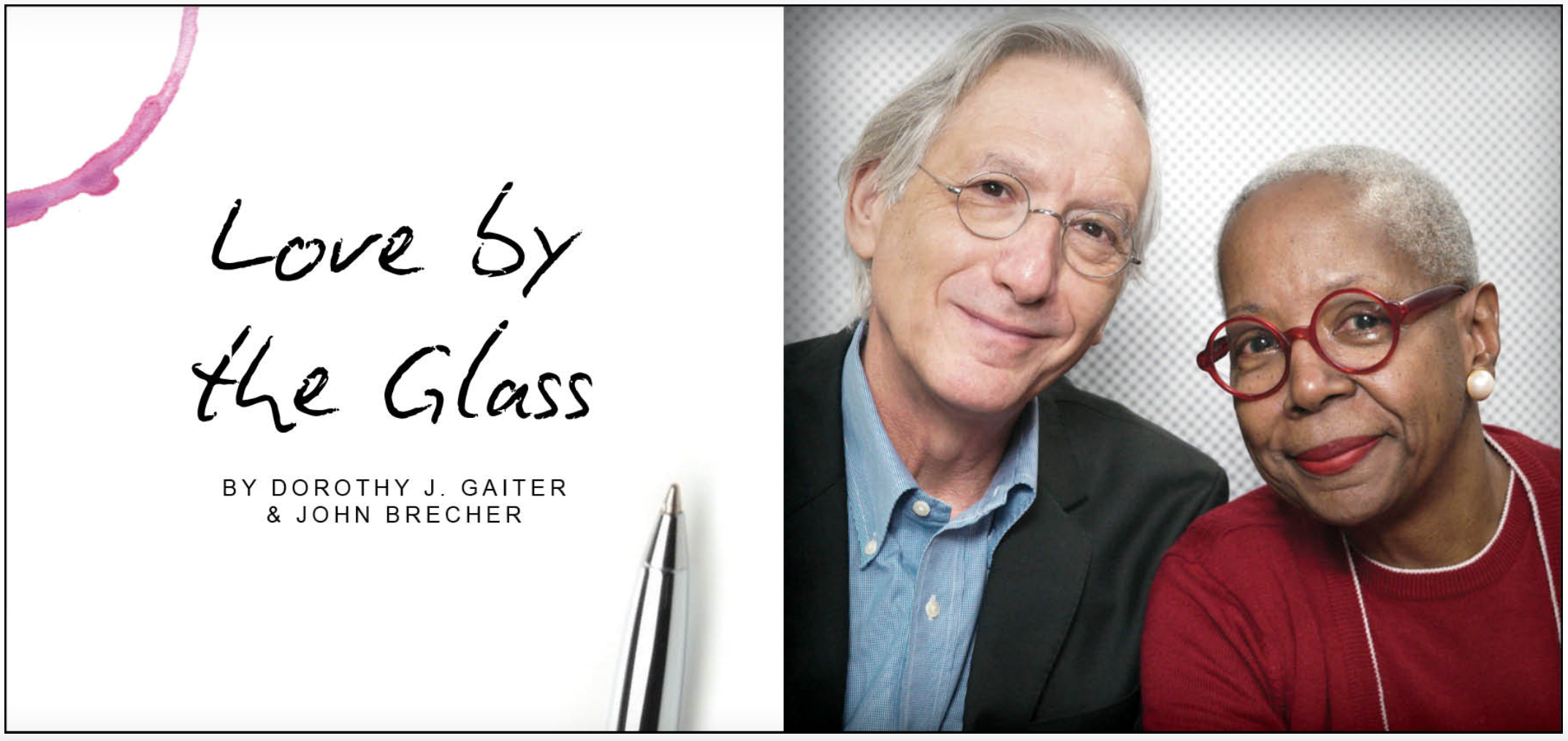 We toured Texas Wine Country for a few days and here are some brief impressions from first-time visitors.
--Texas's signature red will be Tempranillo and white will be Viognier – or not. We're starting with this because it's marvelously controversial. Texas is so large that many in the industry don't think it needs or can have a signature. We'd argue that wine regions require one or two to cut through the noise: New Zealand Sauvignon Blanc, Malbec from Argentina, and even New Mexico sparkling wine, for instance. "You do want to be known for something," said Patrick Connelly, general manager of highly respected Becker Vineyards, but he added: "The Texas industry is still in the third or fourth inning of evolving."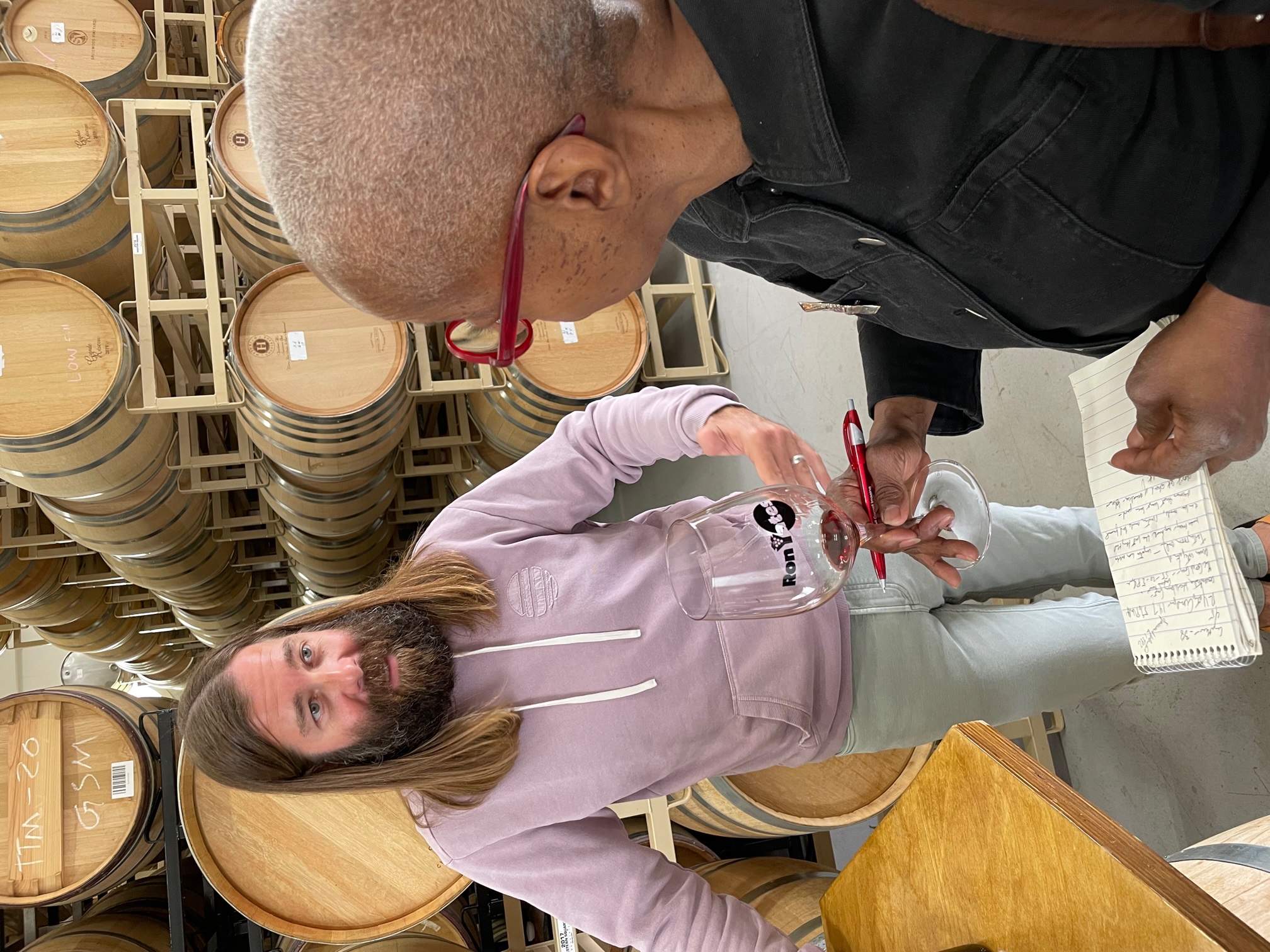 We asked many winemakers about this and Viognier seemed to be a solid choice for the white (although the most-planted white in the state was a surprise to us – see below). We figure Tempranillo, the great Spanish grape, is a good bet because even those who don't think it's the future start their answer by saying, "Well, a lot of people think it's Tempranillo, but…."
Ron Yates of Ron Yates Wines and Spicewood Vineyards, a huge Tempranillo fan, said the grape is hearty enough for the weather and can be made in a multitude of styles. It's a survivor both in the field and in the market. "People are open to various interpretations of Tempranillo," he told us. "You can do it light or you can do it heavier and it does well everywhere."
(Ron Yates, of Ron Yates Wines and Spicewood Vineyards, talks Tempranillo)
--The industry's growth is astonishing. About 80% of the grapes in Texas come from the High Plains, but consumer-facing wineries are popping up like dandelions along the 290 Wine Road between Johnson City and Fredericksburg. We had our first Texas wine in the early '80s. In 2000, for The Wall Street Journal, we conducted a Presidential Tasteoff between the wines of Texas and the wines of Tennessee. (Texas won and the big favorite was Llano Estacado Winery, founded in 1976. Fall Creek Vineyards made the favorite red, a Merlot.) In 2000, there were 37 wineries. By the 2004 Tasteoff, there were 55 (Massachusetts won). Now there are about 400.
Winery after winery we visited on the trip, which was sponsored by the Texas Department of Agriculture's Uncork Texas Wines program, had just opened or opened right before the pandemic or, among older ones, was planning new facilities. The industry is very different than it was even a short time ago. Winemakers talk freely about how mediocre many of the wines were a decade ago and how sharing best practices and technical advancements has helped them. The wines we tasted were from wineries that had won significant recognition in broad competitions.
--The early founders, or their children, are still there. Texas felt a little like Napa and Sonoma in the 1970s, when we could meet or sense the presence of the risk-takers who built the industry. Visit now while it is still so personal. (Go weekdays if you can.) As Carter Creek Winery's winemaker Jon McPherson, son of pioneer Doc McPherson, said when he poured his brother Kim's McPherson Cellars EVS Red: "It's a big, bold statement red, a piece of history in a glass to help us appreciate everybody who got us here." We can imagine that, at some point, the industry will consolidate or see inroads from out-of-state giant producers, so now is a special time.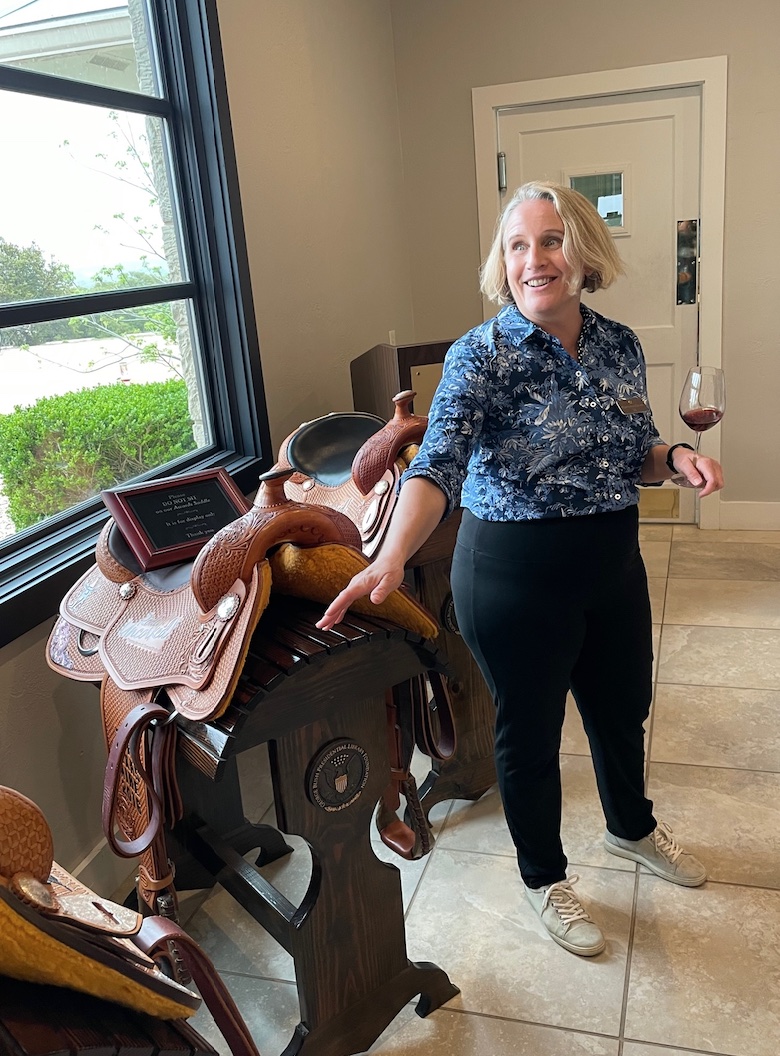 --Women are key. We had never seen so many female winemakers in such a short time, from Jackie Vansant at Driftwood Estate Winery to Bénédicte Rhyne at Kuhlman Cellars, who worked at Ravenswood in California. Because so many wineries are still owned by families that helped build the industry, women are in many powerful positions. "It's because it's a family business and there are a lot of women in the business," as Julie Kuhlken, co-founder with her brother, David, of Pedernales Cellars, put it simply. David and Joanna Wilczoch are co-winemakers. (One of our favorite pictures was of Julie next to three full-size saddles they won as Top Texas Wine prizes at events like the Houston Livestock Show and Rodeo International Wine Competition.) The winery grew out of the family's grape-selling business, which was started by Julie and David's parents.
(Julie Kuhlken, co-founder of Pedernales Cellars, with saddles won for Top Texas Wines)
--California to Texas pipeline is strong and getting stronger. We ran into one winemaker or general manager after another who had been recruited away from the California industry. They are bringing not only winemaking skills, acquired in some cases from UC-Davis, but also deep knowledge of the hospitality part of the business. It seemed like half the people we met had some connection to Healdsburg, in Sonoma. And here's an interesting twist on that: John Catalano, winemaker for Bent Oak Winery, said one reason for the explosive growth of Texas wine is the number of Californians moving to Texas with companies like Tesla -- "Bay Area people who are knowledgeable about wine and say, 'I want to know Texas wine.'"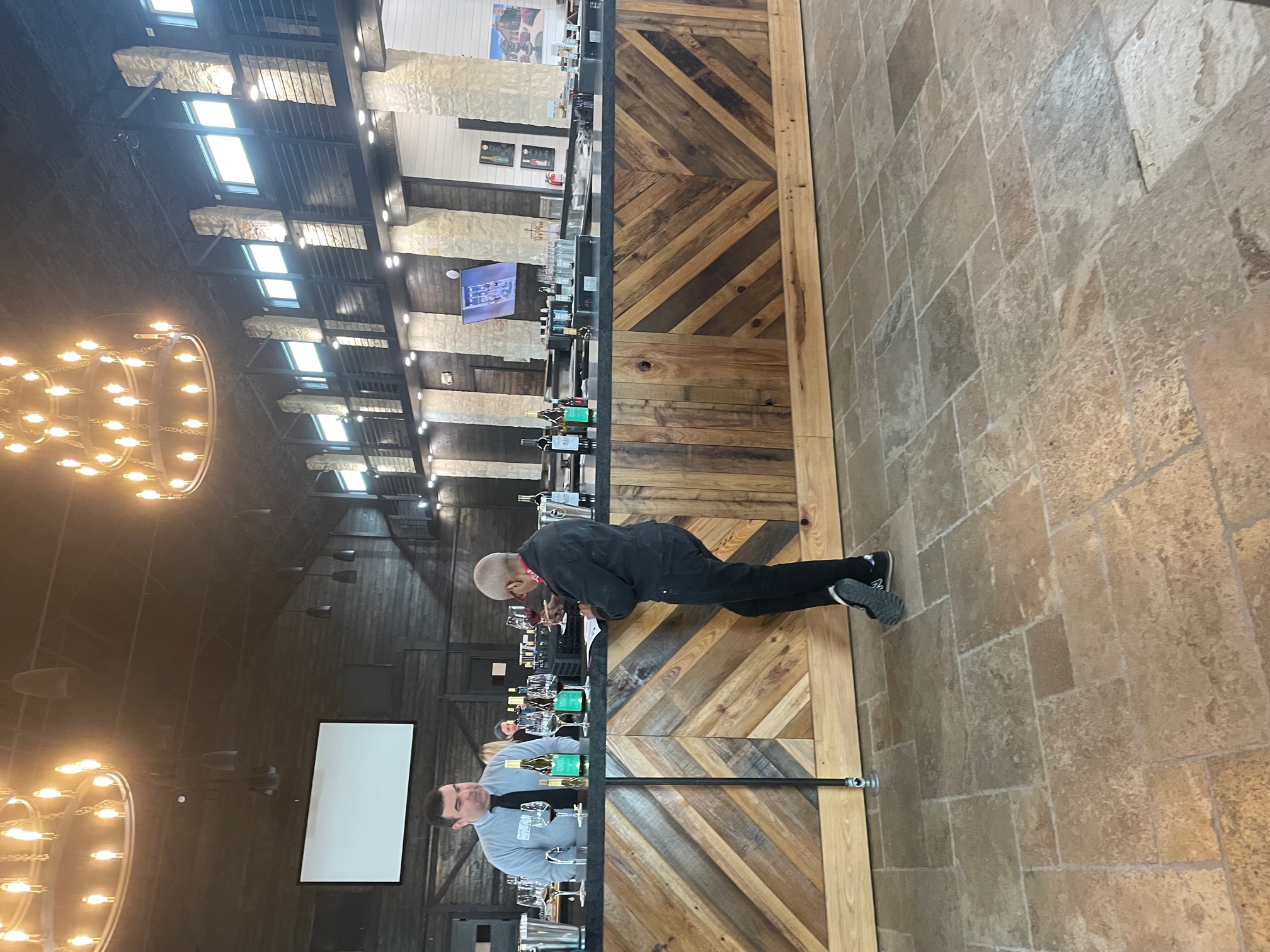 --But the industry faces a fundamental question. Both along the 290 corridor and elsewhere, wineries are going big into hospitality, lodgings and food. Carter Creek Winery Resort & Spa is lovely. (The Supreme Court of Texas is planning a retreat there, we were told.) English Newsom Cellars resort and tasting room in Fredericksburg is quite a space and it plans to build as many as 150 tiny houses for visitors. It's an interesting chicken-and-egg situation. Many regions, like Napa, made great wine and tourism followed. At this point in Texas, tourism seems to be the driver. What will this mean for the quality of the wines over time? If people all over the world taste mind-blowing Texas wines, they are more likely to visit to taste them at the source. That will mean more accommodations, more tourists and likely more money to make even better wine. It could be a virtuous cycle. But what if tourists don't care about the quality of the wine? This is a conundrum facing other wine regions, including some well-established ones now. Also, if the industry wants to attract an ever-broader range of people, one small step would be to have some diversity in the photos that wineries use.
(Dottie in English Newsom's vast tasting room complex)
--It's already really huge. Yes, yes, we understand that Texas is big, but on a single night, we met winemakers representing wineries from an area near the border with Oklahoma; a winery in the Gulf Coast area near Houston (which has its own wine road, the Bluebonnet Trail); and a winery in the Hill Country that makes wines hundreds of miles away in the High Plains, which is close to New Mexico. Texas says it is the fifth-largest wine-producing state in the U.S.
--So it's not surprising that Texas grows grapes that hail from other countries. Sangiovese, Mourvèdre, Cinsault – you name it, it's grown there. Sagrantino is rare even in Italy and yet there it is – Messina Hof Winery, one of the biggest wineries in the state, makes a good one. As Christopher McIntosh, winemaker and co-owner of Edge of the Lake Vineyard, said of a blend of Petite Verdot, Barbera and Tempranillo: "We've got French, Italian and Spanish in one blend." The winery's original vineyards were planted by McIntosh's father, Dr. Frederick Cummings, a Black obstetrician, so it is a Black-owned business, McIntosh said. In time, winemakers will need to narrow their offerings, but much will depend on Mother Nature. "I make too many damn wines," said Gary Gilstrap, owner-winemaker at Texas Hills Vineyard, which offers 28, including a lovely Cabernet Franc. The problem is it's hard to stop making wines people like and it takes time to replant or find new sources of fruit.
--Despite that, don't expect to see Texas wine in local stores, especially if you live outside of Texas. Most of the wineries we encountered sold everything they produced from the winery and through wine clubs. This is great, with one caveat: Regions that at one time only made wine for internal consumption, from South Africa to the Republic of Georgia, make better wines when they have to compete in the marketplace. We don't mean double golds at competitions, though that's great, but on shelves.
--But, paradoxically, Texas doesn't have enough vineyard land. The Hill Country AVA and High Plains AVA both include about 9 million acres, but the entire state only has between 5,000 and 10,000 acres of vineyards. That is not enough to satisfy the growing demand, with wineries popping up everywhere. Without more grapes to make 100% Texas wine, the industry will almost surely continue to be insular. (A new law requires wines to be 100% Texas fruit if they include an AVA, county or vineyard on the label. Otherwise, they only need to be 75%, which is also the federal law.) Roxanne Myers, president of Lost Oak Winery and former head of the Texas Wine and Grape Growers Association, told us that acreage must grow for the industry to thrive and there are efforts to get the state to be more generous in its aid. "Wine is a place product," said Dave Reilly, the winemaker at Duchman Family Winery.
--So why aren't there more acres? Because the weather is super challenging for wine growing. Cliff Bingham of Bingham Family Vineyards told us that a farmer can make 10 times more profit per acre with grapes than cotton with the same use of water. So why not? (That said, the Binghams also grow organic cotton and their hemp produces award-winning tinctures.) "You have to be crazy to grow grapes in Texas," said John Esler, manager of vineyard operations for Hidden Hangar Vineyard & Winery, which makes a tasty Malbec. On the other hand: "If you drink enough wine, everything seems like a good idea," joked Bryan Chagoly, co-owner of Sandy Road Vineyards.
The weather is incredible: Late spring frosts or hail or early fall frosts kill not only grapes but certain types of vines. Pretty much every farmer had a story of his or her Syrah or Gewürztaminer or Chardonnay being wiped out. We've never seen a more dramatic vintage chart. Dr. Ed Brandecker, co-owner and director of winemaking at Rancho Loma Vineyards, talked about going from 10 tons per acre to one in a year. The "Halloween Massacre" of 2019 was especially brutal, and winemakers won't even talk about 2013. Add drought and floods and Pierce's Disease, which kills vines, and it's amazing anyone tries.
This is why some folks see the future in grapes like Blanc du Bois, a high-yielding, French-American hybrid that's resistant to Pierce's Disease, which attacks in humid regions, and downy mildew. We first had a Blanc du Bois at Lafayette Vineyards in Tallahassee, Fla., in the late 1980s. The Blanc du Bois from Threshold Vineyards & Winery – both dry and semi-sweet – was the best we've had, crisp and inviting. And that's the answer to the question above: Blanc du Bois is the most planted white in Texas, while Cabernet Sauvignon is the most planted red. Still, "more than 25% of Texas vineyards are planted to grapes that are not in the top 10 of red or white grapes by bearing acre," according to a federal report on grape production in Texas in 2019. That certainly jibes with the exciting experimentation we saw and tasted, wines like Aglianico and Picpoul.
--And the dicamba threat is very real. We had read that a herbicide used by cotton farmers in the High Plains was wafting over vineyards and killing grape vines and we expected winemakers to at least put on a show that it wasn't such a big deal. We were wrong. Lawsuits are flying. Cliff Bingham told us he's part of a large lawsuit against the manufacturers of dicamba-based products. Reilly of Duchman Family Winery said: "Pierce's Disease pales in comparison to the threat from dicamba" – and that is a strong statement.
--So how were the wines? This is the bottom line, right? We had some excellent wines, from a Pinot Noir from Reddy Vineyards (the only Pinot we saw); Tannat from Bending Branch Winery (which leads the Tannat cheerleading squad); a Grenanche-Syrah-Mouvèdre blend from Becker Vineyards (a popular blend in Texas as elsewhere); Malbec from Hidden Hangar; Kuhlman Cellars Roussanne-Marsanne (there are lot of bets on those grapes) and many more.
There is such a sense of excitement and pride in Texas Wine Country. We'd guess it will change as much in the next 10 years as it has in the past century, and it will be so interesting to watch and taste.