"At the heart of the G.D. Vajra Winery, occupying some of the highest land in Barolo, is an unquenchable, countercultural movement."
Joe Campanale Vino: The Essential Guide to Real Italian Wine
G.D. Vajra was born out of a revolutionary spirit. In 1968, a 15-year-old Aldo Vaira was banished to his grandparents' property in Barolo after getting mixed up in political protests. Aldo's youthful energies quickly transferred to farming and within a few years he took over his family's estate. The revolutionary spirit is evidenced in G.D. Vajra being the first winery in the Barolo region to to adopt organic farming, which occured in 1971. In addition in 1985 they were the first to plant Riesling.
Vajra is a champion of some of the lesser appreciated indigenous grapes of Piedmont including Dolcetto, Barbera and Freisa. They also make three single vineyard Barolos including the incredible Bricco delle Viole from a vineyard, that at 1,500 feet, is amongst the highest in the comune di Barolo.
Today the estate is still run on organic principles by Aldo, his wife Milena and his children Giuseppe, Francesca and Isidoro. Grape Collective talks to Giuseppe Vaira about the unique family story and the evolution of winemaking in Barolo.

Grape Collective: Giuseppe, tell me a little bit about the history of the estate.

Giuseppe Vaira: The history of G.D. Vajra is a history that I can both smile and feel grateful for. We're a young winery. First and second-generation. We do come from an old background here in Barolo, but my dad was born and raised in Torino. His name is Aldo. He was trying to be a rebellious teenager, and at the age of 15, he decided to skip school, go on a march and protest in the streets of Torino. The first was also the last protest of his life because he was caught by his father and sent back to the farm within 24 hours, back to Barolo to spend the summer working hard in the fields and out of trouble. It was through that life and through that summer that he fell in love with farming.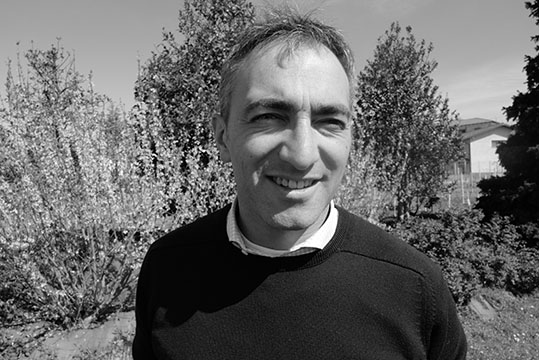 And he decided he wanted to be "un contadino." That's what he told the family. They freaked out. They didn't want a hippie son, but they also didn't want a farming son. Those were the days that our dad's generation were actually fleeing and trying to find a better future in an urban environment. He had to really make a point and stand for his dream, but eventually he was allowed to start farming a very little block. That's where we started. In return he had to continue his studies as a bit of a safety plan, and by studying he became a professor of viticulture in local high schools, which earned him a little money to keep investing in the vineyards and in the cellar. It was also through his studies that he met Francesco Garofalo, one of the two academics with Giovanni Haussman here in Italy that brought the concept of organic farming back to life. They would call it "ecologia."

That's how we were organic since 1971. The story of Vajra wouldn't be complete without naming our mom. Her name is Milena. She's the most wonderful person you could imagine. She's also a force of nature and they can put together strong discussions, but I think it's through their love, in them completing each other that Vajra was generated.

Today, we are a family with an extended family, a very young team, and we feel extremely grateful for the chance to work together, improve each other, help each other, balance each other, and together propel forward the passion and the dream Aldo and Milena started from.

How would you describe the terroir in Barolo?
In speaking of the terroirs of Barolo, it's a topic that really excites me, but apologies for not going very professional as a start. I love to speak of a tiramisu accident, because I think perhaps the most tasty way to figure and visualize what happened to the soils of Piemonte is imagining a wonderful tiramisu.

The soils here were of sedimentary origin, which means that it was the crumbling of the Alps. The Alps were raising, it was compression of the continents. The Alps were raising and the crumbling, the erosion from the Alps would let soil material fall and sediment underwater. The whole of this region was a bowl, was a tropical sea, some 10 to 12 million years ago, and with the soil sediments underwater, it does create layers, which is why I think it's easy to picture it as a tiramisu.
But something happened around 5 million years ago, not only a major drought that dried out this entire sea and the entire Mediterranean Sea, that's what we call the Zanclean flood, but also a further compression of the Alps tilted these soil layers, just like you are carrying the tiramisu to the table and there's an accident and the tiramisu flips over, and all in a sudden your beautiful horizontal layers are now vertical.

Now that happened to the soils of Barolo. The horizontal layers tilted in a direction where the southeast soils down in Serralunga rose to the top, that was the oldest layer. That's what we call the Serravallian, or in an ancient name, the Helvetian soils. They were hidden underneath everything else, but they emerged to the top in Serralunga.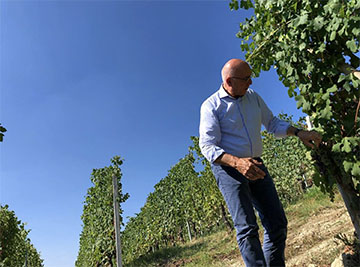 And behind my shoulders, to the northwest of the region, past the region of La Morra and Verduno, the younger soils went down, and so going from east to west, you now basically go from the older to the younger soils of the region. When it comes to G.D. Vajra, the majority of our vineyards are located in what I love to call the Tortonian Valley, which is really the valley between the region of Bricco delle Viole, Barolo in the foot, and then on the opposite side of this valley is Castiglione Falletto.
(Photo: Aldo Vaira)

We do also have a little estate in Serralunga. That's the Helvetian or Serravalllian Valley, that's Luigi Baudana, but focusing here, we're talking of marls, and marls are this mysterious element. It's a mix, with every soil there are mixes of clays, limestones, and sand. When it comes specifically to Bricco delle Viole which is the vineyard that perhaps defines us the most, this is about 60% limestone. The remaining is clay with a very tiny amount of sand, and there's a whole Pandora's box open when it comes to details. But in short, I'd say that the taste of this Tortonian soil, and it's a specific marl that is called Sant'Agata laminated marl, laminated because when you crack these marls, they really look like thin layers.

These were the thinnest particles that sedimented deepest underwater. Their feature is to provide for very vertical Barolos. They're not the kind of attitude with a lot of jokes. They're quite serious, if you will. They're also light-footed. They don't come aggressive or bold or muscular. These are Barolos for the soul, to lift you up, they have the tension, the verticality to age well, but they also have the precision to really speak of red and purple fruits and sort of these more restrained profiles driven by acidity rather than by body or tannins.

The Riesling you make is such an interesting wine and I'd say somewhat unusual for Piedmont.

When I think of the wines we produce, Vajra has always been in coexistence with a sense of the soul, the roots, the tradition of this land with a twist of dreams. And speaking of the Riesling, for example, this was the first Riesling that was ever produced in Piemonte. Our mom and dad planted it in the winter between 1984 and 1985. There's a lot of romanticism involved in this story because they were about to get married when the offer came for this beautiful block in Fossati on the way to La Morra, and that night dad drove to mom and said, "Milena, what shall we do?" and she was very excited and thoroughly supporting of him, and she was like, "Aldo, this is a fantastic opportunity. We should go for it. We should buy it," and dad was always a bit more rational, and he was like, "But Milena, I checked, we're going to need all of the savings that we put aside for our honeymoon."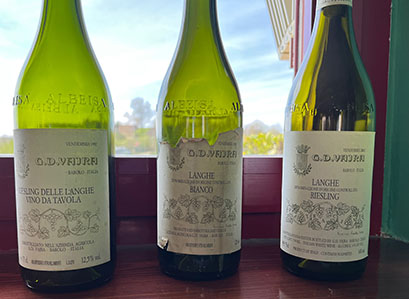 And that's how they decided to give up on their honeymoon. Mom said, "Well, we'll go next year," and 38 years later, they still have to take this honeymoon for real, but they went all in with the vineyard and after buying, only after buying, they realized that there was a spill of an alluvial soil of much younger origin that was not suited for Nebbiolo. That is when the inspiration for planting a white variety came.
This is a bit of a story that maybe would be better to not be told, but Arneis in Piedmont is an adjective for the kind of guy you wouldn't want your daughter to date, because it's like literally a tool, a piece of work, and that's Arneis. Arneis is fantastic, but those were the '80s and pre-climate change, wetter vintages. That's how this whole combination of elements led them to think maybe a dry sandier soil, alluvial soil would suit best for a white variety, but in thinking which grape, my dad already had a huge crush on Riesling and that was shared with my mom and then passed to us, the children.

And they did this crazy thing of planting Riesling. For many years, we would hide the bottles from the tasting room, especially if German visitors were coming to this estate, we just felt so ashamed. We would go and hide the bottles, and then when we would get caught, we would simply say listen, this is just a flag to say "Viva il Riesling." It all started extremely, extremely humble and simple as our flag of passion or love for Riesling. That wine maybe in a minor way contributed to learning the word minerality, which was not really a big thing in the '80s and early '90s in Piemonte. And then it was a twist in the story of our region where the sense of soil, the sense of minerality, and then it was a twist in the region where the sense of soil and the sense of minerality really started to be more interesting, more appealing.

And sometimes we think that Riesling did play a good part of that. Besides the Riesling, all the other wines we produce are really dominated by native grapes. We actually take an immense amount of love and pride in nurturing Freisa and Dolcetto. These are two heirloom varieties of Piemonte. More people would know about Dolcetto. I love to think of it as the ugly duckling of Piemonte grapes, and when I tell the story of the ugly duckling to my children is to tell them not to be shallow, to go past the surface, to judge the book not for its cover. Unfortunately, the problem with Dolcetto here in the region is that often it's misconsidered because it is a lighter, fruitier wine. We don't want to make big Dolcettos, but what we desire and what we dream and what we think Dolcetto is capable of is to be a wonderful, wonderful right expression of our land.

And it's not by mistake that a great winemaker of the 1980s Beppe Colla once stated that if you check the veins of Piedmont's winemakers, you would find more Dolcetto than blood. That's how intimate Dolcetto is to the region. Also, for those who are more into gastronomy and who are more sensitive to the impact of wine on the body, there's a theme where people usually say that white wines gives you energy and red wines give you relaxation. Now, I find Dolcetto is a bit of an exception.

Dolcetto is a red wine that gives you a kick of energy. It's really a fantastic red for spring and summer, and when it comes to the Freisa, I love to think of it as the last of the Mohicans. It's noble, it's wild, and it's fighting for survival. In a time of conformism where people try to place everything in a mold, in a frame, in something standardized, Freisa comes with this pedigree and has plenty of personality. It's very difficult to farm Freisa, but we love it and we are proud of our production of it.

Could you give me a description of the flavor profile of Freisa?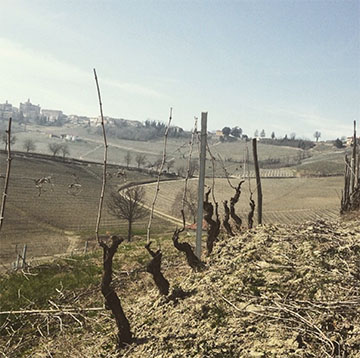 When it comes to the flavor profile of Freisa, I fought against this idea for many years because at one point I heard that Freisa came from Freisa, the Spanish for strawberries, and there was an association in the name and I just pushed it back for the longest possible time. I was like, no way. It's not possible that Freisa has anything to do with a Spanish term, but the truth is that was just trying to make it a point of nationalism. The truth is that Freisa compared to Nebbiolo does have a stronger strawberry profile.
When I think of Nebbiolo, I think of mountain berries, wild berries, a little more tart, a little more acid driven. When you think of Freisa, you tend to have that sort of lush and very ripe strawberry, and that became an evidence to me without chance of opposition.

One June, I remember Sophie and I were newlyweds and she made this strawberry salad and I brought a leftover Freisa from the cellar back home. We had a newborn baby and we were eating the strawberry salad fast and then the last sip of Freisa in the glass and the explosion of aromatics, the sort of incredible harmony between a red tannin grape like Freisa and that strawberry salad, I'll never forget, but you do get wide varieties of Freisa. Some are what we call Freisa Vivace, which would be a fizzy version. Often these wines are picked earlier, say in mid-September, between Dolcetto and Barbera. They come through with a higher acidity level, they have more malic acidity, their tannins are less ripe, and so those wines tend to be tamed by a shorter maceration and some carbonic. Some people manage it in a view of stability.

Some people let the wine re-ferment in the bottle, more or less spontaneously. The bottom line is that those wines tend to be more tart, they're great picnic, barbecue, summer wines. When it comes to our Freisa Kyè instead, we're looking at an October picking. We don't want a big wine. It's not about the alcohol level, because that will sort of go to a plateau and then stabilize, but it's more about making sure we have a balanced amount of malic acidity and that we have more phenolic ripening, which is the tannins are riper.

And that allows us to sort of treat it similarly to our Barolo so long skin contact, long maceration, some cask aging to sort of provide for a deeper voice. Freisa Kyè is not your Easter Monday wine, but it can be a fantastic way to discover Freisa with richer food, with dinners, with mushrooms, with sort of more wild aromas and flavors. When it comes to our Nebbiolo and then our Barolos, I think the dream we have is to find the voice of each grape we cultivate, and I use the word voice with a purpose because we don't want to interpret, we don't want to overlay the wines with our interpretation or our thoughts. The dream we have is to be so gentle that what you'll taste is the voice of the grape and of the vineyard, of the vintage.

You make Langhe Nebbiolo and single vineyard Barolo.

When it comes to Nebbiolo, we have basically a mountain that we climb in for, if not five steps, the introduction to our mountainous region is actually a sparkling rosé. That's Nostra Signora della Neve, that's actually not pure Nebbiolo, it's 50% Nebbiolo, 50% Pinot Noir, and that's an historical take on a time when Nebbiolo was very fizzy. Then we step into 100% Nebbiolos and then we have Claré J.C. That's again more of an historical take on Nebbiolo from a very specific winemaking protocol from the early 1600s, that will be sort of the lightest, the freshest of the Nebbiolos we make. And then we have the classic Langhe Nebbiolo, that's the wine I really care for. It's about the innocence of the grape, trying to speak of the grape without layers of oak or heavy maceration. The fruit comes in early in the morning, low temperature fermentation.

We try to really focus on the voice of the grape. If you had a choice between picking the Nebbiolo grapes for the Langhe, as a super ripe, red fruits, or pick it at a slightly earlier stage to come through with a little more freshness like mountain berries, no doubt we'd be looking at mountain berries, we're looking for a little more freshness and a very food-friendly wine. And then when it comes to the Barolos, we love them to speak the voice of their vineyards. Starting with Barolo Albe, Barolo Albe is a tribute to the masters of traditions. It's a blend of vineyards, but there is a common theme across these vineyards, which is high elevation, Tortonian vineyards. Very white marls with a lot of calcareous material. The wine comes fairly vertical. It has beautiful perfumes, the older the vines get, and then we see the more layers and also horizontal layers enrich this wine.

The dream for Barolo Albe is that you finish the bottle before you really recognize it. It's meant to be classic. It's meant to be sort of a nerdy Barolo that speaks to those who love the more traditional expressions of our land, but also with a joie de vivre. And then speaking of single vineyards, perhaps most peculiar soil type or the most different soil type we have is a newer single vineyard that is called Coste Di Rose, that is in the comune di Barolo, but is lower elevation, and that's what must have been the beach, the shore of this ancient sea 10 million years ago. The soil over there is arenaria di diano, arenaria which means the sandstones. They are an aromatic trigger to Nebbiolo that enhances the perfumes, makes the wines a bit more ethereal in the palate.

It also provides for a lighter color, but then you have a lot of like wild strawberry, mint, cherry in the nose of Coste Di Rose. If we were to compare it with rock music from the '70s, Coste Di Rose, no doubt would be our Beatles. Like the first moment, Beatles, like happy, joyful, charismatic. Then we go to Ravera, which is more red elements, more iron oxides in the soil, it is also an amphitheater, like a bowl-shaped vineyard. You have more heat retention at night, and that comes through with two elements. One is a gorgeous mid-palate, which is really the signature of Ravera.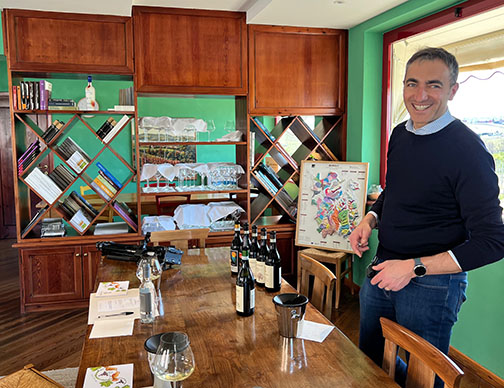 Ravera is the feisty Barolo among those we make. That's the Barolo for people who are ready to pick up the battle with tannins, with youngster Barolos, say Led Zeppelin. Finally we have Bricco delle Viole, the highest among all historical vineyards of Barolo and the closest to the Alps. That means a lot of light, but then big winds in the evening and major drop of temperature. It comes more vertical, more precise. The tannins are more subtle, I love to think of it as the Pink Floyd because it has a beautiful complexity. It is rock, but it also has some orchestral elements in it. This would be our three single vineyard Barolos at Vajra.

What is the philosophy of viticulture and winemaking at G.D. Vajra?

When it comes to our viticulture and winemaking, we hardly speak of philosophy because we find it's really a craft more than a philosophy, but the first element is about harmony. Our dad was the first viticulturist, the first farmer who farmed vines to go organic in 1971. That was the year before he started to make his own wine. In 1971 we were still selling grapes as negociants. He was very young. He was like 18 years old, but he was caught, he was fascinated by this professor Garofalo that he met in college and he followed him. And just a little fun fact in those days when they would meet after the lesson hours, Professor Garofalo would close the door of his office with these four or five students, because the big sponsorships at the university were the big chemical companies.

To discuss organic, a very different world than today, that has really shaped us, but as my dad would put it, it's an overall concept of sustainability. There is no point of farming organically the vineyards, and then be bad humans. What would be the point, how could you even compare the best farming treatment if you are not a good person? That has to go into a bit more of an holistic vision of all that we do. Same goes for a lot of current day trends that we see. When you look really deep into history, a lot of these things are not new. A lot of these things were the wisdom accumulated by hundreds of years, by tens of generations of farmers that all of a sudden got wiped out by sort of the chemical business and the need for quantity over quality.

In the end, there's not so much to be invented, but there's plenty to be rediscovered. And that's what we try to do. And if I may just say kudos to our vineyard team, which is led by my brother, Isi. They are amazing.
And I'd like to give you a little serious fact. In 2018 we went and did a massive amount of work by hand because we wanted to be on time with the vines, we wanted to provide and carry the fruit to be the best possible, but we didn't want to compact the soil after the rains. And we subjected to do a number of works which you would usually do on a tractor. We did it by hand to preserve the softness of the soil and yet be good farmers in what we do.
When it comes to the cellar, we always have had this idea that there's nothing we can create in the cellar. Our number one priority is to honor and respect the fruit and in doing so, we really think there is a voice we can deliver.
First day of my college, I remember this lesson where grapes were divided into aromatic varieties versus non-aromatic varieties, and Nebbiolo, Barbera, Dolcetto would all fill into the classification of non-aromatic, which means you cannot find the taste of the grape in the wine. I don't want to sound so foolish to think we can prove science wrong, but there's a piece of me that dreams every day to actually bring that crunchy taste and perfume of a good ripe bunch of Nebbiolo, Barbera, Dolcetto all the way into the glass. I'd say it's simple as that.
Going a little more technical. We care about long macerations because that's the only way to transfer the voice. It is like the two people who have a sympathy one for another which is only through time spent together that they are able to get to know each other more. And if we think of the skin and the liquid. The juice that turns wine as the two friends, the only way for which the wine can know the skin is a long skin contact. That has to go hand in hand with a gentle approach because what you don't want to do is a long skin contact and too vigorous of an extraction that would be what we call over-extraction.
The two things are like waltzing, like dancing gently so you can stretch the maceration as long as possible, but very gently. I'd say this is really the core of what we do. In speaking of aging profiles, we do love large casks. Every five to six years we say, okay, maybe this year we're going to buy one French cask, still large size. We say, 'let's try French oak for a change,' but inevitably we go back to Slavonian oak because we find it's more neutral and more appealing to the solid wines we like to make.

Talk a little bit about the history of Barolo in terms of modernism and traditionalists and the advent of the Barolo Boys and what that meant to Barolo and to Piedmont.

The whole modernist versus traditionalist conversation got to me a very vivid memory of my childhood. One day when I was seven years old and that morning I walked to my classroom and a dear friend of mine, Mart Rinaldi, very proudly states, "My dad is a traditionalist," and some other kid joins the conversation and says, "Mine is a modernist," and I knew a hundred percent that their parents were winemakers like my dad, but I had never heard my father defining himself. I don't even think in retrospect I was able to pronounce modernist and traditionalist properly, but that night I had to ask my dad, "Papa, who are you?" because I needed to go back the next morning and show knowledge and show that I had learned and that my father had a defined identity.

And it was a bad idea to ask him, because he went on for a very long explanation, possibly was excited by one of the children asking him details of the work, but he refused to give me the only thing I cared for, which was a label, a definition. And over time we got to realize that all that he was trying to do was sort of stay away, stay out of labels. But if you really had to try and define what we do, I would call it a clean, traditional approach where it's traditional in the sense of the balance we're seeking in the wines, the drinkability we're seeking, the sort of elegance over power concept, and it's classic, it's traditional in the sense of long maceration, long aging, large botti, but it's clean because this is the grayness that was brought by the modernist in the early days, it was a concept of innovating for good.

It was a concept of not feeling satisfied of the status quo. And there's plenty of credit that has to be given to the people that made that sort of modernist wave. I think only my father, I have heard speaking with this angle of the Barolo Boys and the modernism because often people think it is a whole matter of size, large cask versus small barrel, steam bent versus toasted, that surely plays a role, but more in depth when barriques got to Piemonte, the small French barrels got to Piemonte, they replaced often 50-, 60-, 70-year-old funky poor quality casks. So it was not just a matter of size moving from large cask to a small barrel.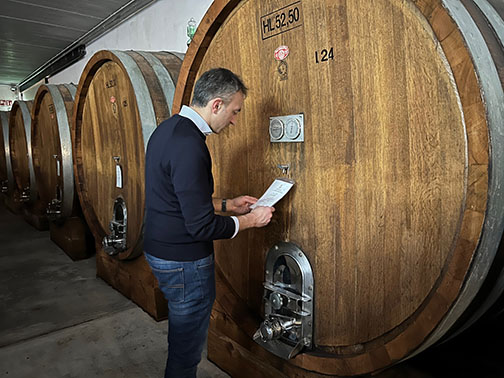 But in that process, it was also replacing old material and keep in mind, unless you were a very sort of wealthy family that could afford oak like if you go visit Giuseppe Mascarello, they have fantastic casks made by their grandfather, but the majority of farmers didn't have the means to buy oak casks, so a lot of those old botti were made of chestnut, which was a very local industry and local tree species and chestnut comes through with very aggressive tannins. You would replace those old, dirty casks, not of good quality with clean, pristine new barrels. And that made a huge impact in terms of how the fruit would come through. And I think that some of the perhaps excess that originated in the '90s and 2000s actually came from a misunderstanding of what had made the quality of the early modern wines.

Also something which I understand better today is that in the '90s to 2000s, I remember if you were using barrique, you were a cool guy. If you're using large casks, you are not so cool of a guy. And the flip side of it is that you could drink a lot of Bartolo Mascarello in those days and it was not hard. It was not crazy priced, and I kind of regret that, but today I see the opposite where if you are traditional you are cool and if you are modern, you're not so cool. And I think there's something that we have to grow up from these sort of attitudes, where it's all about trends, because in a way there was an excessive trendiness of modern wines in the 2000s, but there is also an opposite risk that we take a different angle, but the attitude stays the same, the good, the evil, the ups and the downs.

The only way I see that we can embrace these past 20 years of history of Piemonte is thinking of it as a teenager. Now, I'm not a psychologist. I'll take it with a grain of salt, but teenage is that moment of life you have to go through to become an adult. And if you don't leave your teenage years, if you are sort of protected under a glass bell, you'll never become an adult. You got to go through it. And I think the '80s and '90s and early 2000s were a major teenage moment for Piemonte, so that when we look at the greatest of today's wines, the beauty, the incredibly high overall quality you get from every winery in the region, this is possible because of those boundaries that were touched, those little extremes that were done, those little excesses and perhaps sometimes mistakes that were done in the '90s and 2000s. It's because of that today the wines are as an average quality have never been as good.

And of course it's been a mutual teaching because despite the arguments, there's no doubt that the modern sort of dialed back their approach to oak and toastiness just as much the hardcore traditionalist learned that their philosophy could be matched with more hygiene in the cellars and more precise wines. I think that it was a mutual help. This is the way I like to see it. It's the only way I think gives forgiveness for the excesses, makes sense and gives dignity to all the trials, to all the dreams, to all the hidden sacrifices, to all the hard days and nights of all those amazing farmers that made Piemonte to be what Piemonte is today.

I spoke with Luca Currado of Vietti and he mentioned that he had compared old vintages of modern Barolo and old vintages of traditional Barolo and they seemed to come together over time. Do you have any opinion on that?

When it comes to that conversation of whether Barolo in getting older sort of converges, whether it came from a more modern or traditional angle, I think there's still plenty to learn, but something is clear is that traditional Barolo sort of builds weight in getting older. Some Barolos in their youth sort of taste very lean, wait, give time. This is Barolo, it's meant to be waited and then it will build structure, build amplitude, vice versa it is also true that some Barolos that in their youth come through with a sort of more oaky sense will integrate that over time. So, yes, surely the two styles come closer.

I do still feel there is a difference, which is sort of the openness of the wines, where I find that where traditional schools sort of has wines which are a bit tighter and fresher and that sort of comes through as a freshness off the nose. Vice versa, the more modern schools have come through with a bit more of an open bouquet, like dried flowers, a flower potpourri. And I think it totally makes sense because it's current with the winemaking philosophy, which is different. But yes, there again, time is of the essence, time is of the essence to enjoy Barolo and time is of the essence for Barolo to shape up and also to sort of let it really blossom.