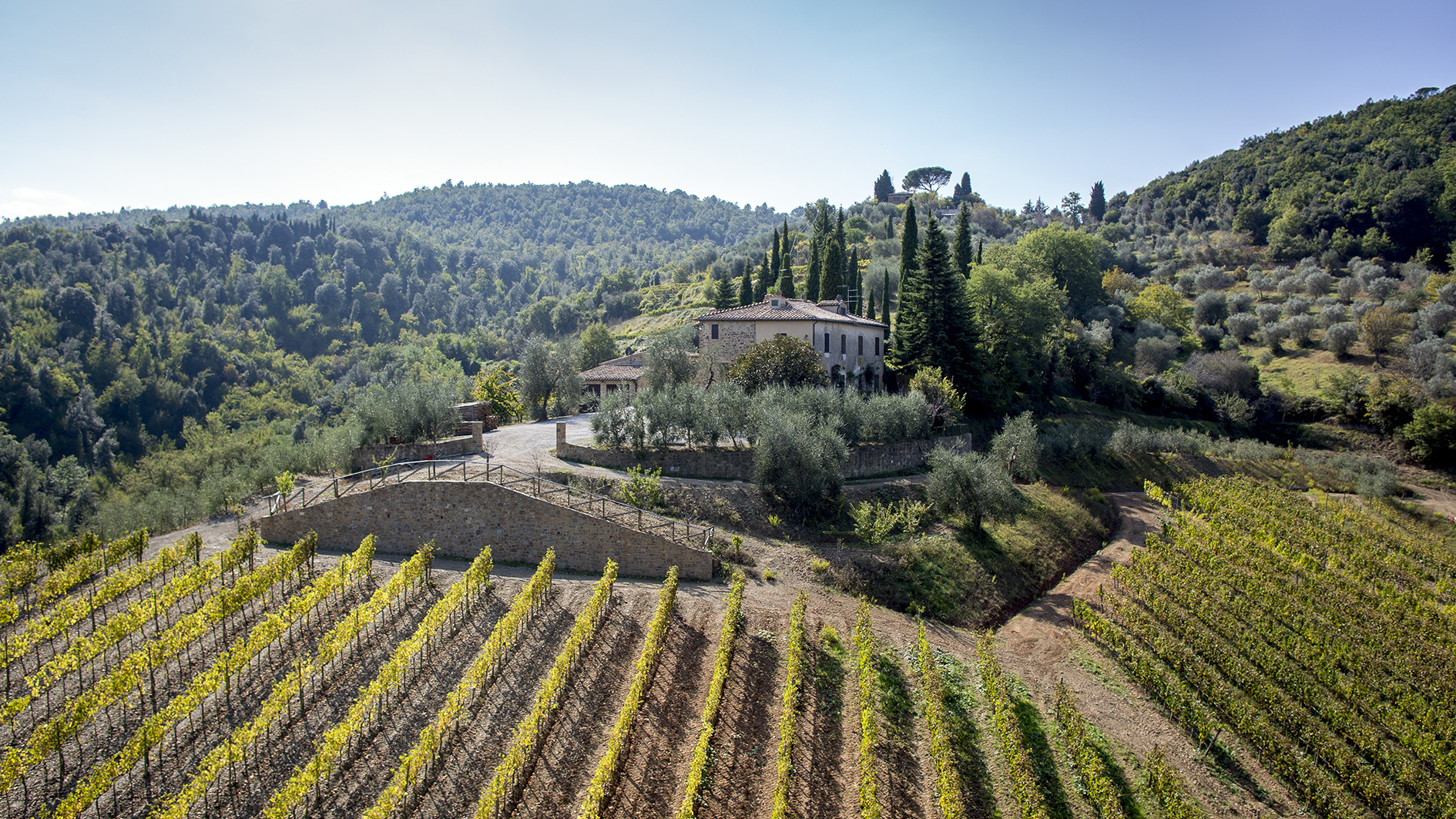 On a cold and blustery March evening, five journalists gathered for dinner in midtown Manhattan with Tommaso Cortonesi, the newly appointed VP of the Brunello Consortium which promotes and safeguards the wines of Montalcino, Italy. Tommaso, in his early 30s, is the third generation winemaker at La Mannella winery started by his grandfather in 1970. Tommaso spoke enthusiastically about the wines made in Montalcino and of his own motivation for making great wine which stems from gratefulness. "I'm a lucky man who has been given the opportunity to realize my dream and continue my family's efforts making wine in the land where I was born. My main goal is to give back what the land has given me by producing one of the best brands of wine in the world." The wine writers who gathered around Tommaso were the lucky ones that evening, enjoying the food and wine, while learning more about La Mannella and the beautiful wines of Montalcino.
The Wine

The Montalcino area, in the southern part of Tuscany, is famous for its beautiful expression of red wine made from the Sangiovese grape. Although wine has been made here for centuries, the classification system wasn't created until 1963 and it wasn't until 1975 that Montalcino gained its DOC and then in 1980 its DOCG. Within this Protected Designation of Origin four wines may be produced: Brunello di Montalcino, Rosso di Montalcino, Moscadello di Montalcino and Sant'Antimo. The area is most famous for its Brunellos which can only be made with Sangiovese grapes. These bold and luscious wines are required to be aged a minimum of four years before release, with at least two years in cask or barrel (traditionalists and those making a riserva age it three years in oak barrels). Most producers of Brunello make a Rosso, also 100% Sangiovese, but with the aging requirement much less (only one year of aging before release, six months of which must be in barrels) and the grapes usually coming from lesser valued parcels of land. The Moscadello DOC (making wines from the grape variety Moscato Bianco) and the Sant'Antimo DOC (making red and white wines from a variety of allowed grapes as well as sweet Vin Santo wines) are much smaller production areas.

The Area: Soil and Climate

Montalcino lies about 25 miles south of Siena. A UNESCO world heritage site, its borders are designated by three rivers: Ombrone, Asso and Orcia. Montalcino is one of the more arid areas in Tuscany with warmer temperatures and less rainfall than nearby Chianti and Montepulciano. During the growing season the climate is mild and sunny which ensures a gradual and full growth of the grapes. The varied terrain includes rolling hills, cypress trees and verdant landscaping along with drier areas that have a lot of scrub brush vegetation and a dusty feel. There are several different soils within Montalcino. Over thousands of years, the ocean kept coming and going, leaving behind shells and many levels of soil types and a lot of calcium carbonate mixed in. The wines made from grapes grown in the different terroirs of Montalcino can vary tremendously from one another, giving complexity and uniqueness to the wines.

The Mannella Winery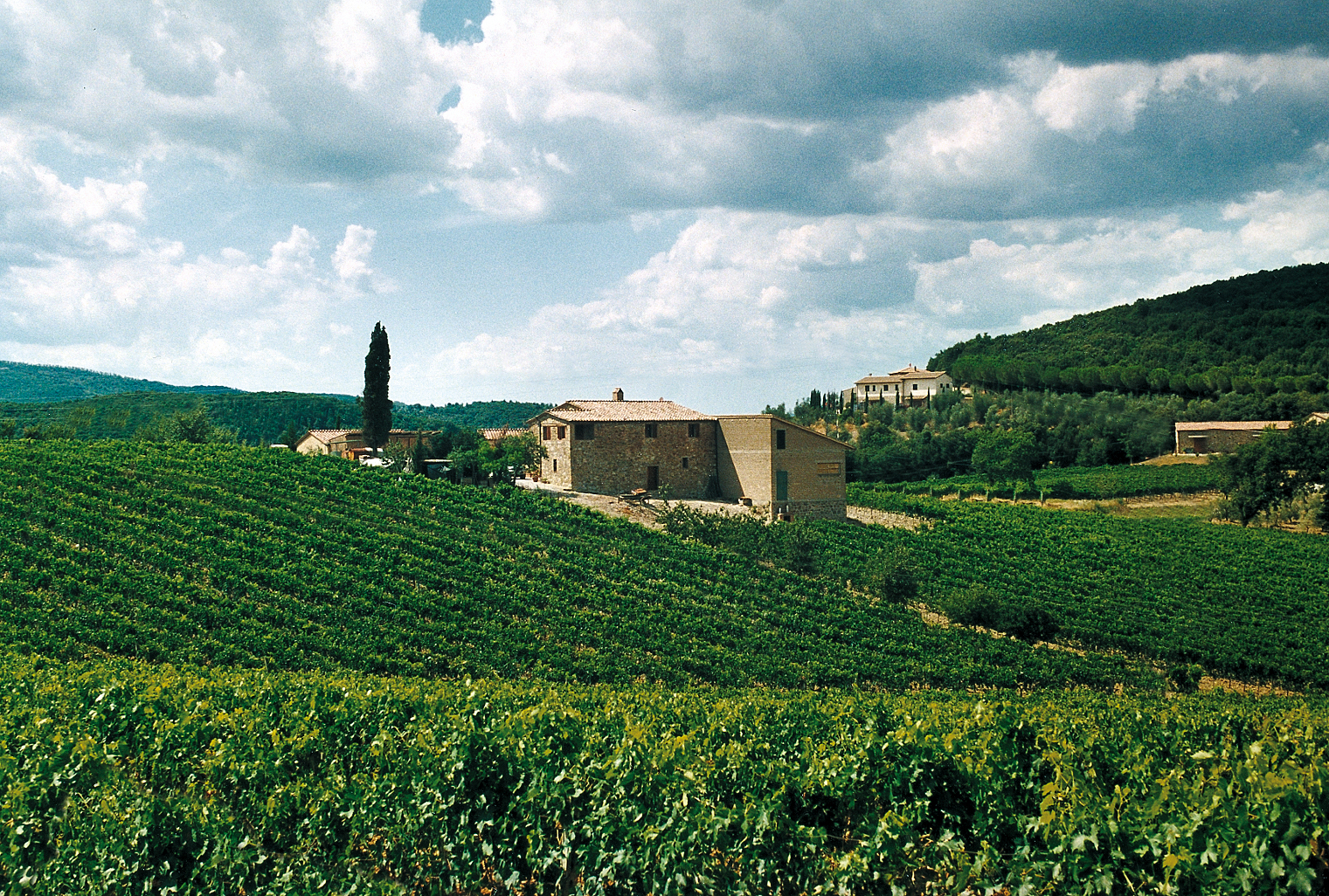 In 1970 Tommaso's grandfather Leonardo, a longtime farmer, ripped out some of his olive tree plantings and planted Sangiovese grapevines in their place. For 20 years, the family made wine to drink themselves and to sell to neighbors and other wineries. The first bottling of the La Mannella wine wasn't until the 1990 vintage and the winery has remained a family business, now run by Tommaso and his father. The vineyards are located in some of the most favorable locations, just north and southeast of the town of Montalcino. In the near future the label will have a new logo with the Cortonesi name more prominently displayed on it. The new family-named labels are Tommaso's way of thanking his father and grandfather for their help in teaching him about winemaking.


The Wines Tasted
La Mannella Rosso di Montalcino 2013, $29 - The winery only makes a Rosso in years during which all the grapes are not being used for their Brunellos. It has wonderful aromatics of big red fruits along with licorice, chocolate and tobacco. Best enjoyed within five years after bottling, it is elegant and approachable with silky tannins and a vibrant acidity. This Rosso is the perfect accompaniment to a bowl of pasta "con le briciole," with garlicky bread crumbs. It can also be served with heartier fish dishes like swordfish or salmon and with simple grilled steaks, roasted chicken with rosemary and thyme, or grilled pork tenderloin.
La Mannella Brunello di Montalcino 2012, $72 -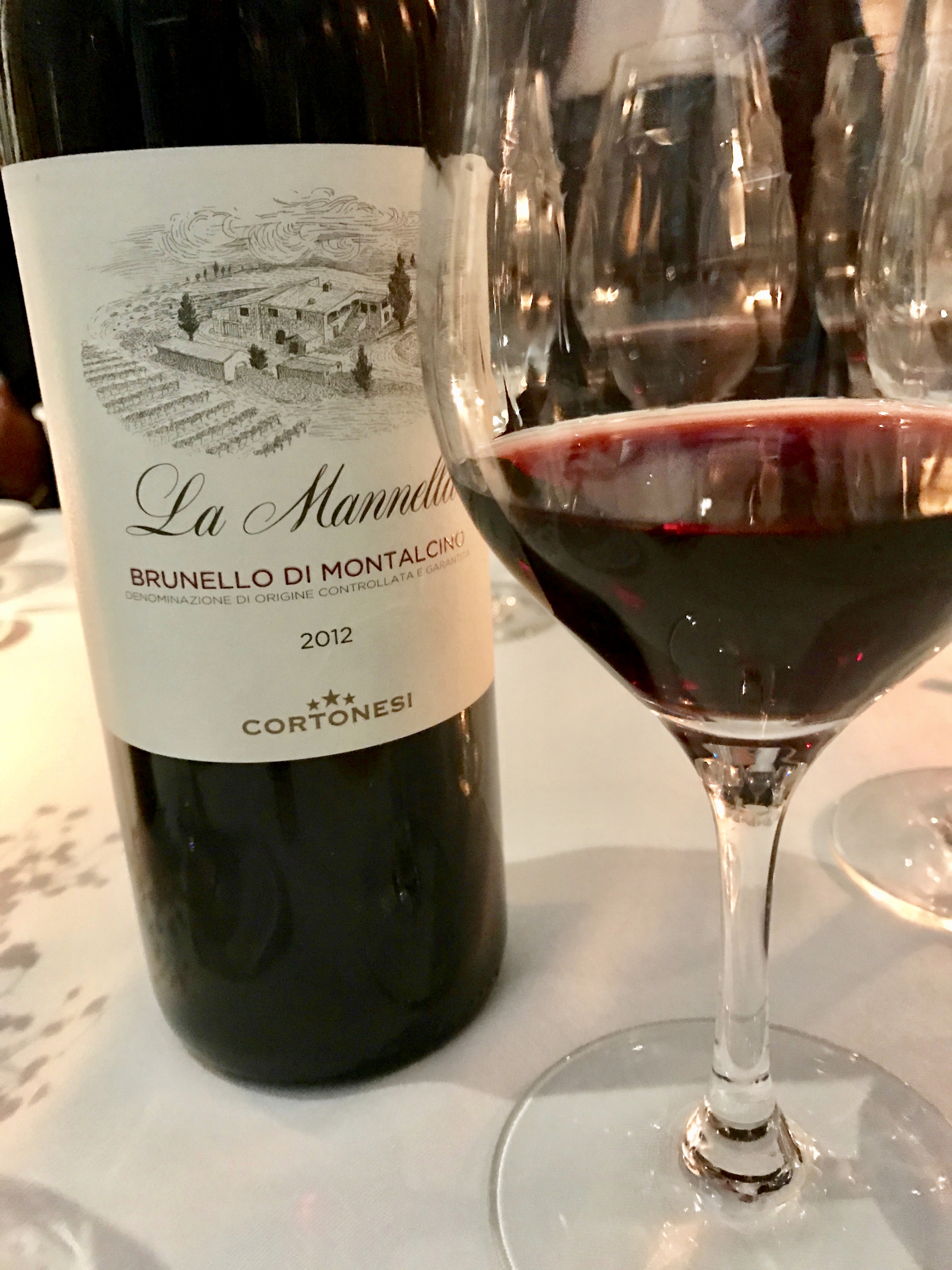 The winery only makes 4,000 bottles of this Brunello which is a dark crimson color with lovely aromas of red fruits, spice and leather. On the palate, it is luscious with bold and generous flavors as well as a refreshing acidity. This wine will be drinking at its best in another 3-5 years. This wine goes wonderfully with grilled meats, porcini mushroom risotto, buttery polenta, pasta with meat sauce and various Italian cheeses.
La Mannella Brunello di Montalcino I Poggiarelli 2012, $95 - The grapes for this wine come from a single vineyard with rocky, sandy soils and lots of sun exposure. This is a big, structured and powerful wine with lots of cherry, leather and earthy aromas and flavors with a long and spicy finish. This wine would pair well with a rosemary-infused roast leg of lamb, pot roast, roast squab with truffles or the Tuscan-style steak known as bistecca alla fiorentina.
La Mannella Brunello di Montalcino Riserva 2010, $250 - This is the type of wine which perpetuates the name of a winery. It is only made in the best vintages and 2010 is considered the best from the past 20 years. The grapes for it come from the best selection of all the La Mannella vineyards. The resulting wine is big and bold with bountiful and intense aromas of dried fruit, spice, leather, cedar wood and a spiciness which lingers on the palate. It's a very structured wine with tannins that need some time to mellow out. Pair this wine with hearty dishes like lamb stew, short ribs in a rich red wine sauce or, as Tommaso likes to have it, after dinner with cheese, chocolate and a cigar.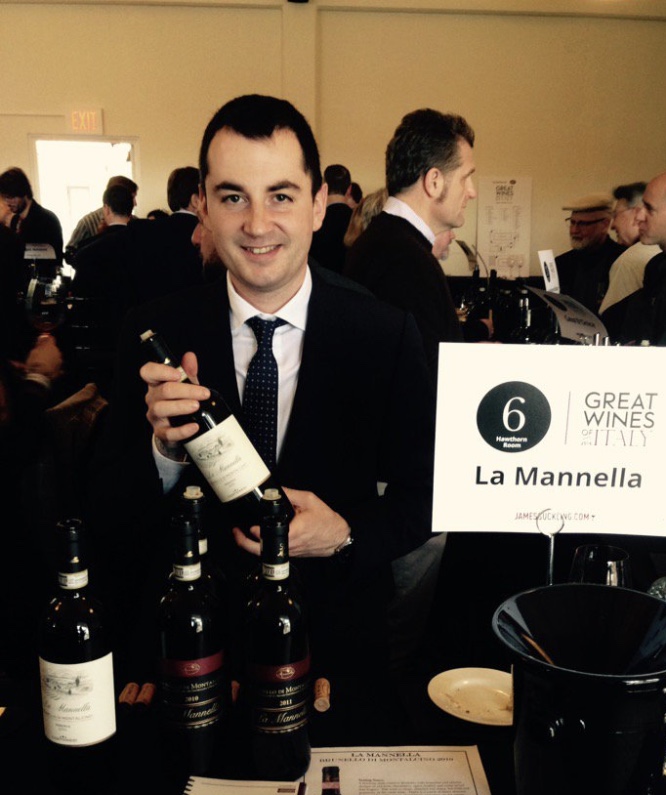 Grape Collective caught up with Tommaso again this week:
Lisa Denning: Congratulations on being appointed the VP of the Brunello consortium. Can you tell us a little bit about the Consortium and the role you will play in it?
Tommasso Cortonesi: The Brunello Consortium is the association that gathers and represents almost all of the Brunello di Montalcino producers. It was founded in 1967, after the Brunello obtained the DOC, as a free association of producers with the intent of protecting their wine and enhancing its characteristics. The role of the VP, in general, is to manage and discuss, together with the president, the other two VPs and the manager of the Consorzio, everything that concerns the control and promotion within the appellation. In particular, I am in charge of supervising all the promotional events that are done throughout the year to promote Brunello in Italy and worldwide.
What is your philosophy of winemaking?
The key aspect of our work is and has always been the strong attachment to the sense of place in regards to Montalcino and to maintaining our grandfather's vision of how our wines should taste. We understand how lucky we are to live here, in a place where Sangiovese finds one of its best expressions. My family comes from many generations of passionate winemaking and has always put a lot of attention into the study of grape growing, keeping the tradition and the purity of Sangiovese as the key and most important factor. We believe great wines are first born in the vineyards. We only produce our wines with a careful hand selection of the healthiest grapes from our estate. At the same time, besides looking to the past and to tradition, we feel the need to always better ourselves. We are on a constant "Pursuit of Excellence," a principle that motivates us to look to the future and try to make the best innovations possible.
I understand your first bottled vintage was in 1990. Did your grandfather sell the grapes before that? Who did he sell them to, cooperatives or other wineries?
Before we started bottling our wines, part of our production was sold to our neighbors, other wineries, and part was destined for my family's personal consumption. In those years grape growing and winemaking procedures were certainly different because there was less technical knowledge. Everything was based on experience, and passed down from father to son and there was also less technology than nowadays. We are very fortunate as our winery never lost the family tradition of passing down my grandfather's and great-grandfather's knowledge and "secrets" all the way down to my father and myself. Today we have the fortune to capture their experience along with ours to bring great quality in our wines to your table.
Tell me about the winemaking in Montalcino today. Are there any new innovations or are things done the way they have always been done?
In the last years there have been innovations and an evolution towards the constant research of high quality, but there is definitely also a strong link to tradition that is always kept in mind by many producers.
How much of your wine is consumed in Italy versus exported? Which countries are your biggest export market?
30% is consumed in Italy and 70% is exported. My biggest export markets are the US, Canada and Europe.
Do you grow any other varietals other than Sangiovese?
No, by choice we are specialized in growing only Sangiovese.
You talk about being grateful that your father and grandfather taught you so much about winemaking. Did you ever consider another profession or did you always want to be a winemaker? What is your brother's role in the company?
I was born and raised in Montalcino and I have always wanted to follow the footsteps of my family and make wine. My brother is studying to become a doctor, so he has chosen a different path.
Where did the name "La Mannella" come from and how will the new Cortonesi label be different? Will "La Mannella" be on the new label?
The name La Mannella comes from the site where our cellar and most of the vineyards are located. In our new Cortonesi label "La Mannella" will still be mentioned: La Mannella Brunello di Montalcino will be exclusively produced with grapes sourced from our vineyards of La Mannella, located around the cellar which is located on the northern side of Montalcino. While "I Poggiarelli" Brunello di Montalcino will be produced only with the grapes coming from "I Poggiarelli" vineyard located on the southern side of Montalcino. The difference in exposure of north and south bring extremely different characteristics to our wines and we felt that it was important to show these amazing differences rather than to blend all in one.
I understand that you were a champion archer. How did you get into archery and do you still practice the sport today? Do you feel your experience as a champion archer has had any lasting effects on how you work as a winemaker?
In Montalcino there has been a long tradition of archery. The town of Montalcino is divided into four quarters, each of which has its own archery team. Every year, in August and in October, there is a big festival in Montalcino during which the four quarters compete against each other, with two archers for each quarter. My father was an archer and he passed down to me the passion for this sport. I started to practice when I was very young and entered my first tournament when I was 16. I am still practicing it although, with the growing responsibilities within the winery and now within the Consortium, the time is always less and less. However, for me it is also a distraction and a good way to relax.
What are some typical dishes from Montalcino that go particularly well with the red wines made there?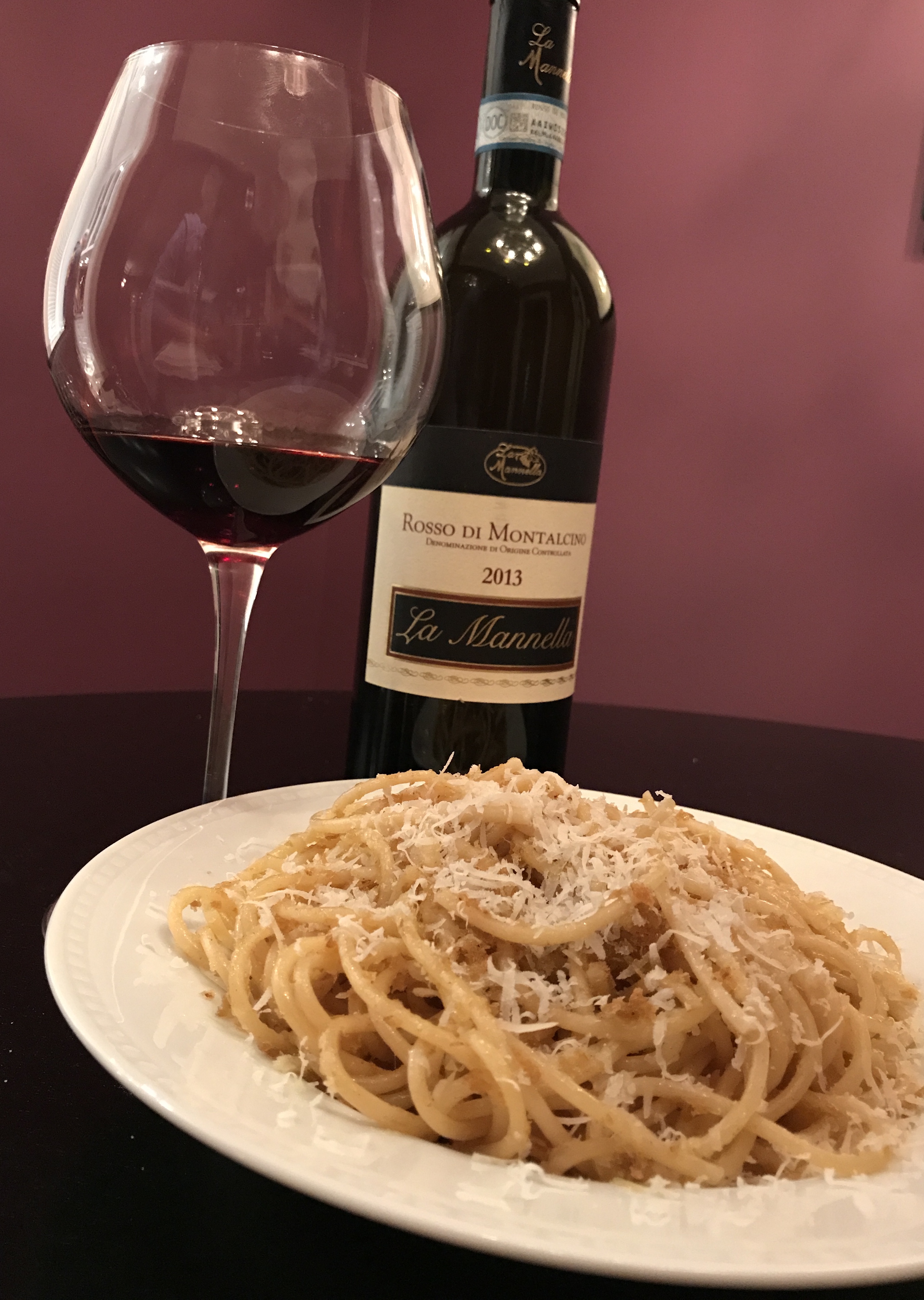 One of the most traditional dishes from Montalcino is "pinci" pasta. They are handmade and similar to thick spaghetti; they are made only with flour and water. One of the best way to enjoy them is "con le briciole," with bread crumbs, fried with extra virgin olive oil. Another traditional dish is the "scottiglia di cinghiale," made with wild boar, tomato sauce and spices.
What do you drink when you're not drinking your own wines?
I am a big fan of the wines from Piemonte, and especially from the Langhe (Barolo and Barbaresco). But I also like to drink everything that is different from Montalcino wines, to broaden my knowledge and to see how different wine regions in Italy and in the world work.