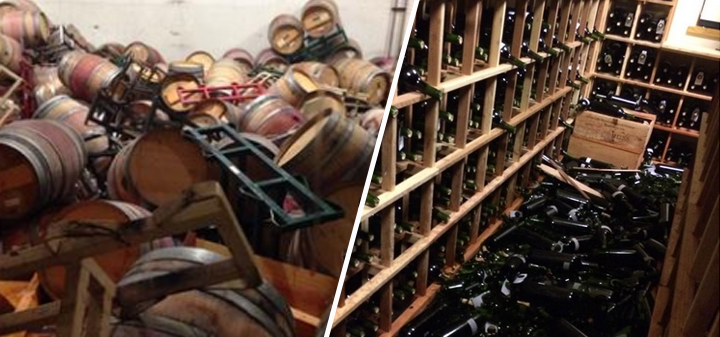 The strongest earthquake in 25 years shook Northern California awake early Sunday, leaving more than 120 people injured. The 6.0-magnitude quake's epicenter was about nine miles to the south of Napa Valley and is the largest tremor to hit the Bay Area since the 6.9-magnitude Loma Prieta quake in 1989. Of the 120 people injured — mostly suffering bruises and lacerations — all but six have been treated and released from Queen of the Valley Hospital.
Governor Jerry Brown has since declared a state of emergency for southern Napa County. President Barack Obama was briefed on the matters, and federal officials were in touch with state and local emergency responders.
Home to upwards of 800 wineries, Napa produced 49.7 million cases of wine in 2012, according to Napa Valley Vintners. The association estimate's the industry's U.S. economic impact to be in the range of $50 billion. While it is still too early for an overall estimate of the economic effects, the physical damage has been well documented across multiple social media platforms, and Storify has put together a comprehensive page for referenece.
Hope west coast friends are ok. Looks like wine price will go up. #earthquake #napaquake pic.twitter.com/d6d3fTs8UO

— Bryan Clagett (@Clagett) August 24, 2014
Per the Pacific Gas and Electric Company, about 20,000 houses in and around Sonoma, Napa, and Santa Rosa lost power. As for the physical devastation, downtown took a brunt of the tremors.
Historical buildings in downtown Napa seriously damaged. #earthquake pic.twitter.com/U9Uy6XwB0A

— czachos (@czachos) August 24, 2014
According to the United States Geological Survey there have been 60-plus aftershocks thus far, ranging from 0.6 to 3.6 magnitude. Our thoughts and well-wishes go out to all of those affected by this natural disaster.