When you ask Founder and CEO Carter Cleveland about where he sees his art world darling, Artsy, in five years, he doesn't shy away from bold ambitions: "The Amazon for the art world." Those ambitions haven't gone unnoticed. In fact, time and time again those ambitions have been bolstered.
Between its official launch in 2012 and July 2017, Artsy amassed a $275 million post-money valuation, according to Pitchbook, thanks to a who's-who of investors including: Larry Gagosian, L Catterton, Thrive Capital, various members of the Rockefeller family and, quite significantly, Avenir Growth Capital. (Dasha Zukhova and Wendi Murdoch are listed as cofounders.)
Its latest deal amounts to a staggering $50 million, increasing the total raised to $101 million—a long way from the dorm room dream the sone of an art writer envisioned in his early years as a computer science major at Princeton.
Today, Artsy boasts the biggest online database more than 800,000 works and 70,000 artists represented. But that isn't why investors are still swooning for the startup; it's diverse portfolio—marketplace, auction house, and content creator—is.
With the most recent influx of capital, it's time for Cleveland to deliver—but what, exactly, is he delivering on?
* * *
The mission statement doesn't mince words: to make all art accessible to anyone with an internet connection—to be the default place people go to learn about and buy art.
And it's well on its way. Since its start, Artsy has grown to include over 800,000 artworks by 70,000 different artists; additionally, it now partners with top-tier auction houses, art fairs, and 1,800 of the world's leading galleries, generating over $20 million in sales each month.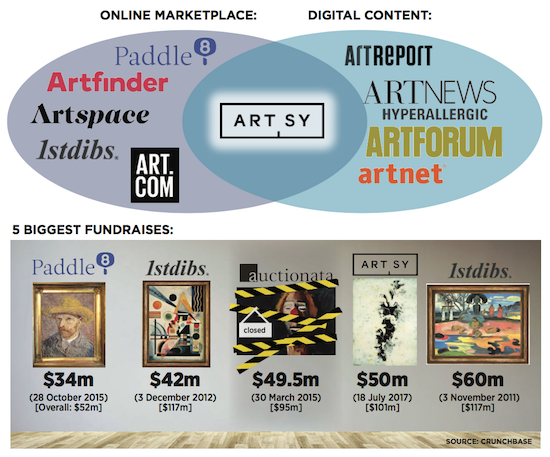 Its foundational database is powered by the Art Genome Project. The algorithm assigns complex values to artwork using 1,000 different gene tags—ranging from subject to period and technique as well as style and movement, each weighted for relevance—as it attempts to codify the DNA sequencing of art.
This, in turn, is applied to the art discovery and education process—mapping out relationships—transforming how people learn about art. As for the $275 million valuation? When people are more easily able to learn about art, they're more eager to buy it as well.
But Cleveland always wanted more than an art-focused Wikipedia or Google. He admires Jeff Bezos and his long term approach at Amazon, continuously reinvesting in the company's R&D. So Cleveland does the same.
Now, the database raises awareness and distribution—and offers a technological aptitude that hasn't existed before in the industry—for artists and galleries, while providing education and discovery opportunity as well as exclusive promotions for collectors and enthusiasts.
The $20 million in sales generated each month say it's paying off.
What began as a commission-based model where galleries would pay Artsy one to six percent of of sales that were generated by site soon (in 2013) became a subscription-based model through which galleries pay between $400 to $1,200 per month to effectively host the gallery online. Then there was the most recent iteration of its revenue model: online auctions. These auctions allowed collectors to bid directly from their computers and smartphones—and have since become the largest revenue drivers to date.
* * *
In 2011, Artsy made original content a core part of their strategy. When Editorial Director Marina Cashdan came on, the majority of the writing was confined to short bios that accompanied images alongside occasional coverage of its gallery partners, often blurring the editorial line. But there's revenue opportunity in that as well, specifically in the way of sponsored content, which they launched successfully in 2015 with a UBS- sponsored series of educational short films about the Venice Biennale.
These days, Cashdan claims they've acquired and maintained their editorial independence, and the publication has experienced significant growth—including 400-percent growth in 2016—claiming about 2 million unique visitors a month across the site.
* * *
The European Fine Art Foundation states the global art market is currently valued at $44 billion annually (despite an estimated $3 trillion of art assets in the world) with less than two percent of qualified buyers participating in the market in response to "high transaction costs, long lead times and limited transparency on pricing and value," according to Avenir cofounder and Artsy investor Andrew Sugrue.
In 2016, $3.75 billion of the $44 billion was spent online, a year-over-year rise of about 15 percent. Artsy has played no small part in the rise—back in 2014, Artsy was able to increase the average distance between art buyer and seller to 2,700 miles, the physical distance evidence of the online sales they have facilitated online.
But what's next?
Having already experimented with video, dance, and performance art, perhaps it will be live video streams for auctions. Or implementation of virtual reality technology. And what about expansion beyond art in the way of patent registrations for other Genome Projects?
Whatever's next, Cleveland's ambitions are left unchecked—we might see an Amazon of the art world yet.