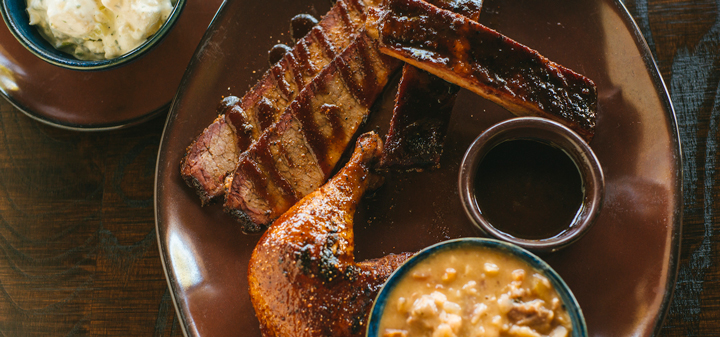 As I wrote before, both wine and barbecue are incapable of lying. Picked too early or cooked too long, it matters not... the wine and barbecue will always whisper into your mouth with complete, unabashed honesty every time you take a sip or bite.
Basically, it comes down to understanding that meats have different flavor profiles, largely determined by their place of origin. Take pork, it is mustard-based in the Carolinas, though not nearly as much as in the Midwest, and ais spicy in the South. So it isn't only a matter of what the meat is, but where the meat is from. While many people instantly pair pork with a white, that isn't always the right way to go. Additionally, big meats — such as brisket or burnt ends — are prime for bigger, bolder wines, but that doesn't mean there aren't alternatives depending on the rubs and smoking style.
Anyway, chew on these words of wisdom to make sure that the truth tastes great.
Forrest Tempel, Barbecue Pitmaster:
"If we're eating really hot barbecue — I call them six-pack ribs 'cause you need a six pack of beer to get through them — we might do white, even a sweet one.
"Different wines make the ribs taste different."
"I love about Bordeaux. There is an earthiness that goes so well with smoked meats."
"This is a marathon, not a sprint. Perhaps stick with beer until the barbecue is ready, then bring out the wine."
"Cotes de Provence and Bandol, which are uber dry roses, are the summer wines of choice in Fort Worth-Dallas. But even though you might no initially think so, they're big and stout enough to hold their own with smoked meats."
Amy Jungk, Executive Vice President at BBQ Spot for Old World Spices & Seasonings:
"Try to avoid the sauce, cause you're going to get the flavor from the smokiness of the meat and the rubs you are using."
"If you have a red wine with peppery background don't pair it with a pork or chicken prepared with a citrus rub. You don't want the flavors to compete, look for similar notes."
"The same is the case for food, wine, and people — embrace those around you with quality."