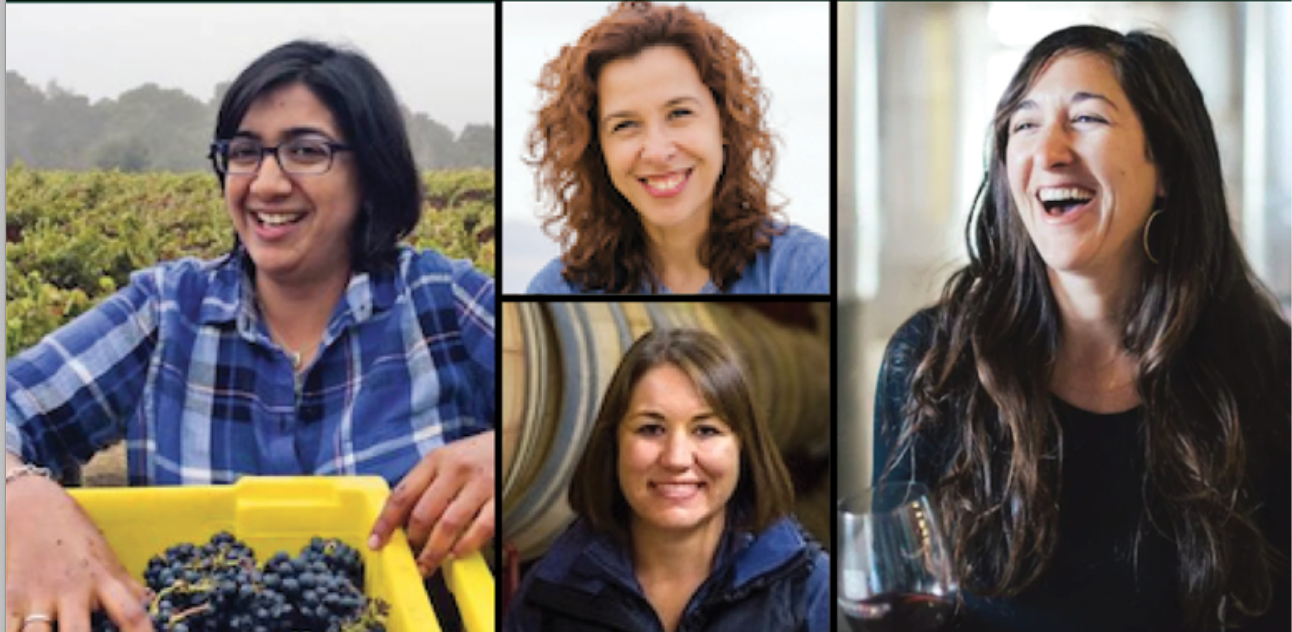 Our oft-cited 2011 study reported that only 10% of California wineries had a woman in their lead winemaker position. Our 2020 follow-up study indicated a modest but significant increase to 14% over the past nine years.1
The career paths of women who moved into lead winemaker positions since our 2011 study, whom we call California's Next Generation Lead Women Winemakers, illuminate important patterns of underlying change. These patterns hold promise in leveling the "playing field" for California's women winemakers.
For this article, we identified sixteen "Next Generation" women winemakers whose career paths illustrate one of three patterns. Two of the three reflect increased opportunity within what has been a traditionally male-dominated field:
The first lead woman winemaker appointed following mentorship by a senior male winemaker at the same winery, and

The first woman winemaker hired into a lead winemaker position at a prominent winery.
A reaffirming third pattern was also identified among their career paths:
Women winemakers who own their wineries or who work as independent consulting winemakers while also developing their own label.
First Lead Woman Winemaker Appointed at a Well-Known Winery Following Mentorship by a Senior Male Winemaker at the Same Winery

Although not everyone needs a mentor to be "successful," mentors are known to be important to career development. Mentors help their mentees develop a vision for themselves, learn important skills and knowledge, and gain self-confidence.
Important illustrative examples come from the career paths of two pioneering women winemakers—MaryAnn Graf, California's first lead women winemaker, appointed winemaker at Simi Winery in Healdsburg in 1973, and Jill Davis, at the time California's youngest lead woman winemaker when appointed at Buena Vista Winery in Sonoma in 1983 at age 27. Both were mentored by the esteemed André Tchelistcheff after his retirement from Beaulieu Vineyard in 1973. They described his mentorship as an intensive and supportive experience and central to their career success.
Six of our Next Generation lead winemakers were mentored by a prominent senior male winemaker. Unlike Graf and Davis, however, these winemakers were mentored by a long-time male winemaker for a position at that same winery. It is not unusual for winemakers to continue in their role for many years, especially at family-owned wineries, and to seek exceptional young talent in filling positions that can help secure the winery's future. Implicit gender bias, however, may make it more difficult for women to successfully compete for these positions. That these successful long-time winemakers at prominent wineries, all men, identified, hired, and then entered into a mentoring relationship with highly qualified young women destined to be appointed as the next winemaker represents an important shift in a male-dominated industry.
The six winemakers are presented in order of when each winery was established to provide some context for the winery's history, the mentoring, and the winemaker's appointment.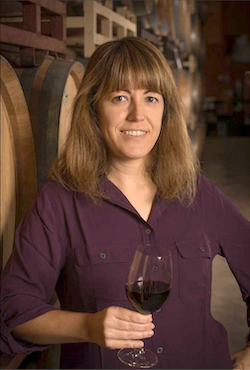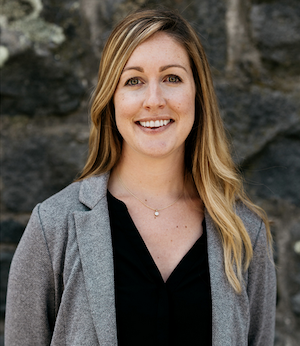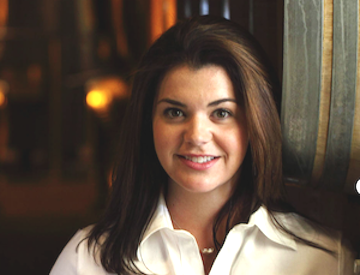 (Photos left to right: Montse Reece, Brittany Sherwood, Maggie Kruse)
Montse Reece, Pedroncelli Winery, Geyserville, Sonoma County. A third-generation family winery, J Pedroncelli dates back to 1927. John Pedroncelli, Jr. became its second winemaker in 1948; a prominent Dry Creek winemaker (1925-2015), he oversaw winery operations for over 60 years. Montse Reece is the third winemaker in the winery's 93-year history.
Montse has roots in the Catalonian region of Spain. She earned a degree in enology from Universitat Rovira I Virgili in Tarragona in 1998, majoring in Agricultural Engineering and Oenology. After gaining experience working at several wineries in Spain and California, she joined the winemaking team at Pedroncelli Winery in 2007. She said, "I was attracted to how similar Pedroncelli was to the wineries in Spain and its very European winemaking style. I thought it was a perfect fit for me."
Montse worked alongside John Pedroncelli, Jr., for seven vintages, during which time she rose to the title of assistant winemaker. Following John's death in 2015, she was named the winemaker. She recalled that: "I have so many memories of working with John. He was extremely knowledgeable about wine and we had great conversations about it. One of my favorite moments is when in the middle of a busy harvest, trying to decide when to bring in the next lot of grapes, he told me, 'people is first;' that was his philosophy, people needed to rest, they were the priority because wine is a reflection of the people who made it."
Pedroncelli produces highly regarded Zinfandel and Cabernet Sauvignon among other varietals and blends from its certified sustainable vineyards. Montse's wines consistently receive high praise from reviewers and garnered gold medals at recent wine competitions.
Brittany Sherwood, Heitz Wine Cellars, St. Helena, Napa Valley. A family-owned winery founded in 1961, Heitz has had two long-time winemakers, Joe Heitz, the founder, and then his son, David, who led the winery until it was sold to another family in 2018. Brittany Sherwood became its third winemaker in 2018.
Brittany worked a harvest at Heitz immediately after graduating from UC Davis with a degree in Viticulture & Enology in 2012 and never left! In mid-2013, she was appointed enologist and three years later, in 2016, as associate winemaker, working closely with David Heitz throughout this time.
When asked about her mentoring relationship, Brittany said, "Working side by side with David for many years taught me many valuable lessons about winemaking, and about leadership as well. He is a truly talented individual who is dedicated to producing outstanding wines. His honesty and transparency made him an outstanding mentor."
Brittany was appointed Director of Winemaking at age 29. She noted that: "working for Heitz Cellars has been a fast-paced growth and learning experience, something that I was certainly looking for when I was getting started in the wine industry. The ability to work with organically grown fruit from a range of AVAs provided a wealth of experience for crafting classically made wines." A strong advocate for the style of wine for which Heitz is recognized—one that requires patience—she said, "There's a purity, finesse, and elegance to a wine crafted with vineyard character preserved, and when it can spend five years in a combination of oak tanks, oak barrels, and bottle before it's released."
Heitz produces several vineyard-designated Cabernet Sauvignons as well as other varietals. Its 2014 Martha's Vineyard Cabernet Sauvignon received a coveted rating of 100 points from Wine Enthusiast. The wine was made by Brittany, alongside David Heitz.
Maggie Kruse, Jordan Vineyard and Winery, Healdsburg, Sonoma County. Jordan is a family-owned vineyard and winery that focuses on producing Cabernet Sauvignon and Chardonnay. The vineyard and winery was founded in 1972 by Tom and Sally Jordan, and Maggie Kruse is only its second winemaker. Its first winemaker, Rob Davis, was recommended for the position by Jordan's then consultant, André Tchelistcheff. Rob remained its winemaker until his retirement in Summer 2019, leaving winemaking responsibilities in the capable hands of Maggie.
Maggie moved from Milwaukee to the Napa Valley after high school to pursue her passion to craft wine. While enrolled at the University of California, Davis, she worked harvests at several wineries. She graduated in 2005 with a B.S. in Viticulture and Enology and joined Jordan Vineyard & Winery in the Russian River Valley, where she worked closely with faculty at UC Davis on programs directed toward improving wine quality. Maggie was promoted to assistant winemaker in 2009 and began overseeing all aspects of barrel ordering, control of cork quality, and bottling, as well as managing cellar work. In 2012, she was named associate winemaker in recognition of her diverse skill set and strong work ethic.
Maggie is now the head winemaker, after working for 14 years under the mentorship of Jordan's long-time winemaker, the aforementioned Rob Davis. She still works closely with Rob, who oversees grape growing for Jordan.
In recognition of her winemaking talents, Maggie received two important honors in 2020: North Bay Business Journal's "Forty Under 40" list and Wine Enthusiast's "40 Under 40 Tastemakers."
Renée Ary, Duckhorn Winery, St. Helena, Napa Valley. Co-founded by Dan and Margaret Duckhorn, Duckhorn produces highly regarded Merlot and Cabernet Sauvignon, among other varietals.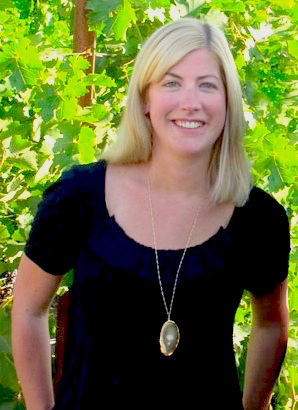 Its founding winemaker, Tom Rinaldi (1976–2000), was followed by Mark Beringer and then Bill Nancarrow, renowned winemakers who became mentors to Renée after she joined Duckhorn in 2003. Renée was named Duckhorn's fourth winemaker in 2014.
(Photo: Renée Ary)
Renée traveled from New Jersey to California for her college education at St. Mary's University. After earning her bachelor's degree in chemistry and art in 1999, Renée accepted a position as a laboratory technician at Robert Mondavi Winery. Fascinated by the fact that successful winemaking is a combination of science and art, becoming a winemaker became Renée's passion and professional goal. In addition to her hands-on work at Mondavi, Renée completed relevant coursework at UC Davis and Napa Valley College.
She further developed her skills and palate under the mentorship of Mark Beringer and Bill Nancarrow, and rose through the ranks from lab manager to enology manager, assistant winemaker, and associate winemaker before being named Duckhorn's winemaker after more than a decade of mastering the Duckhorn Vineyards style.
"Working with the best, I've learned to challenge myself on every level, from a technical understanding of winemaking to the artistry of the blend. I've also learned to view my role as a winemaker as part of an ongoing story. As a winemaker, I am contributing to the legacy of a great winery, and building on the work of the talented people who laid the foundation for excellence."
Renee's debut 2014 vintage of the revered Three Palms Vineyard Merlot was named the "2017 Wine of the Year" by Wine Spectator, topping its annual list of the "World's Top 100 Wines" in 2017.
Jamie Benziger, Imagery Estate Winery, Glen Ellen, Sonoma County. The Benzigers are a well-known Sonoma family, having owned Benziger Family Winery for 35 years, and successfully pioneered the region's green farming tradition.
Imagery, its sister winery, was founded in 1986 by the talented Joe Benziger, Jamie Benzinger's father, who was known for his love of lesser-known varietals. Although both wineries were sold to the Wine Group in 2015, the family has remained very involved, and Joe continued as the winemaker at Imagery. When he retired in December 2017, Jamie was appointed winemaker.
(Photo: Jamie Benziger)
Jamie attended Sonoma State University, earning a B.A. in Business Administration, specializing in marketing and wine business. After she interned at several Sonoma County wineries and did a harvest in New Zealand, her father drew her into the production side of the wine business and served as an invaluable mentor. She did not intend to follow in his footsteps but she shared his passion and drive. Before long, Jamie was working alongside him to help make some 35 different wines, ranging from Chardonnay to Malbec. After being named winemaker, Jamie launched a new tier of wines characterized by unique blends of varietals.
Jamie's advice: "In the wine world, it is important to always work hard and keep driven, especially as a woman. Everyone who has made a name for themselves in this industry has had to prove himself or herself at one point or another, and anyone who enters into it must do the same. I did not want anything handed to me. It was essential that I worked hard and earned it."
Jamie was named the "2019 Best Woman Winemaker" in the International Women's Wine Competition, and appeared on Wine Enthusiast's 2019 list of "40 Under 40 Tastemakers" and the 2020 North Bay Business Journal's "Forty Under 40 list."
Heidi Bridenhagen, MacRostie Winery and Vineyards, Healdsburg, Sonoma County. Founded in 1987 by Thale and Steve MacRostie, with Steve as its first winemaker, Heidi Bridenhagen became its third winemaker in 2013.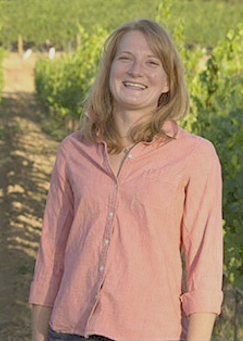 Growing up in rural Wisconsin, Heidi loved the outdoors, math, and science. She earned a B.S. degree in Biochemistry from the University of Colorado, Boulder, in 2006 and then spent time traveling through wine regions in Eastern and Western Europe. She knew on her return that she wanted to pursue a career that combined her scientific expertise and creative skills.
(Photo: Heidi Bridenhagen)
Following a number of harvest and lab experiences in California and New Zealand, Heidi joined MacRostie in 2011, ironically the same day the MacRostie's sold it. Not knowing what this would mean for her career path, her interview experience with Steve, who later became her mentor, was reassuring. According to Heidi, "We spent a few minutes discussing my qualifications, why I thought MacRostie would be a good fit, etc., and then he said, 'It sounds like you are more than qualified for the job, but who are you and what do you like to do in your free time?' We ended up talking for over an hour. . . It made me realize that this would be more than just a job, but a family where I could grow in my career."
In December 2013, the winemaker at the time decided to leave. Heidi laid out her 1-, 3-, and 5-year plans for the winery and became the next winemaker at the age of 27! She continues to work closely with Steve.
A dynamic and gifted winemaker, Heidi consistently receives high scores and accolades for her wines. She does as many as 130 small fermentations each vintage from which to craft the winery's noted Chardonnays and Pinot Noirs.
Brief Summary: These six young winemakers have in common their mentoring relationships with long-time winemakers who recognized and nurtured their talents and abilities, and in one case, even following a change in ownership. The wineries themselves are among California's long-established wineries in Napa and Sonoma, with all dating back to at least 1987.
The stories of the next six women differ in that they were hired into a lead winemaking position on the strength of their accomplishments at previous wineries.


First Lead Woman Winemaker Appointed at a Well-Known California Winery

Relatively speaking, few women have been hired into lead winemaking positions at prominent California wineries since 1973, the year MaryAnn Graf was appointed California's first lead women winemaker at Simi. Indeed, all the pioneering women in lead winemaking positions at established California wineries were the first woman to hold this position at those wineries.
The appointment of the following six women to lead winemaking positions between 2013 and 2020 provides evidence of progress for women winemakers. All six were hired to fill positions that heretofore had been held by men. We present these winemakers in order of the year of their appointment.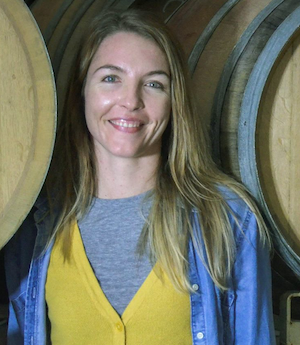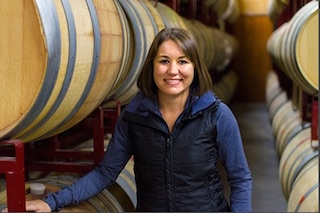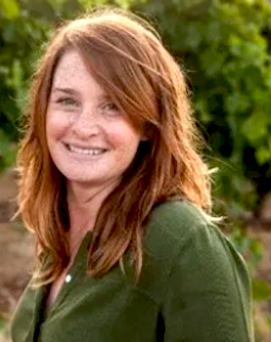 (Photos left to right: Nicole Salengo, Adrienne Rule, Joy Merrilees)
Nicole Salengo, Berryessa Gap Vineyards, Winters, Yolo County. The connection to the land of Berryessa Gap Vineyards, founded in 2002, runs deep, with farming roots going back several generations. Dan Martinez, Sr., father of the current owners of Berryessa Gap, was a first-generation son of Spanish immigrants. In 1969, he was instrumental in creating highly-regarded grapevine rootstock that is the foundation of the winery's vineyards. Nicole Salengo was appointed lead winemaker in 2013, the first woman in this role.
A New Yorker, Nicole came to winemaking after first studying earth science. She completed a B.S. degree in Geology in 2002 and then pursued her dream to move to California. She serendipitously met winemaker Mark West at a wine shop where she was working and began her own journey to winemaker. From 2005 to 2013, she worked at wineries in California and New Zealand before joining Berryessa Gap Vineyards. Nicole found herself drawn to the beauty and possibilities of this lesser-known wine region, saying, "I always try to make wines with a sense of place." She goes on to say, ". . . like my life, my winemaking is a work in progress."
Nicole noted that "we need more women winemakers in the industry." She finds it odd that we still have not reached a point where gender is not even a consideration. Her advice is: "Find your passion and don't let anyone or anything get in your way. Stand your ground and speak up."
Nicole crafts a number of award-winning wines, including Tempranillo, Albariño, and Barbera. With the support of the winery owners, she also just released the first wine of her own brand, Salengo Wines. "It's been a long-time dream that I'm so excited to see come to fruition."
Adrienne Rule, Rideau Vineyard, Solvang, Santa Barbara County. Adrienne Rule was named lead winemaker at Rideau Vineyard in early 2014 and is the first woman to have this role at the winery. A family-owned winery, it was founded in 1997 by Iris Rideau, the first Black woman to own a winery in California.
As a fourth-generation member of a Sonoma County wine family, Adrienne grew up surrounded by the wine business. She began her odyssey to becoming a winemaker following completion of her B.S. degree in Chemistry at California Polytechnic University, San Luis Obispo, in 2004. Although she was from a well-known wine family, Adrienne "wanted to be her own person," and knew that she would need to work harder than others to prove herself.
Her first position was at Vinquiry, the preeminent independent wine laboratory in the Central Coast. Adrienne then worked as an enologist at both Conway Family Wines in Santa Barbara and Bianchi Winery in Paso Robles and as operations manager at The Workshop in San Luis Obispo in order to broaden her knowledge of the day-to-day cellar operations of a winery. These many experiences, and her talents and hard work, paved the way for Adrienne to achieve her current position.
Adrienne's advice: "Find a mentor who sees your potential and pushes." She speaks from experience, having worked with a mentor at crucial points in her career.
At Rideau, Adrienne focuses on crafting Rhône varietals—she loves Rhône blends—along with Sangiovese, Cabernet Sauvignon, and Malbec. As an indication of the wine's quality, Adrienne noted that in 2018, "We received four 94-point scores from the Wine Advocate for our Rhône wines, two for our Estate-grown Viognier and Roussanne. The review of the Viognier stated that it would sit comfortably with Condrieu's top dozen!"
Joy Merrilees, Shannon Ridge Vineyard & Winery, Lower Lake, Lake County. Shannon Ridge, founded in 2002, has a dynamic and talented winemaking team headed by Joy Merrilees, its Director of Winemaking and Production since 2014. The team is responsible for producing the winery's fifteen brands, which include red and white varietals as well as blends.
Joy, a native of Lake County, brings a wealth of experience to her position at Shannon Ridge. She earned a B.S. in Plant Science and Landscape Design from Humboldt State University and continued her formal education through winemaking courses at Lincoln University in New Zealand and the extension program at the University of California, Davis.
Her winemaking experience includes both domestic and international winemaking and production. Her first position was at Steele Wines in California, where Joy worked with Jed Steele as a "cellar rat" starting in 2005, and was promoted to assistant winemaker two years later. Joy said, "I was persistent in getting that position, and I learned a lot from him." She later worked at Margaret River Vintners in Western Australia and a number of wineries in New Zealand, and at J. Christopher Wines in Oregon, from 2011 to 2014.
Highly motivated and comfortable with challenges, Joy is passionate about the growing wine industry in Lake County and her work at Shannon Ridge. In her own words, "I love logistics, and the rush of harvest, but probably the best part is calling the pick. The entire vintage hangs on that one decision. You just hope you've got it right."
Shannon Ridge wines consistently receive positive ratings. Most recently her 2017 Shannon Ridge High Elevation Zinfandel and 2017 Vigilance Rosé received 92 and 90 points, respectively, from Wine Enthusiast.
Ana Diogo-Draper, Artesa Vineyards & Winery, Napa, Napa County. Ana Diogo-Draper was named Director of Winemaking at Artesa in 2015, the first woman to hold the top winemaking position since its founding in 1997.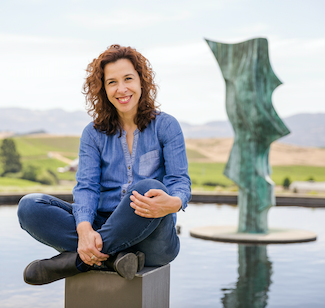 A native of Portugal, her passion for agriculture and winemaking was nurtured from an early age as she experienced planting vines with family and neighbors. After earning a B.S. degree in Agriculture Engineering from the University of Évora, she joined the winemaking team at Rutherford Hill Winery in Napa Valley as a harvest intern in 2005, where she stayed for eight years and successfully moved up to assistant winemaker. She accepted a comparable winemaking position at Artesa in 2013, and when its winemaker left for another position less than two years later, Ana was named Director of Winemaking.
(Photo: Ana Diogo-Draper)
Ana is known for her collaborative approach and thrives in the fast-paced environment of a winery. She embraces her wide diversity of roles from laboratory analysis and quality-control assurance to creative applications such as sensory analysis and blending. Fluent in English, Portuguese, Spanish, and French, she provides the winemaking team with a truly international perspective. Among her initiatives is redeveloping the estate's vineyards by introducing new clones, using rootstocks better fitted to its soil types, and planting Cabernet Sauvignon vines on the highest elevations of the property.
As an indication of her growing stature in the field, a recent Wine Spectator article that focused on California's cooler-climate Chardonnays recognized Ana "as a leader in the push toward a less oaky, more restrained stye of Chardonnay, producing fresh and refined versions from her winery's Carneros vineyards."
Laura Díaz Muñoz, Ehlers Estate, St. Helena, Napa County. Laura Muñoz made history in 2018 as the first woman named as lead winemaker at Ehlers Estate, only the third lead winemaker in the winery's history.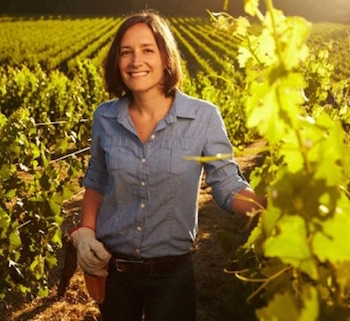 Laura, born and educated in Madrid, Spain, was drawn to science as a child. She first studied biology and food sciences and then completed an Enology degree and a Master's degree in Enology, Viticulture, and Marketing in 2004. The idea of a woman winemaker was not accepted by her community, friends, or family at the time, but she persevered. After graduating, Laura worked in the Andalusia region, focusing primarily on Spanish varietals, and worked a harvest in New Zealand to learn about Sauvignon Blanc while perfecting her English.
(Photo: Laura Díaz Muñoz)
She moved to Napa Valley in 2007 and began over a decade of work with Jackson Family Wines as associate winemaker and then winemaker. In mid-2018, she joined Ehlers Estate, a family-owned winery created in 2001, as Winemaker and General Manager. Laura's winemaking perspective is rooted in the Old World and provided a good fit with Ehlers's wines, produced from estate vineyards and farmed organically.
Laura's earliest memories were set in her grandmother's kitchen: "She taught me the beauty of simple food, prepared well. This is the philosophy I bring to my winemaking. I believe that if you start with great ingredients, there's no need to complicate the process in the cellar." She added, "My greatest aspiration is to make wines that are reflective of the unique fruit and minerality character of the Ehlers Estate vineyard, with long finishes and distinct textures that are difficult to forget on the palate."
Wine reviewers agree and provide high praise for her wines, which include Cabernet Sauvignon and Sauvignon Blanc, among other varietals.
Molly Lonborg, Alta Colina Vineyard & Winery, Paso Robles, San Luis Obispo County. Alta Colina, a family-owned winery, was founded in 2003 by Maggie and Bob Tillman, with Bob as its long-time winemaker.
Molly Lonborg was appointed winemaker at Alta Colina in March 2020, and given that the winery is known for its excellent Rhône-style wines, it comes as no surprise that Grenache is Molly's favorite varietal by far.
(Photo: Molly Lonborg)
Molly is a 2009 graduate of California Polytechnic State University, San Luis Obispo, with a B.S. degree in Earth Sciences and a concentration in Wine and Viticulture. She has traveled extensively and studied geology at the University of Otago in Dunedin, New Zealand. But it was winemaking that ultimately drew her professional attention.
She worked her first harvest at Baileyana in the Edna Valley and furthered her cellar experience at Justin Winery. From there, Molly moved on to Halter Ranch in Paso Robles in mid-2011, quickly moving up the ranks, from enologist, to assistant winemaker, and in early 2018, to associate winemaker.
When we asked Molly about what attracted her to Alta Colina in 2020, she said, "First and foremost was the vineyard. My passion is making Rhône wines from organically-farmed, high-elevation fruit, and playing with clonal selections. I have always wanted to work for a family-owned and operated winery that produces small quantities of high-quality wine, has passion for wine, and provides room to experiment both in the vineyard and the winery. Working alongside long-time winemaker and owner Bob Tillman and continuing to build on his legacy is an honor."
Molly was named winemaker of the month by Wine Business Monthly in February 2020. Clearly, she has a bright future in the making.
Brief Summary: These six accomplished young winemakers have in common being the first woman to be appointed the lead winemaker in the history of their current winery. Nearly all are employed at a family-owned winery established around the turn of the century and vary from seven years to seven months in the time they have held their lead winemaking position. The wineries are located in five different California wine regions and are small- or medium-sized wineries with regard to case production.


Women Winemaker/Owners and Independent Consulting Winemakers

The third important theme we identified is women winemakers who own their wineries or who work as independent consulting winemakers while also developing their own label. A number of pioneering women winemakers, such as Cathy Corison, Merry Edwards, and Pam Starr, set having their own winery as their goal while first holding positions as winemakers elsewhere. Others took a somewhat different path and became well known as independent consultants and also established their own labels. Examples include Mia Klein, Heidi Peterson Barrett, and Celia Welch.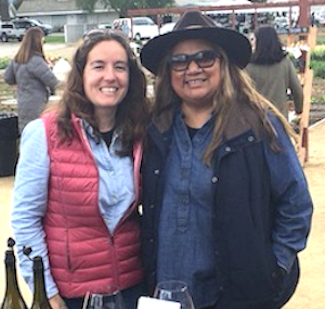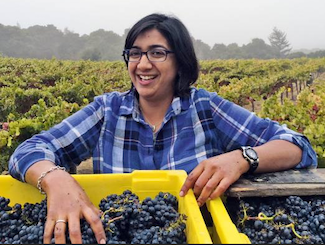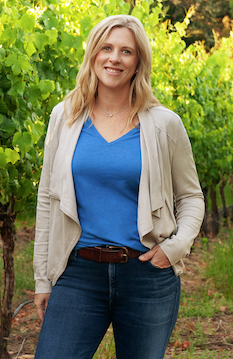 (Photos left to right: Tara Gomez (r), Mireia Taribó2, Shalini Sekhar, Katy Wilson)
Tara Gomez and Mireia Taribó, Camins 2 Dreams, Lompac, Santa Barbara County. Tara Gomez and her wife, Mireia Taribó, a dynamic winemaking twosome, launched Camins 2 Dreams ("Path 2 Dreams"), a jointly owned and operated winery. The winery, started in 2017, is the culmination of their personal and professional aspirations and represents a harmonious blending of two cultures, Native American and Spanish.
Tara, a member of the Santa Ynez band of Chumash Indians located near Santa Barbara, experienced an early fascination with wine as she accompanied her parents on wine tours during her childhood; the aromas and processes surrounding winemaking mesmerized her. A B.S. in Enology in 1998 from California State University, Fresno, was followed by experiences at wineries in the U.S. and abroad. Tara is committed to producing wines in a sustainable way and knows that, in her own words, "In winemaking, you can do everything you can, but you still have to consider the influence of Mother Nature."
For Mireia, wine was a part of every family meal when she was growing up in Catalonia and prompted her desire to learn more about it. Degrees from universities in Barcelona, Tarragona, and the Penedés region of her home country prepared her for practical experiences at wineries in Spain and the U.S. and ultimately led her to join Tara in California.
Camins 2 Dreams is focused on cool-climate varietals such as Syrah and Grüner Veltliner that thrive in the foggy mornings and cool nights of the Santa Rita Hills, an appellation in Santa Barbara County. Their excellent wines are already receiving positive attention. The Camins 2 Dreams 2018 Zotovich Vineyard Syrah was awarded 95 points by Wine Enthusiast.
Shalini Sekhar, Ottavino Wines, San Francisco, San Francisco County. When Shalini Sekhar moved to California in 2005 from New Jersey with a Master's Degree in Music Performance, she never imagined that her long-time love of wine would lead her to a full-time career in winemaking. While looking for a teaching position, Shalini worked in a tasting room, which led to doing a harvest, changing career paths, and completing the post-baccalaureate enology program at California State University, Fresno.
Experiences at a number of wineries led to positions in the custom-crush business, first at Copain Custom Crush in 2011 as the cellar master running day-to-day cellar operations for over 40 wineries, and then at ROAR wines in San Francisco from 2013 to 2015. In 2016 she began working directly with clients, and in 2017 formed her own winemaking consulting business, Ottavino Wines, where the focus is on artisanal winemaking with clients from grape-growing regions in Northern California.3 Shalini currently crafts wines for four clients, including Waits-Mast and Neely, and has plans to launch two small-production wines under the Ottavino label, a white in Spring 2021 and a red the following year.

The Pinot Noir and Chardonnay crafted by Shalini consistently receive high praise. She was named "Winemaker of the Year" at the San Francisco International Wine Competition in 2015 for her work with Furthermore. In 2019, she was designated a "Winemaker to Watch" by the San Francisco Chronicle.
Shalini, who is Indian American, "often finds herself to be the only woman or person of color in the room." She hopes to help give others some of the opportunities that she has fought to have.
Katy Wilson, LaRue Wines, Sebastopol, Sonoma County. Katy Wilson made up her mind to become a winemaker when she was 18. At the time, she was studying Agricultural Business at California Polytechnic University, San Luis Obispo. Having grown up on a California walnut orchard, Katy learned to drive a tractor before she learned to drive a car. She graduated from Cal Poly in 2005 with majors in both Wine & Viticulture and Agricultural Business and started her journey in the wine industry with harvest internships in different regions of California and in Australia and New Zealand.
Katy worked her way up from harvest enologist to assistant winemaker at Flowers Winery in Sonoma and then moved on to Kamen Estate Wines in 2009 as the associate winemaker, where she made Cabernet Sauvignon and Syrah for five years. While there, her dream of making wine under her own label began to take shape and within a few years she debuted the first vintage of LaRue Wines, a boutique portfolio of ultra-premium Pinot Noir and Chardonnay from the Sonoma Coast.
On the heels of launching LaRue, Katy also launched her own consulting business in 2012, which quickly took off. Today, she is a sought-after consulting winemaker and currently makes the wines for Smith Story Wine Cellars, Reeve Wines, and Anaba Wines in Sonoma. She first crafted her LaRue wines at Kamen and now does so at Anaba. "I feel so fortunate to make my wine at a place where I work as the winemaker!"
Katy's talent for producing distinguished Pinot Noir and Chardonnay, among other varietals, is reflected in the consistently high scores her wines receive from wine critics. She was acclaimed as a "Winemaker to Watch" by the San Francisco Chronicle in 2013.
Brief Summary: These four winemakers well represent the range of opportunity associated with this third theme. All have or plan to have their own labels, but they are taking different paths to achieve this. Tara Gomez and Mireia Taribó have established their own winery and brand in Santa Barbara County and are the owner/winemakers. Katy Wilson and Shalini Sekhar are both consulting winemakers at different stages of developing their own labels in Sonoma and Northern California, respectively. They all have in common great talent and great passion for the wines they craft.


Concluding Comments

What a pleasure to describe the career paths and accomplishments of these 16 "Next Generation" lead women winemakers! As a group, they hail from nearly all of California's wine regions. Many came to California from other parts of the U.S. or other countries to pursue their winemaking dream. They bring not only talent, passion, commitment, and verve to their professional roles but also extensive knowledge of other winemaking regions and cultural traditions. They likely needed to work twice as hard to achieve their positions, and they did so with great aplomb.
If this "Next Generation" provides an accurate assessment, the future of winemaking in California remains in very capable hands.


Footnotes

1. Gilbert, L. A. and Gilbert, J. C. (2020). California's Lead Women Winemakers Show Slow, Steady Progress from 2011 to 2020.
2. Photo credit @craftandcluster
3. Ottavino is the Italian term for the piccolo, Shalini's primary musical instrument.

Author Bios: Lucia Albino Gilbert, Ph.D., and John C. (Jack) Gilbert, Ph.D., both professors emeriti, have had long and distinguished careers at The University of Texas at Austin and Santa Clara University and are widely published in their fields. Their research on facilitating women's career success in male-dominated scientific fields such as winemaking combines Lucia's academic field of Psychology and John's academic field of Organic Chemistry. The acclaimed book, Women Winemakers: Personal Odysseys, is among their recent publications. They can be reached at [email protected]. Their research website is www.womenwinemakers.com.