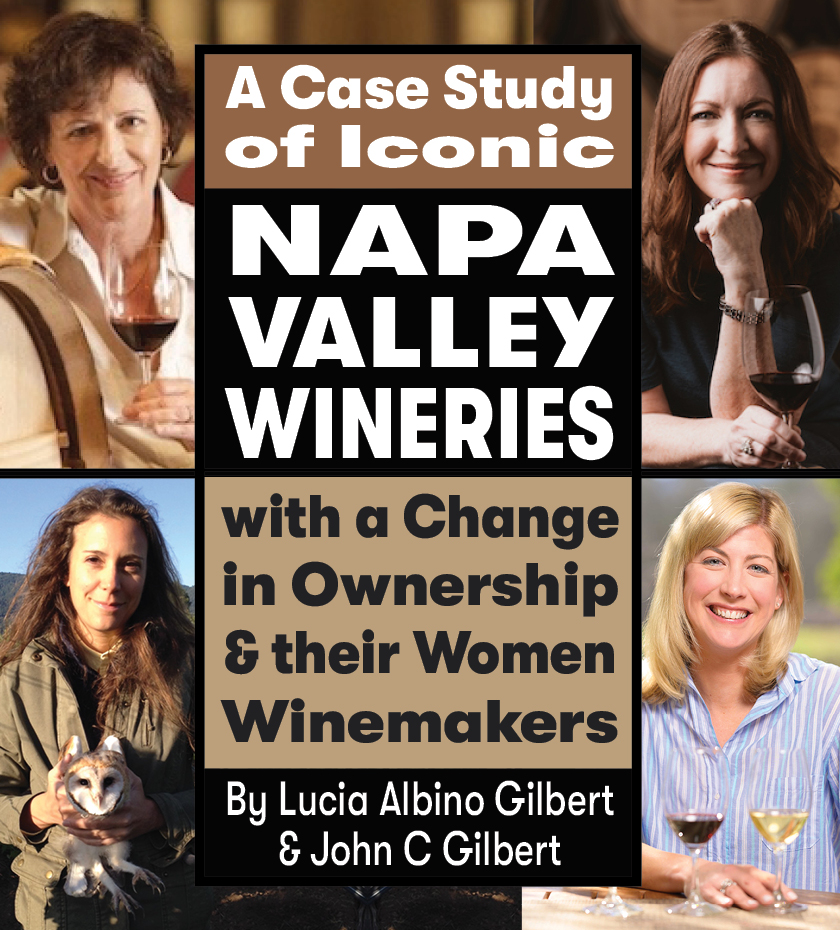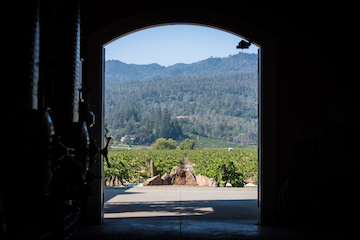 We were recently gifted Napa: Behind the Bottle, a wonderful book of photographs in which Bill Tucker depicts the owners, winemakers, and workers of Napa's iconic family wineries and vineyards at the end of the 20th century. The first of these photographs are of Robert and Margrit Mondavi.
(Corison Winery, Napa, courtesy of Cathy Corison, the first woman winemaker/proprietor in Napa Valley. Photo credit: Bob McClenahan Photography)
The Mondavis are legends in the development of the California wine industry. Robert is viewed by many as instrumental in putting Napa Valley on its path to greatness, and both Margrit and Robert were known for the artistic sensibility that enveloped their love of wine, food, and the arts. In her preface to Napa: Behind the Bottle, Margrit noted that "This book is a collection of the passionate, good people that made the Napa Valley famous for its great wineries. Looking at these amazing faces, you understand that as Robert Mondavi said, 'Making good wine is a skill. Fine wine is an art.'" The "good people" photographed by Bill Tucker were associated with Napa's top wineries, as is further evidenced by their inclusion in James Laube's Wine Spectator's California Wine (1999) and Jim Gordon's Opus Vino (2010).
The Case Study
In light of the recent attention being given to changes in Napa Valley, we used the 87 wineries in Tucker's book as the basis for a case study of (a) wineries that have had a change in ownership since 2000, (b) who now owns these wineries, and (c) which of these wineries currently have a winemaker who is a woman.
We found that 83 (95%) of these wineries were independently family-owned in 2000, and in most cases by the founding family owners. By 2022, 64 (74%) of the wineries were still owned by the same family. Thus, 19 wineries (22%) had experienced a change in ownership since 2000 and are now owned by another entity (e.g., Boisset Family Estates, Constellation, E. & J. Gallo, Lawrence Wine Estates, Jackson Family Wines, private equity groups).
We reported in our oft-cited 2011 study that only 10% of California wineries had a woman in their lead winemaker position. Our 2020 follow-up study indicated a modest but significant increase to 14% over the past nine years.
Women being hired into lead winemaking positions is dependent on those positions being available, of course, and a change in ownership is often associated with a change in winemaker. In addition, recent changes in attitudes and hiring practices have helped level the playing field for qualified women. Thus, we were interested in identifying which, if any, wineries that had experienced a change in ownership had a woman as its lead winemaker in 2022, and whether that winemaker was a new hire made around the time of the purchase.
Of the 19 wineries that had a change in ownership, we identified nine (47%) at which a woman currently holds the lead winemaking position. In the forthcoming sections, we briefly describe the history of these wineries and their current owners, and then focus on the career paths of these nine winemakers and the wines they craft. The first section focuses on the five wineries with a change in ownership that did not change its women winemaker, and the second section concerns the four wineries with a change in ownership that also had a change in winemaker.
Further details about the case study appear in the Notes 1 and 2 to this article.
The Wineries with Continuing Women Winemakers
Eight of the 19 wineries in our case study had a change in ownership but not winemaker, and five of the eight retained a lead winemaker who was a woman. We start with Robert Mondavi Winery and its long-time winemaker Geneviève Janssens.
Robert Mondavi Winery. Founded in 1966 by Robert Mondavi with his oldest son Michael, the winery became known for its excellent Reserve Cabernet Sauvignon and Reserve Fumé Blanc. Geneviève Janssens, born in Morocco and educated in France, became Mondavi's Director of Winemaking in 1997, when it was still family-owned, and continued in this position after the winery's purchase by Constellation in 2004. Now its Chief Winemaker, she was Director of Winemaking from to 1997 to 2018. Geneviève is unique among the winemakers at the wineries in our case study that experienced a change in ownership since 2000: she is the only woman who has held the position of lead winemaker since the turn of the century.
With her prior extensive experience as an enologist in France and Director of Production at Opus One, in 2000 she helped implement the winery's first major renovation, in the form of a multilevel winemaking facility. The resulting To Kalon Fermentation Cellar allows the winery to make Napa Valley Cabernet Sauvignon Reserve and Oakville District Cabernet Sauvignon in a quality winemaking facility using fruit from the legendary To Kalon Vineyard. To Kalon is also the source for the Robert Mondavi Reserve Fumé Blanc, an acclaimed Sauvignon Blanc. Notably, Geneviève has received France's "Croix de Chevaliere dans l'Ordre du Merite Agricole" and other recognitions, including being named Wine Enthusiast's 2010 Winemaker of the Year and Best Women Winemaker by "SAKURA" Japan Women's Wine Award in 2020.
(Geneviève Janssens)
In a recent correspondence, Geneviève noted that the winery's future is bright. The 2019 Robert Mondavi Cabernet Sauvignon Oakville The Estates is among Wine Spectators' Top 10 Wines for 2022, and the acclaimed Napa winemaker, Sally Johnson Blum, recently joined their winemaking team as Director of Winemaking. Geneviève added that what she has most liked during her time at Mondavi "was the confidence that the management of the winery had in us. Lots of camaraderie, respect and passion shared all together. Teamwork was and still is paramount. Nothing could have been achieved without these elements. Mr. Mondavi was a leader with clear goals and directions. Trusting people was his secret. We are still continuing to follow his dream."
Given her long career at the winery, we asked what has been her most satisfying achievement. Her response clearly reflected Mr. Mondavi's mantra: "Working with newly hired oenologists and mentoring them to become accomplished winemakers who can fly on their own." She added that "exchanging knowledge with fellow winemakers is on its own a wonderful adventure with so many great satisfactions."
Duckhorn Vineyards. Founded in 1976 by Dan and Margaret Duckhorn, Duckhorn Vineyards produces highly regarded Merlot and Cabernet Sauvignon, among other varietals. Duckhorn Vineyards is part of the Duckhorn Portfolio, Inc., which became majority owned by TSG Consumer Partners, a private equity firm, in 2016.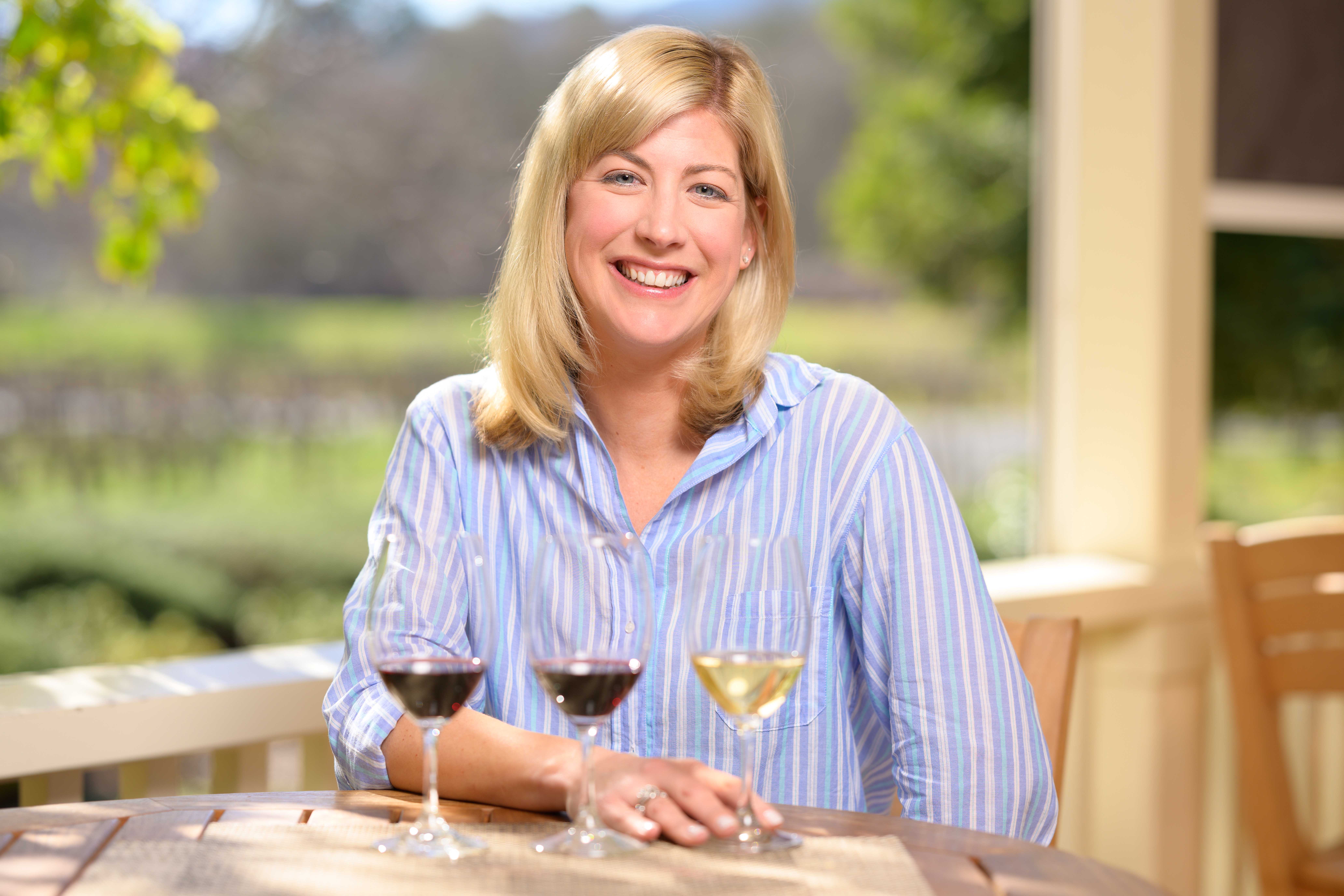 The winemaker at Duckhorn, Renée Ary, began her career by accepting a position as a laboratory technician at Robert Mondavi Winery immediately after earning her bachelor's degree in chemistry and art in 1999. Fascinated by the fact that successful winemaking is a combination of science and art, becoming a winemaker became her passion and professional goal. While working at Mondavi, Renée completed relevant coursework at the University of California, Davis, and Napa Valley College.
(Renée Ary. Photo credit: Bob McClenahan Photography)
Renée joined Duckhorn in 2003 as laboratory manager and rose through the ranks to enology manager, assistant winemaker, and associate winemaker. In 2014, after more than a decade of mastering the Duckhorn Vineyards style, she became the fourth winemaker in Duckhorn's four-decade history. Its founding winemaker, Tom Rinaldi (1976–2000), and its subsequent winemakers, Mark Beringer and Bill Nancarrow, were her mentors. Renée's debut 2014 vintage of the revered Three Palms Vineyard Merlot was named the "2017 Wine of the Year" by Wine Spectator. Her 2018 Three Palms Vineyard Merlot was among Wine Enthusiast Magazine's "Top 100 Cellar Selections of 2022." Duckhorn Vineyards has been listed in Wine & Spirits Top 100 Wineries for each of the past three years.
Renée says what she most loves about being the winemaker at Duckhorn is making high quality wines that show a sense of time and place. "I have access to some of the best fruit in Napa and I'm able to work with so many different viticultural areas and varietals. I'm also a part of a vision and ongoing tradition that Dan and Margaret Duckhorn started over 45 years ago. Continuing that tradition of quality and excellence through shaping some of the best wines in the world is incredibly rewarding."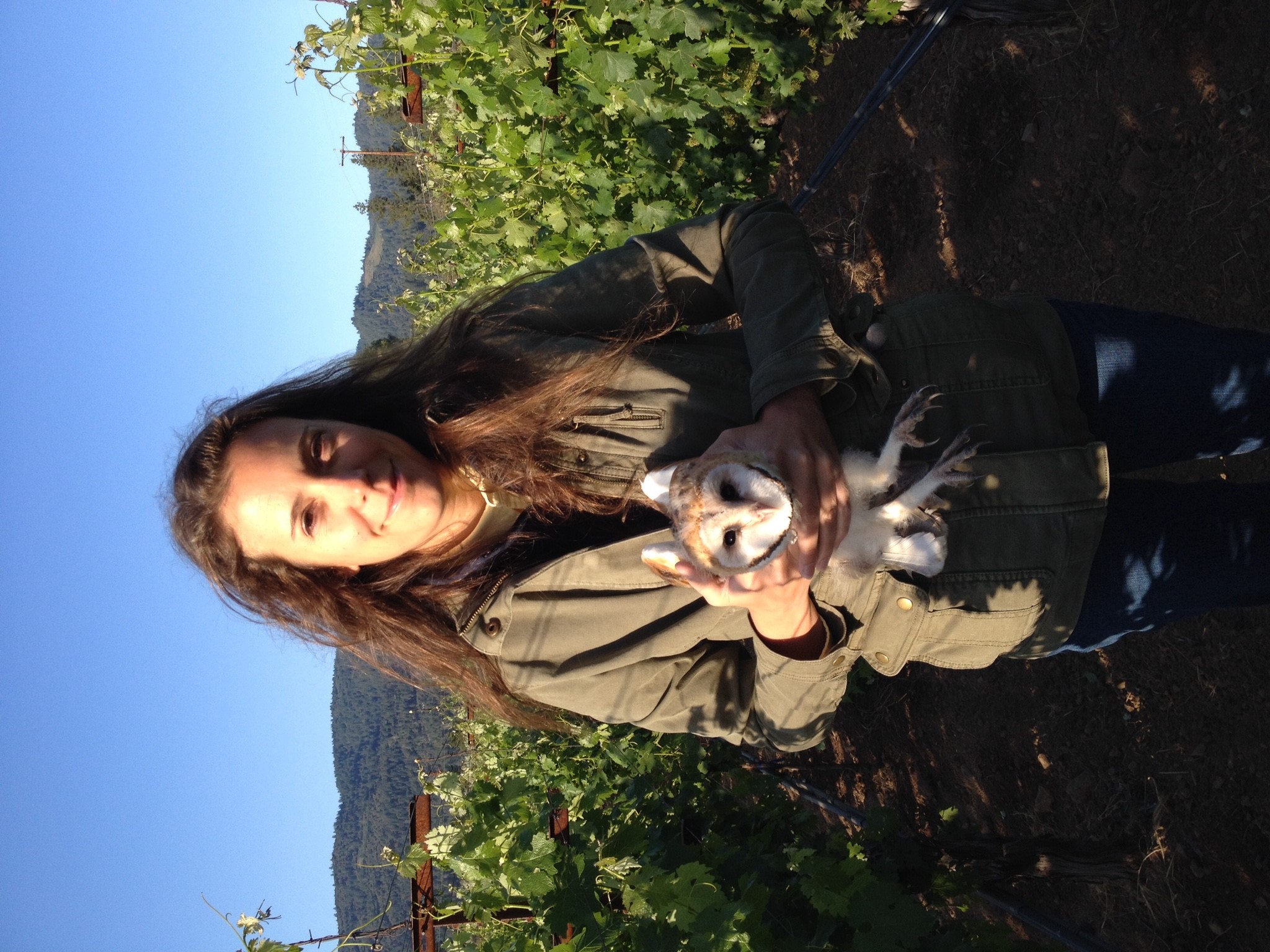 Eisele Vineyard Estate. Formerly known as Araujo Estate Wines, and renamed Eisele Vineyard Estate in 2016, the winery was founded in 1990 by Bart and Daphne Araujo and purchased by the Artemis Group in 2013. Eisele Vineyard Estate produces excellent wines, particularly Cabernet Sauvignon and Syrah.
(Hélène Mingot)
A well-known winemaker with extensive experience, Hélène Mingot has been the lead winemaker at Eisele Vineyard since 2013. Raised in France's famed Loire Valley, Hélène attended the School of Agriculture in Angers, earning her Master of Science in 2001, and the Agronomy National School of Toulouse, where she received the French National Diploma of Oenology. She then became a cellar master in Bordeaux, before working in Italy and now Napa Valley. It was while in Italy that Hélène was introduced to the famed Bordeaux consultant Stéphane Derenoncourt, and in 2006 he chose Hélène to be the winemaker for his Napa project. Stéphane's commitment to terroir expression and sensitive handling of vines and grapes has deeply influenced Hélène's own approach to vineyard-tending and winemaking.
As Eisele Vineyard's head winemaker and vineyard manager, Hélène has reaffirmed her convictions regarding biodynamic farming and wines of integrity and finesse. Her 2016 Eisele Vineyard Napa Valley Cabernet Sauvignon was awarded 100 points by both Decanter and Robert Parker's Wine Advocate.
Heitz Cellar. Founded in 1961, the Heitz family owned and operated Heitz Cellar for three consecutive generations. The winery has had two long-time winemakers, Joe Heitz, the founder, who died in 2000, and then his son, David. Brittany Sherwood, who had worked closely with David, became its third winemaker in 2018, the same year the winery was purchased by Gaylon M. Lawrence, Jr.'s Lawrence Wine Estates. Lawrence is an agricultural magnate and investor from the Midwest, and Heitz Cellar was his first winery purchase.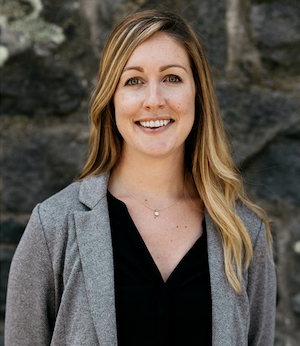 Brittany worked a harvest at Heitz immediately after graduating from the University of California, Davis, in 2012 and remained with the winery. In mid-2013, she was appointed enologist and three years later, as associate winemaker, working closely with David Heitz throughout this time. Brittany became Director of Winemaking in 2018, at age 29. When asked about her mentoring relationship for our earlier article, "California's Next Generation Lead Women Winemakers," Brittany said, "David's honesty and transparency made him an outstanding mentor."
(Brittany Sherwood)
She further noted that ". . . working for Heitz Cellar has been a fast-paced growth and learning experience, something that I was certainly looking for when I was getting started in the wine industry. The ability to work with organically grown fruit from a range of AVAs provided a wealth of experience for crafting classically made wines." A strong advocate of the style of wine for which Heitz is recognized—one that requires patience—she said, "There's a purity, finesse, and elegance to a wine crafted with vineyard character preserved, and when it can spend five years in a combination of oak tanks, oak barrels, and bottle before it's released."
Heitz Cellar produces several vineyard-designated Cabernet Sauvignons as well as other varietals. Its 2014 Martha's Vineyard Cabernet Sauvignon received a coveted rating of 100 points from Wine Enthusiast. The wine was made by Brittany alongside David Heitz. Brittany's Heitz Cabernet Sauvignon Oakville Martha's Vineyard 2016 ranked third in Wine Spectator's ranking of the top 100 wines in 2021.
Joseph Phelps Vineyards. Founded in 1973 by Joseph Phelps, Joseph Phelps Vineyards is well known for Insignia, its flagship wine, a Cabernet Sauvignon-forward blend of red Bordeaux varietals, as well as its Cabernet Sauvignon, Chardonnay, Pinot Noir, and sparkling wine. The winery was purchased by the Moët Hennessy division of LVMH in 2022.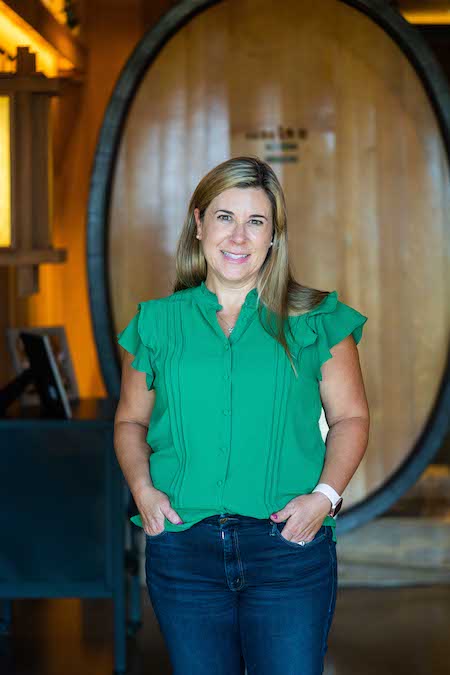 With a B.S in biology and a minor in chemistry and experience working in restaurants, Ashley Hepworth joined Joseph Phelps Vineyards as a harvest intern in 1999 and stayed on to become a laboratory technician and enologist. Working closely with Joseph Phelps and his team, she became associate winemaker in 2004. The next year, she gained international experience by working a harvest in Bordeaux, and in 2006 she furthered her formal education by earning a winemaking certificate from the University of California, Davis. Ashley was appointed the lead winemaker in 2008.
(Ashley Hepworth)
Ashley credits winery founder, Joseph Phelps, who died in 2015, with establishing the overall philosophical approach that guides the winery today. When asked, "What do you most love about your position as winemaker," she responded, "I love that I have such a great team, many of whom I've worked with since the beginning of my career here at Joseph Phelps. I am also so fortunate to have estate vineyards throughout Napa Valley to make a wine like Insignia. Joe Phelps always said, 'Don't stop at good, make it great.' He always pushed the winemaking team to explore, to do better. There was no limit. That is how I approach each day as a winemaker."
Ashley is dedicated to advancing winemaking practices throughout the Napa Valley and has endeavored to establish critical quality-control protocols at the winery. She is also passionate about collaborating with colleagues throughout the valley and welcomes opportunities to connect and discuss the triumphs and struggles winemakers face throughout the year.
The Wineries with Newly Appointed Women Winemakers
Among the eleven wineries with a change in ownership and winemaker, four (36%) appointed a lead woman winemaker.
Burgess Cellars. Tom Burgess founded Burgess Cellars on Howell Mountain in 1972, and produced excellent Cabernet Sauvignon, Merlot, and Syrah with his long-time winemaker, Bill Sorenson (1972-2012). The winery was sold in September 2020 to Lawrence Wine Estates, and Meghan Zobeck was appointed its new winemaker, replacing Kelly Woods, the winemaker at Burgess Cellars since 2013 and only the second winemaker in the 45-year history of the property (see Note 4).
Meghan, who earned a degree in Integrative Physiology at the University of Colorado, Boulder, has considerable international harvest experience. In 2009, she spent her first harvest working in the cellar at Clos Apalta, a biodynamic winery in the Colchagua Valley of Chile. She went on to work for a small, family-owned organic winery in Italy's Piemonte region, followed by stints in the Bordeaux region of France, and in Australia's Barossa Valley before arriving in the Napa Valley. There, Meghan worked for Stag's Leap Wine Cellars and Screaming Eagle before joining Atelier Melka in January 2015 as associate winemaker; she was also the consulting winemaker at Trois Noix. In her current position, she is particularly passionate about marrying old world/historic Napa with low-intervention winemaking styles and regenerative farming. Her background has been particularly helpful to Burgess because several weeks after the ownership change and her appointment as the new winemaker in 2020, the Glass Fire burned through the property and destroyed the winery and several other buildings; fortunately, the vineyard was left intact.
Freemark Abbey Winery. The Tychson family purchased this St. Helena property in 1886 and established Tychson Cellars. Following the death of her spouse, Josephine operated the winery until 1894, one of the very few women at the time to manage a winery in Napa Valley. The winery went through several hands in the ensuing years, and the new owners in 1939 changed its name to Freemark Abbey. Winemaker Ted Edwards (1980–2020) became a partner in 1993 and remained the head winemaker through additional ownership changes, including its purchase in 2006 by Jackson Family Estates. In January 2020, he became Winemaker Emeritus and selected Kristy Melton to carry the baton forward as head winemaker. Freemark Abbey is known for its classically-styled Cabernet Sauvignon and Chardonnay.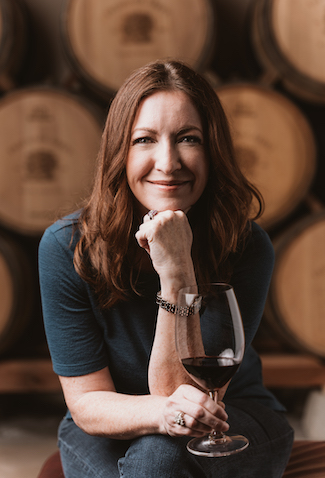 Kristy holds B.S. degrees in Animal Science and in Biology, and her passion for science and medical research led her to the National Institutes of Health in Bethesda, Maryland, as a research scientist. A family trip to Napa Valley brought the realization of the science that underlies winemaking and inspired her to earn an M.S. degree in Viticulture & Enology from the University of California, Davis, in 2007. After completing several internships, she joined Napa's Saintsbury winery as enologist. Subsequently, she was appointed as Clos du Val's assistant winemaker in 2010, was promoted to winemaker in 2012, and then to Director of Winemaking. While at Clos du Val, Kristy was named to Wine Enthusiast Magazine's "Top 40 Under 40 Tastemakers" and Drinks Business's "Top 30 Under 40 Winemakers in the World."
(Kristy Melton)
She joined the team at Jackson Family Wines in 2016 and made wines for several of its brands, including Kendall-Johnson. In January 2020, Kristy became the first women winemaker at Freemark Abbey Winery since its founding in 1886. Kristy crafts wines of structure, finesse, and balance. When asked what she most loves about her position, she said, "I truly love making a product I am passionate about and sharing it with people that love it! It is so rewarding to have brought this dream to fruition."
Raymond Vineyards. The Raymonds are among the oldest winemaking families in Napa Valley. Roy Raymond was the winemaker at Beringer Vineyards for many years, and when the winery sold to a corporate entity in 1971, Roy and his two sons established Raymond Vineyards that same year. Known for producing high quality Cabernet Sauvignon, Walter Raymond followed his father as winemaker. The winery was sold to Boisset Family Estates in 2009. Shortly after the sale, Stephanie Putnam joined Boisset Family Estates as Director of Winemaking at Raymond Vineyards and is the first woman to hold this position.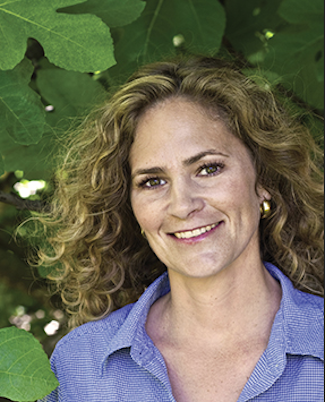 Stephanie, a graduate of the University of California, Davis, accepted an internship at The Hess Collection in Napa immediately following her graduation from Davis and progressed from cellar worker to winemaker over a ten-year period. She then was recruited to Far Niente in Napa and held its lead winemaking position for eight years, just before joining Raymond Vineyards. Throughout her tenure at these highly acclaimed Napa Valley estates, Stephanie has focused on producing high quality Cabernet Sauvignon and Chardonnay. Stephanie's wines have won acclaim, including recognition in the Wine Spectator's Top 100 and Wine Enthusiast's Top 100 Wines. Under her leadership, the winery has transitioned its estate vineyards to organic and biodynamic farming practices.
(Stephanie Putnam)
Stony Hill Vineyard. Well known over the years for its Chardonnay, Stony Hill Vineyard was founded by the McCrea family in 1952. Chardonnay, Riesling, and Gewurztraminer have been the historical white grape varieties planted at Stony Hill, with their red counterparts, Syrah, Cabernet Sauvignon, and Merlot, added over the past fifteen years. The McCrea family sold the winery and vineyard in 2018 to Long Meadow Ranch, another family-owned Napa winery, which obtained its "CCOF" organic certification in 2019. In December 2020, Long Meadow sold Stony Hill to Lawrence Wine Estates. Jaimee Motley was then appointed as Stony Hill's new winemaker (see Note 4).
Jaimee's odyssey to becoming a winemaker began with working in the cellars and vineyards in both the Northern and Southern Hemispheres. In 2015, she accepted the position of assistant winemaker at Wine Gap/Pax Wine Cellars in Sebastopol. She also established her own brand, Jaimee Motley Wines, using the facilities at Pax Wine Cellars to make her wines, where she crafted Chenin Blanc, Mondeuse, and Cabernet Sauvignon.
In her conversation with the wine critic Eric Asimov of the NY Times, Jaimee said she had long revered the wines crafted by the McCrea family and Mike Chelini, its long-time winemaker (1973-2018). When she came to California to work her first harvest in 2011, she made time to visit Stony Hill. She told Asimov, "When I think of Napa and what inspires me, it's the wines of the '60s and '70s. I've had them, and they always resonated, the elegance and restraint, with the kind of wines I wanted to make." Named a "Winemaker to Watch" by the San Francisco Chronicle in 2018, Jaimee is committed to implementing regenerative farming practices.
Reflections on Our Findings
Change is inevitable, and the changes we describe in this article reflect a good deal that is positive.
The Women Winemakers. Women are well represented among the winemakers of the wineries in the case study that have experienced a change in ownership. Without exception, the women have excellent credentials and followed one of three Career Pathways identified in Women Winemakers: Personal Odysseys (see Note 3.) They all have a degree in enology or a science background, sought out vineyard and cellar work in international winemaking regions, have a strong work ethic, and a vision and passion for their careers as winemakers.
Mentors can also be important. Having one's talents, abilities, and passion recognized early in one's careers by a mentor is often associated with a successful career path. Three of the five winemakers who continued in their positions were mentored by a senior male winemaker or founding owner at the winery where they were employed. Renée Ary at Duckhorn Winery was mentored by renowned winemakers Mark Beringer and Bill Nancarrow; Brittany Sherwood at Heinz Wine Cellars was mentored by David Heitz, the son of Joe Heitz, the founder; and Ashley Hepworth, who joined Joseph Phelps Vineyards as a harvest intern, worked closely with Joseph Phelps and his team before her appointment as lead winemaker. That these successful long-time winemakers and owners at prominent wineries, all men, identified, hired, and then entered into a mentoring relationship with highly qualified young women destined to be appointed as the next winemaker represents a notable shift in a male-dominated industry.
Also important to women's progress in the wine industry is the visibility that comes with women holding lead winemaking positions. Historically, few women have been hired into these positions; Geneviève Janssens is among this small group, becoming the lead winemaker at Mondavi in 1997. That four women were appointed to lead winemaking positions that became available among this set of 19 wineries provides positive evidence of progress.
Both Stephanie Putnam and Kristy Melton already had a track record of holding a lead winemaking position at a prominent Napa winery before their current appointments, and now are the first women to hold the lead winemaker position at their current winery, Raymond Vineyards and Freemark Abbey, respectively. Meghan Zobeck and Jaimee Motley were appointed to lead winemaker positions in 2020 and bring great energy and expertise to their positions. Jaimee is the first woman to be appointed winemaker at Stony Hill.
Challenges. Napa Valley has experienced a number of challenges the past few years, including fires, smoke damage, drought, and extreme weather changes associated with climate change. We asked three winemakers with varying years of experience in their lead winemaker position to describe one or two of the main challenges they recently faced as winemaker, and how she and her team addressed them. Renée Ary has held her lead winemaker position since 2014, Ashley Hepworth since 2008, and Kristy Melton since 2020.
Renée Ary at Duckhorn Winery takes a positive glass-half-full view: "Agriculture can be unpredictable and you never know what obstacles you might encounter. There's no doubt we've had some exceptionally difficult vintages over the last few years but these are the vintages that challenge us to become better. I have an amazing team that is remarkably resilient and are able to adapt. They are hard-working, strong-willed, creative people who don't shy away from a challenge. We've been able to navigate difficult vintages together and come out on top. It takes grit, teamwork, and an open mind. You have to see each challenge as a means to becoming stronger."
Ashley Hepworth at Joseph Phelps Vineyards added that "The last few years have been challenging for everyone, not just the wine country. In challenging times, you get to see the best in people, from giving back to the community to my team working above and beyond when a colleague may be out ill or caring for a loved one. The team has supported one another and worked hard to create beautiful wines each vintage. It's interesting that the most memorable harvests have always been the challenging ones like 2009, 2010, 2011, and 2017, because that is when you really dig deep and use all of your knowledge and your teams' knowledge to make the best of the vintage."
Finally, Kristy Melton at Freemark Abbey said, "The biggest challenge has been climate change. Conditions before harvest (drought) and during harvest (heat and at times smoke) have brought about some stressful decision-making moments in the vineyard and the winery. In the short term, we carefully analyze the situation, calculate the risk of different choices, and make the best decisions we can. In the long term, we are leaning heavily into sustainable practices in the vineyard and winery and looking into new plant material, regions, or farming techniques to help mitigate the effects of an ever-changing world."

The challenges can differ year to year, but some, such as climate change, will be a reality for many years to come. Each of these winemakers provides a valuable perspective on how to approach the inevitable.
Closing Remarks
Our case study of the family wineries included in Napa: Behind the Bottle that have changed owners since 2000 provides an important snapshot of Napa Valley and its iconic wineries. Although the number of iconic Napa Valley family-owned wineries is slowly decreasing, the new owners express a commitment to preserving Napa's history and appear to have the resources needed to determine its future. How this will play out is unclear, of course.
The wine industry in Napa Valley is still male-dominated, but it is reassuring to find that of the 19 wineries that had a change in ownership, we identified nine (47%) at which a woman currently holds the lead winemaking position. A sizable percentage of lead winemakers retained after an ownership change were women, as were lead winemakers hired after an ownership change. Further, we see additional evidence of the success of the sensory, enology and science/agronomy career pathways to winemaking identified in our book, Women Winemakers: Personal Odysseys, and note that multiple men have successfully mentored women into these important roles.
We return now to the wisdom of Robert Mondavi, widely credited with putting Napa Valley on its path to greatness as a winemaking region through his leadership, vision, and grape-growing innovations. We have every hope that the path he laid out will continue to be followed. As Geneviève Janssens noted earlier, "trusting people was his secret." For those prominent wineries featured in Tucker's book that have changed owners since 2000, women have remained or grown in their involvement in winemaking. This suggests women are increasingly being trusted in key decision-making roles. With the challenges facing Napa Valley, this bodes well for the future of this renowned California winemaking region.

Notes
1. We used an on-line resource, the Napa Wine Project, as well as the Laube (1999) and Gordon (2010) books, winery websites, phone calls to wineries, and other publicly available information to identify a winery's owner and its lead winemaker in 2000 and in 2022. After excluding the seven wineries that closed during the intervening years and one winery that was no longer a Napa brand, the remaining 87 wineries were the data for our case study.
2. Change in Winery Ownership and Winemaker. We researched whether a winery was independently family owned in 2000 and remained family-owned by that same family in 2022. Wineries no longer family-owned owned by the same family were those having a publicly traded parent company (e.g., Constellation, Duckhorn Portfolio, LVMH) or owned by another entity (e.g., Artemis Group, GI Partners, Lawrence Wine Estates, VITE USA) in 2022. We used information provided on winery websites, including pronouns used in describing winemakers, and phone calls and emails to individual wineries to identify winemakers.
3. The Enology Pathway: Coming to love wine while studying the science of winemaking; The Sensory Pathway: Coming to love wine from aromas or from tasting wines; and The Science/Agronomy Pathway: Coming to love wine from a grounding either in Science or Agronomy are the three Career Pathways taken by these nine winemakers.
4. Photos of Meghan Zobeck and Jaimee Motley were not made available to us.

Author Bios: Lucia Albino Gilbert, Ph.D., and John C. (Jack) Gilbert, Ph.D., both Professors Emeriti, have had long and distinguished careers at The University of Texas at Austin and Santa Clara University and are widely published in their fields. Their research on facilitating women's career success in male-dominated scientific fields such as winemaking combines Lucia's academic field of Psychology and John's academic field of Organic Chemistry. The acclaimed book, Women Winemakers: Personal Odysseys, is among their recent publications. They can be reached at [email protected]. Their research website is www.womenwinemakers.com.

Posted December 2022