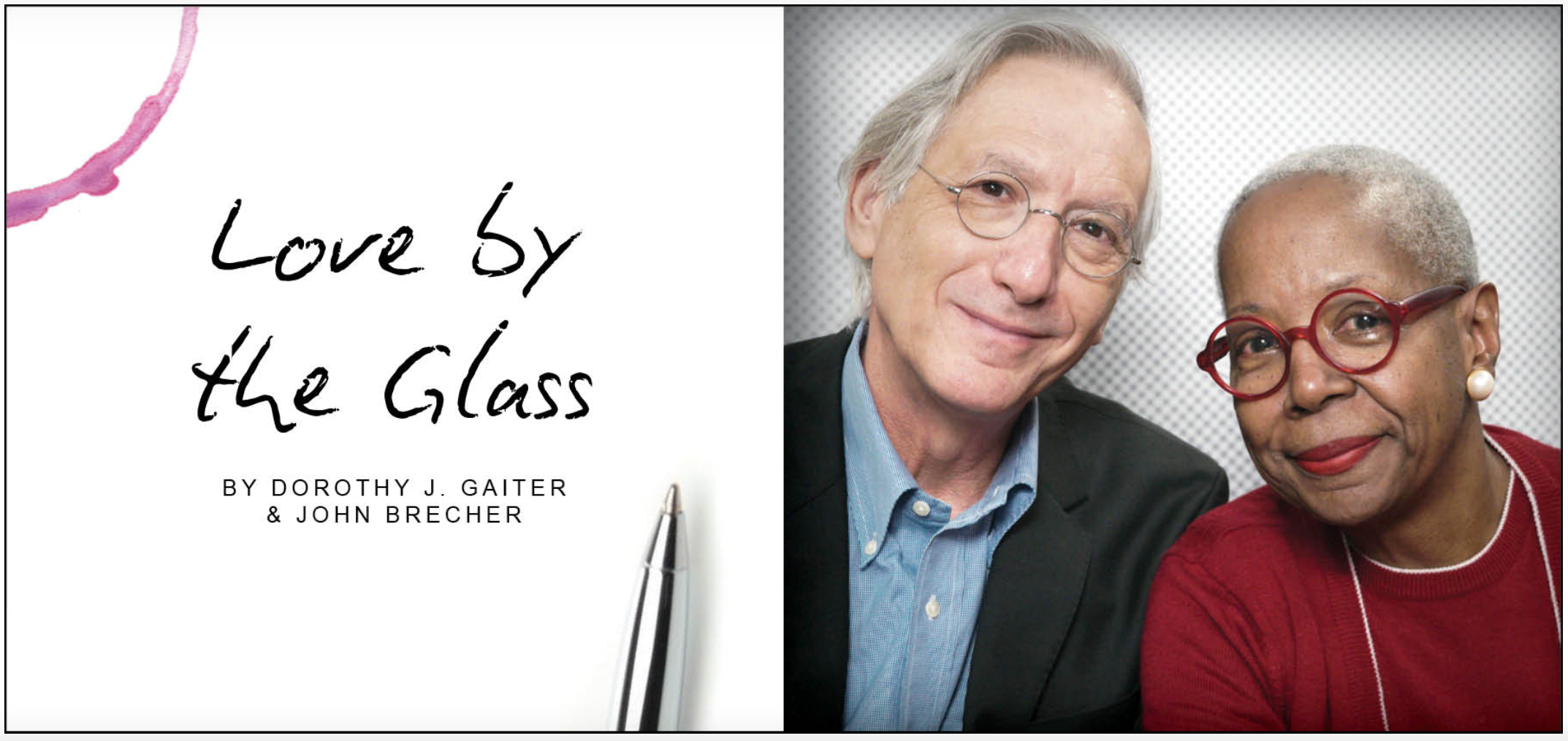 The best holiday present for a friend or loved one, at any point in their wine journey, is the gift of a new or even better relationship with a good merchant. We understand that some areas, even states, do not have small, independent stores. We also understand that most wine is sold by giant retailers and supermarkets.
But all over the U.S. there are passionate, small-business people – some who barely survived the past couple of years or maybe have delayed opening until now – who will transform an interest in wine into passion and maybe passion into love.
Our suggestion is to find a store like that near your giftee and call it to ask about a gift certificate for, say, $100.
How can you find a store like that, maybe in another state? It will require a little bit of time online, but check out retailers near their home, look at Websites and see if it looks like the kind of place that would be welcoming and interesting, with reasonably priced, ever-changing offerings. If it turns out that your giftee is already familiar with the store, great.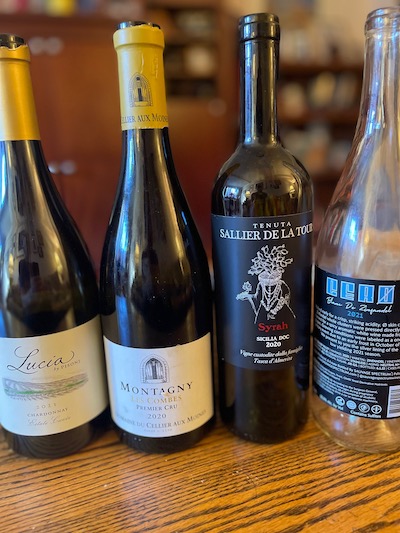 Armed with your gift certificate, we'd urge the lucky recipient to go shopping and look for something different, maybe something that will help expand their comfort zone a bit. Think of good wine merchants as tour guides whose recommendations are reliable because they want you to return to explore another corner of the big world of wine. In addition, we'd throw out this handful of wines you might tell your friend to try to find. They might be eye-opening to the newer wine-drinker and slightly different takes for an old hand. Some of these were sent by winery representatives and some we purchased.
--A wine from Sicily that is not Nero d'Avola. Many of us want to be in Sicily now, after watching "The White Lotus." The renaissance of Sicilian wines in this century has been astonishing. We are a bit concerned, though, that Sicily is so closely associated with Nero d'Avola, its earthy red, that we forget sometimes that it creates outstanding wines from both indigenous and non-indigenous grapes. For instance, we had a Syrah from Tenuta Sallier de la Tour recently that tasted more like Syrah – roasted, with dried herbs, violets and minerals – than many we've had from the Rhône, where it hits unfathomable heights. The same winery also makes a rosé of Syrah that was quite surprising in its depth. Sicilian wines also are often a great deal. This Syrah was $16 and the rosé was $21.
--A comeback California Chardonnay. We thought we'd throw this in as a curveball. California Chardonnay? We think maybe, just maybe, California Chardonnay really has turned a corner this time. It was our first love, but we've largely given up on it because so many are sweet, blowsy and alcoholic. This year, we tasted more that were restrained, with good acidity and, most important, balance. Among them: Lucia by Pisoni and Trefethen. The Pisoni is about $50 and the Trefethen is about $40, reasonable by the standards of today's California Chardonnay. This is where a good merchant comes in: If you say you really prefer a Chardonnay that's more subtle, with some of the acidity and grounding of a Chablis, they should know what you mean.
--Gewürztraminer, preferably dry. Our daughter Media enjoys wine, but is not a wine geek. She is lucky enough to have a local store that even she describes as "a treasure hunt," with some special wines mixed in with more-ordinary bottles. The other day, she was so excited about a wine the store recommended that she sent us a picture of it, and we can't remember her ever doing that before. It was Erste + Neue Gewürztraminer from the Alto Adige region of Italy. We love Gewürz for its peach, lychee prickliness but for years now we have been finding it difficult to find one that showcases anything other than sugar. We were so curious about this wine that we tried to find it, without success. So we called the store, anonymously, to ask if they could ship it. They said they'd sold out of it quickly and hadn't been able to get more. So you never know what's available anywhere, but with some risk-taking and a good merchant, you might find a memorable bottle. We recently had a tasty Gewürztraminer from Balletto Vineyards in the Russian River Valley that was perfect with garlicky roast pork.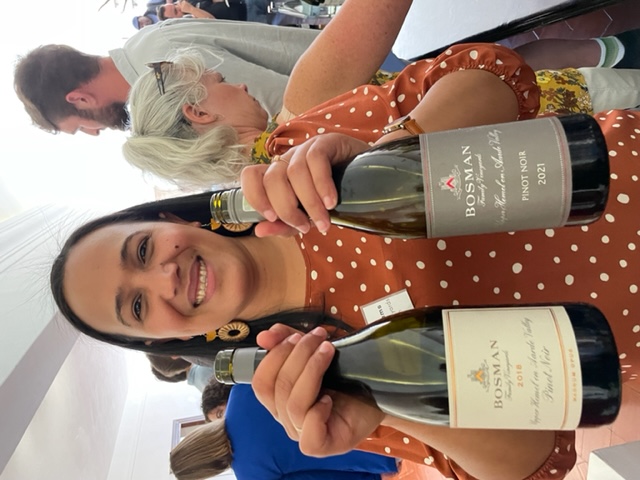 --South African Pinot Noir. We think wines from South Africa will be hot in 2023. The Wines of South Africa, a trade organization, hosted us there this year so we were able to taste widely, which underlined our prediction. Many people are already familiar with its sparklers, Sauvignon Blanc, Chenin Blanc and Pinotage. But vintners are finding just the right cooler spots for Pinot Noir and they are excellent. Hamilton Russell set the standard, and other wineries like Tesselaarsdal and Bosman Family Vineyards are growing in popularity. Once again, this is something that many stores, even good ones, might not offer, but South African wines in general are worth a search.
(Natasha Williams, winemaker at Bosman Adama, of which Bosman Family Vineyards is a part)
--A wine from your own state. We'd guess everybody knows now that wine is produced commercially in every state, and that a few states, like Virginia and New York, are highly supportive of their winemakers. But while many people enjoy visiting the wineries – like, on weekends, for music and a glass of wine – we wonder how many look for local wines in stores. We are guessing that part of the problem is that the local wine might cost more than a similar-seeming wine from, say, France. But that local wine was made by local people, most likely people who aren't descended from generations of winemakers, people who are following their passion with its risks. Plus they're your neighbors. Give them a try. We just had an excellent White Zinfandel – seriously, White Zinfandel – from Colorado. It was from Sauvage Spectrum and it was so crisp it almost bit us back. What a nice surprise.
--A fine white Burgundy. Trust us: A good white Burgundy will turn the heads of many new wine drinkers and will always be appreciated by those further on their journey. Even we forget sometimes how beautiful a relatively affordable white Burgundy can be. We recently had a Montagny from Domaine du Cellier aux Moines that reminded us of white velvet, with a finish we can still taste. It was $65 and it took us someplace. A good merchant can recommend one.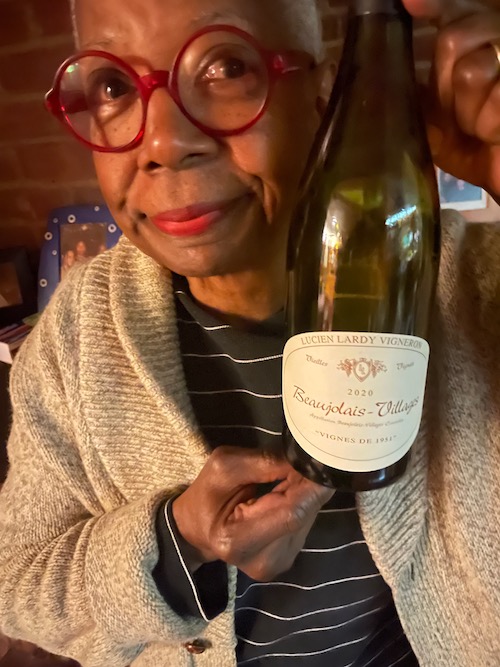 --A 2020 or 2021 Beaujolais. Once again, this is the kind of wine that can really touch newer drinkers and prompt more experienced drinkers to say, "Oh, yeah, I don't have that often enough." Beaujolais goes with everything, is good at a variety of temperatures and is a great deal. We recently had a 2020 Beaujolais-Villages from Lucien Lardy that cost us $15 -- $15! -- and we knew before we tasted it that we were in for a treat as it smelled of blueberries, lavender and wet stones.
--Lower-priced white Bordeaux. We'd guess many people who go into a store looking for a drink-now, reasonably priced (maybe under $20) white don't head straight for the Bordeaux aisle, but they should. They often have that Sauvignon Blanc zip, but something deeper, often from Sémillon, that makes them great with food. This is also the kind of thing a good merchant would love to discuss.
--Dry Riesling. It is hard to find a truly dry Riesling on shelves anymore, but any merchant who has one would love to meet you. We had a Trefethen not long ago that was so very restrained it seemed to vibrate –lovely and special. Navarro is always a great name for Riesling, too. Of course, Germany is the home of great Riesling and if a wine store can sell you one you love, it will open your eyes for life.
--Cabernet Franc, from anywhere. We have written that this is Cabernet Franc's moment. They seem to be coming from everywhere. We recently had one, Devoción 2021, from Mendoza, Argentina, made from organic grapes that was an outstanding deal at $25. To us, Cab Franc has a savory, earthy, red-berry sharp focus that we really enjoy. This is pretty much the front end of a trend and good wine merchants are likely to be excited about it, too.
Last thing: We wrote earlier this year that the biggest word in wine today is "story." Younger people are less interested in scores and experts than in the narrative behind the wine – who made it, where it was made, what is the vision behind it. In our experience, more and more merchants, given a chance, love to tell those stories, so encourage them to do that. This makes every wine more special.
Dorothy J. Gaiter and John Brecher conceived and wrote The Wall Street Journal's wine column, "Tastings," from 1998 to 2010. Dorothy and John have been tasting and studying wine since 1973. In 2020, the University of California at Davis added their papers to the Warren Winiarski Wine Writers Collection in its library, which also includes the work of Hugh Johnson and Jancis Robinson. Dottie has had a distinguished career in journalism as a reporter, editor, columnist and editorial writer at The Miami Herald, The New York Times, and at The Journal. John was Page One Editor of The Journal, City Editor of The Miami Herald and a senior editor at Bloomberg News. They are well-known from their books and many television appearances, especially on Martha Stewart's show, and as the creators of the annual, international "Open That Bottle Night" celebration of wine and friendship. The first bottle they shared was André Cold Duck. They have two daughters.
Banner by Piers Parlett