Sicily's Biondi winery was established on Etna at the end of the 19th century, however the vineyards have been in the family since the 1600s. It was between the two world wars that maximum production was achieved as a result of the hard work and dedication of brothers Cirino and Salvatore Biondi. After World War II the estate went into a period of decline due to a variety of factors, including the untimely death of chief oenologist Salvatore.
Cirino Biondi's grandson Ciro and his wife Stephanie took over the management of the vineyards and the winemaking in 1999. They have successfully restored the family's six hectares focusing on producing high-quality, terroir-driven wines with Etna's indigenous grape varietals.
Grape Collective talks with Ciro about the unique volcanic terroir and indigenous grapes of Etna and what the future may hold for the region.
Christopher Barnes: Ciro, tell us how your family got into wine production.
Ciro Biondi: Well, I think originally when, I don't know when this started, because there's been generations, I think because the making of wine on Etna in the 1700s, in the 1800s was very lucrative. So, it was a very good business for them to do it. Certainly my grandfather was the last in the family to produce quality wine. In fact, he managed to win some awards in Paris, in Leon, in 1913, 1914, just before World War I, but unfortunately he was in a business with his brother, my great uncle, who got back from World War I with tuberculosis and died quite young in 1928. He was the oenologist and the businessman whereas my granddad was the one who took care of the vineyard. You can imagine that the business was not great after that. My dad didn't invest money as needed after the second world war. So for 40 years, this place were nearly abandoned, when in 1999, luckily I met Steph, my wife, and we decided to do something about it.
So the aim then was just to take care of the land rather than produce wine. Producing wine was the tool in order to have money to keep the land. But we didn't think to be able to produce quality wine and have the same recognition that my grandfather did. But probably we were lucky. And then all these awards arrived, and now knowing that our wine is all over the world is a very good situation for us. But the best situation is to see this beautiful place in order to be sent to the next generation.
And let's talk a little bit about the terroir, specifically the volcano. Can you talk a little bit about the quality of the soil and how it interacts with the vines?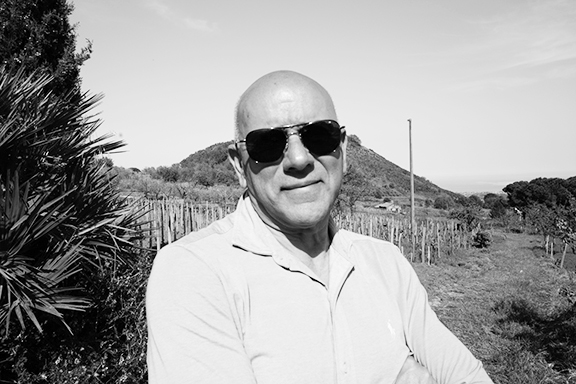 Well, I can tell you my theory, which is probably wrong, but I like to believe in it. What I think on Etna is important is the lava flow where your vineyard lays, because that makes the difference for me from my little experience. In fact, we are now at the Cisterno Fuori Vineyard, which is on the eruption dated around 2,000 years ago. Where in back, maybe you can see San Nicolo, which is nearly 12,000 years eruption. So, the wine we produce from San Nicolo is completely different from the wine we are producing from this vineyard here, the same great variety, the same vinification process, but 300 meters, everything changes. And that is the beauty of Etna. It is not just to say north side, east side or south side, but where your vineyard is located, on which lava floor, what minerals got into your soul. Soul of course, but soil.
And would you say that there's a certain Burgundian aspect? I think Jancis Robinson has mentioned in the past that there's a certain Burgundian nature to the differences in terroir on Etna.
I think Burgundy is the Etna of the North, but let me joke about this, but I mean, there is a very good similarity of that. In fact, in Burgundy, you can have a piece of land where you can produce a bottle and sell it for 18,000 Euros. And the next one you can only sell for maybe 300 Euros. So that makes the difference, like it makes a difference here on Etna. If you're lucky you got a very good vineyard, therefore you can produce a good wine, otherwise, maybe not so much.
Talk a little bit about the historical winemaking on Etna? Like just a little bit about the history of winemaking on Etna.
The people have been asking me, "Why in hell have you just started now to produce quality wine on Etna and not before?" And my answer is that we in Sicily live in a kind of paradise and the last thing you want to do in paradise is work. So, these people were working, harvesting, and by December they sold all the wine. They have the pocket full of money and the cellar is empty. Why the hell do they have to make more effort to bottle, to market? We are Sicilian. So, let's say lazy, we enjoy life. We don't like to do more effort, but then what's happened is that the new generation is angry. They want to have more. And then we started with Benanti at the beginning, and then us at the beginning. In 1999, probably on Etna, there were four, five wine producers that you could finish a bottle happily, the rest, maybe not. Now we are 160 yesterday, probably today, 180 producers on Etna, which is very good in the sense when I see land has been abandoned it is being take care of once again. To see all this land not abandoned is a big thing for me. More than any other stuff.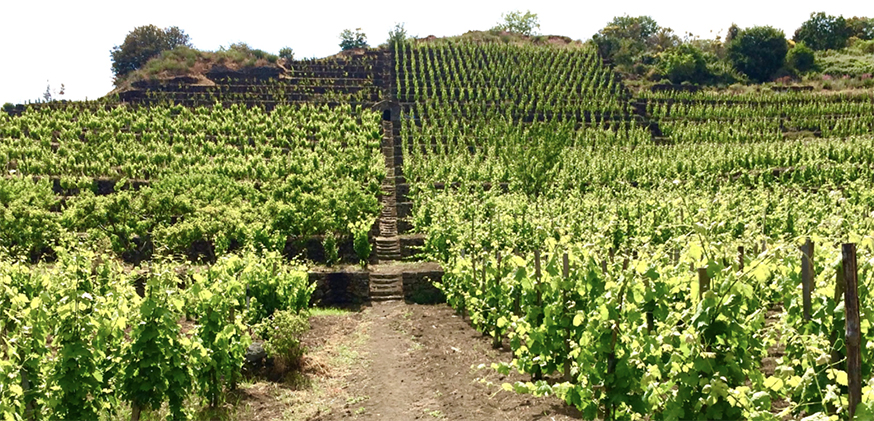 Going back the historical winemaking on Etna. It's a very old tradition of winemaking and also a very new tradition of winemaking. Is there any concern that there are a lot of people coming in from the north or from different parts of Italy and they're not properly respecting the traditions of Etna? Do you have any worries about that?
Of course I'm a bit worried about the new people coming to Etna and the way they are thinking to treat this place, but there is nothing you can do. Except, I mean, to be popular, has risks. Like in another place, the people jump on the bandwagon, you don't know who these people are, but what can you do? You have to carry on doing what you do.
Talk a little bit about the southeast side of Etna and the terroir here and how that's very particular.
So being on the southeast side of Etna and never having the experience to vinify grapes from other sides of Etna, I can only talk about what I'm doing here and what kind of wine we produce here. We like to have, rather than power in the wine, we want to have elegance because we think that wine should be as drinkable as water. Because water is the best thing you can drink, but at the same time it should be an eruption in your mouth with all this flavor that wine can give but water can't give. So not much alcohol, light color, and more elegance. That's what I say about our wines.
And talk a little bit about your philosophy of viticulture.
My philosophy about viticulture is to respect, respect, respect nature. People say, "Are you organic?" And I tell a little joke, a little story. I say, "Look, the other day I went to buy the fertilizer at the warehouse and the lady there very candidly says, you know, Mr. Biondi, if you want, there are some products that are not ecologically friendly you can buy and I can put on the invoice like biological things." I mean, it's a joke. So, the only thing you can trust is the person who makes the wine. All the paperwork, all the bureaucracy, it just fools because you can make any rule and then find a loophole for it. So just trust the wine producer, this is the only thing. And then again, you want to have my certification? Then come in the vineyard in the summer—you see all the ladybugs, butterflies, and spiders living happily in the vineyard. Get a piece of soil and smell it. You can smell life, not death.
And talk about your philosophy of winemaking now.
Again, something that is always said, you make wine in the vineyard, not in the cellar. And this is rule number one, because if you produce great fruit, then you can eventually make a great wine. Okay. But somebody says you can make wine also with grapes, but this is another matter. We try to have the best fruit ever in the vineyard and do very little in the cellar. When I say very little, not using any stuff other than a bit of sulfite. I can't think of anything else. We can do it, but just be clean, do this stuff in order not to destroy it, one year of working or for the people that made this fruit. That's it.
And how would you describe the flavor of Nerello Mascalese? How would you describe it to somebody who hasn't tasted it?
Describing the Nerello Mascalese on Etna, I will tell you a little story. My nephew who is now 35, he started working with us when he was 18 in the vineyard doing very hard work. So, now and then I will tell Manfreddi, "Okay, tonight we will go out for dinner so we can drink some wine and you will start to learn how to drink wine, what wine means and so on." So, we had a bottle of Etna, therefore Nerello Mascalese, and I said to Freddy, "Okay, put your nose in the glass and immediately tell me what you smell in it." He replied, "It's the same smell I smell of the land, the soil, it smells exactly the same." So, that is the minerality, and together with the acidity makes this wine great.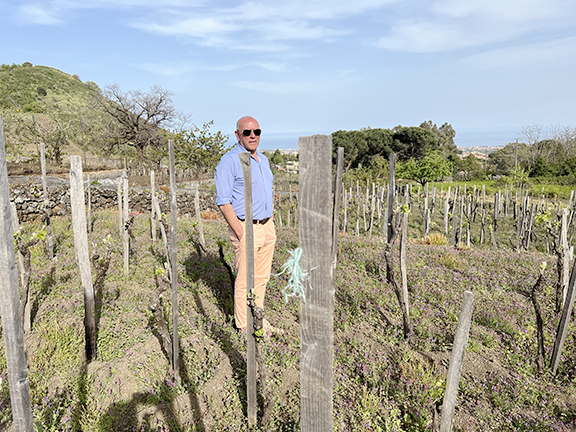 And what about Carricante?
Carricante again has this great minerality, great acidity on Etna and allows this wine to be aged for many, many years. And we've had experience over like 20 years where this wine, and you can see over the years, it turns into honey scents and becomes more complex. So, it will be interesting in a few years. Time to taste all vintages of Etna wine and be surprised by it.
So, one of the things that I find very fascinating about Etna is that it's this land that has so many influences from so many different societies. So it's been conquered by the Greeks, the Romans, the Normans, the Spanish, the French, the Ottoman Empire, and all of this culture has sort of landed here. And in a way, I think the modern landscape of Etna wine almost mirrors that with all of these different people from different parts of the world, Belgium, United States. How would you describe the wine community, on Etna?
After all these people that conquered Sicily, from the Greeks, like 700 BC or the Romans, and then the Byzantine, and the Muslims, Normans, Germans, French, and so on, it's something that is normal for us to have foreign people. Luckily this time they're not coming to conquer, but to be with us and do something with us, because I noticed that many people that arrived, especially from the outside of Sicily, are trying to have more respect and trying to be kind with us and to understand not to be too intrusive because we are united. And of course, if you make enemies, your life will be not easy. This, of course is not a threat, but it's a matter of fact. My other one producer from north side, we have been always very tight, with a very good relationship, friendship. In fact, if I had a problem the first person I will call will be Alberto Graci. Or Giralomo Russo. Or another producer on Etna, because I know that they will stand on my side and this is much easier for everybody if we carry on by doing that.
And talk a little bit about the whole idea of palmento. Maybe just explain what a palmento is.
Palmento, the etymology of the word comes from the Latin word pavimentum. Which was the floor where the Roman pressed with the feet, the grapes in order to make the wine. My first memory when I was four, was inside the palmento stomping with my rubber boots, always too low to the level of the juice would get inside my feet and stick. I had my sticky feet. So, this is my first memory but for me now, the palmento is like an archeological thing. I don't go to Agrigento to see the temple to worship Zeus or another God, but just to see a piece of art of other time. So, it's better to keep this palmento for my personal point of view, probably I'm wrong, but I will never experience making wine in that place. Because I know if that people have the tools we got now, they didn't think twice to abandon and make a quality wine like we do now.
Talk a little bit about alberello.
Alberello on Etna, on a chestnut pole, is something that is part of the culture or the landscape of Etna so it should be saved. The other day I had a funny experience where there was an agronomist talking about ways of training vines and he said, "Oh, Guyot (spalliera), whatever, but I will never suggest to plant alberello because it's too expensive. You don't find the people to work with." And I was shocked. So, when it was my turn to reply I said, "Look, I don't care to spend more cents to make the alberello in my vineyard, but because these things are alberello I will be marketing, so, at the end, I will get more if I put this in front of the people."
Look, you buy a bottle of my wine. This is the way we're doing it. We keep this land, we are gardeners. First of all, we are to keep this natural and this beautiful place here with terraces, you cannot just destroy it to save a few cents per bottle, I mean, wine is a luxury thing. You can live without wine, but if you had to drink a wine, you must drink a good wine with history and quality.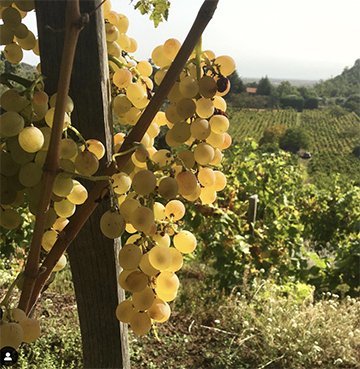 And talk about the way that the alberello works, how it interacts with the vine and how it's perhaps different from some of the other ways.
So, the alberello is a way to train the vines here on Etna, probably since the Greeks or the Romans. So, what we do, we use a chestnut pole like this one, and the vines then grow on it. And, it will support all the branches, the good thing is that it is all ventilated. So, there is no barrier and you can go all around the vines and not just on the row with the wires in the middle. Of course, it's more expensive, but we believe that it is the best way to make a quality wine.
And in some wine regions, I'll use Piedmont as an example, you go there and the experience is seeing, you know, row after row of monoculture of just grapes and it dominates the landscape. That's very different from what we have here in Etna. Maybe talk a little bit about the biodiversity and how that's part of the tradition and how it impacts you as a winemaker.
The typical vineyards on Etna is not only grapes, but in the vineyard, you find pears, peaches, cherry trees, apricots, and so on, some olive trees as well. And I think in the past, people tried to get other income rather than just from grapes, but this is something very important for me because of the biodiversity. So when people say, "Well, I smell cherry and you got cherry trees in your vineyard," you relate the two things together. And maybe it's not proven by science, but who cares about science? We make wine with alchemy, not with science, with the chemistry.
And how old are some of your vines here?
We have some that are more than a hundred years old, but very few. And furthermore, I don't want to market with this, the wine, but we got new vines, new vineyards, that produce beautiful wines. So, to say that old vines produce better wine, I don't know. I'd be skeptical, but could be, but I don't know.
And what do you think for the future of Etna? What are your hopes for the future of Etna as the region evolves? There's been a lot of change in a very short period of time. How are you hopeful for the future?
The future on Etna? Well, my big defect is I'm eternally positive, so, I can only think for the best on Etna. So, of course they will be changing. The land is, as it is, and cannot be changed completely. You cannot tear apart this place and produce another kind of training or put another kind of vine that produces another kind of super-Etna, I don't think they will get there.
Talk a little bit about your San Nicolo vineyard.
We have three different vineyards where we are now. This is Cisterna Fuori. Then there is Chianta where we produce mainly the white. And San Nicolo is a beautiful vineyard laid on the side of the spent crater Monte San Nicolo. The original part there used to belong to my great-aunt, the sister of my grandfather, who was a great person with a big sense of humor. She died at nearly 100 and she was very young in spirit. She was a great person, never got married. Once she was dating a guy who had a very bad idea to bring a fish and he told her to take the fish and cook it. So, she took the fish, put it under his armpit and showed him the way to go. So, when we decide to replant San Nicolo thinking of Zia Angelina, I said to Seth, "I don't know. It's crazy to say, but you'll see that from this vineyard, thanks to Zia Angelina, we will produce a great wine." And apparently I was right.
How do the volcanic soils impact the wines?
Watch the soil, which is ash, sand, volcanic ash. So it's very drained. If you threw a bucket of water, it will disappear immediately. And then the other important thing is that this kind of lava soil creates like a layer that protects from the heat the other soil, which is underneath. So, what we do to help the vines survive even in the hot season is we dig all around the vine, cut these artificial roots and force the others to go deep, where they find the water, the influence of the sea is very important. Not because we can smell the sea, 18 km is too far for it. But during the day, there is the hot air that comes from the sea and goes up to Mount Etna. So, this breeze constantly, every day, at night, the opposite happens. The cold goes back down to the sea. So, this ventilation is enough to prevent lots of disease or mold. And in fact, here we just treat the vines three, four times per year, not per month, like other regions, not because we are good, but because we are lucky.