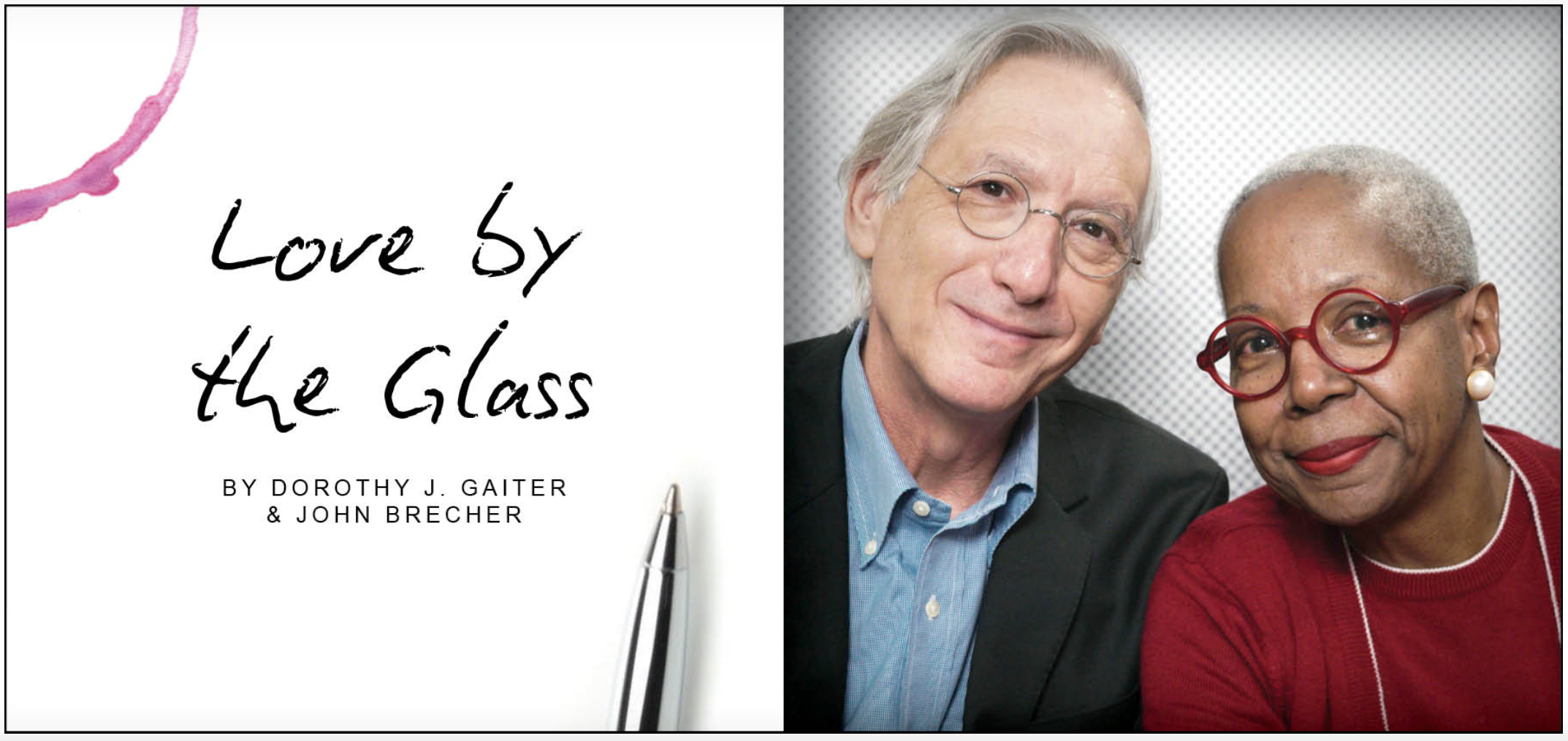 South Africa is one of the most dynamic wine regions in the world right now. It has a 350-year-old history of winemaking, but the modern industry was born in the 1990s with the end of apartheid and the dismantling of giant co-ops that stifled ingenuity.
Winemakers are discovering new microclimates and replanting vineyards to more-appropriate terroirs, focusing on quality over quantity, while also working to save some extraordinary old vines. Money is flowing in from all over the world, from wealthy people and large companies. Sustainability is on everyone's lips now, making the country sustainable for all its people, its stunning natural resources, and the wine industry, a growing source of revenue and pride. Because the modern industry is so new, it's a golden era of experimentation. And slowly – very slowly – people who had been shut out are beginning to crack open the door, bringing a special, hopeful kind of energy.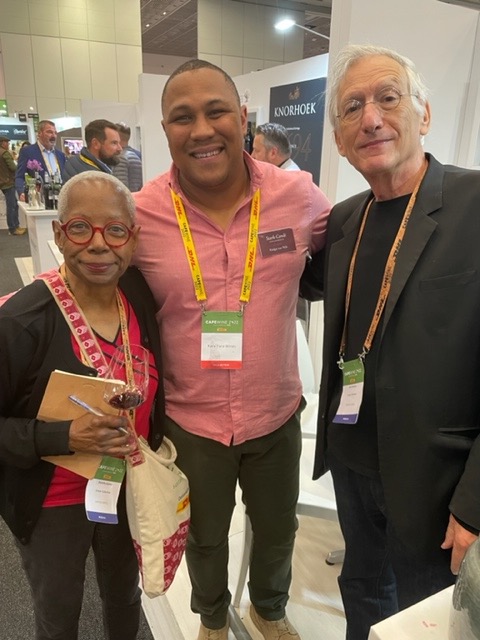 "Wine is the one thing on the shelf to express your story," said Rüdger van Wyk, owner-winemaker at Kara-Tara Wines, at a panel discussion called "Black Excellence," adding: "In South Africa, you have the freedom to plant anything anywhere."
(Rüdger van Wyk with Dottie and John)
We recently visited South Africa for the first time for 10 days on a trip sponsored by Wines of South Africa. We visited dozens of wineries and attended all three days of CapeWine, a trade show featuring about 400 wineries and, we'd guess, more than 2,000 wines. Here's a list of 16 South African wines that are available, at least a bit, in the U.S. They are in alphabetical order.
Some caveats: Including our winery visits, we probably had an opportunity to taste about 2,500 wines and, even splitting up, we tried only a fraction of them. And these are not necessarily the best wines we tasted. But they are among our favorites and they appear to have at least some availability in the U.S. For instance, John went wild for a Bellevue Estate old vine Pinotage and we feel sure that Brunia Wines will have an impact, especially with its Syrah, as will Rall Wines, and Hasher Family and Le Riche to name a few, but they don't appear to be available here yet.
This list represents a wide range of wines – red, white, sparkling, from various varieties. U.S. distribution is ridiculous so you can never be sure what wine is available in which state. Some will only be available in, say, Wisconsin and North Carolina, because the winery owner knows people there. DeMorgenzon, for example, exports about 2,500 cases to the U.S., where it is distributed to 27 states, according to Stuart Downes, export manager for Vinimark in South Africa, which handles the wine. Eight of the states get the higher-end DeMorgenzon, while all 27 states get the more value-priced DMZ label. Whole Foods carried the DMZ wines for a while. We've tried to find wines here that might be available to ship from a retailer, if you live in a state that allows that.
If you have a dingy neighborhood store that seems to sell more spirits than wine, it's probably not a good idea to buy South African wines there now. These are still developing a following and stores that only offer popular, mass-produced wines likely will not carry wines from South Africa that will make you want to try more. Finally, when buying South African wine, much like all other fine-wine regions, the more specific the place of origin the better. We'll mention some of the regions here.
And the biggest caveat, of course: The wines of South Africa carry enormous baggage. Dottie covered apartheid for many years as a hard-news journalist. The sins of the past will take a very long time to even begin to heal, but we saw some positive steps we will discuss in the future. In the meantime, do yourself a favor and try to find these wines or other fine South African wines recommended by a good merchant.
Aslina Wines Cabernet Sauvignon. Made by South Africa's first Black female winemaker, Ntsiki Biyela, we found the Cabernet classy, well-structured, ageable yet easy to drink now. Her newest addition is a tasty Chenin.
(Dottie and Ntsiki Biyela)
Bosman Family Vineyards Chenin Blanc. We tasted some older Bosman Chenin Blancs and they showed how well they can age. We wrote of the 2013: "Chewy and rich, with the presence of an older white Burgundy." Natasha Williams is the winemaker of Bosman Adama, a majority Black-owned employee part of the Bosman Adama Group.
Capensis Wines Chardonnay. This spectacular estate in the Banghoek Valley is owned by Jackson Family Wines, so, as you can imagine, they know Chardonnay. This is rich, round and mouth-filling – not at all shy – and appears to be more widely available than many.
David & Nadia poured their mesmerizing Grenache and Chenin Blanc to long lines of people flocking to their station at a tasting organized by the Old Vine Project that featured 40 of the project's certified heritage vineyards. They're in Swartland.
DeMorgenzon Chenin Blanc. Once known as Steen, Chenin Blanc was South Africa's predominant grape for many years and remains the most widely planted. We think Chenin Blanc can be boring, but we tasted quite a few in South Africa that definitely were not, including this one, which was vibrant and complete. Wendy Appelbaum, who bought DeMorgenzon in Stellenbosch with her husband, Hylton, in 2003, was aptly proud of it. We wrote: "This is when great Chenin Blanc gets exciting, with pineapple, pear and real depth." We also liked their Chenin Blanc sparkler.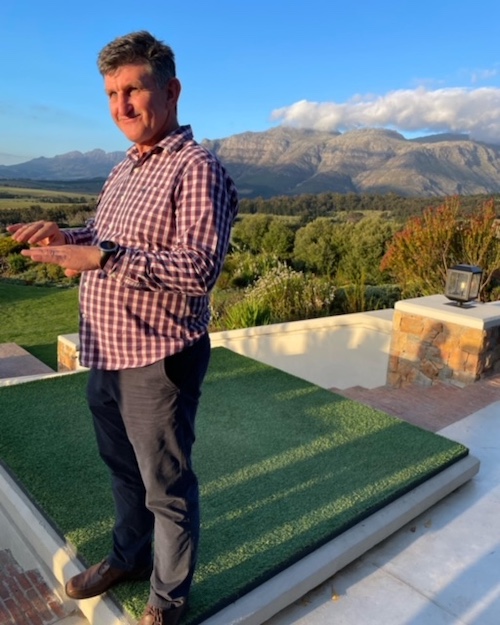 Ernie Els Wines Proprietor's Blend. At a time when every celebrity has a label, you might roll your eyes at this winery in Stellenbosch founded by a famous golfer (who is no longer the majority owner), but this is the real thing – very classy and rich, and definitely ageable. "We shouldn't be making a meal in a bottle," the long-time winemaker, Louis Strydom, told us. "We should be making wine that goes with a meal."
(Louis Strydom)
Hamilton Russell Vineyards Chardonnay. This is the pioneer of the cool-climate Hemel-en-Aarde Valley and makes outstanding Chardonnay and Pinot Noir. Anthony and Olive Hamilton Russell are among the most visible ambassadors of South African wine. We first wrote about Hamilton Russell Chardonnay in 2001 and, in a blind tasting on this trip, it was again our favorite. We wrote: "Classy, with great acidity and rich, vibrating fruit. Probably perfect with filet of sole."
Kara-Tara Wines Pinot Noir. (Kara-Tara is a joint venture with Stark-Condé, so you might see it listed online as Stark-Condé Kara-Tara). Light, restrained, makes you come to it. Lovely, from fruit grown in Elgin, Durbanville and Overberg. Pinot Noir likes cooler weather and winemakers in South Africa are finding just the right spots that are warm during the day and cool at night. You will be hearing a lot about South African Pinot Noir from the oenoverse soon, in the same way that that the world discovered New Zealand Pinot Noir after its Sauvignon Blanc had become popular.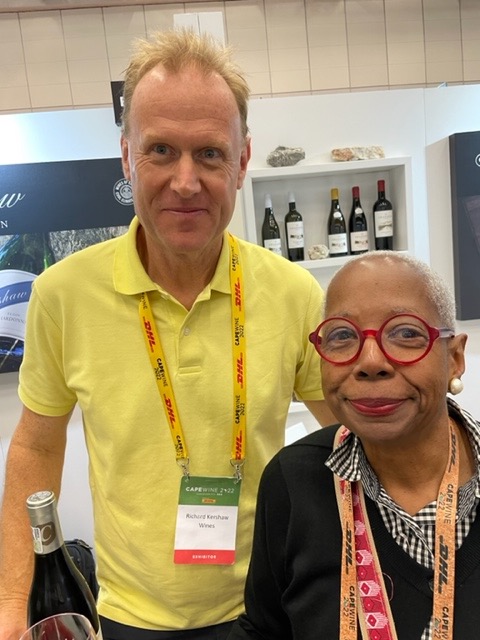 Richard Kershaw Wines Chardonnay. Kershaw, based in the cool area of Elgin, is one of the few Masters of Wine who also make their own wine. He obsesses (and that's not too strong a word) over every clone, every mineral and every other part of the terroir. If you can find two different examples of his Chardonnay – maybe the regular Elgin line and the site-specific Deconstructed line -- you are in for a treat. He's having a ball doing this and you should get in on the fun. (Check out this list of clones.)
(Richard Kershaw and Dottie)
Ken Forrester Vineyards Old Vine Chenin Blanc. This is one of the best-known names in South African wines and continues to produce reliably tasty Chenin Blanc. It is now owned by a large company, but Ken Forrester is still one of the most charming winemakers around. Its sparkling Chenin Blanc, called Sparklehorse, is worth a search.
Klein Constantia Sauvignon Blanc. South African Sauvignon Blanc has been a go-to for us for a long time and it has gotten better, with more depth and nuance. The wineries of the Constantia region are making a specialty of it and the wines are consistently good. "Sauvignon Blanc is a variety that really absorbs the terroir and spits it out in the glass," said winemaker Justin van Wyk of Constantia Glen. The Klein Constantia, made by Matthew Day, filled our mouths with apple, pear and lovely citrus acidity and then seemed to pop – very memorable. Constantia is making Sauvignon Blanc that ages beautifully so look out for a good wine merchant who offers some with age.
L'Avenir Pinotage. Pinotage is South Africa's own grape and the examples many Americans first tasted were funky, rubbery and weird, which we think turned off many people to South Africa more generally. But modern winemakers are sure Pinotage can make an ageable wine of real character and substance. This 2003 is a classy example of that. When the winemaker, Dirk Coetzee, poured it, he said, "Smell that wine. It smells like Africa." Other good Pinotage makers to look for are Beeslaar and Kanonkop, both pioneers.
Raats Family Wines Cabernet Franc. We're familiar with Raats, mostly from its Chenin Blanc, and this turned out to be one of the best wines of the trip – focused, almost sharp, with no-nonsense tastes of herbs and pepper. We're biased because we're big Cab Franc fans, but wow.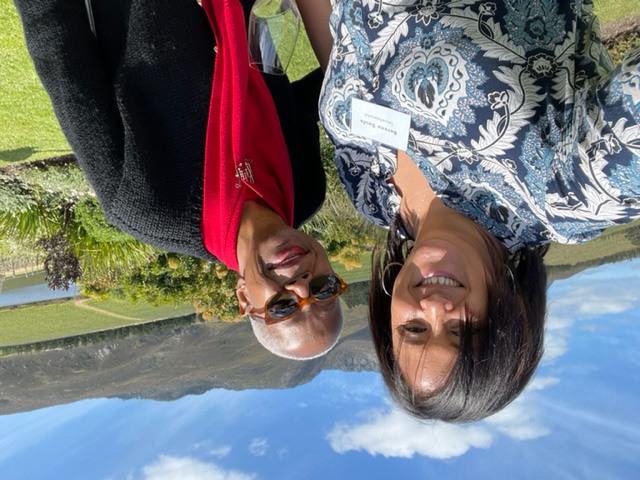 Tesselaarsdal Wines Pinot Noir. This will show you what the excitement about Hemel-en-Aarde is about: elegant, beautiful and haunting. The best Pinot Noir can bring us close to tears. This does.
(Berene Sauls, owner and winemaker of Tesselaarsdal Wines, with Dottie)
Thelema Mountain Vineyards Cabernet Sauvignon. Thelema was one of the first wineries that made us take notice of South Africa. This is a gorgeous wine, with black pepper, intensity and some mintiness. "Lean wines tell a better story of our site," said Thomas Webb, commercial director and son of Thelema's founder, Gyles Webb, who interned in Napa with Joe Heitz. Consumers "like the idea of a struggle, not something that's simplified. Wine comes from the ground," the younger Webb said.
Villiera Wines Cap Classique. South Africa's Champagne-method sparkling wines are called Cap Classique and we guess this will be a growing category. Many of us have been familiar with Graham Beck for a long time (we have a story involving a cruise ship) and it has helped lead the way. The producers are rolling out new marketing initiatives along with new regulations and they have a good story to tell. We had two vintages of Villiera, one a 2012 Brut, during our trip and we were impressed both times.
We believe that, in time, good stores will offer more wines from South Africa. And remember since this is a time of experimentation, be open to new things. We would never have believed we'd really enjoy a Cinsault rosé, but we did. We met a winemaker whose goal is making South Africa's best Tannat. And a few others make wine from a grape called Sémillon Gris. Wines like that are not generally on shelves in the U.S., but what fun to try them when they are.
Dorothy J. Gaiter and John Brecher conceived and wrote The Wall Street Journal's wine column, "Tastings," from 1998 to 2010. Dorothy and John have been tasting and studying wine since 1973. In 2020, the University of California at Davis added their papers to the Warren Winiarski Wine Writers Collection in its library, which also includes the work of Hugh Johnson and Jancis Robinson. Dottie has had a distinguished career in journalism as a reporter, editor, columnist and editorial writer at The Miami Herald, The New York Times, and at The Journal. John was Page One Editor of The Journal, City Editor of The Miami Herald and a senior editor at Bloomberg News. They are well-known from their books and many television appearances, especially on Martha Stewart's show, and as the creators of the annual, international "Open That Bottle Night" celebration of wine and friendship. The first bottle they shared was André Cold Duck. They have two daughters.
Banner by Piers Parlett