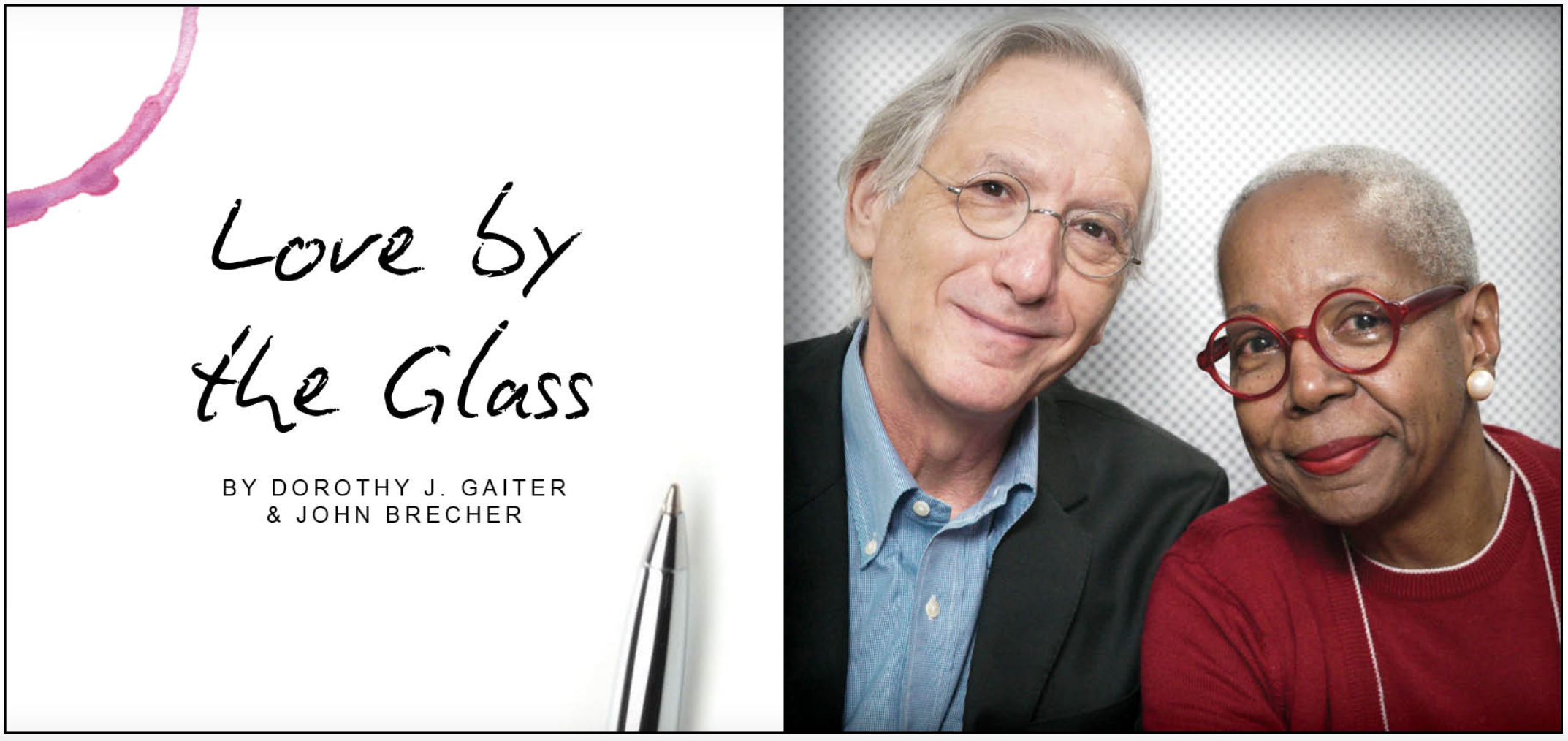 Major League pitcher Joaquin Andujar is widely credited with saying, "You can sum up the game of baseball in one word: you never know." As we near the season when people start getting especially nervous about the "perfect" wine pairing with this dish or that meal, we'd urge you to keep that one word in mind.
We were reminded of this ourselves thanks to one chicken breast, a mélange of herbs and two very different wines that also happen to showcase that this is a great time to be a wine drinker with an open mind.
We sample many wines for this column. We prefer to try them first before dinner, discuss them and then retaste with food to see how they change. We might have whites or reds, and sometimes we have both.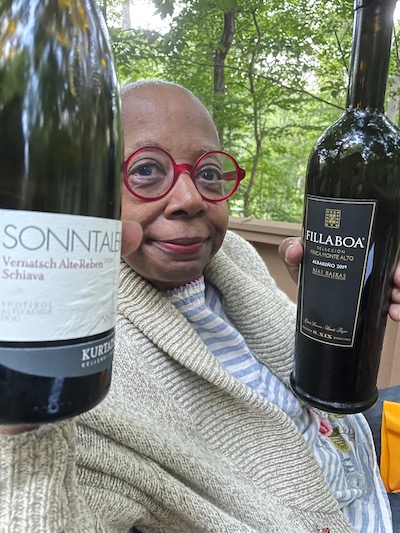 The other night, we happened to have a red and a white, both sent by winery representatives, we were eager to try. The red was a 2020 Schiava from Kurtatsch in high-altitude Alto Adige, Italy (Sonntaler Vernatsch Alte Reben, $30). If you are not familiar with the story of Schiava, it's pretty darn fascinating. Basically, this grape was grown more for quantity than quality for many years and developed a sub-par reputation. A few wineries are trying to prove to the world that, grown and made correctly, it can be quite good.
When we wrote about the Elena Walch Schiava last year, we described it as "one of the most charming wines we've had in a while – so light it seemed to float, with nice acidity, soft tannins, and earthy, raspberry notes. It reminded us a bit of a young, very good Beaujolais, but more weightless, wearing nothing but a smile. It also seemed as much like a white as a red. Although we had it at cellar temperature, we wish we'd given it a bit more of a chill."
Since that column, we have tried several different Schiava. Some hit just the right notes, but in other cases the wine was so earthy it tended toward funky and more rustic than we like.
The white was Fillaboa Albariño 2019 from the Rías Baixas region of Spain (Selección Finca Monte Alto, $33). Albariño now is widely known as a fine Spanish white, but we did not write a column about Albariño for The Wall Street Journal until 2008 because, until then, we couldn't find enough to conduct a broad blind tasting. The world of wine has changed dramatically.
We like Albariño for its melon-peach sunniness and hints of white pepper. We think of it as a great summertime wine that can also go into winter, depending on the food you have with it. However, even in that broad blind tasting way back in 2008, we said that we found Albariño inconsistent and we have found that ever since. We've had too many that seemed heavy, which negates the charm and the reason to be having Albariño in the first place.
Dottie was making her version of chicken scaloppini using herbs from her indoor garden she had harvested and let dry. Her outdoor garden is a smorgasbord for critters, as she has learned the hard way.
After cutting one huge chicken breast into thin slices and hammering them between sheets of plastic wrap to make them thinner, she dredges them in an egg and then seasoned breadcrumbs to which she has added her dried herbs and some salt and pepper. This night, with the broccoli and garlic done and with the rice with sautéed onions close to being ready, she slid the chicken slices into a pan of hot oil, flipping them once. When the chicken was cooked, she made a sauce in the pan by adding butter and capers and a dash of white wine.
If there's no leftover white wine, she'll sometimes add a dash of the spicy, vinegary liquid from a jar of pepperoncinis. She's a use-what-you-have kind of cook. John loves this dish and feels guilty about eating it so lustily so it's important that Dottie can truthfully tell him, "Go ahead. It's only one chicken breast."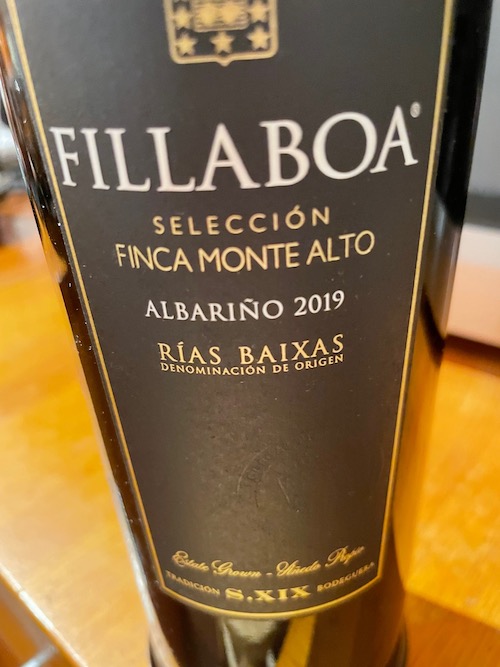 As Dottie was cooking, we opened the white. We each took one sniff and started at each other, wide-eyed and smiling. "I feel like I just walked into a field of white flowers," John said. "I agree," Dottie replied. "It's so fresh."
We're not talking "hints of flowers" here. It was like a cartoon where we popped the cork and the whole kitchen filled with white flowers. We tasted white pepper, a touch of honey, maybe floral yellow honeysuckle or white orange blossom -- so very fresh, with balanced acidity and some minerality. This single-vineyard, estate-grown Albariño was fermented in stainless steel tanks and kept on its lees for about 12 months, developing more complexity.
We had just slightly chilled it after taking it out of the wine cooler and we felt it could be colder. The only question we had now was whether to keep drinking the Albariño or save it for dinner and go on to tasting the red. White with chicken is the cliché, right? And maybe it would get even better after a few minutes in the refrigerator.
We went for the Schiava. Because Schiava is so light, it's better with a chill, so we had put that into the refrigerator, too. We opened it for a taste and – oh uh. This Kurtatsch was one of those that tended too much toward rustic. While we appreciate that this might contribute to the sense of its authenticity, it also makes it less charming for us and, we figured, would not work with the chicken, even with all of the herbs. We also thought it was too cold, so we left it out of the refrigerator. The winery's notes say this wine, aged in large Slovanian oak barrels, is made from several Schiava varieties, including the Schiava grigia clone, which lends it herbal qualities that make it suitable for white meats.
We waited a little while and went back to the white, now somewhat better chilled, and geeked out over it while we sat on the deck. It continued to be charming, appealing, so easy to enjoy. It was also pretty amazing to us that it was three years old because it tasted so very fresh so it's clearly ageable.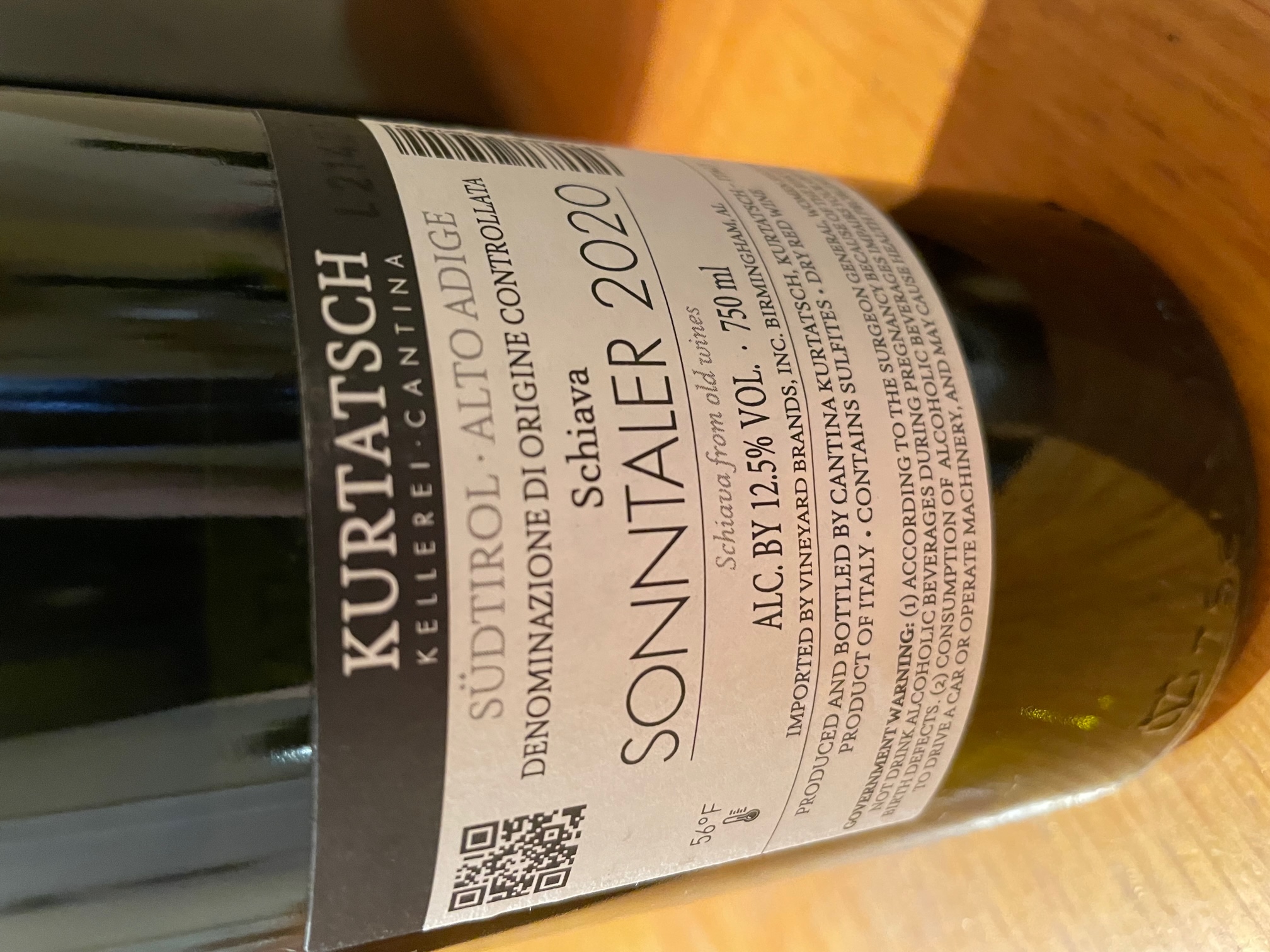 When we sat down for dinner, we took both wines. We tried the Schiava first. It's made from sustainably grown old vines and fermented in stainless steel tanks. An amazing thing happened. Maybe it was the temperature, or the air, or maybe the herbs with the dish, but this light red was transformed with the chicken. The nice acidity of the wine gave a boost to the chicken and the red-berry earthiness of the Schiava played beautifully with all of the herbs.
Then we tried the white and – guess what? – it wasn't as good with the chicken as it had been on its own. Against the fried herbs and the earthiness of the chicken, the floweriness of the wine translated into a hint of sweetness that didn't really work with it. The wine was good, but it stood apart, not really dancing with the dish.
But wait.
We kept eating, trying a bite with one wine and then with the other. And an amazing thing happened: The Albariño developed more body and a kind of herbal bitterness. Those worked beautifully with the dish.
The Schiava, meantime, began to lead with its acidity. It almost tasted like a white at some times.
And then, all of a sudden, at a certain moment, it happened: The Albariño from Spain and the Schiava from Italy had a moment when they almost tasted the same with a bite of chicken. They had each found themselves and, in doing that, we discovered that they had more in common than we had thought.
Yes, maybe this means there's hope for the world. But more immediately, it means this: You still have several weeks before you are going to be making the biggest meals of your year. You can't assume what wines go with what food. Have some fun buying a wide range of wines and trying them with different dishes between now and the holidays. Look for surprises. We feel sure you will find some, especially if you try somewhat different wines like Schiava and Albariño. When it comes to food and wine pairings, not to mention post-season baseball, remember: You never know.
Dorothy J. Gaiter and John Brecher conceived and wrote The Wall Street Journal's wine column, "Tastings," from 1998 to 2010. Dorothy and John have been tasting and studying wine since 1973. In 2020, the University of California at Davis added their papers to the Warren Winiarski Wine Writers Collection in its library, which also includes the work of Hugh Johnson and Jancis Robinson. Dottie has had a distinguished career in journalism as a reporter, editor, columnist and editorial writer at The Miami Herald, The New York Times, and at The Journal. John was Page One Editor of The Journal, City Editor of The Miami Herald and a senior editor at Bloomberg News. They are well-known from their books and many television appearances, especially on Martha Stewart's show, and as the creators of the annual, international "Open That Bottle Night" celebration of wine and friendship. The first bottle they shared was André Cold Duck. They have two daughters.
Banner by Piers Parlett