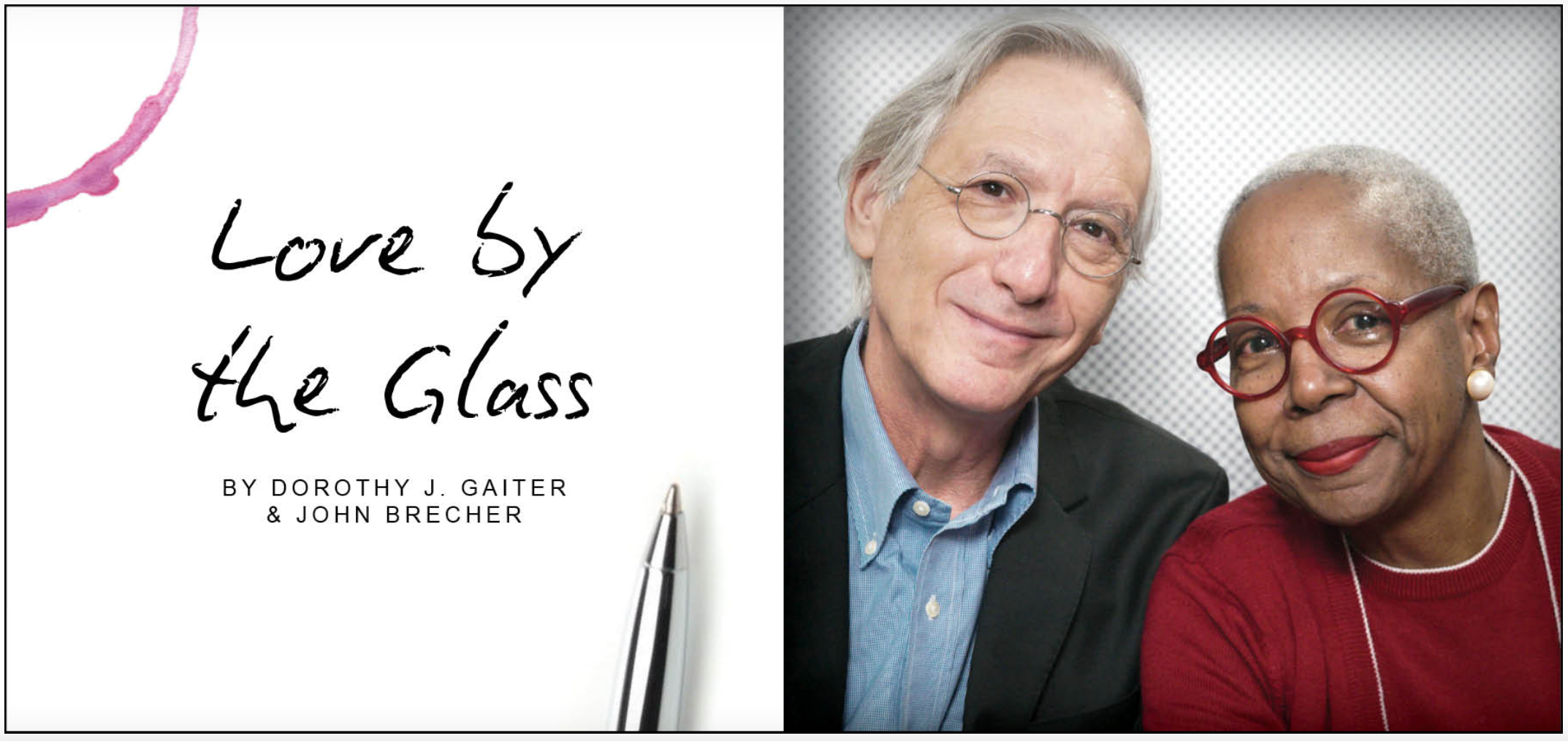 Sometimes – rarely, but sometimes – we taste a wine so exciting that it takes us on a journey. That just happened. It was from Murrieta's Well in the Livermore Valley and it was sharply focused, with dark berries, variety-tagged green bell pepper, persistent acidity, herbs and vibrating energy.
It was Cabernet Franc, from the 2019 vintage. That's not a total surprise. If you've been wondering about the red wave that pundits keep talking about, it's Cabernet Franc.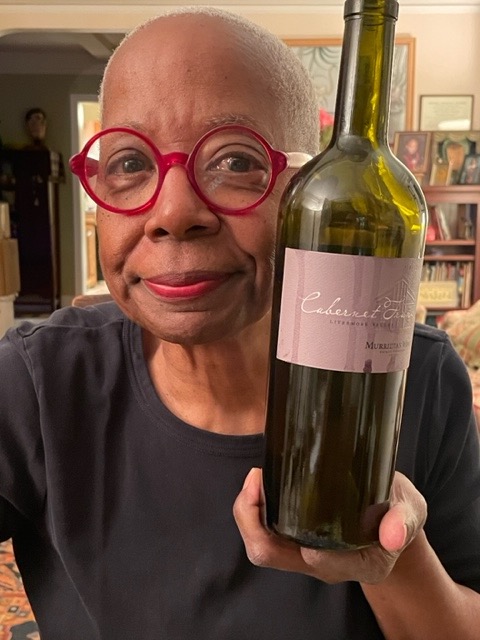 The world has been working toward this for a long time. Dottie wrote back in 2016 that Cabernet Franc was on the rise. For much more about Cab Franc's history, like its important role in the Loire Valley of France, here is that column. Now, Cabernet Franc wines are appearing on shelves from everywhere. In fact, after we had our head-banging experience with the Murrieta's Well, which is part of Wente Family Estates, we turned our attention to three Cabernet Francs we had waiting to be tasted. Two were from Napa and one was from Mendoza, Argentina. We decided to do a tasting while we stayed up past our bedtime to watch our daughter Zoë play drums with Bruce Springsteen on the Tonight Show With Jimmy Fallon. Hell, yeah!
We have always been attracted to Cabernet Franc because, at its best, it tastes sharp. "Sharp" is hard to explain in a wine – especially in a way that sounds attractive – but, to us, that means its tastes focus right down the middle of our tongues, leaving tastes of pepper, spice, dark fruits, some green herbs, and often an attractive trace of graphite, pencil shavings. You know how Merlot often tastes round and soft and easy? Well, this is somewhat the opposite -- savory, and some even say sexy because it can be luscious, earthy and exciting, on a different plane.
In his book "Lineage: Life and Love and Six Generations of California Wine," Steven Kent Mirassou, an advocate of more Cabernet Franc in Livermore Valley, writes: "The best Cab Franc continually resonates at a pitch and frequency just out of the range of comfortable explication."
We feel exactly the same way.
We first wrote a column about Cab Franc in 1999 and said we had trouble finding enough to taste. Looking back, it's fun to see our favorites, which included so many classics, such as Lang & Reed, Longoria, Consentino and Robert Sinskey.
Now, you will be seeing more Cab Francs on shelves. One reason, we think, is that consumers are looking for something different. At a time when too many Cabernet Sauvignons tastes alike and too many Merlots are boring, Cabernet Franc offers an alternative taste and profile. It has become so popular, not just as a blending grape but as a stand-alone variety, that a ton of Cab Franc cost more than Cabernet Sauvignon in Napa in 2021, according to state statistics.
Another, deeper reason is climate change. Brian Freedman, author of the excellent and terrifying new book "Crushed: How a Changing Climate Is Altering the Way We Drink," told us: "In naturally cooler climates, which are becoming more and more important for growers as the world heats up, Cab Franc can showcase fantastic green notes, often described as herbaceous or tobacco-like. In warmer climates, its natural acidity typically helps it retain freshness alongside more ripe aromas and flavors. And all over the world, its tannic structure, mouthwatering character, and hints of herbs and spice allow it to work well with other varieties, lending them layers that they likely wouldn't have had on their own."
The three Cab Francs we decided to taste had a high bar because we liked the Murrieta's Well so much (it's $64). We loved that it was so proud of its varietal tastes – spices like black pepper, a touch of green, balanced tannins, marvelous acidity, blueberry and black cherry fruit, and a whisper of vanilla, which we usually don't like. Its finish was endless. At the same time, we also felt it would be widely popular with people who like fine red wines.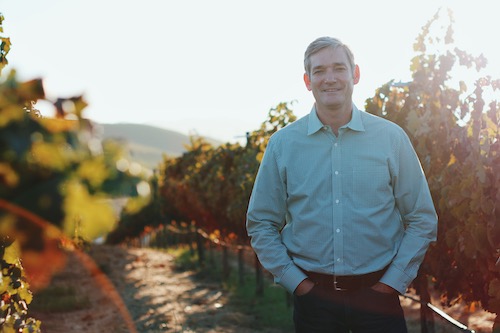 Robbie Meyer, director of winemaking for Murrieta's Well, who works with small-lot wines — they made 28 barrels of this – told us, "We do love our Cab Franc plantings. We have planted a bit more and would like to continue with a few more blocks. Currently have 7.7 acres. We really love working with it and how it responds to our property."
(Photo: Robbie Meyer)
All of this set us up for our tasting. The wines: Peju Province Winery Napa Valley 2019 ($75), Trefethen Family Vineyards Oak Knoll District of Napa Valley 2019 ($50), and Devoción 2021 from Mendoza, Argentina ($25). We have been drinking Peju and Trefethen for years, but the Devoción was new to us, and we, like many people, mostly associate Argentina with Malbec, not Cab Franc. All four were sent by the wineries.
We decided to taste the Trefethen first. Our experience with Trefethen is that its wines are elegant and restrained, so that seemed like a wise idea. "Juicy, sharp, with some bell pepper," we wrote. We described it as "narrow," which, to us, is a good thing in Cab Franc – that means, in our shorthand, that it has that focused taste. We didn't taste as much of the vibrating fruit we might like, but it was mighty tasty. As the hours went on, it became even classier and approachable.
We had the Devoción, made from organic grapes, second, figuring that the Peju would probably be big and might overwhelm it. The Devoción was dark, with quite a bit of black pepper on the nose. It was so remarkably dry that Dottie said "it's like it's vacuuming my mouth." Of the three, this one immediately had the most mineral underpinning, which we found very attractive. As it opened, it became even more assertive, in a good way. This is a great bargain.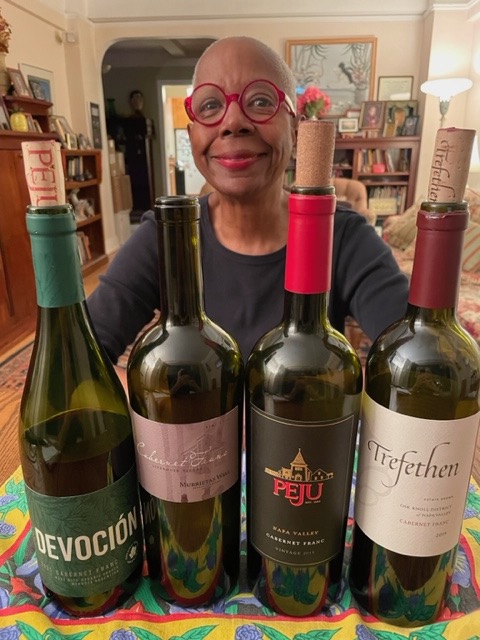 The Peju had a big, chewy, almost chocolatey nose, with some bing cherries and a punch of alcohol (it's 14.5%; the Devoción is 14%, Trefethen 13.8% and Murrieta's Well 14.5%, though it seemed like less). Pencil shavings is one of those classic markers of Cab Franc. It registers with us as a different type of minerality, and the Peju was the only wine that had that graphite bite. We both really liked it – so very classy – but it didn't seem like a slam-dunk varietal. It seemed to be a better Cabernet Sauvignon than Cabernet Franc and John even wrote in our notes: "Big percentage of CS?"
We try not to look at tech sheets until we are finished with our tastings. Sure enough, the Peju is 25% Cabernet Sauvignon and it gets 19 months of aging with 37% new oak. The Devoción and Trefethen are 100% Franc. The Devoción was fermented in stainless steel with 30 percent of the blend of different Cabernet Franc blocks going into large barrels. The Trefethen got old oak for 18 months. The Murrieta's Well is 2% Cabernet Sauvignon and 1% Petit Verdot and after all of the varietals were fermented in stainless steel, the wine was aged in 60% new oak and 40 % second use.
This little tasting is a small sample size, but our whole life experience with Cabernet Franc is large and at this point, we'd say this: As that red wave of Cab Franc washes up at your local store, the wine was likely produced by someone who really believes in that grape, like Robbie Meyer. That is often a recipe for a good experience and this is a variety to look for, whether it's from Napa or Mendoza or places in-between. This also happens to be a very food-friendly wine with fall and winter dishes. Let it take you on a journey.
And, by the way, Zoë's performances with The Boss were incredible, and are available now on YouTube.
Dorothy J. Gaiter and John Brecher conceived and wrote The Wall Street Journal's wine column, "Tastings," from 1998 to 2010. Dorothy and John have been tasting and studying wine since 1973. In 2020, the University of California at Davis added their papers to the Warren Winiarski Wine Writers Collection in its library, which also includes the work of Hugh Johnson and Jancis Robinson. Dottie has had a distinguished career in journalism as a reporter, editor, columnist and editorial writer at The Miami Herald, The New York Times, and at The Journal. John was Page One Editor of The Journal, City Editor of The Miami Herald and a senior editor at Bloomberg News. They are well-known from their books and many television appearances, especially on Martha Stewart's show, and as the creators of the annual, international "Open That Bottle Night" celebration of wine and friendship. The first bottle they shared was André Cold Duck. They have two daughters.
Banner by Piers Parlett