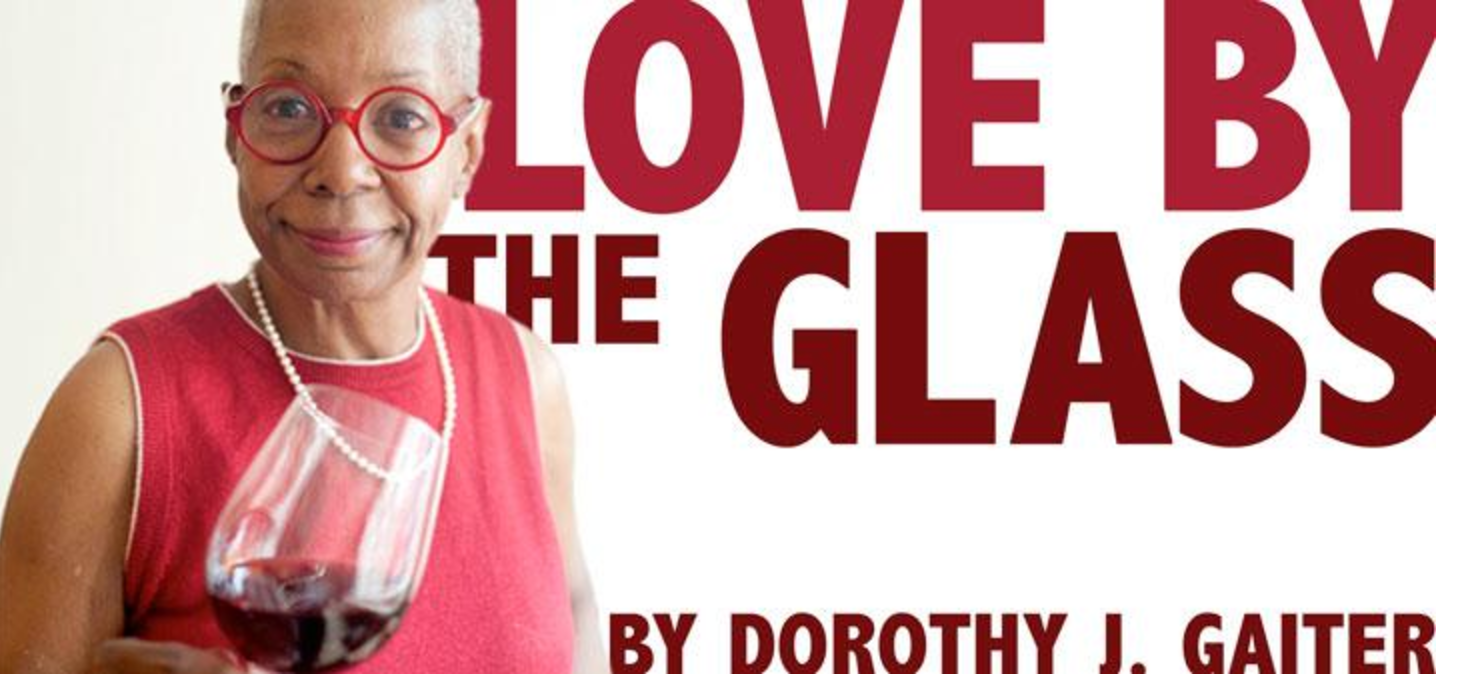 Long-time readers know that John and I have had a bumpy ride with Merlot. Our inaugural "Tastings" column in The Wall Street Journal, on March 20, 1998, was about American Merlot. It was a juggernaut then, with wine drinkers loving its easy-drinking, smooth, round tastes. "Sales of California Merlot increased 12-fold between 1990 and 1998," we wrote on the 10th anniversary of the column, which we left in 2010. "By 2000, Merlot surpassed Cabernet Sauvignon as America's favorite California red."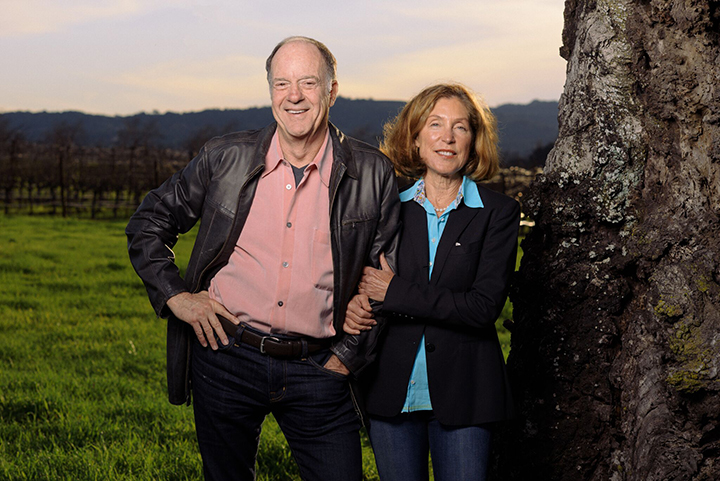 (John and Janet Trefethen)
You know what followed. As with so many "hot" things, everyone in the world thought they could make it. People rushed to plant it where it should never be and weren't particular about how to handle it. Too many of the wines became stupid, sweet and overoaked, with off-the-charts alcohol. And this was long before Sideways mocked it in 2004.
The one I'm writing about here, the delicious 2014 Trefethen Family Vineyards Merlot (Oak Knoll District of Napa Valley), $35, had a most difficult birth. That it was bottled at all is a testament to the resiliency of the pioneering Trefethen family and the generosity of Nature even after it has seemed cruel and fickle.
The grapes for this Merlot were harvested between September 2 and October 14, just weeks after a 6-point magnitude earthquake hit the South Napa Valley-North San Francisco Bay area at 2:30 a.m. on Aug. 24, 2014. In Southern Napa Valley and Vallejo (North San Francisco Bay area), the earthquake killed one person, injured 200, and caused, according to Wikipedia, $362 million to $1 billion in property damage. Several wineries in Napa suffered damage including busted barrels and smashed cases of bottled wine.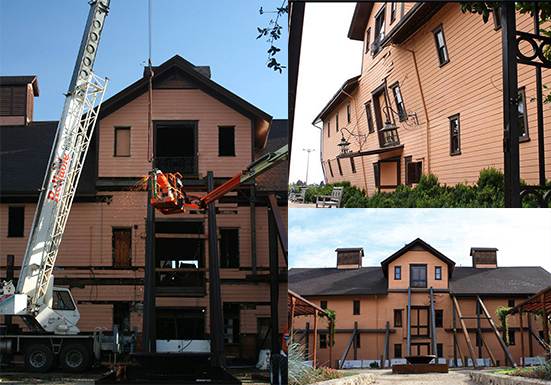 The Trefethens' Eshcol Winery building, which is on the National Register of Historic Places as the only 19th-century, wooden, gravity-flow winery surviving in Napa County, was leaning precariously. Designed by Hamden McIntyre, who also designed Inglenook and Christian Brothers' Greystone wineries, among others, it was built in 1886 and, according to the San Francisco Chronicle, did not have seismic retrofitting. Those are modifications to existing structures that make them resistant to damage from earthquakes. Nature spared the family's grapes.
"It was very, very tenuous. Very scary," John Trefethen told me a few days ago. He and his wife, Janet, own the family's estate, around 500 acres, inherited from his parents, Eugene and Catherine Trefethen, who bought the initial winery in 1968 when it was known as Eshcol Winery, and five adjacent farms. Eshcol, according to Wikipedia, is "'a biblical word for 'lush cluster of grapes.'" We met John and Janet in 1976 on our first visit to Napa. Their children, Lorenzo, 35, and Hailey, 32, are vice presidents of the company now. They are being prepared by their parents and Jon Ruel, one-time Trefethen viticulturist and now CEO, to run the sustainably farmed business some day.
"We were not able to harvest and crush the grapes without first stabilizing the building. It was just before harvest and the grapes were fine. But we had to process them and we couldn't do that without first stabilizing the building," Trefethen, 73, told me. Hailey was put in charge of the project, which took two-and-a-half years and cost millions of dollars.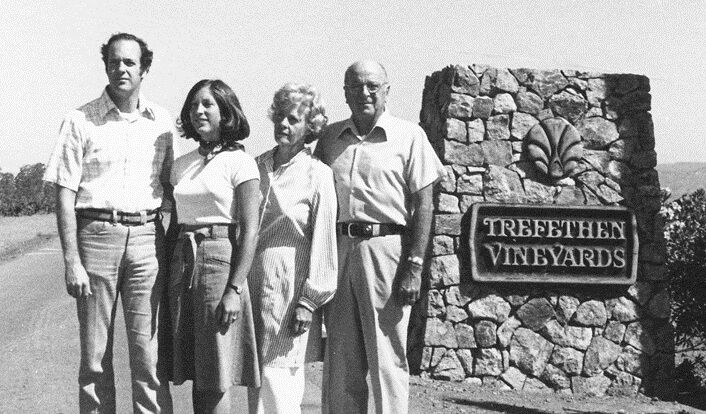 (John, Janet, Katie and Gene Trefethen standing at the front gate)
Although their neighbors offered to let the Trefethens use their nearby wineries, the Trefethens declined their sweet offers. All of their wines had always been made on their property and all of the wines are made from estate-grown grapes, the family's own. (The lone exception to the all-estate fruit practice was the family's Eshcol Red Wine blend, which we enjoyed in 1981 and still have the label from, stating it is Blend 280. Because some of the family's vineyards had to be replanted after a phylloxera outbreak that hit Napa, some of the grapes in that blend were purchased, Trefethen told me. The number 280 meant it was the second bottling of the 1980 blend of Merlot and Zinfandel, he said, chuckling.)
While frantically working to shore up the historic structure, the family was able to move the necessary equipment to process and make the wines to other structures on the main property. The restored Eshcol Winery, one of the iconic structures in Napa, reopened to the public last month, and next year the family will celebrate its 50th year of winegrowing in Napa with Janet Trefethen planning events there and likely across the country.
Janet Trefethen interviewed by Grape Collective
"I think Merlot is an interesting story in itself," Trefethen told me, adding that early on, his family's 11 acres of Merlot represented the largest planting of it in Napa. His mother and father, an industrialist and philanthropist, initially sold their grapes to other wineries, including what would become Domaine Chandon. John and Janet Trefethen made the first commercial release of Trefethen wines, a Chardonnay and a Pinot Noir, in 1973. In 1979, he told me, his 1976 Chardonnay was judged at the Gault-Millau Wine Olympics in Paris the "Best Chardonnay in the World." And yes, he told me, California Chardonnays do age well, answering a question I posed in a column.
Trefethen and noted grapegrower Andy Beckstoffer founded the Napa Valley Grapegrowers organization in 1975 and Trefethen was its first president. He was also president of the Napa Valley Vintners.
But back to the Merlot. "We were putting Merlot in our Cabernet. We were selling a little bit early as Merlot but I was mainly supplying the other wineries with it," he told me. They released their first Merlot in 1993. The 2014, grown on the family's cool-climate, estate vineyard known as the Main Ranch, is 83% Merlot, 9% Malbec and 8% Cabernet Sauvignon. It was aged in American, French and Hungarian oak. "Classy. Great structure with a real austerity and tremendous, mineral finish. Tastes like a fine Right Bank Bordeaux," we wrote in our notes. "Great restraint, with rich blueberry/blackberry tastes, but mostly edgy, structured tastes of earth and minerals. Long, lovely finish. Balanced. No hint of all of the excesses that we associate with California Merlot."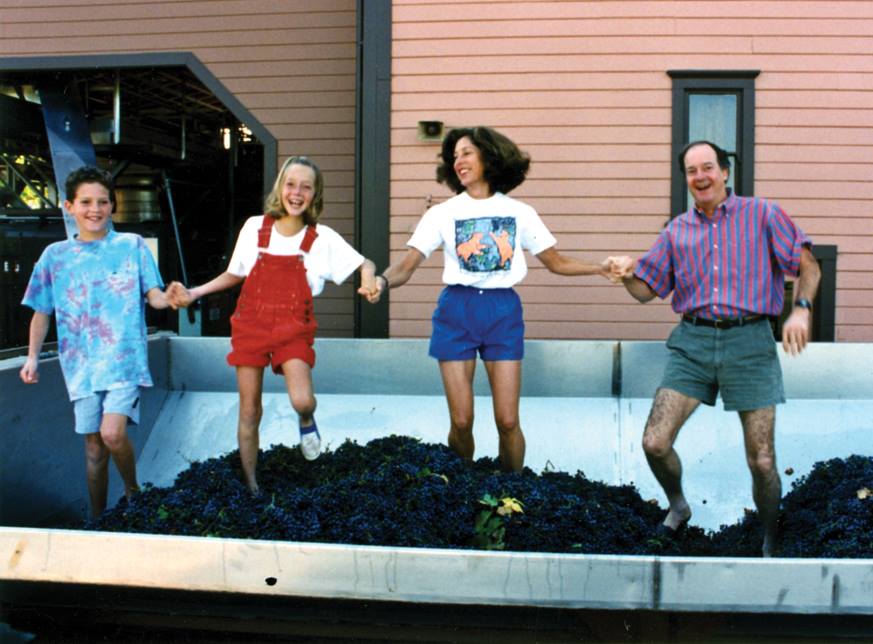 (John and Janet with Lorenzo and Hailey)
Merlot, Trefethen told me, "was a first wine, a gateway wine for people who were drinking white wine and white Zinfandel." And as we know, in time, "a lot of mediocre wine was made and it kind of came back and bit us," he said.
"It's been a long struggle to rebuild the name and we're there now because not only are some of the finest wines in the world made from Merlot, but the people who are making it now are very serious about it," he continued.
Pinot Noir is famous for requiring special care and being difficult, and Trefethen spoke similarly about Merlot. "It's a very delicate side of the Bordeaux spectrum and you have to treat it with a light hand. It tends to throw an enormous crop and it can't possibly ripen all of that. It sets huge crops."
Thinking about that brought to mind a memory. "I was walking the vineyard one day with my father and I could see that he was really upset. We were walking through a carpet of grapes that we had thinned from the vines, probably four tons an acre, laying on the ground," Trefethen told me. "I could see that he was thinking, 'My God, what have you done to us, Son? Throwing my crop on the ground.'
'"And the words of Tony Baldini Sr., our first viticulturist, came to me. Tony said, 'Look at the vines, not at the ground,' and on the vines was a fine crop and on the ground were all of the grapes that would have ruined the crop."'
A historic building is restored and, at least here, also a grape's reputation.
Dorothy J. Gaiter conceived and wrote The Wall Street Journal's wine column, "Tastings," from 1998 to 2010 with her husband, John Brecher. She has been tasting and studying wine since 1973. She has had a distinguished career in journalism as a reporter, editor, columnist and editorial writer at The Miami Herald and The New York Times as well as at The Journal.
Read more columns from Dorothy J. Gaiter on Grape Collective
(Homepage Banner Art By Piers Parlett)
Check out the full Grape Collective interview with Janet Trefethen