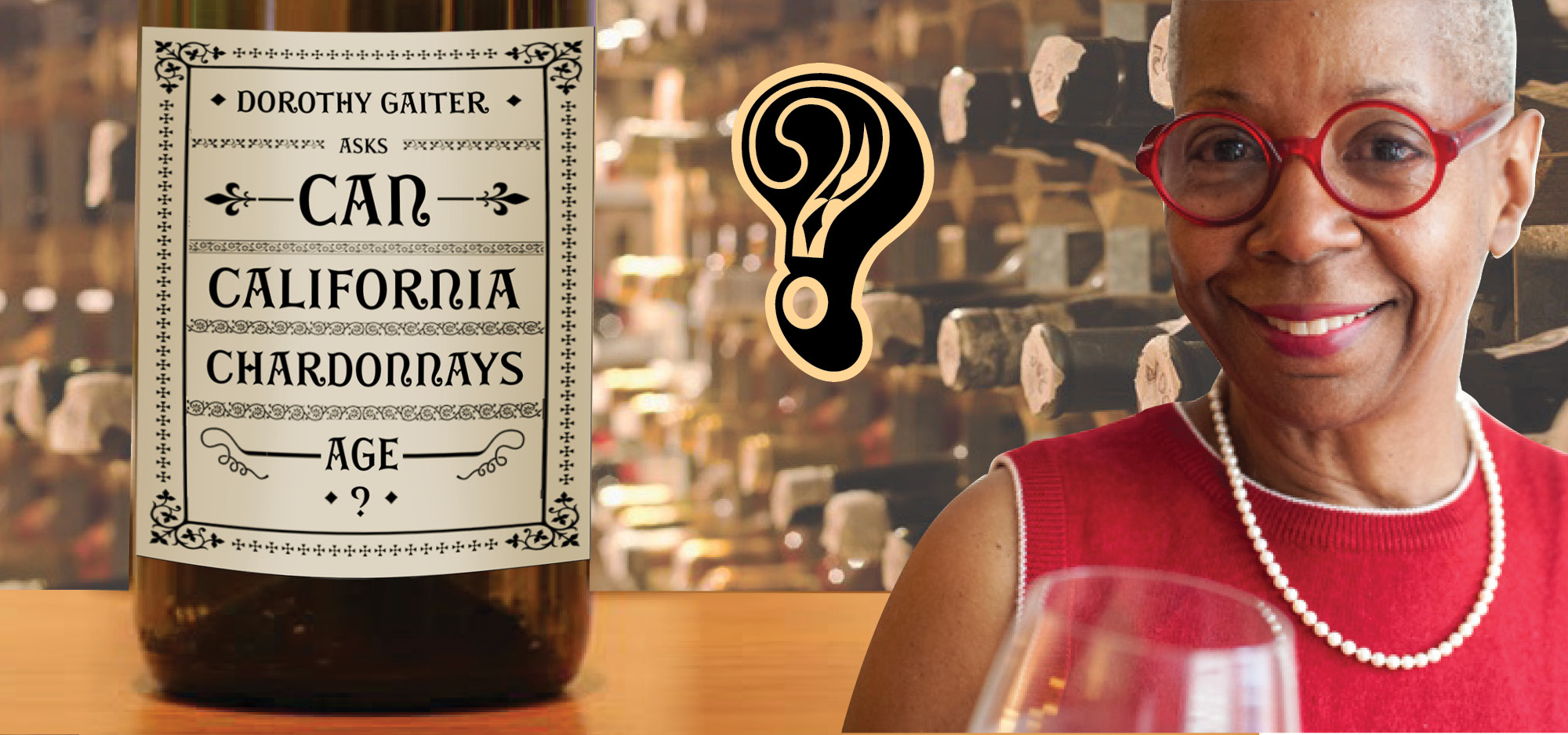 Being a lover of wine means living with "maybe" and "sometimes" and "under certain circumstances." If you want absolutes, drink Coca-Cola. Over the past few months, we've experienced the subjectivity and variability of wine in bold relief over the question: Do California Chardonnays age well?
I know that immediately raises many questions, among them: Which? From where: cool or warm climate? Made how, with which clones and with malolactic fermentation or without? High acid and alcohol, low acid and alcohol? And, of course, there's also the critical question of how they're stored.
My interest in this question about age was sparked anew by a few recent experiences: a tasting of the 2005, 2010 and 2015 Inox Chardonnay from Melville Winery in Lompoc in the cold-climate Sta. Rita Hills; a tasting of an iconic Chardonnay which we were told hits its peak at around four years old; a renowned winemaker's comments about a 1973 Stony Hill Chardonnay that he'd had recently; and a rereading in March of George M. Taber's book about the Judgment of Paris in which two 10-year anniversary recreations of the tasting were staged without the Chardonnays because they were thought to be beyond their prime by 1986. We also recently had a 2006 Pahlmeyer that knocked our socks off in April but which in 2009 seemed merely good.
Full disclosure. At my house, full-out wine-geek moments more often come with wines with age. It's not that we glorify old wines in general. Age, in wine and people, does not always mean better. But older wines can be transcendent in a different way than laser-focused, bright, shooting-star young wines can be. Some older ones are filled with a special majesty, nuanced with wisdom. They leave us in awe, humbled. So, yeah, the four-year sweet spot for the iconic Chardonnay and the 10th anniversary snubs got me wondering.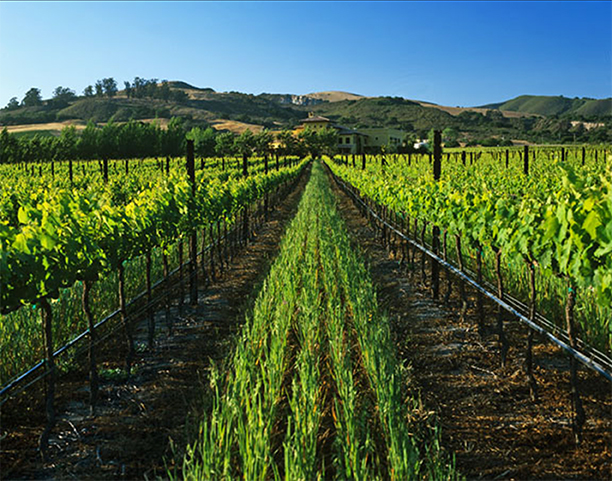 I'll start with the Melville wines. Not long ago, Chad Melville, the head winegrower at his family's namesake winery in Santa Barbara County, sent me three Chardonnays called Inox, French for stainless steel, he said. All were made from grapes from a prized 1.8 acre block of clone 76 on the west side of their vineyards planted in sandy soil. The 2005, 2010 and 2015 were made the same way, 100% stainless steel, cold-fermented, and none underwent malolactic fermentation. Following fermentation, they resting on their lees without stirring for five months and were bottled. The different growing seasons, of course, were a big variable, as was the age of the vines, but what a fun experience we were about to have.
Chad, 45, wrote that he sent the wines "to illustrate the age of our vines and my own personal approach to winemaking."
We opened them all at once, starting with the 2005, which ultimately was our favorite. Our notes on it read: "Lemon on nose promises great acidity. Nothing that says old, no hint of age—nothing. Very vibrant, almost really like it's vibrating with acidity. A certain lightness to it. Absolutely a food wine the way that Chardonnay too often is not. Lemon meringue. Never would have guessed it's 15.3%. It has a roundness. Reminds us of the best we've had from Stony Hill, Bacigalupi Vineyards, Heitz and Pahlmeyer. Great fruit held in check. You could taste the tension."
The 2005 growing season was "pretty ideal," Chad said when I called him later, with great sunlight, good temperatures and little rain, allowing fruit to gain mature flavors.
The 2010, we wrote, "smelled like buttered popcorn. No question this is California Chardonnay. Not as elegant as the first. Almost like two beats too heavy. A dumb period? 14.5%. We'd guess it was a challenging year. After more time, more fruit. More fruit the next day." Chad said 2010 was a challenging year, reminding me that a lot of the country struggled with unusually cold weather. For grapes, that posed a problem for ripeness.
The 2015 made us smile. Chad, who took over winemaking duties last year from Greg Brewer, made it. Brewer of Brewer-Clifton Winery was the founding winemaker at Melville and made the others. The 2015 had the most color, a richer yellow. "It's delicious in a youthful way. It's got vibrant acidity the way the '05 did and the best finish of the three. Tastes like a California Chardonnay, an exceptional one. If we paid $100 in a restaurant, we'd think it was well worth it. Lovely, grapefruit tartness. 14%."
This came from a long growing season, fourth year of drought, with a mild winter that all meant good ripeness but a much smaller crop. It's interesting they came down in alcohol over the three vintages.
Melville was founded in 1989 by Ron Melville, a finance guy and wine collector who was also a gardening geek. Over just two hours in the stock market crash of October 1987, Melville, now 75, lost about 40% of his net worth, according to the book "California's Central Coast: From Santa Barbara to Paso Robles" by Mira Advani Honeycutt and Kirk Irwin. That encouraged him to diversify and so in 1989, he founded Melville in Knights Valley in Sonoma County, growing prized grapes that he sold. Smitten by a Au Bon Climat cold-climate Pinot Noir, he moved his enterprise in 1996 to its current location, in the rolling Sta. Rita Hills of the Western Santa Ynez Valley.
He makes Pinot Noir, Chardonnay and Syrah, which have brought him accolades. The fog and winds off the Pacific Ocean and sand and calcareous rock on the estate make for high-acid, complex-flavored, balanced fruit. The plant geek in him led him to experiment with selections and create clones and to seek out early some not widely available yet to American vintners, like the early-ripening Dijon that makes the Inox, which Chad said "wasn't available to the industry until the mid '90s." Today, the sustainably farmed estate is a large experimental lab from which Melville produces from 12,000 to 15,000 cases annually, split among 16 to 18 wines. They make only about 350 cases of Inox every year. It sells for about $35. Elder son Brent, 48, owns Lucky Dogg Winery in Solvang and daughter Kathleen, 36, "is a consumer," Chad said, adding, "She's on the right side of the business."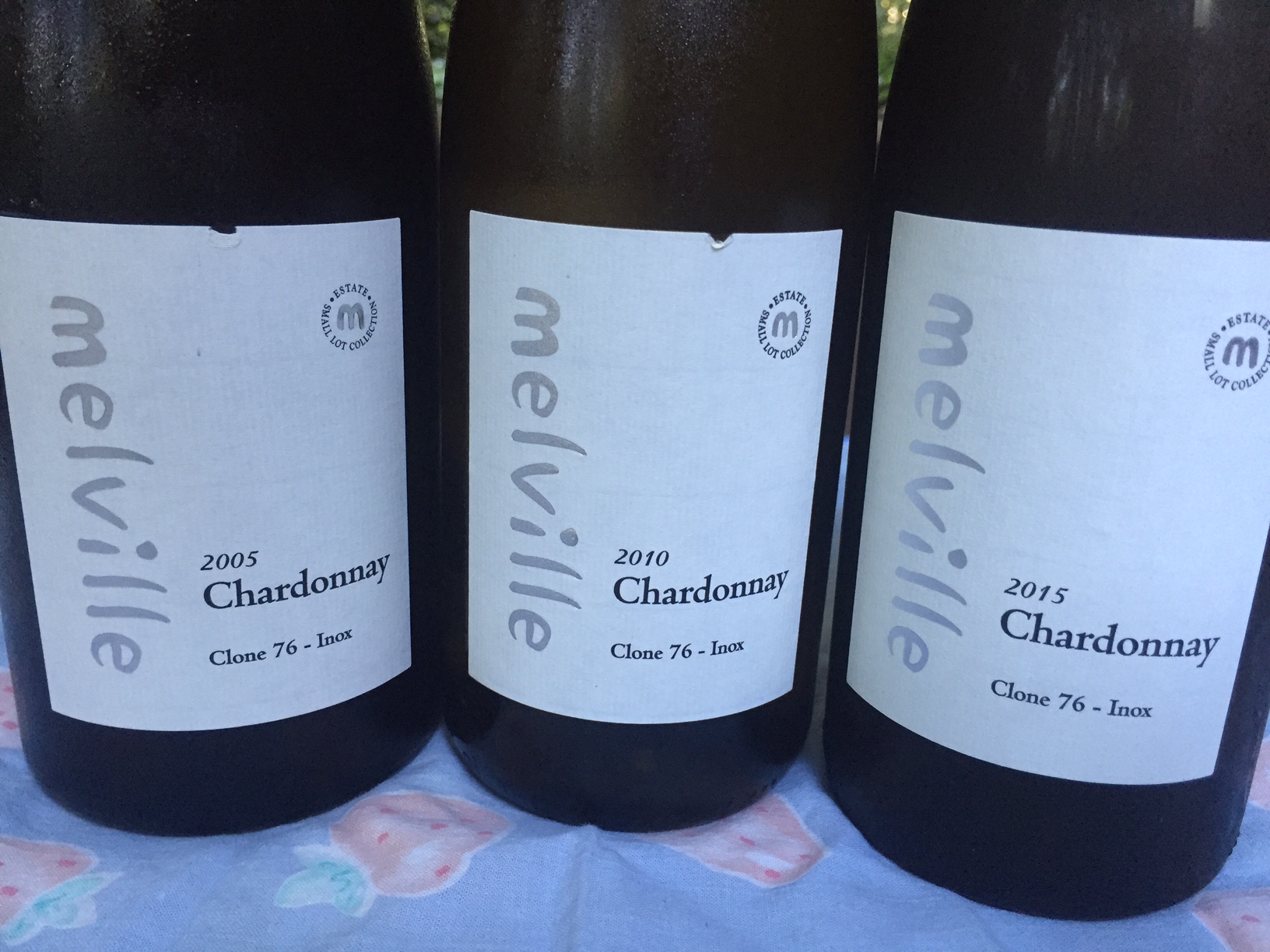 The first Inox was released in 2001, and while it wasn't the first all-stainless steel Chardonnay made in California, it was a Chablis-like stunner that grabbed the attention of restaurants and connoisseurs. "If you're going to go out naked," Chad said, you're going out pretty buff. "It's interesting to see people's reaction," he said, recalling hearing, "'Oh my God, I can't believe that's Chardonnay.' We turn to them and say that's exactly what Chardonnay is, what the core of it is." We're going to search for another bottle of the 2015 to keep it, just to see what happens. The other two vintages are long gone.
At that tasting of wines from a long-time producer of cult Chardonnays from Sonoma, we were surprised to hear one of its top people say that their wines should be drunk within four to six years of the vintage.
"They can easily go to 10 years but we don't expect people to keep them that long," he said. "We say that with Chardonnay, it hits its sweet spot in four to six years. It doesn't take that much longer for things to happen, like acid marrying into the wine."
We're talking here about well-made wines that helped define the style of California Chardonnay as big, oaky and buttery. We've used the term voluptuous, even, though they've more recently moved toward a leaner style. What about white Burgundy, we said, turning to each other. In fact, he went on to liken his wine to Puligny-Montrachet.
Taber's book, "The Judgment of Paris: California vs. France and the Historic 1976 Paris Tasting That Revolutionized Wine," contained the same sentiment.
Taber wrote that "the tenth anniversary of the Paris Tasting in 1986 offered a good occasion to see how the wines were aging" and for its 10th anniversary rematch, Wine Spectator, he said, conducted a tasting of just the original Cabernet Sauvignons. "Chardonnay wines were not considered on the grounds that they would be past their prime," he wrote. Steve Spurrier, the Englishman who with his American associate, Patricia Gallagher, organized the landmark tasting in Paris, restricted his 10th anniversary tasting to the reds "for the same reason as at the Wine Spectator rematch," Taber wrote. In all fairness, Taber didn't say they were worried about California Chardonnays more than the French ones holding up. Just Chardonnay, overall.
In the original tasting, Chateau Montelena's 1973 Chardonnay made by then-winemaker Miljenko "Mike" Grgich had bested some of France's best white Burgundies. So I called Grgrich Hills to try to talk to Mike's daughter, Violet, the vice president of sales and marketing, who I've spoken to before. Ken Morris, the communications manager, got on and said that in 2013 for Mike's 90th birthday, they'd thrown a party and opened up some 1972 Chateau Montelena Chardonnay because they didn't have enough bottles of the 1973 that won in Paris.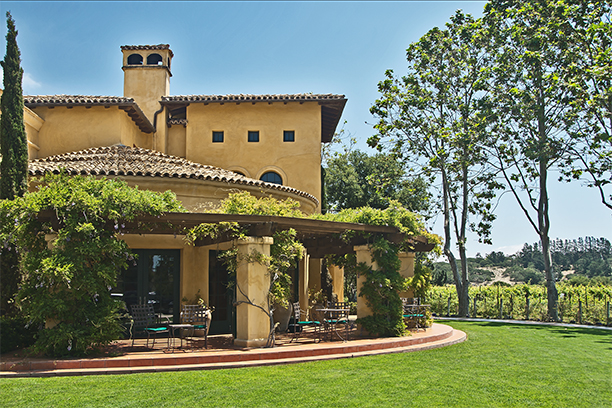 Morris said that the veteran wine writer Dan Berger was at Mike's party so I found his article about it in the Napa Valley Register. Berger wrote that "the wine was still vibrantly scented, fresh, un-oxidized, and tasting as if it were 10 years old, not more than 40."
"Everyone was happy to see that the wine was still alive. It had lost a lot of fruit but there was still some life to it," Morris told me. On Grgrich Hill's website's section on "Suggested Aging," the advice given is "Our Chardonnay does not undergo malolactic fermentation and it can peak within seven to 10 years, offering enjoyment for many years beyond, even 20 years or more."
My most recent column was about Stony Hill's creation of one of Napa's first cult Chardonnays and its winemaker, Mike Chelini, the longest-tenured winemaker in Napa. It brought this response from Richard Arrowood, an iconic winemaker in his own right, having made some of the best wines produced in California at the winery he and his wife, Alis, owned, Arrowood Winery, and while he was Chateau St. Jean's first and longtime winemaker. He and his wife now own Amapola Creek Winery and he is in his 51st year of winemaking in Sonoma. Arrowood wrote: "I had the rare pleasure of opening 1 of the last 2 bottles I had of the 1973 Chardonnay......Absolutely astounding in every way......Thank you Mike for crafting such a lovely wine that has lived so wonderfully long! Cheers, Richard Arrowood."
Then there is this twist. In our last Tastings column in The Wall Street Journal on expensive California Chardonnay, the 2007 Pahlmeyer, which cost $62.99 at the time, was our best of tasting. It earned our second-highest accolade, Delicious. We wrote of it, "What California Chardonnay can be, with ripe, rich fruit held in such control it seems to vibrate. Clean, focused and classy, with some mouthfeel and the most luscious roasted-lime finish, with a lingering hint of nutmeg. World-class. Ageable. We did not like the 2006 nearly as much." The grapes for the 2006 and 2007 had one vineyard in common but drew from different ones otherwise.
But in April, we opened a 2006 Pahlmeyer, which got new oak, malolactic fermentation, the whole nine yards, and at 10 years old was simply gorgeous. Our notes read, "Rich lemon soufflé. Smells like a Burgundy but taste is California. Lovely bitterness. So huge, so huge. So many years ahead of it. The combination of massiveness and complexity are what made us fall in love with California Chardonnay but we wondered if anyone made it anymore. Intense. 14.9%. Like chewing granite. One of the more extraordinary white wines we've ever had."
There's no right or wrong way to enjoy wine, no matter what anybody says.
A poorly made wine kept for years will still be a poorly made wine. However, we've had fun "losing" well-made inexpensive wines like old Louis Martini reds in our cellar and "discovering" them years later to find that they taste like incredibly expensive well-made wines. The next time you have a well-made everyday wine that tastes a little tight but has good fruit and is not overly oaky and creamy, put a bottle away in good conditions for a few years. When you open it, drop me a line. Better yet, drop me a line if you've had a good, older-Chardonnay experience.
I've just had a significant birthday, so aging is on my mind. It's a privilege to be here.
Dorothy J. Gaiter conceived and wrote The Wall Street Journal's wine column, "Tastings," from 1998 to 2010 with her husband, John Brecher. She has been tasting and studying wine since 1973. She has had a distinguished career in journalism as a reporter, editor, columnist and editorial writer at The Miami Herald and The New York Times as well as at The Journal.
For more on California wine read:
Dorothy Gaiter on Heitz
Dorothy Gaiter on Stony Hill
As of publication the Melville 2013 Clone 76 Inox Chardonnay is available at Sussex Wine in New York for $46.99.