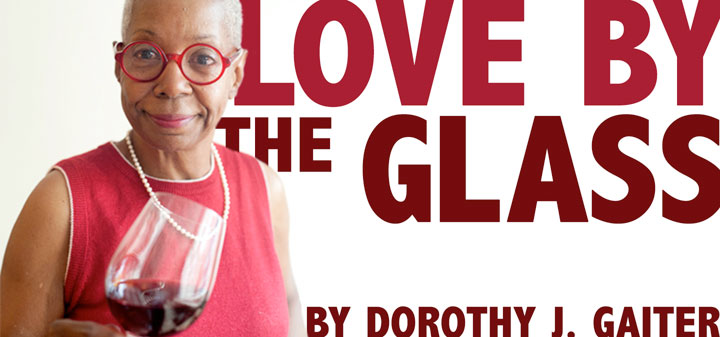 We found ourselves in California earlier this month for a few days, a frustratingly short time to visit such a wonderful place, but it was long enough to convince us that Cabernet Franc seems to be having a moment.
The grape has long been used in blends here and in Bordeaux, usually with Cabernet Sauvignon and Merlot. As a single-variety wine like Chinon, the friendly red of the Loire, it's been a passion project off and on for a few brave winemakers here and there in the U.S. Whitecliff Vineyard & Winery in the Hudson Valley of New York, for instance, made a good one, and we think it's the best grape of Long Island, not Merlot.
After an explosion of them into the market a decade ago, single-variety labeled Cabernet Franc became more scarce, retreating once again into blends. It is a difficult grape, and can rebel if not grown in the right mineral-rich soils or handled with the closest attention. But everywhere we looked in San Francisco and in Napa Valley, on restaurant and wine bars' wine lists and at wineries, there it was, varietal Cabernet Franc.
If you haven't had a Cabernet Franc, it's softer and lighter than Cabernet Sauvignon, which DNA testing more than a decade ago discovered was the result of a cross of Cabernet Franc with Sauvignon Blanc. Cabernet Franc has prominent acidity, blackberries and strawberries and sometimes a dash of green olives or bell peppers and violets. I love the graphite, and, yes, it can smell like pencil shavings. When done not that well, it can have a flatness to it, which I guess makes it good for blending. The best ones make me immediately think of a black-and-blue steak, which grosses John out big time!
Our first varietal American one, back in 1993, was a 1989 Robert Keenan Winery Cabernet Franc from Napa Valley's Spring Mountain District. We had it at a now-closed charming French place in downtown Manhattan called Capsouto Frères. (One of the frères, Jacques, is making wine now in Israel:) Of Keenan's 2012 vintage, 480 cases, sold on its website for $68, the winery says, "Cabernet Franc isn't supposed to be this delicious." We have a long history with Keenan, which since 1998 has been run by Robert's son, Michael. We also are long-time fans of the Cabernet Francs from Lang & Reed and Robert Sinskey Winery, both in Napa Valley.
In San Francisco for two days, we discovered an amazing 2013 Inkblot Michael David Winery Cabernet Franc from Lodi ($40), which we bought and lugged around for several hours before returning to our hotel. We were that determined to have it. We were the only customers on a cloudy day at the Wines of California Wine Bar at Fisherman's Warf, and Miguel Ramirez, who was pouring, had warmed to us when John spotted a label we'd never seen before. It was a 2013 Michael David Winery Petite Petit, a circus-theme label with elephants. Hint, hint, the wine is huge. A blend of 85% Petite Sirah and 15% Petit Verdot, it was one intense, black wine that we were certain stained our insides, even though we shared one glass.
Ramirez said if we liked that, we should try Michael David's rare Cabernet Franc, which he'd managed to get three cases of. He happened to have one bottle open and gave us a small taste. Sold! It tasted like pure fruit, blackberries and blueberries with abundant minerals and a splash of lemon that lifted the whole earthy enterprise. Brothers Michael and David Phillips have made wine for more than 30 years, some of those years under the label, Phillips Vineyards. This is their first Cabernet Franc under the Michael David label.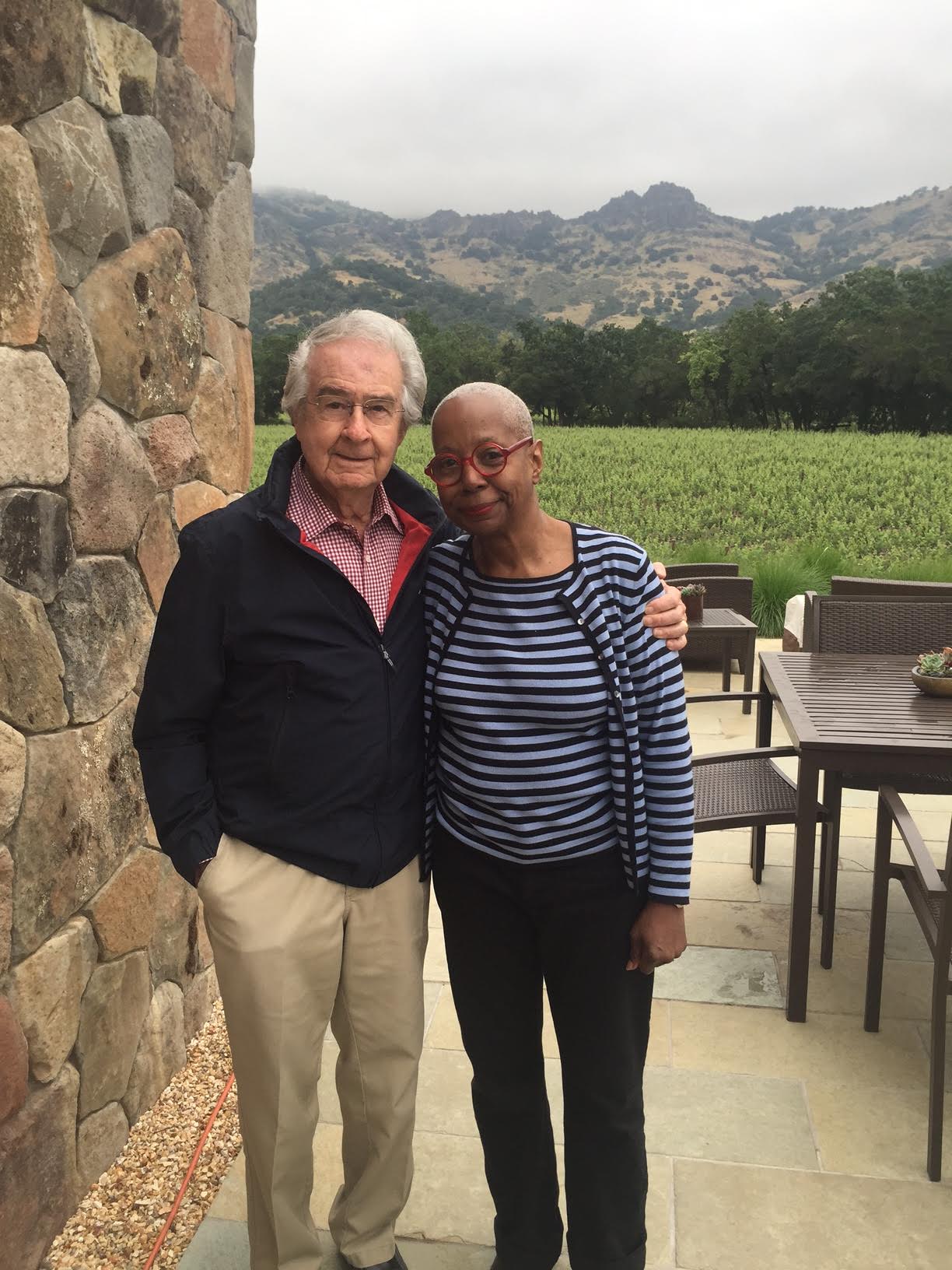 We have visited Napa many times over 40 years and honeymooned there in 1979. We remember when at almost every winery, the winemaker or a member of the family stood behind the counter, pouring tastes for free with nary a tour bus or inebriated person in sight. But this time, with only two days, and an unexpected two days at that, in Napa, we had only one sure goal: to shake Warren Winiarski's hand.
Winiarski (right with Dorothy Gaiter) sponsored with the Smithsonian a two-day celebration of the 40th anniversary of the Judgment of Paris last week week. He made the 1973 Stag's Leap Wine Cellar Cabernet Sauvignon (SLV) that French judges rated superior to the storied red Bordeaux and other California Cabernets they tasted blind in that competition, which announced that the California wine industry had arrived. We had met Miljenko "Mike" Grgich many years ago at his eponymous winery. He made the 1973 Chateau Montelena Chardonnay that the judges ranked superior to all of the white Burgundies and California Chardonnay they had tasted.
After eating In-N-Out "Animal Style" burgers (no wine), we met Winiarski at the impressive Stag's Leap Wine Cellar's Fay Outlook and Visitor Center on the Silverado Trail near Yountville, which he had helped design before selling his winery in 2007. (Fay refers to Nathan Fay, the pioneering winegrower.) Stag's Leap Wine Cellars is celebrating the Paris tasting with a host of activities as is Chateau Montelena. The actual 40th anniversary is Tuesday, May 24th.
A sweet and generous man, with a serious scientific bent, he told us about the rock formations in the Stags Leap Palisades mountains in the distance beyond the famous estate vineyards, and how he and architect Javier Barba had designed the center to mimic four major outcroppings. Then, holding our hands, he walked us into this amazing temple of wine, where we chatted near a busy, buzzing room full of wine lovers. After a look into a banquet room in a cave, and a close look at some amazing rock formations at the foot of a fabulous, old Live Oak tree, he walked us back to our car. We hugged him and thanked him for his contribution to our love of wine, and to our nation's winemaking traditions.
With no appointments at appointment-only wineries (and we didn't want to make any), we visited places that welcomed walk-in guests, which was not that many. We visited a number of wineries and one stand-alone tasting room, the latter, unfortunately, a growing development. One of the most enjoyable and unusual wineries was Wm. Harrison Vineyards & Winery on the Silverado Trail South in St. Helena. There were three pilots at the counter who come in regularly for two bottles of Cabernet Franc, one to drink there and one to take to the Rutherford Grill for dinner; a stuffed bear that had been shot when it was four-years-old; and mounted wild boars' heads. This is the truth, I kid you not!
Like some of the other wineries we visited, this one had been something else we knew, Mario Perelli-Minetti Winery. Kristin, the young woman behind the counter, told us that Bill Harrison's family had been in the wine business since the early 1500s and, before making wine in California beginning in 1902, had made it in Italy. Harrison began making wines under his own label in 1993, also the year he began making Cabernet Franc, she said. The winery, which grows 17 rows of Cabernet Franc, Bill's favorite grape, made 320 cases of the 2011 Estate Cabernet Franc ($60), and there were only 20 cases left. The wine club buys 90% of it, she said. An honest wine, nothing but fruit. We understand the pilots' ritual.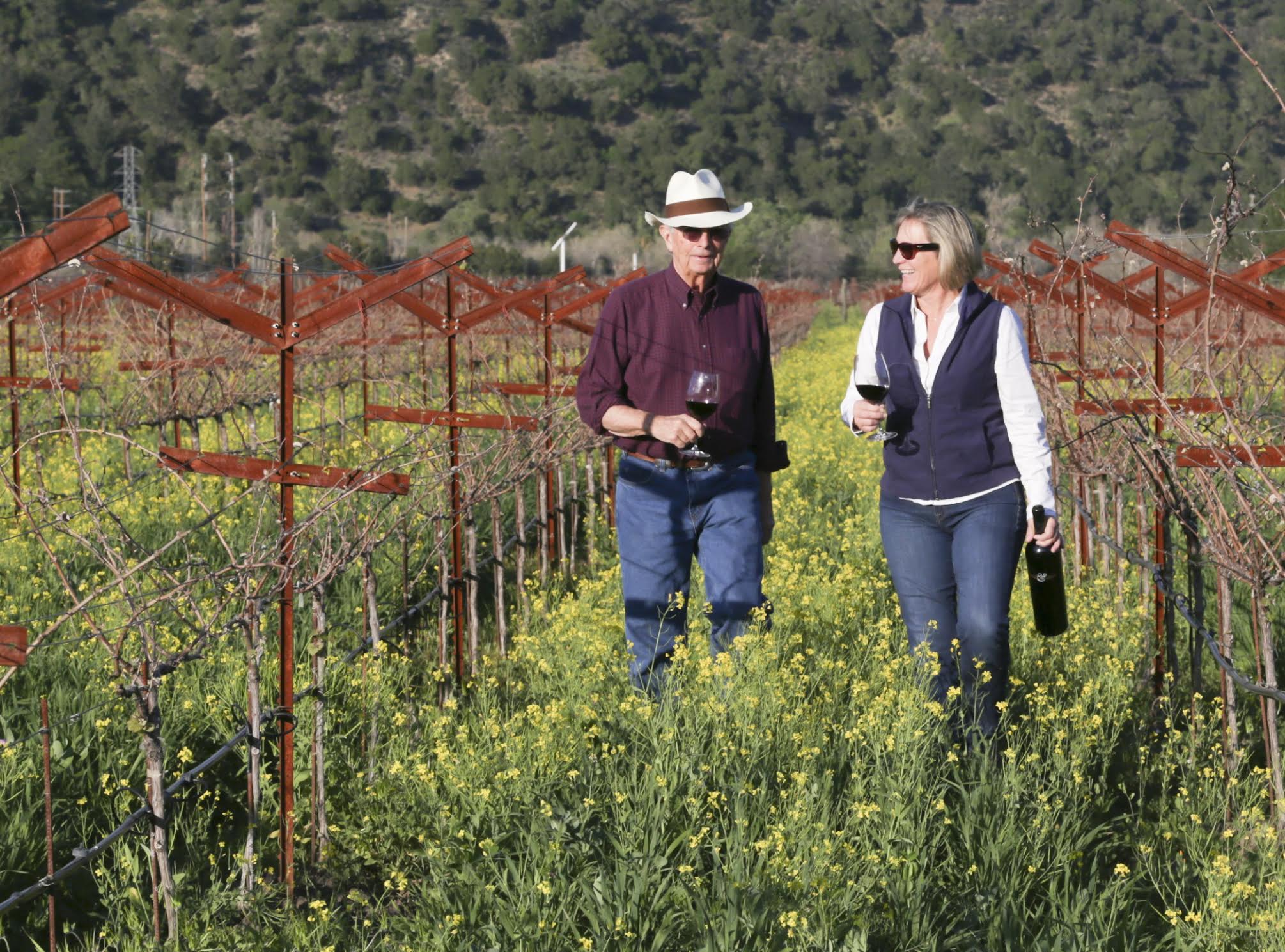 Pam Starr and Charles Crocker
We didn't know it at the time, but several times during our two days in Napa we were within a block of Crocker & Starr Wines, a winery co-owned by Pam Starr, winemaker, and Charles Crocker. It's on the historic Crocker Vineyard Estate in St. Helena, which Crocker purchased in 1971. He brought Starr on in 1997 to form Crocker & Starr after he and his wife resurrected the property. He had admired Starr's Bordeaux-style wines. They sent us a bottle of their hand-harvested 2012 Crocker & Starr Cabernet Franc ($75). With our first sip, we said, "Whoa" at the same time! John added, "This first sip is excellent. It's huge but not hugely alcoholic" at 14.8%. Our notes continued: "It just taste like extremely earthy and ripe grapes. Chocolate-covered cherries. Nice, dry finish for such a big wine. After flashing a touch of vanilla, it tightened up. After an hour, it got smooth, like it had a dash of Merlot. Winning, velvety texture." It was 100% Cabernet Franc.
Cabernet Franc is having a great moment in Tuscany, too, of all places, where at Tenuta di Trinoro, in the remote Orcia Valley, an iconoclastic winemaker, Andrea Franchetti, is bottling single-vineyard, single-variety Cabernet Franc wines. There are three, from 2014, in this first release of a series. The three, from different elevations and sites or campi in the valley are Campo di Tenaglia, Campo di Camagi and Campo di Magnacosta. This last one was first produced in 2011. The wines bear the IGT Rosso Toscana designation. Franchetti made 1,500 bottles of each of the three and each sells for $120.
Franchetti enjoys a certain celebrity. Here's how Jancis Robinson described him years ago: "There is something endearingly frank about a wine producer who describes his life pre wine production thus: 'I had a restaurant in Rome, distributed Italian wines in New York from '82 to'86 and before that I was in a beautiful tunnel of dope. I can't remember exactly when."
The biography that came along with his wines says that his American mother is from a wealthy South Carolina textile-making family, and that his uncle was the late artist Cy Twombly. After some digging, I discovered his mother's name, Anne Milliken (serious wealth), and his father's, Baron Mario Franchetti, who has been described as "dashing." After digging some more, I discovered that Twombly had married the sister of his patron, Baron Giorgio Franchetti. The Franchettis have for centuries been influential patrons of the arts, merchants, explorers, artists and musicians.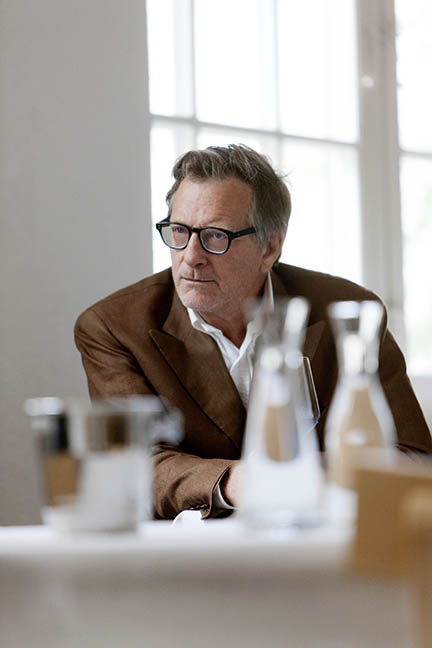 So Andrea Franchetti (left) has deep pockets, and his wines show it. He's lavished all sorts of attention on them, no doubt some of it advice from his friends Jean Luc Thunevin of Château Valandraud in St. Emilion and Peter Sisseck of Dominio de Pingus, two other head-strong vintners who are charging ahead where others have not gone before.
Robinson wrote of Franchetti, "There are roundabout connections with the families who own Cinzano and Montalcino wine producers Argiano and Col d'Orcia which presumably helped draw him to his very particular corner of central Italy, in sheep country which had not been planted with vines for a century."
The Orcia Valley is southeast of Siena, and its agricultural landscapes are on a Unesco World Heritage list. The Tenuta di Trinoro winery, at the base of a mountain, is blessed with a wide diversity of soils and climates. A winemaker with an experimental bent, Franchetti brought cuttings of Cabernet Franc, his favorite grape, from Pomerol and set about figuring out where they grew best and produced distinctive expressions of their distinctive locations. It has taken 20 years of study and experimentation to produce the wines in the 2014 series.
Although the wines are all priced the same, they couldn't be more different, which is to be expected given their different terroirs. The Magnacosta is from a gravelly plot on the valley's floor, and like vineyards can be on other valley floors, it was a little wan. Raspberries with a squirt of lime, it got much better with time and air. Of the three at first, it was the simplest, and was 15% alcohol while the other two were 14.5%. After being open for a full week, it impressed the heck out of us and made us sorry we had finished the other two after they'd been open for only two days. Terrific wine.
The Tenaglia, from a parcel made of "crumbled limestone on a slope facing the sunset" at high altitude, the label says, had that pencil shavings marker on the nose and was dark and spicy with lots of acidity and a bit of vanilla. It was intense and sharp, and over time showed appealing minerality, with herbs and green olives.
The Camagi, the label says, is from a parcel where there had been a vineyard a long time ago, growing on "broken quartz and limestone…in a thin layer of soil." It was by far our favorite, possessing a purity that reminded us of eau du vie with color and without the takes-your-breath-away alcohol. A beautifully balanced, black, intense wine. Our notes said, "It is black as night and has serious weight and density. Black berries, black cherries, minerals. This one is whole." John said, "It has structure. You can taste it," and with his hands he indicated levels, stratifications. "Even a more-fulfilling nose. All about the fruit. Big and elegant." If your father or father-in-law loves wine, this would be an awesome present for Father's Day. (T. Edward Wines; vinifranchetti.com/distributors for a full list.)
My larger point is this: You should find a Cabernet Franc and celebrate its return. Winemakers are having fun with it again!
Dorothy J. Gaiter conceived and wrote The Wall Street Journal's wine column, "Tastings," from 1998 to 2010 with her husband, John Brecher. She has been tasting and studying wine since 1973. She has had a distinguished career in journalism as a reporter, editor, columnist and editorial writer at The Miami Herald and The New York Times as well as at The Journal.
---
As of publication the wines mentioned in the above articles are available at:
Robert Keenan Cabernet Franc at Grapes The Wine Company for $59.99
Lang & Reed Cabernet Franc at Gary's for $22.99
Robert Sinskey Cabernet Franc at Robert Sinskey Winery for $50
Inkblot Michael David Winery Cabernet Franc Empire Wine Exchange for $28.95
Wm. Harrison Vineyards & Winery Cabernet Franc at Wine.com for $49.99
Crocker and Star Cabernet Franc at Crossroads Wine and Spirits for $79.99
Tenuta di Trinoro IGT Rosso Toscana Sokolin Wine Company for $199