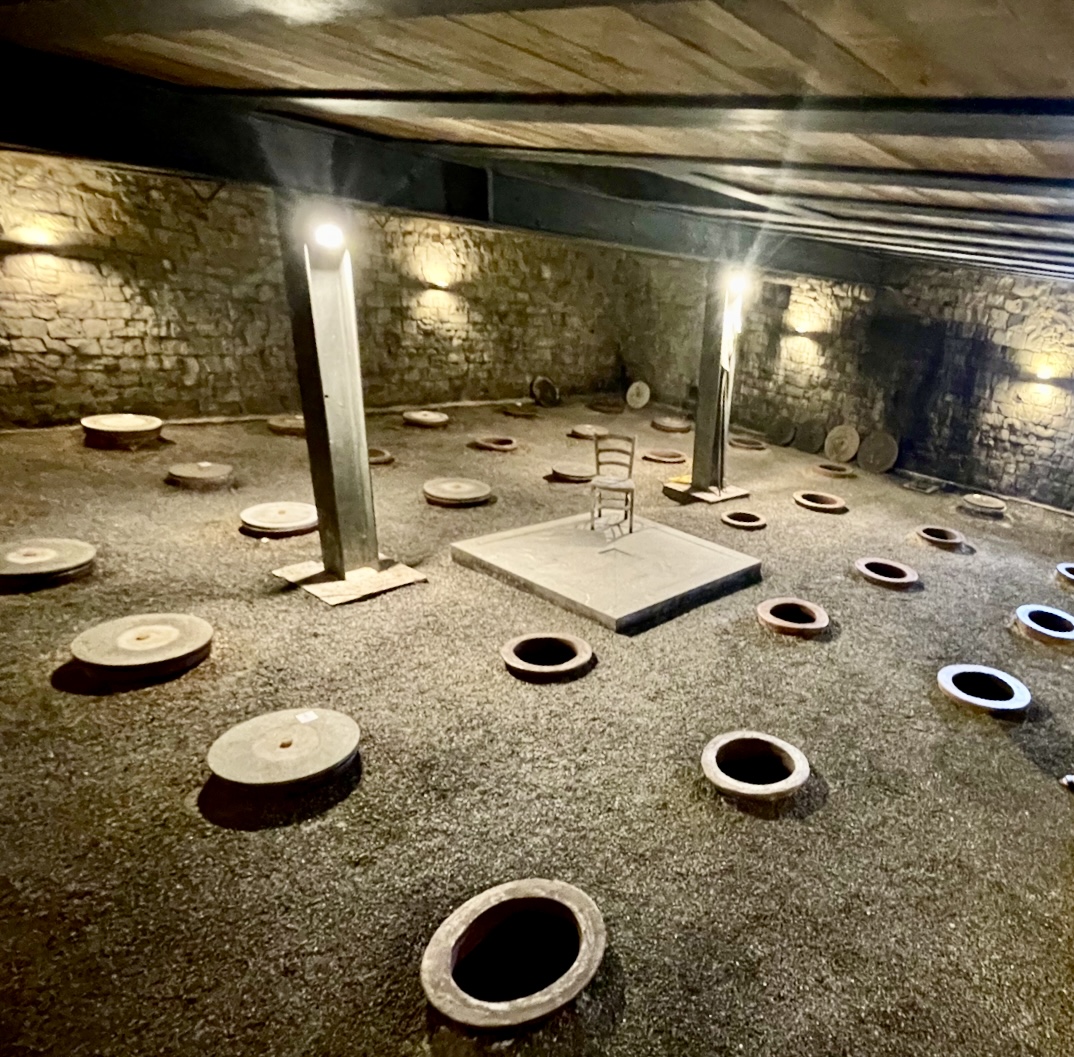 Joško Gravner is one of the world's most influential winemakers, especially noted for pioneering the modern-day orange wine movement. Gravner follows ancient winemaking techniques to produce uniquely characterful wines that garner worldwide attention. The Gravner winery is located in northeastern Italy's Friuli-Venezia Giulia region (often shortened to Friuli), the source of some of Italy's most distinctive white wines.
On a recent media trip, Gravner's daughter Mateja, the winery's communications director, led me and four other writers on a whirlwind tour of the vineyards, winery, and local community. One of many highlights was an afternoon with her father, who greeted us, looking refreshed after a morning spent working in the vineyards. We gathered around him in the quiet amphora cellar where wine-filled clay vessels lay underground, their stone-covered tops peeking through the floor.
Earlier, Mateja had warned us that her father is the "opposite of easygoing" with a reputation for being uptight and uncommunicative. However, I found the tall, slender man standing in front of us to be the opposite: soft-spoken yet friendly and talkative, with a warm, engaging smile.
Gravner clearly puts all of his heart and soul into his work, and while he may seem aloof at times, Mateja confided that he cares deeply if people find feeling in his wine. "We realize that some people will be disgusted by skin-contact wines. But my father wants people to understand the process and to discover whether or not the style is to their liking," she says.
The Making of a Wine Legend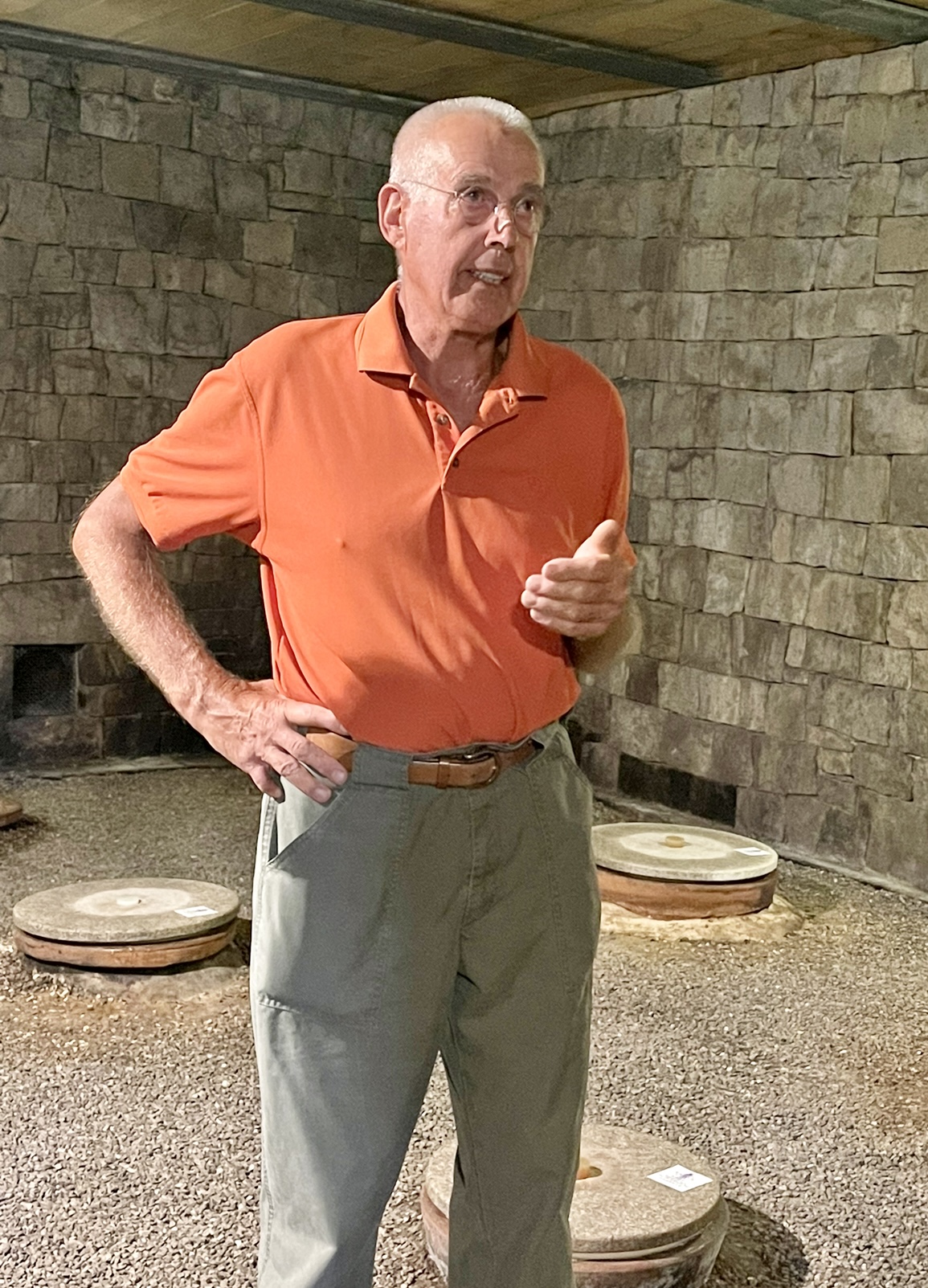 Gravner has lived his whole life in Oslavia, a small hamlet on the Collio hills of Fruili, bordered by Austria, Slovenia, and the Adriatic Sea. Oslavia was, for years, a part of the Austro-Hungarian Empire until, after World War I, Italy forcibly took over the village. Today, Oslavia is a cultural melting pot, and many residents, including the Gravners, speak Slovenian as their first language. However, other languages are commonly spoken besides Italian, like German, as well as local dialects of Friulian (from the Italian side) and Brda (from the Slovenian side).
For several generations, the Gravners had been farmers of orchard fruits until 1901, when Franc Gravner planted his first grapevines and began producing bulk wine. They sold much of it at their osteria, a bar where neighbors would gather to enjoy Gravner family wines alongside simple, local foods.
The 5th child born after four sisters, Gravner grew up playing and working in the vineyards. He was 21 when he took over the winery from his father in the early 1970s and began bottling wine made from both indigenous and international grapes.
Historically, the region's wines were fermented and aged in large wooden barrels, yet Gravner, eager for modernization, began experimenting with concrete. Dissatisfied with the results, he switched to temperature-controlled stainless steel tanks.
By the early 1980s, he had moved on to barriques, small French oak barrels. He was the area's first wine producer to ferment the wine in wood, followed by aging them in stainless steel. The resulting modern-style wines were a huge commercial success, and Gravner sold out every vintage within two months of releasing them to the market.
Yet despite his achievements, Gravner wasn't satisfied. "How is our best grape not giving us the best wine?" he would agonize over his Ribolla Gialla, the oldest grape variety of Friuli.
Returning to the Source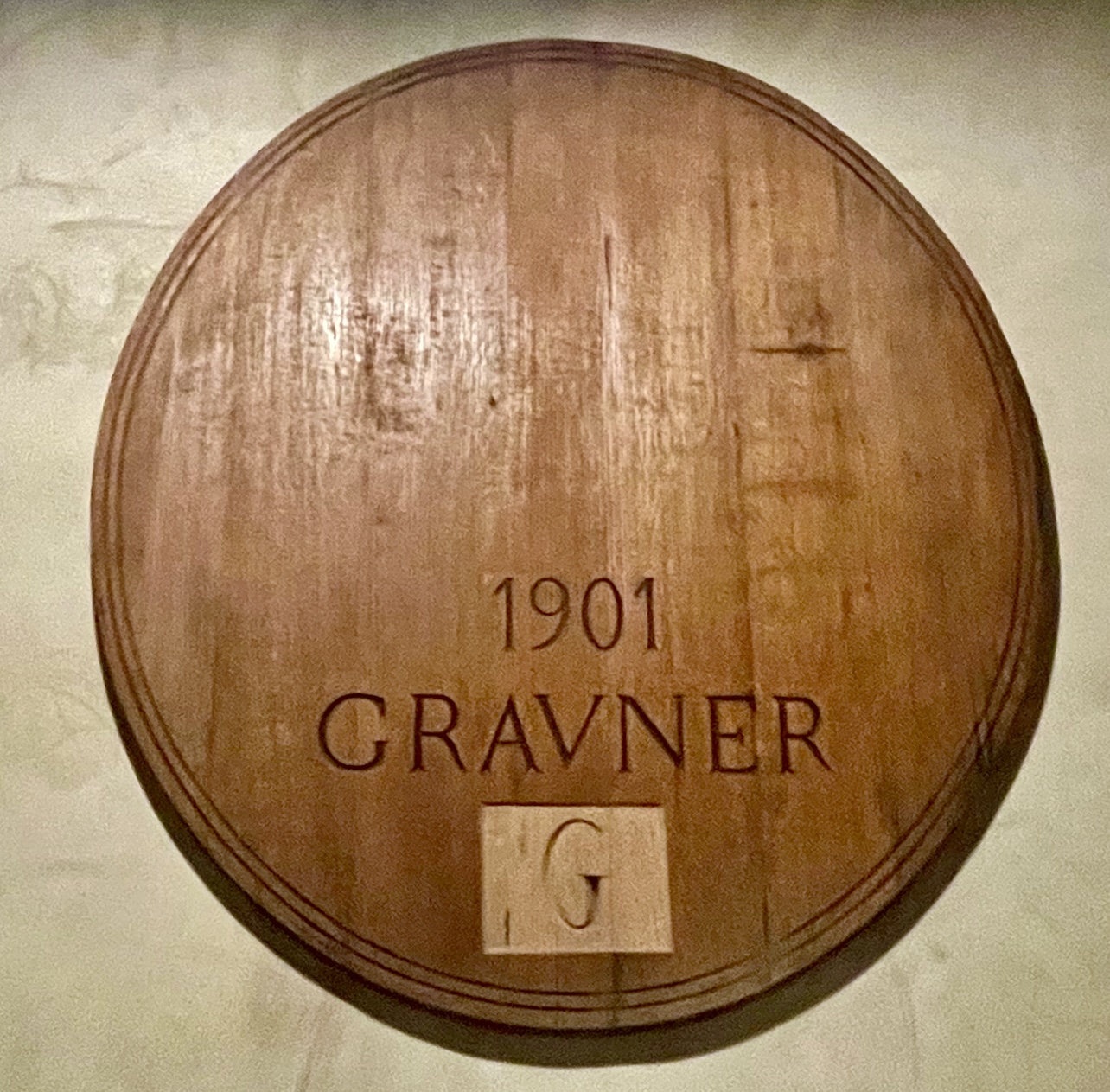 Gravner began to think about things differently. He thought about the best chefs he knew, whose "perfect ingredients resulted in perfectly prepared dishes." Why didn't his preparation—the winemaking—show Ribolla in its best light?
He studied history and traveled the world in search of answers. After visiting California's Napa Valley in 1987, Gravner became disenchanted with what he saw as overly filtered, chemically-processed, industrial-style wines. He was afraid his wines were also suffering from the high-tech methods he had adopted after taking over from his father.

How could he fix things? With a lot of introspection, Gravner concluded it was time to think differently, to "go to the source." Metaphorically, going to the source is like seeking the cleanest water of a river, which can be found high up in the mountains at its beginning, not further down when it has picked up debris. But, in a more literal sense, it meant Gravner needed to look back at how previous generations had worked.
However, going to the source has another, more spiritual meaning. This source is an area of mindfulness where creative ideas ignite. Living authentically and doing what makes you happy can bring you to your inner source. Gravner realized that to make progress, not only did he have to look to the past, but just as importantly, he needed to produce wines that would bring him joy.
Today if you ask him what his winemaking philosophy is, he will simply say, "I make wine I like to drink."
A Watershed Vintage
Fortuitously, severe weather in 1996 heralded a big turning point for Gravner when hailstorms decimated 95% of his grapes. Shaken but not defeated, he resolved to go to the source and use the surviving grapes to experiment with his forebears' winemaking methods, using skin fermentation in wooden barrels.
Before World War II, Friuli white wines were typically made by macerating the grape juice with the skins, creating what's known today as orange wines. This method results in deeper-hued wines with robust flavors and textures. However, skin-contact wine, a style that has gone viral today, had fallen out of favor in the 1980s when a more modern, crisp style became fashionable.
In addition to keeping the juice on its skins, Gravner experimented with different yeast, both commercially bought and naturally occurring. Finally, six months later, his eureka moment arrived. In the young skin-fermented wine made with wild yeasts, Gravner had finally found the taste of his precious Ribolla grapes.
This discovery was a big step in the right direction for Gravner yet his intuition told him that the source went even further back. His studies led him to the country of Georgia, considered by many the 'cradle of wine," where qvevri (underground oval-shaped clay vessels, also called amphorae) have been used to ferment and store wine since 6,000 BC. Gravner was intrigued and wanted to add qvevri to his winemaking process. However, Georgia was under Russia's communist rule, and transporting colossal clay vessels out of the country was no easy feat. Finally, he was able to secure one amphora from Spain, not his first choice, but at least he could begin experimenting with a clay vessel.

A Brave Decision
Gravner's desire to live an authentic life required courageous decisions. By going to the source, he realized that moving to a simpler way of winemaking was a step in this direction. So in 1997, without any market research, Gravner brazenly sold his stainless steel tanks and replaced the smaller barriques with big wooden barrels. He skin-fermented the juice for four days with no selected yeasts or any temperature control in the larger barrels and the one amphora. It was a 180-degree turn from his previous winemaking process and, as a result, everything about Gravner's Ribolla wines became different: the color, the taste, and the texture.
Unsurprisingly, when Gravner changed the style of the wines, the winery lost many customers who weren't happy with the new wines. "In the '80s and '90s, Josko was one of the most revered producers in Italy," said Mateja. "Every year, we were awarded '3 Bicchieres,' the top rating for Italian wines, but with this new skin-fermented style, the reviews were really terrible."
But a part of the market went crazy for them, and there was a big division between the two sectors.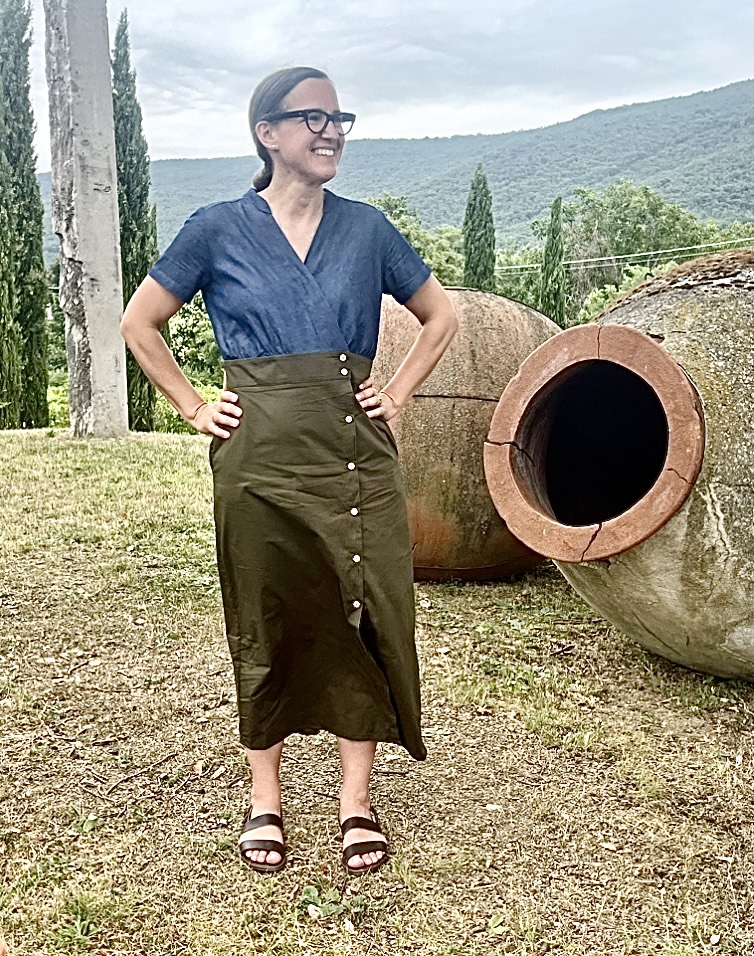 Photo: Mateja Gravner.
"So-called wine experts couldn't understand these wines," said Mateja, "and sommeliers used the wines in classes as problematic examples. Yet an incredible number of people came to us and said, 'Ok, they are not conventional wines, but I can't find any problem with them.'"
Despite the bad press and loss of income, Gravner was happy with the initial results of skin fermentation. The wines brought him great satisfaction, and he was determined to continue fine-tuning the process. By not following market trends, he had made wine he believed in, regardless of anyone else's opinions.
Yet, as fulfilled as he was, Gravner wasn't giving up on the Georgian qvevri, especially after seeing how amazing the wine from the Spanish amphora had turned out.

"Between 1997 and 2000, Josko met a few amphora producers who had escaped to Slovenia from Georgia," said Mateja, "and they helped him with contacts, and in 2000 he finally managed to go to Georgia and buy eleven qvevri for the 2000 vintage. But, unfortunately, they didn't appear until November, and even worse, nine arrived completely broken. So 2001 was the first vintage we could totally ferment the wines in amphorae."
In the Vineyards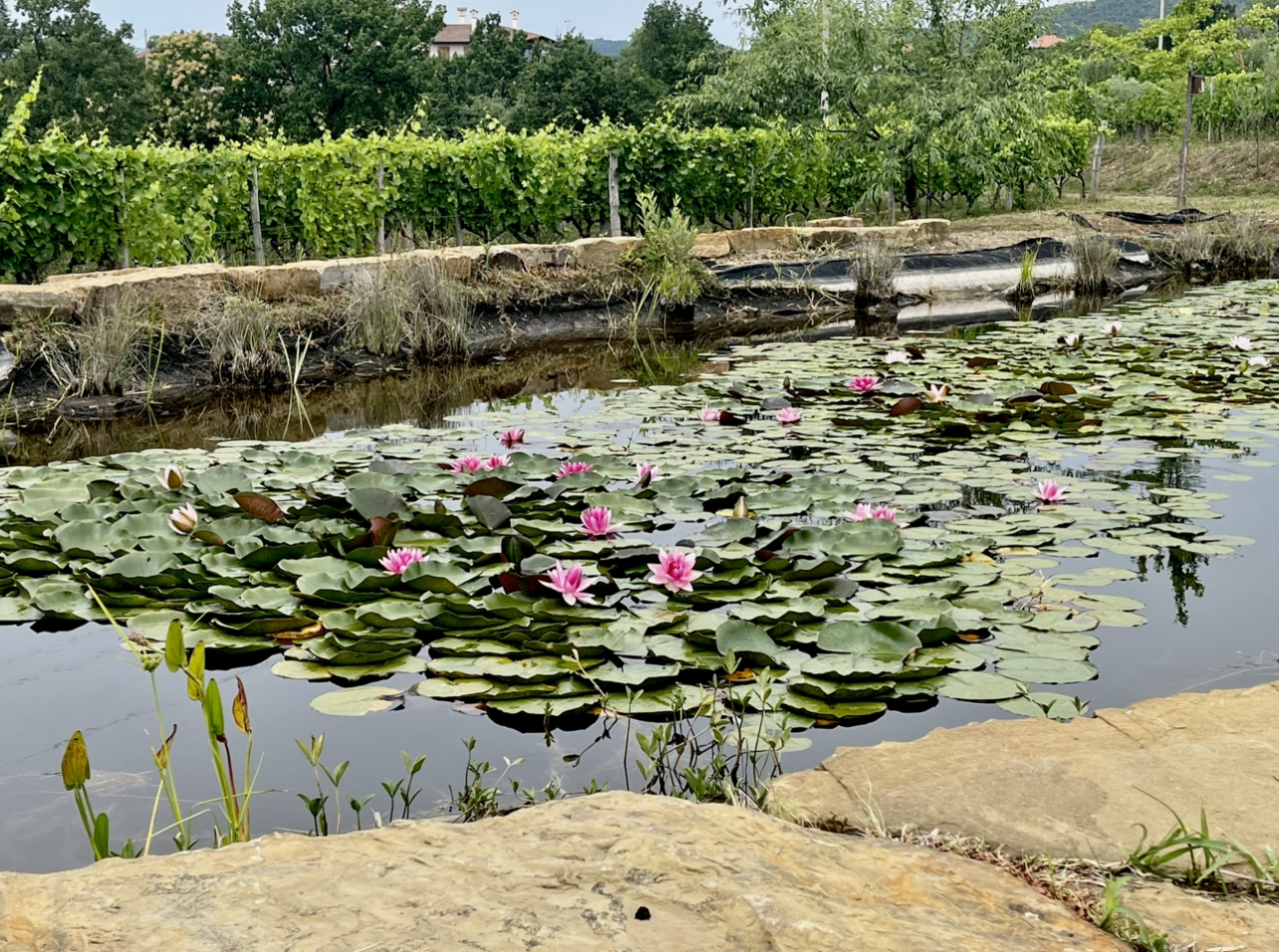 Gravner's 33-hectare estate consists of 15 hectares of organically and biodynamically farmed vineyards: Runk in Italy (the vineyard planted in 1901), Hum and Dedno in Slovenia. The entire property is a biodiverse paradise of ponds, meadows, and woods that are teeming with plants, insects, birds, animals, and trees: olive, cypress, wild apple, and more.

"The trees are home to many animals and offer support to man-made nests we have hung on them to make it easier for birds to live in our vineyards," says Mateja. "We dug ponds in our largest vineyards to re-establish the natural balance destroyed by intensive farming and monocultures. Water is fundamental for a healthy environment, and it brings to the vineyards plants, insects, and animals deprived of their living spaces."
Gravner is currently phasing out all non-indigenous grapes from his vineyards, believing they make less balanced wines. Going forward, he will cultivate only two varieties: Ribolla for his whites and Pignollo for his one red, Rosso Breg.
"If I were the big boss in Friuli, only local native grapes would be allowed here," says Gravner. "Why should you fight to make balanced wines from international grapes when you can have natural balance from local varieties?"
And the Ribolla grape is Gravner's variety of choice, making up 85% of the vines.
"Oslavia is called the 'Village of Ribolla,'" he says, "and there is an association of producers to promote Ribolla, but most of them are planting Chardonnay and Sauvignon Blanc. I'm not saying everyone has to do as I do, but following fashion and producing what the market wants wastes the opportunity to express yourself through a good grape variety like Ribolla."
And while Gravner may be considered a revolutionary winemaker, his experiments are always grounded in tradition, his source.
"When I hear anyone in Collio say they are making "spumante" it gives me the chills. The places that make sparkling wine are where grapes don't ripen well, and this is not Friuli."
In the Cellar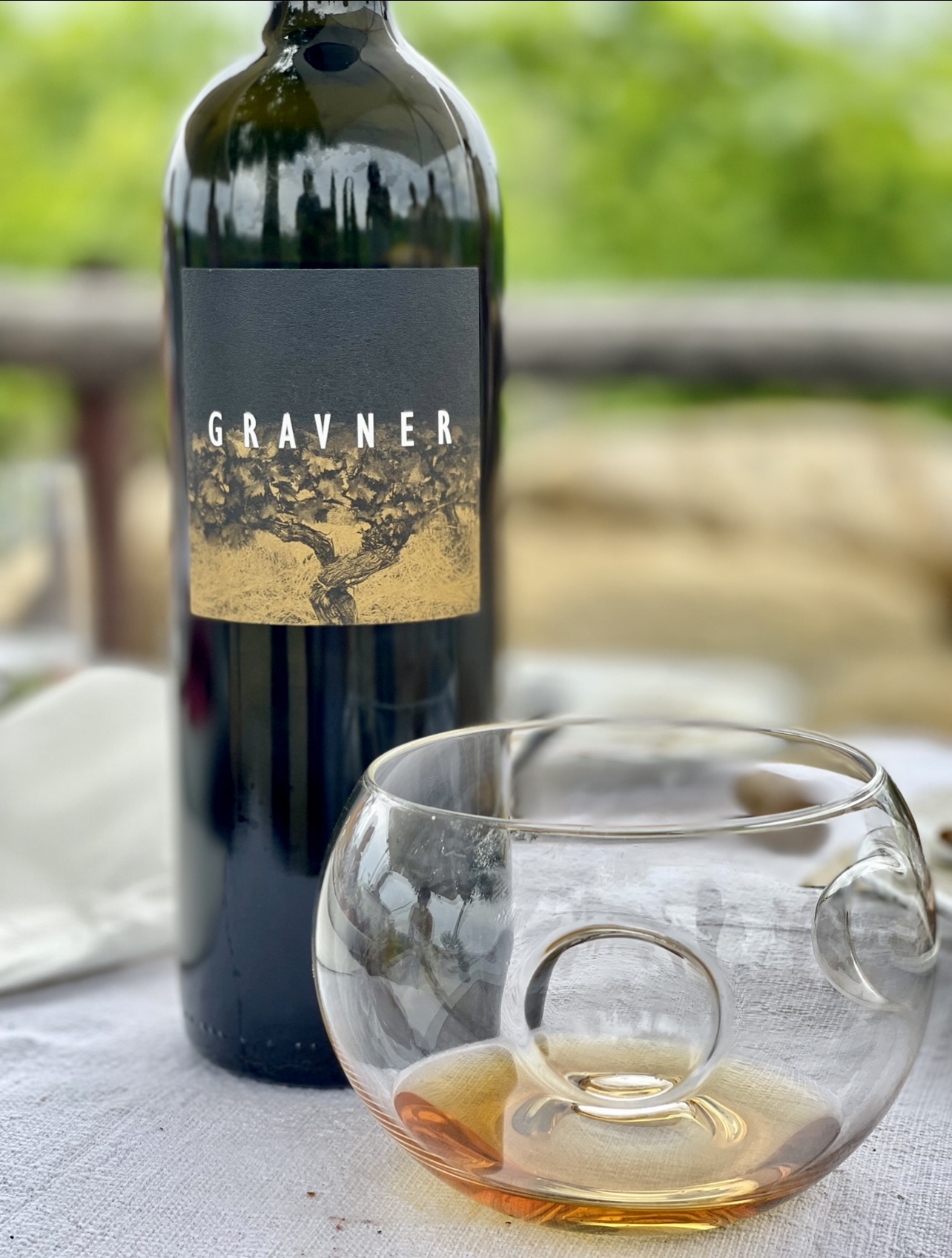 Today, Gravner produces around 22,000 bottles of wine each year using 47 underground, beeswax-lined Georgian amphora and large wooden barrels. During the winemaking process, ambient yeast start the fermentation and only a small amount of sulfur is added. He then bottles the wine without fining or filtration.
"Wine should be very simple," he says. "I would rather drink water than heavily processed wines made with the possiblity of using 300 additives.
Since less oxygenation occurs in clay vessels than in barrels, the wine can stay longer in amphorae. Gravner compares this maturation process to raising children without trying to change their true character.

"It's an excellent system to turn grapes into wine without directly influencing the wines," says Gravner about amphorae. "We don't control the temperature, and we don't add anything. We put clean, fully ripe grapes into them, and that's almost it. While it's impossible not to influence the entire process, we reduce it to a small percentage, so the vintage becomes the personality."
Gravner releases the Ribolla to the market about seven years after the harvest. Depending on the vintage, the wine spends more or less six months in amphorae on the skins, six months in amphorae without the skins, six years in barrels, and six months in bottles.
In the glass, these gold and amber-hued wines exude mesmerizing aromas of stone and citrus fruits, peach, apricot, orange blossom, honey, and rose petals. They are complicated on the palate, yet fresh and pristine.
Interestingly, Gravner doesn't like the term "orange" for this style of wine, preferring "amber" instead. "The orange color in the wine world has a connotation that is not always positive, as in the color of a wine that is past its prime," he says. "Amber refers to something lively and healthy."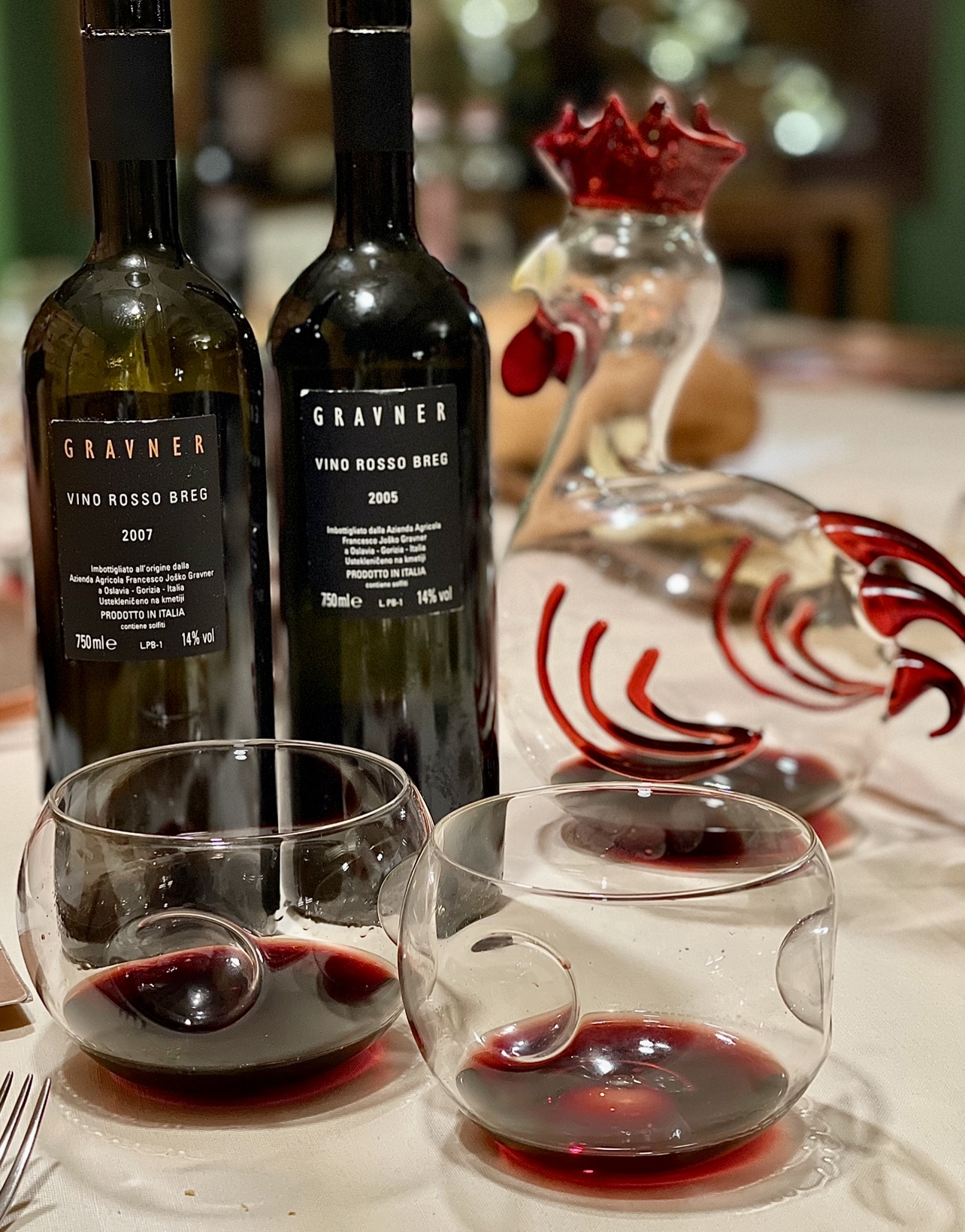 For the Rosso Breg, Pignollo grapes stay in the amphorae only during fermentation. Afterward, the wine is pressed and put into barrels for four years until bottling, after which they remain in the cellar for at least three years, sometimes up to ten. Mateja calls the Pignollo grape a "spoiled genius," temperamental, yet worth the effort.
"It needs a lot of gentle, patient care in the vineyards," she says, "but once it's ready, it's incredible, and you forget how difficult it was to grow."

Indeed, Gravner's Rosso Breg is an impressive, powerful wine, deep ruby with a garnet rim, and full of enticing aromas of black cherry, dark plums, black pepper, leather, dark chocolate, and coffee. This full-bodied red with a strong tannic backbone has an equally impressive freshness that never tires the palate.
With at least seven years of aging under their belt, Gravner's Ribollo and Pignollo wines are ready to be popped open upon release, or can easily be enjoyed for several more years.
With all this effort, the wines don't come cheap. For example, a bottle of Gravner starts at about $65 retail and goes well up into three digits. However, Mateja says that her father showed it's possible to ask for a higher price since their wines are very expensive to produce.
"We realize the cost is not affordable for everyone, and it's not an everyday glass of wine, but many people recognize the value of this wine," says Mateja. "It's the care we put into it. We really care about the quality of every single grape. So when you buy a bottle of Gravner you can be sure about what you are receiving."
Future Innovations
Despite being at an age when most people think about retirement, Gravner can most often be found tending the vines or working in the cellar with no plans to stop. Eventually, he will pass the baton to his grandson, Mateja's 27-year-old son Gregor, who is now working alongside him.
When you love what you do, it's easy to keep going. So it comes as no surprise that Gravner is in the midst of an exciting new project. And fittingly, it involves a new way of maturing his wines.
"I would like to try glass," he told us, "to see if it can shorten the six years of aging. After time in amphorae, the wine would be half in wood, half in glass. We are working on it, but it's not easy to find someone to make glass vessels that can hold 12,000 liters."
Where did this idea come from? Gravner had an aha moment when he saw a photograph of a glass swimming pool in Dubai that connected two buildings. He thought, "If this is possible, why not uplift the idea to winemaking?"
A new underground cellar has been constructed for the glass tanks, and now it's only a matter of time before his dream becomes a reality.
"He simply gets an idea, a feeling, and when he's convinced about something, he has to find a way to reach the idea, or he feels he's not doing his best. It can take a long time to make it a reality, but he never gives up," said Mateja.
Time and again, Gravner does what fulfills him most: looking for new ways to improve the winemaking process. "It's learning by doing," he says. "There really isn't anything to change. It's just to make the process better. Every year, you find something you can do in a better way."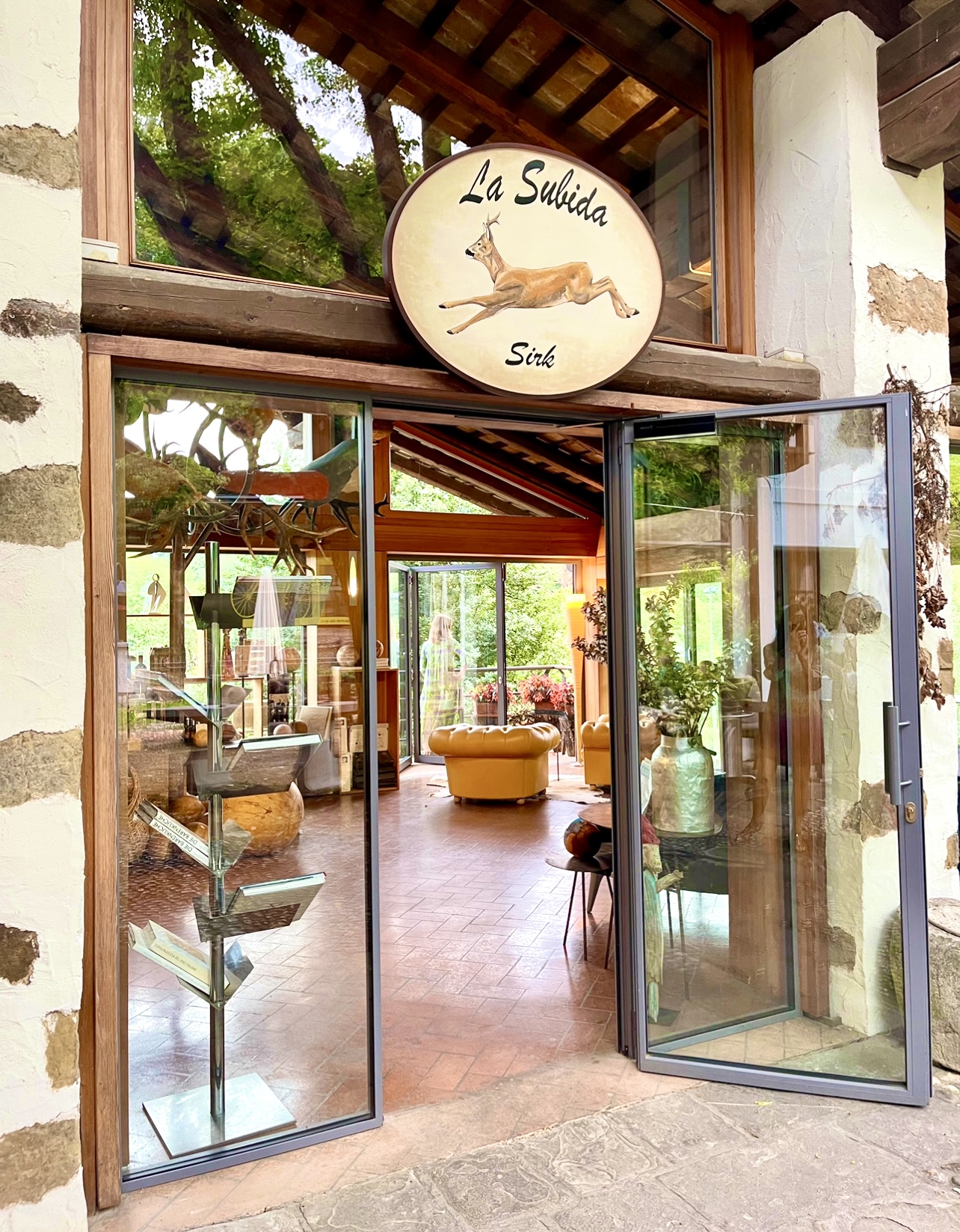 Many thanks to Mateja and Joško Gravner for showing us their family's world, including the following attractions in Italy and Slovenia.
La Subida Country Resort, a magical, soul-restoring inn with a Michelin-starred restaurant.
Ristorante Laite, a charming Michelin-starred restaurant in the heart of Sappada, a beautiful Dolomite Mountain ski resort town.
L'Orto Felice Organic Farm, providers of fresh, nutritious vegetables to the local community.
Hiša Franko a two-Michelin-starred restaurant in Slovenia's Soča Valley serving a creative tasting menu, including unique, housemade kombuchas.