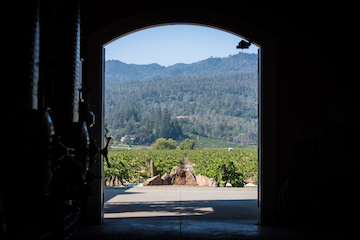 We were recently gifted Napa: Behind the Bottle, a wonderful book of photographs in which Bill Tucker depicts the owners, winemakers, and workers of Napa's iconic family wineries and vineyards at the end of the 20th century. The first of these photographs are of Robert and Margrit Mondavi.
(Corison Winery, Napa, courtesy of Cathy Corison, the first woman winemaker/proprietor in Napa Valley. Photo credit: Bob McClenahan Photography)
The Mondavis are legends in the development of the California wine industry. Robert is viewed by many as instrumental in putting Napa Valley on its path to greatness, and both Margrit and Robert were known for the artistic sensibility that enveloped their love of wine, food, and the arts. In her preface to Napa: Behind the Bottle, Margrit noted that "This book is a collection of the passionate, good people that made the Napa Valley famous for its great wineries. Looking at these amazing faces, you understand that as Robert Mondavi said, 'Making good wine is a skill. Fine wine is an art.'" The "good people" photographed by Bill Tucker were associated with Napa's top wineries, as is further evidenced by their inclusion in James Laube's Wine Spectator's California Wine (1999) and Jim Gordon's Opus Vino (2010).
The Case Study
In light of the recent attention being given to changes in Napa Valley, we used the 87 wineries in Tucker's book as the basis for a case study of (a) wineries that have had a change in ownership since 2000, (b) who now owns these wineries, and (c) which of these wineries currently have a winemaker who is a woman.
We found that 83 (95%) of these wineries were independently family-owned in 2000, and in most cases by the founding family owners. By 2022, 64 (74%) of the wineries were still owned by the same family. Thus, 19 wineries (22%) had experienced a change in ownership since 2000 and are...