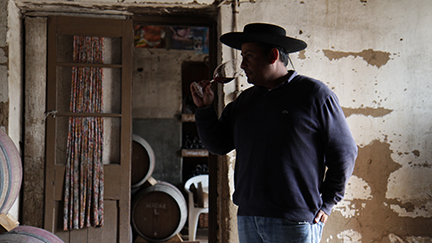 Renán Cancino makes very traditional wine in a small town called Sauzal in the Maule region of Chile. He works with vines that are up to 300 years old.
We talk to Renán about traditional winemaking, the unique terroir of Maule and what is real natural wine.
Christopher Barnes: So Renán, how did you get involved in winemaking?
Renán Cancino: Because of university, because of my profession. I studied agronomy in a university here in Chile. My first job as agronomical engineer was in viticulture, in an agricultural producer's co-op, in 1997. That's where my connection to viticulture started, and now with wine, which was the natural step.
And you work for a large company doing agronomy, but you've also decided to start your own wine label. What made you take that step?
I worked for several big companies in Chile, but there was also another inkling. My familiy produces grapes and when I was little, we made wines in our family, so there was always the urge to make some wine. In the first stage, as an experimental wine for us to drink, and in the second stage, in 2008, 2009 and 2010, we tried to make a commercial wine. So there was a previous connection to wine, which then repeated when we started working.
Renán, what do you think of natural wines?
Natural wine is traditional wine. This project makes natural wines, not because of today's trend of natural wines that has taken over the world. But simply because that's the way wine has been made in Sauzal forever, since the start. Here they never used chemicals, technology or preservatives. Therefore, wine in Sauzal IS natural. In concept and origin. So what we do is a traditional wine, not a natural wine.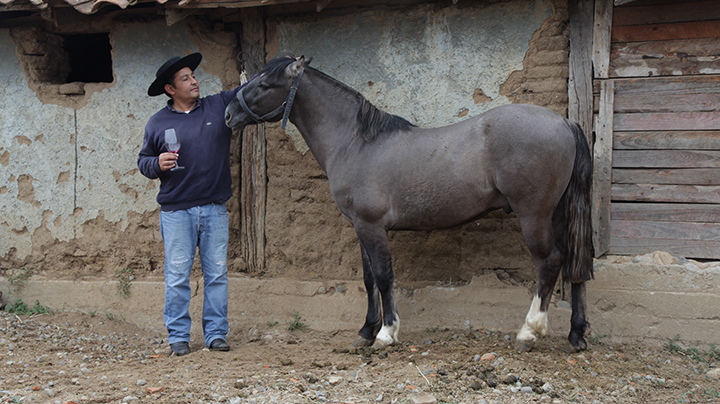 How is the terroir in Sauzal?
Maule, which is our region, is a very very big region, with a wide variety of soils and climate. So to talk about Maule in general is complicated, there are many places of the world in Maule. Sauzal in particular is a zone that has soils of a granitic origin. The whole coastal range, from Casablanca to the Nahuelbuta Range is coastal batholith. Basically it's granite soil, of a higher acidic pH, which gives a particular soil condition to the wines. And Sauzal, climatically, is in the valley but farther in the interior, closer to the coastal range, with a wider thermal variation and a stronger influence of the cold towards autumn. Therefore half of the summer, which goes from December to March, has more characteristics of autumn than summer. This is unlike the rest of the areas in the valley, where temperatures are more stable and homogenic until the end of the summer. So it's a naturally cooler area, it has a different climate condition. That, associated with the granite soils give out very particular wines.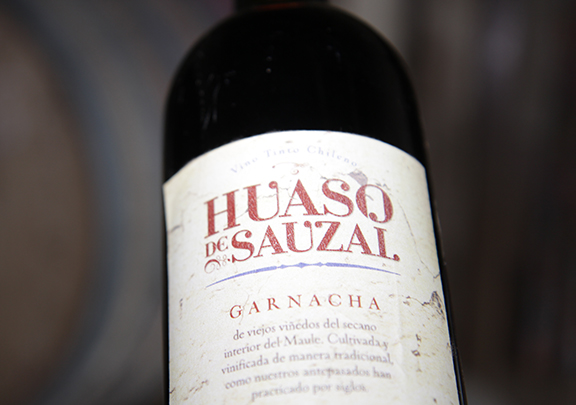 How old are the vines that you are working with right now?
We work mainly with three varietals. Two of them are ungrafted, such as Pais, which is one of the original Chilean varietals, which were planted when the Spaniards came to Chile. They may be 250 or 300 years old, we are not certain. Sauzal was founded in 1790 and many of these vineyards are very old.
The elders of the town knew these vines as already being old, so they are really antique, centennial. Then we have Carignan, which is a variety that was incorporated into Chile after the 1939 earthquake to improve the quality of common wines in this area. It's been 70 or 75 years since they were planted ungrafted, so it's also an old varietal, within the context. And the third one we use is Garnacha, which we incorporated 10 years ago, but which we grafted onto old Pais vines. They are on old roots. So all three varietals are very old, really ancient.
You spent quite a lot of time traveling around Spain. How has that influenced you as a winemaker?
In general, the influence of those wines and those travels in how we make our wines, is none. Basically because what we do nowadays in ancestral enology. We make our wines as they've been made here for 300 years. And we don't do anything differently and we haven't changed a thing. I did miss a connection with the origins of Chilean wine. We descend from Spain and the first Chilean wines were led by Spaniards, and this area's viticulture is Spanish, so I was eager to learn what was behind that.
In general there were no big differences, just understanding that the south of Spain is the connection to Chile in terms of ancient viticulture, and the north of Spain didn't seem similar to what we do here. So I was more interested in understanding it rather than incorporating new technologies. What we do here is ancient viticulture and ancient enology. We haven't changed a thing of what's always been done here. Basically because we believe that's the way to work. So the way we make wines and the way we cultivate the vineyard, has, to me, the science of the wines that can be made here. Ultimately, every wine depends on the way the vineyard is cultivated. And that is really different here, compared to the rest of Chile and clearly with many other places in the world.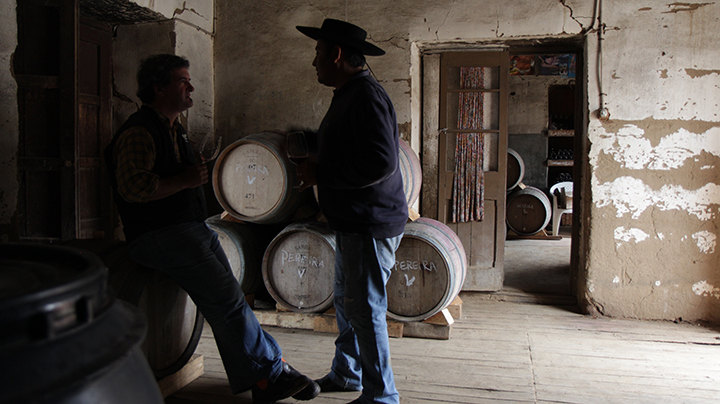 How has your winemaking evolved over time?
There has been no evolution. We were finally convinced that the wines we like best are the ones that were always made here. So we haven't modified anything, neither in how we handle the vineyard nor in how we make the wine. We haven't incorporated anything new. Here we do as it has been done for 300 years. And to me that's the natural component of the terroir that's abandoned everywhere in the world. Everywhere there's climate and soil, but there's no culture behind the wines, there's no history. They all make wines as they've seen them made lately, mixing everything with anything. Here we do exactly as always. And to me, that's origin wines. Wines from a place, that show a culture. And that's something I've rarely seen around the world.