Have you ever been in a wine bar and just wish you could take it home with you? Maybe not the building and its contents, but at least the wine so you can have a wide selection to pour by the glass for yourself or your pals. But with all those bottles you better make a lot of friends or coq a vin for every meal. But help is on the way, thanks to a French company, 10-Vins, offering (what else?) French wines in 100ml single-serving glass tubes.
If you are currently living in France, you can sample Burgundy and Bordeaux both red and white, a couple Loire Cabernet Francs, even Cote Rotie, Hermitage Blanc, and Condrieu. Mix and match the wines yourself or let 10-Vins send you kits of selected offerings.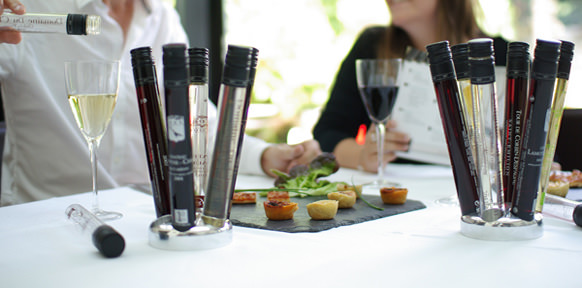 With wine consumption in France on the downswing, 10-Vins Cofounder Thibault Jacousse tells Smart Planet, "Today's younger generations don't have a wine cellar or buy bottles in bulk. They drink less wine but they are looking for the better ones."
And if you fret about the correct serving temperature and and whether you need to let your wine "breathe", 10-Vins offers a Nespresso-esque machine that recognizes the wine via a barcode to pour you the perfect glass. They call it the "D-Vine" and it will be available by the end of the year.
What do you think of wines being offered in this type of packaging?