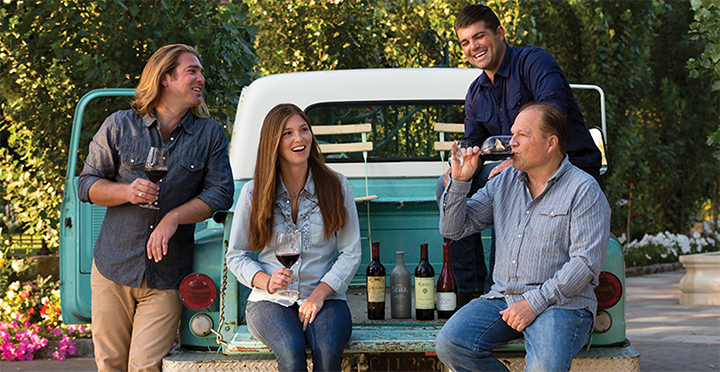 Chuck Wagner, 65, who founded Caymus Vineyards in Napa Valley with his parents when he was 19, is humble and sweet. You would never guess that one of his wines is the only one in the world to have been named Wine Spectator "Wine of the Year" twice.
Despite having bragging rights to that, he's most proud to be a father and a farmer. He'll tell you that in a second. While it's true that if you scratch any successful winemaker what you'll find underneath is an astute farmer, Wagner's family not only grows wine grapes today, but table grapes and lemons, too, and, no, I'm not talking about bad grapes that make bad wine. I really mean the little yellow, citrusy things.
Today, Chuck (Charles J.) is also helping to grow his children's dreams. He is a descendant of three families that helped shape the wine industry in Napa beginning in the 1880s: the Wagner, Stice and Glos families, winemakers all, until Prohibition brought their businesses to a halt. Temporarily, it turned out.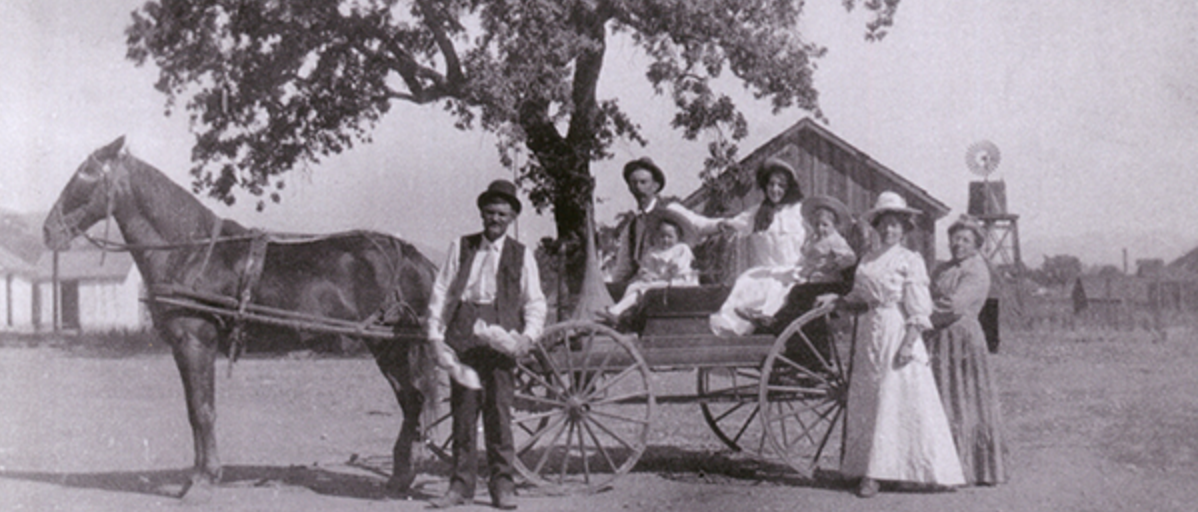 (Photo: The Glos Family)
You've heard of Rutherford Dust, which makes Napa Cabernet Sauvignon so distinctive? Well, Chuck has it, sort of, in his veins. He was born in Rutherford and his late parents, Charlie F. Wagner, who died at 90 in 2002, and Lorna Belle Glos Wagner, who died at 97 in 2013, grew up there a mile from each other. After eloping in Reno, they purchased 73 acres in Rutherford in 1941 and planted some wine grapes, but mostly prunes, on what became the Wagner home ranch. In the 1960s, they got serious about fine wine grapes and pulled out the prunes. In 1972, they formed Caymus Vineyards, famous especially for its tasty Cabernet Sauvignon, including its Special Selection Cabernet Sauvignon, with its Wine Spectator asterisk, and a quirky white called Conundrum.
Chuck, the fourth generation Wagner winemaker and Charlie and Lorna's only son, is passionate about his roots there. So while other pioneering families have sold their wineries to corporations or moneyed newcomers, he has been quite studious about making it possible for his children to continue to make wine, if that's what they want to do.
So far, three of his four offspring, whose mother, Cheryl Emmolo, is Chuck's first wife, have dived in. After learning from him and others, as he did shoulder-to-shoulder with his father for 30 years, he gave them the opportunity to sink or swim as proprietors and winemakers of some of the family's brands. They are swimming nicely, thank you very much.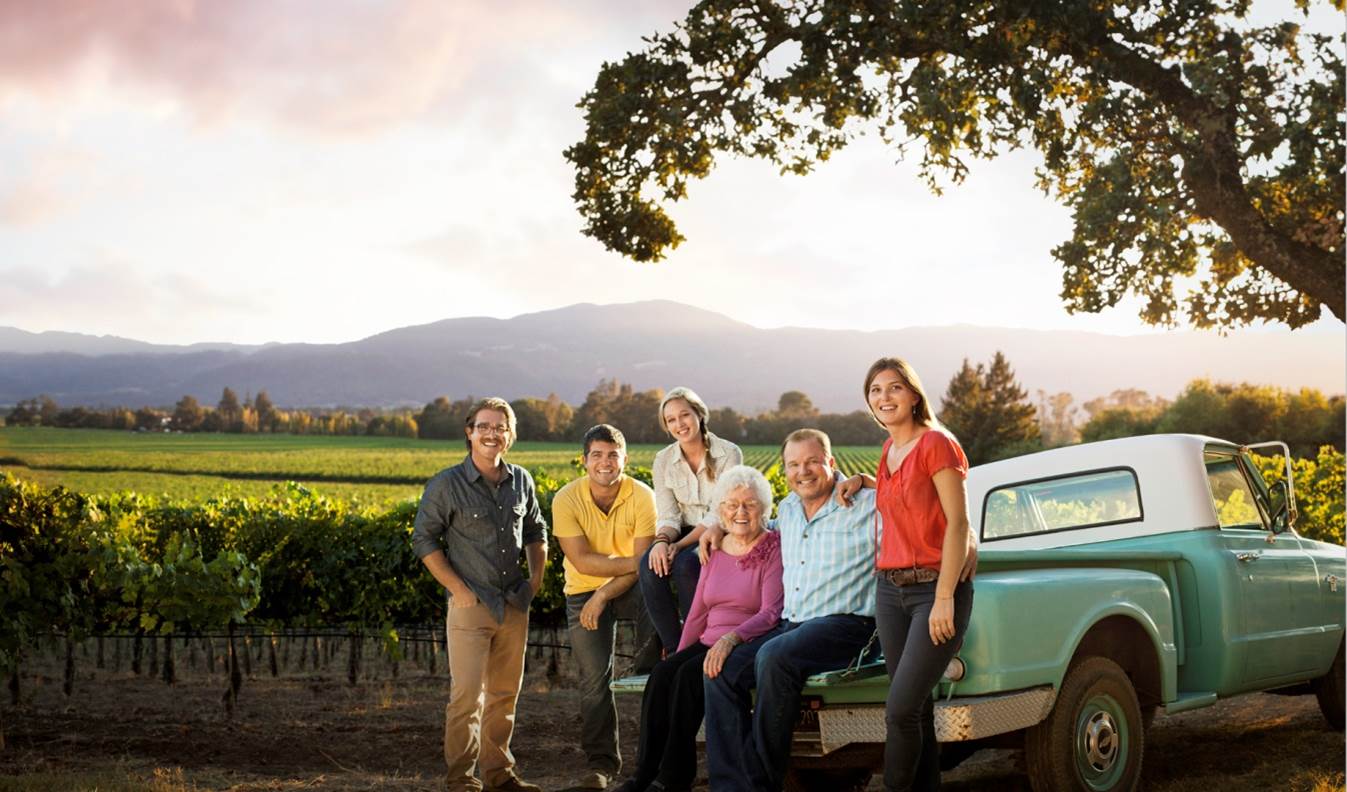 The Wagner family: Charlie, Joseph, Erin, Lorna, Chuck and Jenny
Two, Charlie and Jenny, with Chuck are making wines and owning wineries that fall under the Wagner Family of Wine umbrella. Joseph, Chuck's second son, has his own wine company, Copper Cane (coppercane.com). He had always made Belle Glos Pinot Noir (his grandmother's favorite grape) and it had been a part of the Wagner Family of Wine portfolio until this past April, when it became part of Copper Cane, which makes other wines as well. Erin, Chuck's youngest and whose mother is Chuck's second wife, is still in school.
Charlie is the wine director for the Conundrum program, white and red and the new rosé, and is proprietor and winemaker for Mer Soleil winery in Santa Lucia Highlands in Monterey County, which makes an unoaked Chardonnay called Silver, and an oaked Mer Soleil Chardonnay. He also leads the Red Schooner project, a Malbec made "Caymus-style" in California from grapes grown in Argentina that are shipped chilled, like table grapes commonly are shipped, Chuck says.
Jenny, in 2013, took over making Emmolo Sauvignon Blanc and Merlot in Napa Valley, which was introduced by her mother in 1994 to honor Cheryl's father, Frank. Jenny's grandparents, Frank and Annie Emmolo, live in Rutherford, and they have deep roots in the wine industry of Napa as well. The family's grapevine rootstock nursery has supplied plants to winemakers for generations.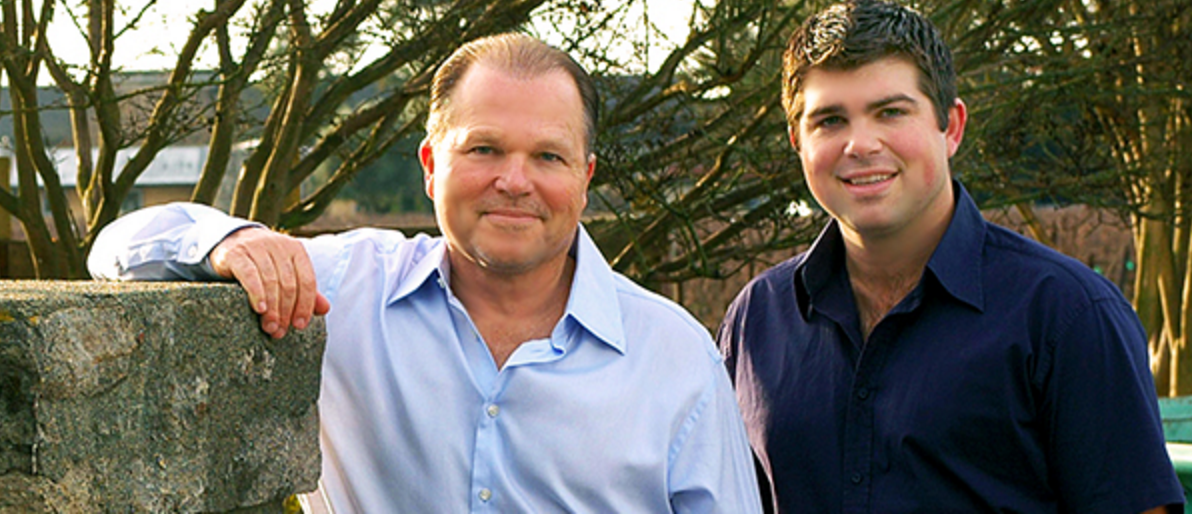 Joseph (left), last year, sold one of his brands, Meiomi, to Constellation for $315 million. He had developed Meiomi in 2006 while still a winemaker at Caymus, releasing its first Pinot Noir, for which it became famous, in 2009, according to Shanken News Daily. He added a Chardonnay in 2014, the year that Meiomi was named Wine Brand of the Year by Market Watch magazine, an M. Shanken publication, as is Wine Spectator. Constellation bought only the brand, no vineyards or buildings, and Joseph told Shanken News Daily last year that he was selling the brand to raise money to buy more vineyard property.
"Meiomi's numbers alone equal the entire production of Wagner Family of Wine," Chuck told the Shaken News Daily. "The entire family loves what Joey's doing. He's created his own style of Pinot Noir that has scored well with critics, and I'm proud of him for it."
A life in wine has brought the Wagners a lot of joy and recognition. Caymus makes two Cabernet Sauvignon, a Special Selection Cabernet Sauvignon and a "regular" Napa Valley Cabernet Sauvignon, as well as a Caymus Zinfandel. The only wine in the world to have been named Wine Spectator's "Wine of the Year" twice were the 1984 vintage Special Selection Cabernet Sauvignon in 1989 and the 1990 in 1994. Not bad for folks who had sold their grapes grown from Stags Leap grower Nathan Fay's Cabernet Sauvignon clone to other wineries while making a little for themselves on the side before diving in full-tilt. The Special Selection fruit comes from the estate's best parcels, and is treated to mostly new French oak. The current 2013 sells for $160.
"We don't make it every year but almost every year. If Mother Nature is really unkind to us and the wines don't measure up, then we won't bottle it," Chuck said of the Special Selection recently when he was visiting New York.
John and I have been drinking Wagner wines for decades and they have been consistently well-made, satisfying, fruit-driven wines, the Cabernet Sauvignon dense with blackberry, black cherry fruit and some earth and sweet oak. The 1987 Special Selection was one of the most terrific California Cabernets we've ever had. Rich and elegant while accessible.
But let's back up a bit. When Chuck was 14, a former employee with substance-abuse problems shot his father eight times. "Charlie pulled through, but the shooting marked the end of Chuck's childhood," according to a fabulous 2012 story in Barron's about Chuck's succession plans. Although he had assisted his dad for years in the vineyards, he had never been in charge of an entire crop. When he discovered a fungus on the leaves, he turned to a neighbor who taught him how to treat it, saving the crop.
"A month later, Chuck drove his father around the property. Each time they hit a ditch, Charlie winced, but that didn't stop him from admiring the healthy grapes. The seeds of succession had been planted," according to the Barron's piece.
In 1971, when Chuck was 19 and had just graduated from high school, his parents came to him with a proposition: Join them in starting a winery, a dream that both parents were passionate about, or they would sell their land and move to Australia to pursue another business. They settled on the name Caymus Vineyards after a Mexican land grant called Rancho Caymus that once included their land. Chuck went to work with his father and one other employee. His mother was "a large part of the business," he told me, and "the glue that held everything together." Working with his parents for more than 30 years was a gift, he said.
The Wagners have been farming in Napa for more than 130 years, but in 1966 Chuck and his dad pulled out the prunes and walnuts and focused on Cabernet Sauvignon and other varietals. Their home-made Cabernet Sauvignon was getting positive attention from friends and they felt they could earn more making their own wine, so they took the leap. The first vintage was 1972, "with production of 250 cases of Cabernet that we sold at $4.50 a bottle," he told me. Those were the days!
Critics hailed the 1973 as one of the young industry's best, and in 1975, the first vintage for the Special Selection, the family brought in winemaker Randy Dunn, who stayed with them until 1985, establishing a reputation as a Cabernet whisperer. Chuck became director of viticulture and winemaking in 1984, titles he still holds.
We remember our first taste of Caymus Conundrum, now known as just Conundrum, and since 2011, the white, launched in 1989, has been joined by a red blend that contains, among other varieties, Zinfandel, Chuck's father's favorite grape. The white is a blend whose precise composition is a secret, but the five varieties are Chardonnay, Sauvignon Blanc, Sémillon, Viognier and Muscat Canelli, and their amounts can be a little different from year to year. To celebrate the white Conundrum's 25th year, the bottle and packaging have been updated. The first time we had the white was at Cellar in the Sky in the World Trade Center, and we were absolutely smitten by the fetching splash of Muscat Canelli, which gave it just the right amount of exotic fruitiness.
"The origin of Conundrum is my dad, who loved wine all of his life, just like myself. I kind of caught on the same as my father drinking in moderation, loving wine. My dad was never afraid to blend two wines together at the table. Say a glass of Sauvignon Blanc and a glass of Chardonnay. Or Cabernet and Zinfandel or whatever it is," Chuck told me.
Always two? I asked.
"Yeah. He didn't have more than two bottles opened so that's why. But I think that what dad was showing me was the tradition of Europe. In the U. S. we'd all come to believe that wine must be good if it's 100% of the variety, on its own. But you can break those rules," Chuck said.
John and I met Chuck in 2012 at the 15th Annual Gold Coast Classic, where he was honored for his contributions to the American wine industry, and we were honored for our contribution to wine education. The honors were presented by New York Institute of Technology and Quarterly Review of Wines. We were newbies to the awards scene and went to his table, awed to meet him. We shouldn't have been nervous. He was sweet and humble. Winemakers are the nicest people. Here's to the Wagners making wine for generations to come!
Dorothy J. Gaiter conceived and wrote The Wall Street Journal's wine column, "Tastings," from 1998 to 2010 with her husband, John Brecher. She has been tasting and studying wine since 1973. She has had a distinguished career in journalism as a reporter, editor, columnist and editorial writer at The Miami Herald and The New York Times as well as at The Journal.
As of publication Caymus Cabernet Sauvignon 2014 is available at Grape Collective in NY for $89.99 with a 15% discount as part of a mixed case.