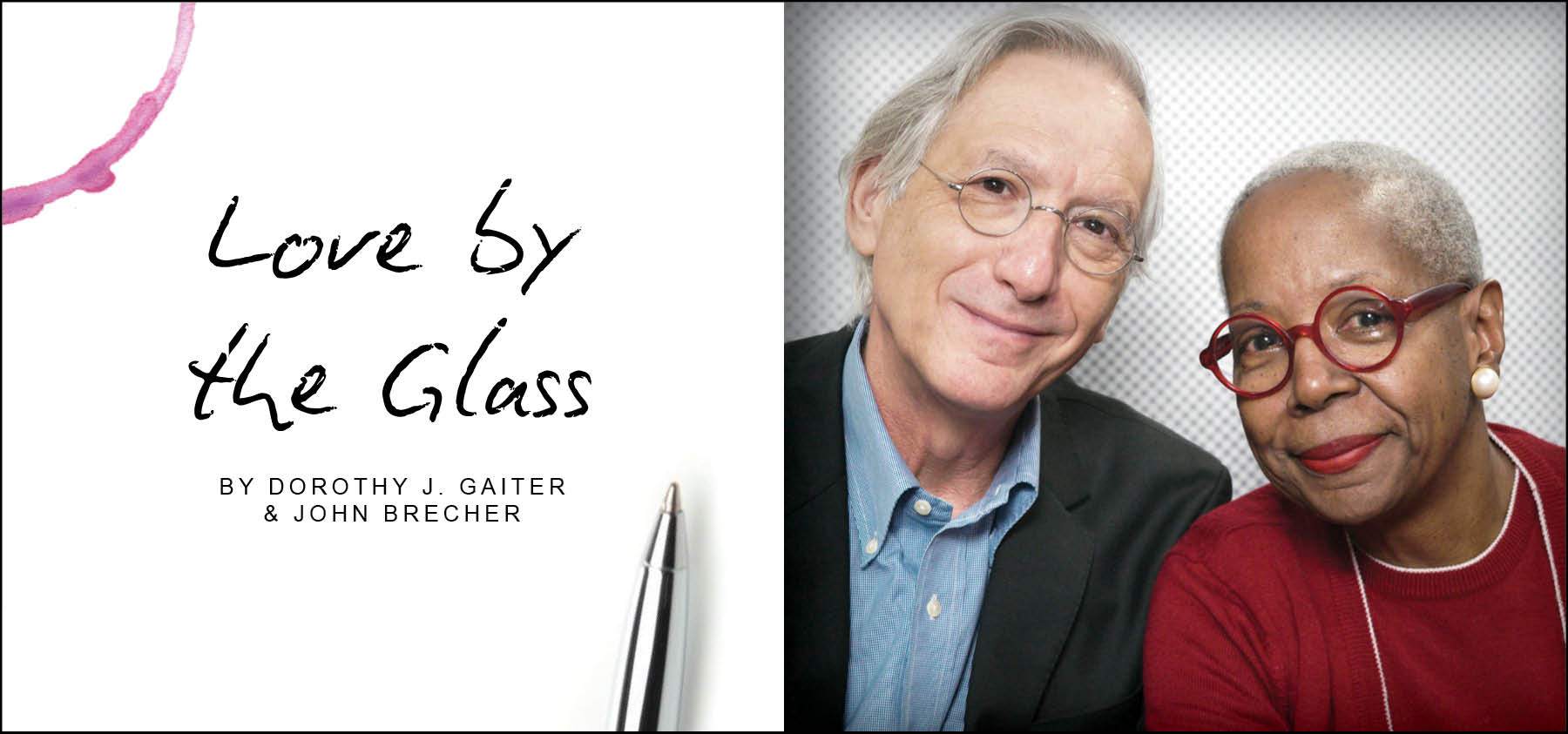 Many cultures have rituals of giving thanks with traditional foods and libations. We like to drink American wines with the feasts that celebrate our version, Thanksgiving. We think a Cabernet Sauvignon with some age on it is perfect because it complements the meal and doesn't seem like yet another dish. But we realize most people don't have a wine like that at home and, even if they did at some point, they might not anymore after raiding the cellar over the past two years.
So, instead, how about a classic – just a plain old great name in Napa Valley wine? We had four on hand: Clos du Val, Freemark Abbey, Stag's Leap Wine Cellars and Staglin. We decided to open them on successive nights and drink them over several hours, both with and without food.
These are all estate-grown Cabernet Sauvignons. They have rich histories. The first three did well in the Judgment of Paris in 1976, and were sent to us by a representative of Jackson Family Wines, which owns Freemark Abbey. Staglin was founded nine years after the Judgment of Paris but is a model of consistency. The Napa Valley Vintners association sent it to Dottie to thank her for participating in the Professional Wine Writers Symposium that it supports. Each wine costs about $200, but that's less than many Napa Cabernets today and, in any event, you can actually buy these at some stores, unlike more and more newcomers that are only available to a mailing list.
So what do you get for that kind of money? In our case, great memories for one thing. We opened them in order of vintage, oldest first. Here's our report.
Staglin Family Vineyard, Rutherford, 2014. This is the only one of the four wineries we have never visited, but we feel we have because we watched the remake of "The Parent Trap," which was filmed there, so many times we know it by heart ("You how about Annie?" "I am Annie!"). We also associate Staglin with Atlanta because we had its 1995 Cabernet at the Horseradish Grill there in 1998 and it was "a massive, deep, dark, rich, chewy red wine, with a surprisingly restrained finish."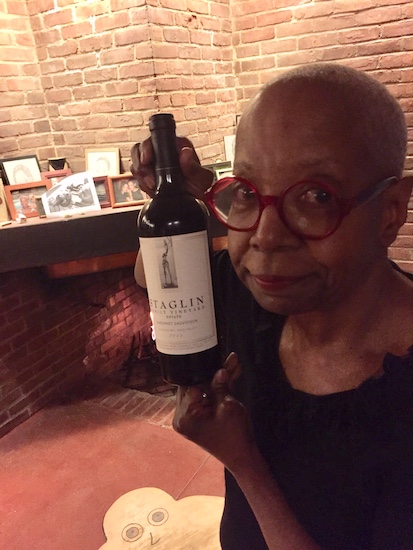 Clearly, Staglin hasn't lost a step. The 2014 was stunning. We drank it over three hours. "Sumptuous nose," we wrote. "Very satisfying. Rich fruit. Dry. Concentrated. Beautiful. Precise yet also rich. Complete." It became more explosive after about 30 minutes, with nicely firm tannins adding tension and lovely cedar. Neither the oak nor the alcohol (14.9%) was ascendant, just part of the package.
About an hour after opening, the wine became more majestic, with tremendous elegance and structure. It reminded us of fine Bordeaux. Then it slowly added some chocolate and more spice as we drank it with dinner – Dottie's herb-rich chicken schnitzel with creamy mustard sauce. The last sips offered some black olives. The tongue-staining finish was so long we feel we tasted it for a full day.
We were glad we had not decanted this wine. As we wrote: "If we'd decanted we wouldn't know how we got to where we are." On our personal rating scale, which ranges from Yech to the rare Delicious! with an exclamation point, our Staglin at the Horseradish Grill was Delicious. This was Delicious!
We discussed if we'd give the advice to drink this now or hold it. While it's obviously going to age nicely, we'd either drink it now or wait five years. We're just not sure it would be more stunning in a year or two.
We waited until we'd had the wine before we read the tech sheet and discovered that it is 81% Cabernet Sauvignon, 13% Cabernet Franc, and 6% Petit Verdot. With those significant quantities of Franc and Petit Verdot, the wine was a seamless, well-integrated and conceived whole. "This was made by someone with real vision," Dottie said. That would be the Staglin family, Shari and Garen and their offspring Shannon and Brandon, who founded the winery in 1985. Fredrik Johansson is the winemaker. Wine has been made on the Rutherford Bench property since the mid 1860s. Prior to the Staglins' purchase, André Tchelistcheff had overseen the planting of grapes there for Beaulieu Vineyards's storied Georges de Latour Private Reserve label. The 2014 Staglin appears to be available at a number of stores for an average of about $275.
Clos du Val Wine Co. Estate Hirondelle Vineyard, Stags Leap District, 2016. When we were young, we savored Clos du Val for its combination of California power and French-like elegance. In 1984, we declared one bottle from the great vintage of 1974 "Wonderful!" Our notes say it was "deep red, almost black. Big, powerful, extremely peppery. Lots of wood, chewy, but not overpowering because of a nice clean, warm, smooth finish. One of the greatest '74s, with power and finesse."
Our notes on the 2016 are somewhat similar. "Black color. Lots of minerals, blackberries, herbs, eucalyptus." As it opened a bit, it got some chocolate and cream that we attributed to oak. Over hours, both with and without Dottie's brisket, it did not change much. We wrote: "Not really as elegant and complete as we had expected but still interesting and complex." This definitely needs some years.
When we read the winery's notes later, we learned it was aged for 21 months in 100% new French oak and we thought perhaps that had tamped down the expression of fruit somewhat at this young age. We guessed it had at least a dollop of Petite Verdot, but it's 100% Cabernet.
Clos du Val was founded in 1972 by Bordeaux lovers Henrietta and John Goelet, whose family had ties to Bordeaux wine merchants Barton & Guestier. The couple hired French winemaker Bernard Portet to find the ideal location for their vineyard and to make their wine. His father was technical director at Château Lafite. Portet retired in 2001 but remains an adviser and Clos du Val board member. The founders' grandson, Olav Goelet, owns the winery now and hired a new winemaker, Carmel Greenberg, in June.
Hirondelle is its flagship wine and the winery says it is $120, but it appears to be available for $90 or less. If you are thinking about a gift for your wine-loving friend with a cellar, if you can find it for the lower price, give this with a note attached that says "Open in 2026 and thank me then."
Freemark Abbey Winery Sycamore Vineyard, Rutherford, 2017. Way back in 2002, we wrote that Freemark Abbey was one of the best wineries to visit in Napa. We said: "We were so enthusiastic about the wines at this old standby that the man behind the counter kept opening new ones to compare. When he suggested that we pair Viognier with gorgonzola cheese, he just seemed to float away -- just the kind of experience we love in a tasting room."
Now that we've tasted the 2017, that seems even more apt because this was such an awesome food wine. When we opened it, it looked young and fresh, like blackberry or black cherry juice. It had those fruits on the nose, too, along with some minerals. "It smells like it's going to be more giving than the first two," Dottie said, and she was right. It was filled with fruit, good tannins, integrated oak and a bit of bittersweet chocolate, but – even with all of that – had a medium weight that created elegance. "There's layers and layers of stuff in here," Dottie said. We picked up basil and rosemary, which made John say: "Stuffing!" It's hard to imagine a wine that would be better with Thanksgiving dinner. "This cries out for food," Dottie said, and, indeed, with her pork with capers and green olives, it was a weep-worthy pairing.
As we continued to drink, the finish became dryer and dryer "like it's vacuuming my mouth," Dottie said. It picked up some anise and crushed lavender. Two hours after opening, the wine had more black olives and lean tannins. It was beautiful and ready to drink now, although it should age beautifully. There's nothing obvious about this wine, which is 88% Cabernet Sauvignon, 4% Petit Verdot, 5% Cabernet Franc and 3% Merlot. It costs about $175.
Freemark Abbey has a long history and has gone through several ownership changes over the 135 years of wine production on the site. Since 2006, it has been part of the burgeoning portfolio of Jackson Family Wines, which has a way of maintaining the integrity of classics like Freemark Abbey while creating impressive new wines. The winemaker at Freemark Abbey is Kristy Melton; the winemaker emeritus is Ted Edwards, who was director of winemaking for 40 years, until 2020.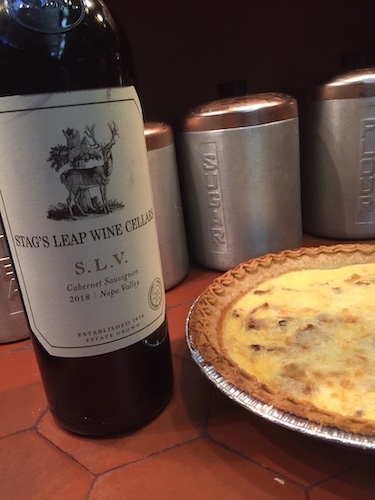 Stag's Leap Wine Cellars S.L.V., Stags Leap District, 2018. We drank the '79 vintage in 1993 and declared it "Delicious." We marveled at its life cycle as it seemed a little tired, then powerful, then so filled with fruit that it seemed like dessert. Just last year, one week before the world was shut down, Warren Winiarski, who founded this winery with his late wife, Barbara, in 1970, gave us a bottle of the 2014, which we drank right away as the sun set over Napa. (We were there to celebrate the donation of our papers to the Warren Winiarski Wine Writers Collection at the University of California at Davis.) So, yeah, we have some history here. Winiarski's 1973 S.L.V. won the Judgment's red wine competition. Stag's Leap Wine Cellars is now owned by Sycamore Partners, a New York-based private equity firm, and the legendary Italian wine company Marchesi Antinori.
The 2018 had a deep, rich, color, like it was wearing a majestic robe. The nose was filled with minerals, lavender, spice, slate and blueberries. It had ample fruit, but was nicely taut and those minerals led the way, from nose to finish. In about an hour, it became more angular, with its fruit tightly held in check, which gave it some exciting tension. "Gorgeous, classy wine," we wrote.
After two hours, our Zoë, who was visiting, served dinner she had made: Quiche Lorraine. The quiche brought out even more of the wine's fruit. And then, fully four hours after we opened the wine, it became quite taut again and filled with minerality. Extraordinary.
When we looked back on our notes on the 2014, they were remarkably similar. As it happens, head winemaker Marcus Notaro took over in 2013. It's clear he has a consistent vision and is able to capture it.
This wine, which is 100% Cabernet, costs about $195. It would age well for a long time.
Our only regret after this tasting is that we can't go back and have all four against each other in one sitting. They were so different and yet had so much in common. One big-picture thing: Every winery says today it lets the vineyard do the talking, but too often we hear the winemaker instead; in these, we really could taste the place. One small-picture thing: In every case, at some point late in the night we picked up strong black olives that weren't as clear earlier; we don't know why, but it's cool.
Sometimes classics lose their way. But it's wonderful when some do not, or if they do they recognize it and find their way back. It's a good thing to know that, at least in some cases in Napa, classics remain classics.
Dorothy J. Gaiter and John Brecher conceived and wrote The Wall Street Journal's wine column, "Tastings," from 1998 to 2010. Dorothy and John have been tasting and studying wine since 1973. In 2020, the University of California at Davis added their papers to the Warren Winiarski Wine Writers Collection in its library, which also includes the work of Hugh Johnson and Jancis Robinson. Dottie has had a distinguished career in journalism as a reporter, editor, columnist and editorial writer at The Miami Herald, The New York Times, and at The Journal. John was Page One Editor of The Journal, City Editor of The Miami Herald and a senior editor at Bloomberg News. They are well-known from their books and many television appearances, especially on Martha Stewart's show, and as the creators of the annual, international "Open That Bottle Night" celebration of wine and friendship. The first bottle they shared was André Cold Duck. They have two daughters.
Banner by Piers Parlett