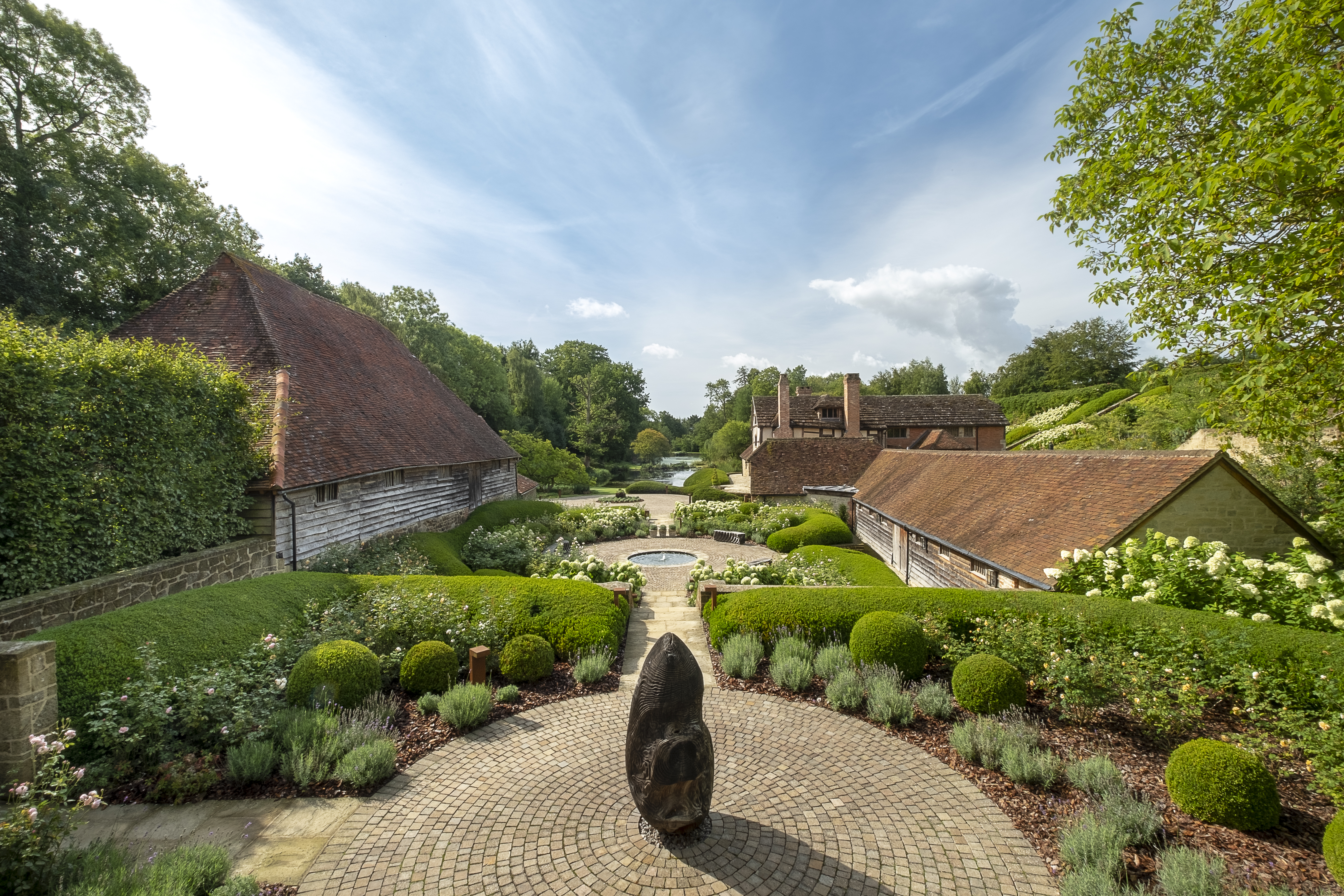 Nyetimber winery, situated in the rural heart of southern England, is considered one of the country's top producers of traditional method sparkling wine; often lauded by wine critics like Jancis Robinson who said, in a 2016 article on her website that Nyetimber can now "take on Krug." Thirty five years ago it wouldn't have been possible to make wine of this caliber in England—the weather was simply too cold. But today, due to the effects of climate change and rising temperatures, England has become a part of the world's wine conversation, particularly when it comes to sparkling wine.
Nyetimber was founded in the late 1980s by an American couple, Stuart and Sandy Moss, who fell in love with the property and its country manor, a spectacular oak-timbered mansion dating back to the Domesday Book of 1086 (photo above courtesy of Nyetimber). The Mosses were the first in England to plant classic Champagne grapes, Pinot Noir, Chardonnay and Pinot Meunier, despite the locals who insisted it would be a much better idea to grow apples on the property. But the couple was not deterred and their persistence paid off when their first vintage, the 1992 Nyetimber Blanc de Blancs, placed first out of 42 English sparkling wines in a blind tasting.
The Mosses eventually returned to the United States, and since 2006 Nyetimber has been owned by Eric Hereema, a passionate Dutch wine connoisseur who expanded the vineyard area from 16 to 150 hectares, and hired Canadian-born winemakers Cherie Spriggs and Brad Greatrix (photo below courtesy of Nyetimber). "The three of us really do share a belief that south of England is the most exciting place in the world to be making traditional method sparkling wine," says Greatrix.
Zooming from across the pond, Grape Collective talked with Greatrix about the challenges and joys of producing fine wine in a climate that's not for the "fainthearted."
Lisa Denning: Can you tell me a brief history of Nyetimber winery?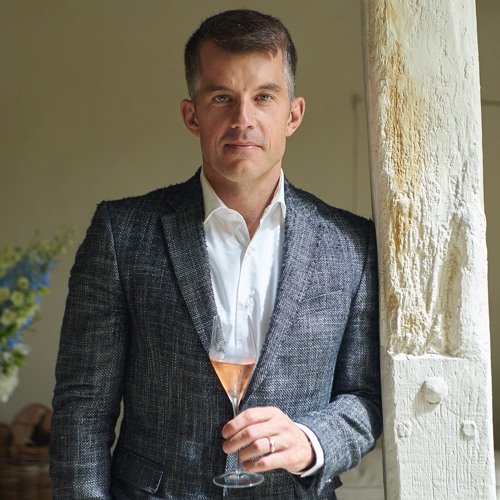 Brad Greatrix: Nyetimber, the wine, takes its name after Nyetimber, the estate, a property in West Sussex in the southern part of England, just over halfway between London and the South Coast. And the Nyetimber estate was in written records as far back as 1086. Nyetimber back then, meant new wood or newly timbered.
But as a vineyard, the history is much more recent. I have to jump forward basically 900 years to 1988. It was an American couple, Stuart and Sandy Moss from Chicago who owned the property at the time and had the idea to plant Chardonnay, Pinot Noir and Pinot Meunier to produce traditional method sparkling wine. And that focus was a real pioneering move and had not been done before in England. They'd done their work on climate, on soils, etc., and they knew that it would work, against a strong, strong headwind of opposition. People were saying, "Chardonnay's not going to ripen; it's never going to work." But the first vintage that the Mosses produced was in 1992, a blanc de blancs, released about four years later in 1996 and went straight away into critical acclaim with a gold medal at an international wine show. The follow-on vintage, the '93 released in '97 went one better and even won a trophy for best bottle fermented sparkling wine internationally. And so it showed, I think, that there's a pedigree and equality and something special about producing wines in the south of England.
I joined about 14, 15 years later in 2007 with my wife, Cherie Spriggs, she's the head winemaker at Nyetimber and together we make all the wines and oversee the production. And a key jump forward, I think, for Nyetimber, and one of the reasons that compelled us to join was that in 2006, one year prior to us starting, it was taken over by a man named Eric Hereema, who is as passionate about wine as anybody that I know. And I realized the wine industry is full of passionate people. I don't use that claim lightly, but he was the one that could really see the untapped potential, I would say, in Nyetimber and in English sparkling wine. And the three of us really do share a belief that the south of England is the most exciting place in the world to be making traditional method sparkling wine.
He comes from a very different background. How did he decide he wanted to get into wine?
He's loved wine for all of his adult life. He trained as a lawyer and worked in other fields, but always had this dream of being a wine producer. He's originally from the Netherlands, but was living in the UK for a long time prior to purchasing Nyetimber. He bought a house in the West Sussex countryside that had some land on it, and he had heard about English sparkling wine and actually started planting some vines on his property. It was small, five or six hectares of vineyard land, and he started thinking, "Okay, I think English sparkling wine could have a great future. This is my moment." But at the time that he was thinking to grow his own brand, he realized that Nyetimber had come up for sale and there was a perfect opportunity, not only the pedigree and proven track record, but also as an established name with routes to the market and things like that. So that's how he got his foot in the door.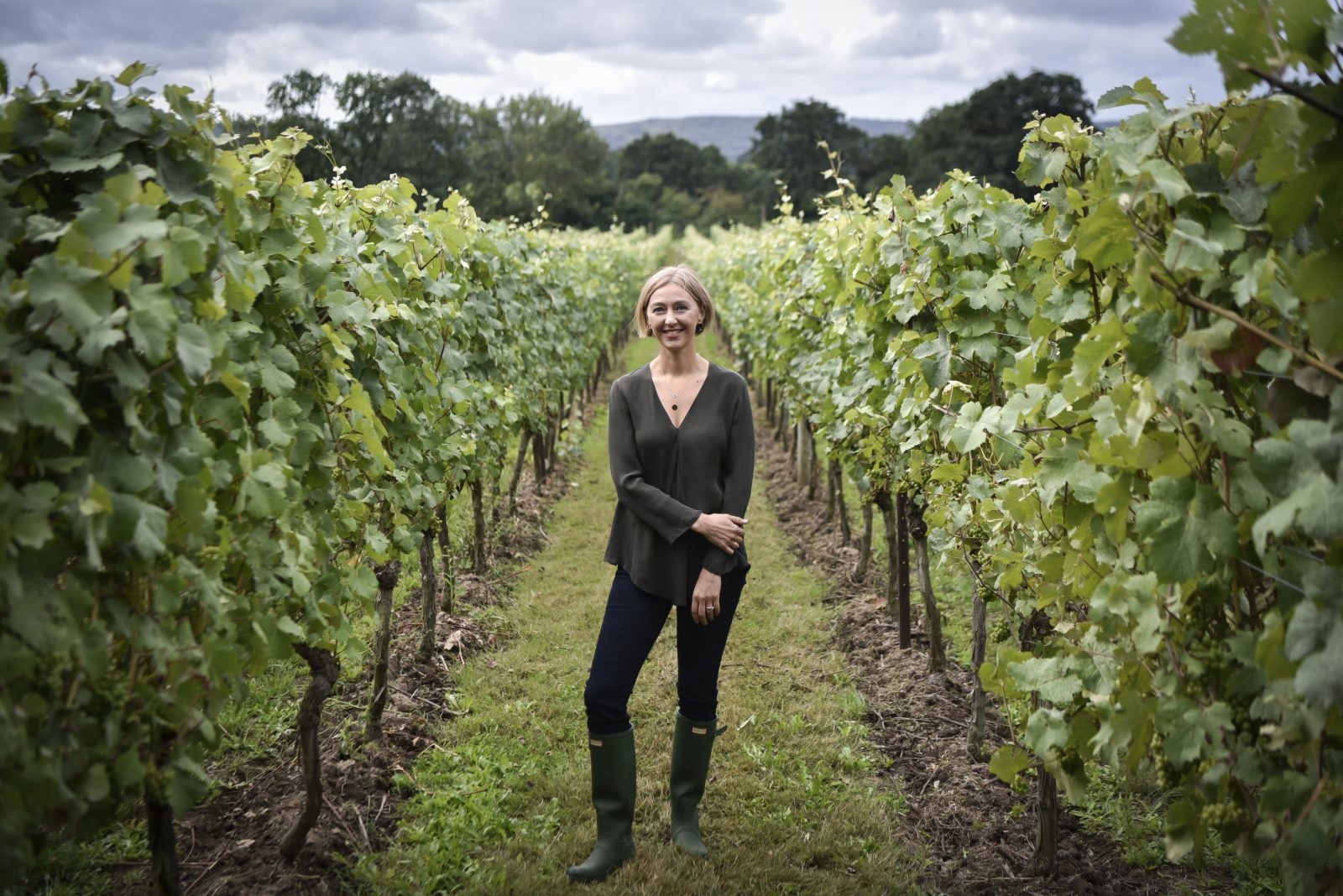 You and Cherie are Canadians. What was your background before you ended up in England?
We met as biochemistry undergraduates in Canada, thinking that we were going to probably end up in some sort of biochemistry related field, but we both loved wine on the private side. I don't quite know how to phrase it, but we were interested in wine. And on a trip to Europe, we had a chance to visit Burgundy to taste some wines, and it happened to be, by good fortune, September, so harvest was underway.
And we got the bug and it was around the time that we were thinking about grad school. So went back to Canada and shifted around our plans a little bit, ended up doing master's degrees at a wine research center in Vancouver at the University of British Columbia. That's a very academic setting, lab coats, one liter fermentations, yeast trials, and talking to other people in lab coats about their experiments. Not really the purple hands passionate stuff. So we moved to Australia, trained properly in oenology there. I mean, there the lecture theater is filled with students that have purple hands because they've been out in the fields during the day or in the winery. The idea always being "We'll end up back in Canada," just lazy thinking that we're Canadian, we'll probably end up making wine in Canada.
But we wanted to do something special. We wanted to be involved in a special project. So after all the academic studies, we set off on this self-imposed internship, traveling around the world working for winemakers. You can only learn so much about winemaking by reading. You can't read when to pick or how to put together a blend. You have to just do it, you have to taste. And so we set off on this self-imposed internship working for winemakers that we admire in a few places around the world. And at the time we thought, "Okay, we've done what we need. We're ready."
We were looking for interesting opportunities in Canada and were bumping our heads up against the wall with people who want to grow Cabernet Sauvignon next to Pinot Blanc and they'll both sell for 18 bucks a bottle or something like that. And they'll be fine and they sell out. So no discredit to them, but not really exciting for us. And I said to Cherie, one night as we were out for walk, "What would your dream job be? Maybe we're barking up the wrong tree here." And she remembered having tasted a bottle of Nyetimber some years prior and said, "Sparkling wine in England. That's it. Let's get in touch with Nyetimber."
And to make a long story short, it was perfect opportunity. The window was open just at the moment that we happen to be looking. And it was less than three weeks from that conversation to our first day at work. So we were living on the west coast of Canada and had been traveling all around the world so often so we were pretty nimble, lots of things already in boxes just needed address labels and away we went.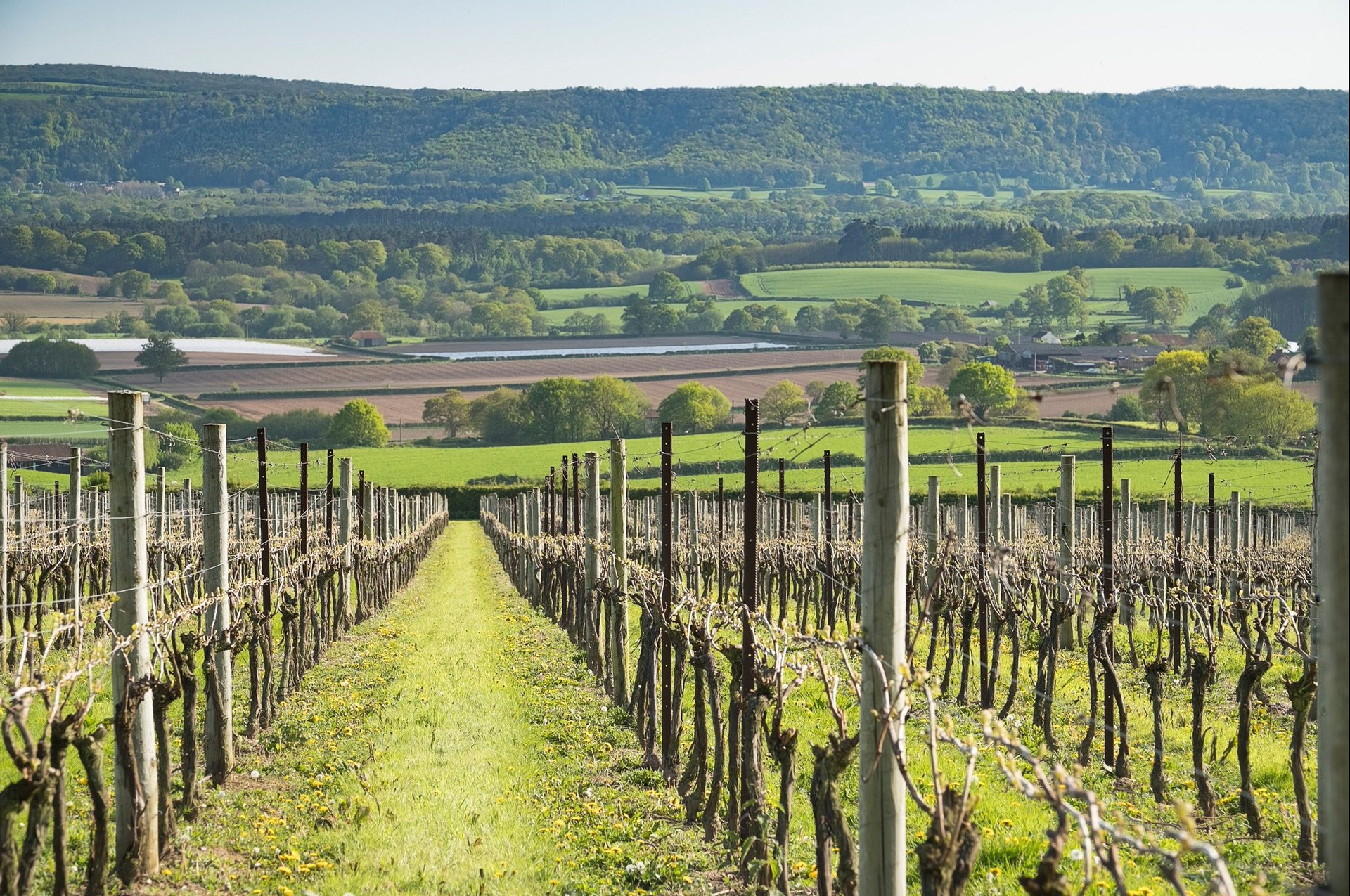 Can you tell me about the terroir of southern England where your vineyards are?
It's an interesting topic, terroir, because there's sort of a cool climate blanket, I would say, that stretches across the south of England but it's very marginal but very, very cool. And so site selection is really important; getting places that are sheltered. There's a risk in England that your site can be too cold. Where everywhere else in the world, it's trendy to go up and up and up in elevation, some South American stuff you see on the back label says "800 meters above sea level" as a positive. In England, the lower you are above sea level, the better it is. So generally a favorable climate across the south of the country, but you have to look for little nooks where you've got that low elevation and that shelter.
And then making the story even more complicated is there aren't big squats of uniform soil. It's quite fragmented amongst sand, clay, loam, chalk. And our approach, one of the key elements of our quality story at Nyetimber, is the fact that we own all of our own vineyards. We have 11 sites that we own and run, and all of our wines come from 100% our own vineyards. And so the reason we have 11 and not one nice big rectangle is because we're looking for little pockets that tick all of those boxes. So thinking of terroir in the holistic sense of not just what's under your feet, but also the prevailing wind direction, the shelter, the temperature of the rainfall, the rain shadows all those things, frost, cross risk, all those things factor in.
So you've picked out these little pockets of land that might have less rain and the weather isn't quite as cool as other places?
Exactly. A little bit more calm, a little bit more still. We're also exclusively on two of those soil types that I mentioned, chalk and green sand, both of which are mineral rich and free draining. It does rain once or twice in England and vines, at least the varieties that we grow, don't like to have wet feet, I would say, so we chose those soils for a lot of reasons, but a practical one is they're free draining so the roots can stay dry.
And what have you noticed as far as climate change since you've been there and has it affected your winemaking?
Incredible variability is the biggest challenge for us. So for what I imagine the wider story is, especially for those people overseas that are just hearing about English sparkling wine, the punchline is climate change means it's warm enough to make wine in England. And over a long enough time span, it's true that the average temperature is climbing. But the weather that's feeding into that warming tends to be more in the winter. So we're having warmer winters now than historically. So the average annual temperature is going up, but not in a useful way in terms of grape ripening.
And the other thing is this tremendous variability that we have with frost much more often from one season to the next. And the degrees difference in the growing season temperature, which is enormous. Rainfall, frost, are perennial problems. So this is Cherie and my 15th harvest at Nyetimber; the first five or six harvests we hardly talked about spring frost, but now it's almost an annual thing. The most severe years of frost are linked back to those warm winters. Because we don't have snow and freezing conditions, the soil never really gets super cold. And if you have a warm winter, you're vulnerable then to bud bursting in late March or early April. And the end of the frost risk period we say is around the third week of May. So imagine going from the end of March to basically two months of all you need is one evening where the temperature dips below zero, and you're back to square one for the growing season.
So that's a real challenge for us. Viticulture over here is not for the fainthearted. But the thing is that the vines do well when they struggle. Not that they like to struggle, but if you can overcome the struggle, the results are usually good. And cool climate, what I think makes English sparkling wine particularly distinctive is the long growing season that we have, because the winters are mild, which means bud burst starts fairly early, but it's cool. And so we end up with early April bud burst and harvesting at the beginning of October, still at classic sparkling wine technical ripeness. So 10% potential alcohol at 15 grams of acidity, pH around 3.00. Dream numbers for a sparkling winemaker, but achieved over such a long period, meaning all those gentle, elegant, fine-boned flavors can accumulate and persist in the grapes. They're not cooked out by an August harvest.
Right. So with all these different risks that you face each year, I would imagine some years are worse than others, but is your yield each year very different?
Yeah, one of the questions I get asked sometimes, "How much wine does Nyetimber make?" And then the answer is, "It depends," because as an extreme example, we even have a zero on our scorecard. In 2012, it was too wet and too cold and we didn't make any wine. We had a crop, but we sacrificed a large number of bottles, because we just decided that the quality wasn't high enough for what we strive for. And the thing is, sparkling wine—especially doing it properly with the years of aging—those wines would be on the market five, six years later. And no one's even going to remember how bad 2012 was, let alone say, "Well, it was a tough year and I don't really like this, but they tried hard." They'll just say, "Oh, wow. English sparkling wine isn't very good," and maybe never come back. Our owner, Eric Hereema, he's the one who said, "No, if it's not good enough, if it doesn't meet the quality criteria, then we won't turn it into wine." So we skipped an entire year.
Wow. So what's your usual, average production?
So because we've because we've been growing, our production is growing. But to give a sense, our last three years have been around 1 million bottles at Nyetimber. So whatever that is, 160 thousand six-bottle cases.
Can you tell me what kind of sustainability efforts are in place at Nyetimber and is organic farming something that could be attained or is that just too difficult with the risk of rot due to the climate?
So sustainability-wise, we do a lot. We were even founding members of the SWGB, Sustainable Wines of Great Britain Association. So we've, in collaboration with other producers, set out measures. In the vineyard and in the winery, there's an audit and a whole accreditation process. We go quite far down that path.
So there's the classic stuff like photovoltaic energy facilities, rainwater recovery, and recycling groundwater, ground source heat pumps. We also do things like in the winter months we use sheep to maintain the fields. Because we don't have snow, because it doesn't freeze, grass still grows in the winter and weeds still grow in the winter. So the classic model is to go through with a mower and trim it all down. But we use sheep instead, it's a bit of a handshake deal with a local farmer. They get to give their fields a rest and the sheep do all the mowing for us. Lots of modeling on climate stuff. So we treat only when we have to treat, and we have reprocessing treatment for any sort of sprays or residue that we are using so it is all contained and processed appropriately. And we were a very early adopter of the lightweight bottles, 835 grams versus 905 which is the classic sparkling wine in the conventional shape and size, which is a big impact, and transport is a huge part of a winery's footprint.
Organics is more difficult. There are some producers who are wholly organic and we have had, for a decade or so, maintained a portion of our vineyards cultivated organically, and lately using biodynamic principles as well. Never down the certification route, but just as a way to learn and see what we can do to improve. Unfortunately, the transition from organics to biodynamics was brought about because when we made comparisons to conventionally cultured blends with the organic ones, where they were matched for soil type and variety, the organic ones never came out as well from a quality perspective. And also interestingly, our soil analysis shows less favorable soil conditions in the organically cultivated plots. So we moved away from that and switched to biodynamics, that is even more holistic. And that was showing favorable results in wine quality. But it's just too difficult. The disease pressure in the mildew is just too high. But I think that goes beyond even England, I think in France, they're struggling as well.
Can you tell me about your classic Cuvée NV? Is it made in "house style" and what is your house style?
So it is. It's a really important wine for us because it does the job of first impressions most of the time. If people are trying Nyetimber for the first time, it's the classic Cuvée that they're usually first tasting. It was Cherie and I working together with Eric that actually made the conversion of classic Cuvée from a vintage wine. So from 1992 until 2010 inclusive, classic Cuvée was made as a single vintage wine. But the expectation from sommeliers, wine shops, even consumers, who I guess, cut their teeth in fine sparkling wine in Champagne, that makes sense. That's true for Cherie and I as well when we were first getting into wine, where the expectation is that the main blend is consistent from one year to the next but in England, that's just not possible because of the climate variability that I mentioned. So in 2007, we started setting aside reserve wines. Not blending them, just selecting them and putting them aside in the cellar, that could be used later as blending components. And by the time we got to the 2011 harvest, we had done enough work and were confident that we had what we needed to bottle the first classic Cuvée as a multi-vintage blend and from then, that's that's how it's existed.
We have a style that we aim for with our wines and because of the variability from one season to the next, we don't have a recipe and everything is done by taste. Sometimes the results are surprising where Chardonnay can jump by 20% from one year to the next in the classic cuvée but the result is consistency.
And we aren't so precious as to claim that it is exactly the same from one bottling to next. I literally don't think that's possible even in other climates because of the wines coming naturally from different seasons one batch to the next, and have a year difference in bottle age, etc. But we do blend them as best as possible to have this thread of consistency through. And our style, I think what makes Nyetimber distinctive is the lovely combination of intensity and delicacy. And it comes back to the cool, long growing season that we can have flavor complexity, but without the weight and the broad shoulders that come along with that. So you can have very fine bone, but also very complex sparkling wines.
Jancis Robinson once said that your wines can "take on Krug,"—that they have the ability to stand up to the best Champagne. What's your feeling about how English bubbly can measure up to what people consider the pinnacle of sparkling wines?
I really do think southern England is the most exciting place to be making this style of sparkling wine in the world. Just that long growing season, the climate, the sights and the soils that we have access to. To be honest, though, Cherie and I spend very little time thinking about Champagne or talking about Champagne when we're working on Nyetimber wines. It's really important to us to make distinctive wines. And one of the best ways that we can do that is using the estate grown fruit and showing off the vineyards in our wines. Unless somebody buys the vineyards from us, they'll never be able to copy our wines. So, I mean, everybody understands what it means. If you say, it's the Krug of England or Dom Perignon, those are household names at the prestige level of Champagne. And it's super flattering to be in that same breath, but we don't spend a lot of time thinking, "Can we be like them or better than them?" because you can end up down the wrong path if you're trying to chase after somebody else. We do the best that we can, and it's great to get compliments like Janice gave.
Now the challenge is getting the word out about English sparkling wines. For the average consumer, it's definitely a hand sell at the wine store or in a restaurant.
Yeah. I think it's a real challenge. It's one that we're confronted with now. I mean, we face it in the UK as well. London is one of the sparkling wine consumer capitals of the world. That's a great benefit of being so close and producing sparkling wine. But there's only a little bit—not very much and not as strong as people imagine—patriotic support for English sparkling wine.
The real way that we win people over is getting them to taste it. Once people taste it, they get it. They understand. The first bottle is the hardest one to sell. And then 2, 3, 4, 5, 6, normally follow on fairly easily after that. So in the UK, we did a lot of events, not just sponsorships with billboards, but actually shows and events where we're physically there with glasses of wine that people could try. And that was very successful for us. It's still a slow burn still years and years and years to escape beyond the real wine lover communities, sommeliers and collectors, and out into the everyday drinkers, which represent 99% of wine sales probably. But we can't follow that same model on the export track. We'd sample away all of our stock and have nothing to sell, for example, in the U.S. So it is a real challenge, but I think the one thing that we have going for us is that behind it there is a quality story. And I think not just for Nyetimber but there are other very quality-focused English sparkling wine producers and I think if we can stick to that story and have people taste it and have people taste it that could that can talk about it, hopefully we can pique the interest. We seem to be interesting enough, maybe because it's surprising that there are wines like this coming from a country like England that people don't imagine culturally to make wine, that we get more airtime than probably we ought to for the amount of bottles that we produce as a country.
Can you tell me about your top wine, the 1086?
The 1086 is our Prestige Cuvée. I hate the term but I think most people will know what it means when I say that. So it's kind of a a natural extension of a philosophy Cherie and I brought to Nyetimber, which is to show off our vineyards as the way to make the most distinctive wines. Right from the beginning, we were spending a lot of time in the vineyards tasting grapes, getting to understand the fields and the plots and what they provide and the different nuances. We only grow three grape varieties: Chardonnay, Pinot Noir, and Pinot Meunier. All three of them are featured in 1086.
So while getting to know our vineyards and plots Cherie and I were out in the fields a lot tasting the grapes, and our sparkling wine consultant, when we first started, who's from Champagne, told us, "No, no, no. You make sparkling wine, you don't taste grapes. You measure the acidity and the sugar and you pick when the numbers are right. And that's just not how we operate at all. Cherie and I started as scientists, biochemistry students, but all of Cherie's and my decisions come down to taste. What does the wine taste like? How does it feel? We don't get surprised later on how things turn out because we're tasting it all along. We are never more than an arm's length away from the wines, so to speak.
So we were out in the fields tasting the grapes and any set of vines—sometimes it was an entire block, sometimes it was a portion of a block—that gave us a distinctive characteristic, something about the flavor, the texture or the length, we would harvest that separately so what we quickly built up from each harvest were more and more of these distinctive base wines and we realized that, overall, the quality was very high but within that, looking at these little slivers of components, were some absolute gems. And 1086 came about as an idea of making a bottling of those 'best of the best.' So we may make a hundred different base wines in a season that become blending components, but what is the best Pinot Noir, the best Chardonnay, the best Pinot Meunier? And if we put them together in the right sort of proportions, that wine should sing. It should be THE wine of the the season. And that's what 1086 is, the jewels from the harvest, blended together to make our top bottling.
What year was the first vintage for 1086?
2009, which was an amazing harvest for us in England, quality-wise. We made a 2010 as well and not again until 2013. We make it around four or five out of every 10 years. Around half of the years we are able to make 1086 because of the selection criteria as well. One thing that's unusual in our approach for a Prestige Cuvée, where classically you have this block of old vines or a walled section, you always go to those and that's your Prestige Cuvée, or it's the same as your other grapes but you put them in barrels or something like that.
For us, in theory anything could become 1086 from all of our 11 sites, it's what performs the absolute best in a given season. Because the climate is right on a knife edge every year, subtle, even imperceptible, things can make one site perform better in a year. So something about the prevailing wind at just the right time perhaps, it's not from the same blocks every year because of our insistence that it be from the best of the best.
So some years you must be surprised what ends up being in the 1086.
Yes, and because of that overwhelming dogma that your Prestige Cuvée has to be from some special block you go back to every year, we thought that might be the case as well. But we know by tasting when we put the blends together and see what we think are the best components to make 1086, invariably you can't copy and paste and get the best results from year to year. A typical blend, again no recipe, but it's usually about 45/45 Pinot Noir and Chardonnay and 10% Meunier—that's sort of typically where we like and then we bottle ferment it, traditional method of course, and several years on lees. 2010 was around seven or eight years before disgorgement.
The perlage of the 1086 is so fine and delicate and persistent. It has a very elegant mouthfeel.
A confession to make is that we put zero effort into how fine our bubbles are. It's sort of a side effect of looking after things, having good fruit and trying to have as small a thumbprint on the wines in the cellar as possible. I wish I had some special trick that we were deploying. We really do look for balance, especially in the 1086.
One of the things we're selecting on when we're looking for the blend of 1086 is the balance and the length. You can't really consider flavor—I mean, yes the flavor has to be nice in the young base wines—but you can't really consider the flavors when you're tasting wines two months after harvest and trying to imagine what it will be 11 years after the harvest. But what is true almost right from the juice stage is the balance and the length and the structure. If you have a wine that has that nice, seamless balance, it tends to age well and nice flavors tend to go along with it as well, it's a sign of nicely ripened fruit.
I sampled the Nyetimber 1086 with a creamy fish and corn chowder and the combination was fabulous.
One of the things where English wine can stand out is pairings at the table. Because of that acidity which brings a brightness and a lift to a dish, but also the savory and the complex elements, particularly in the 1086, that come from the long lees aging gives it a bit of structure and power and you really can have fun with it at the table.