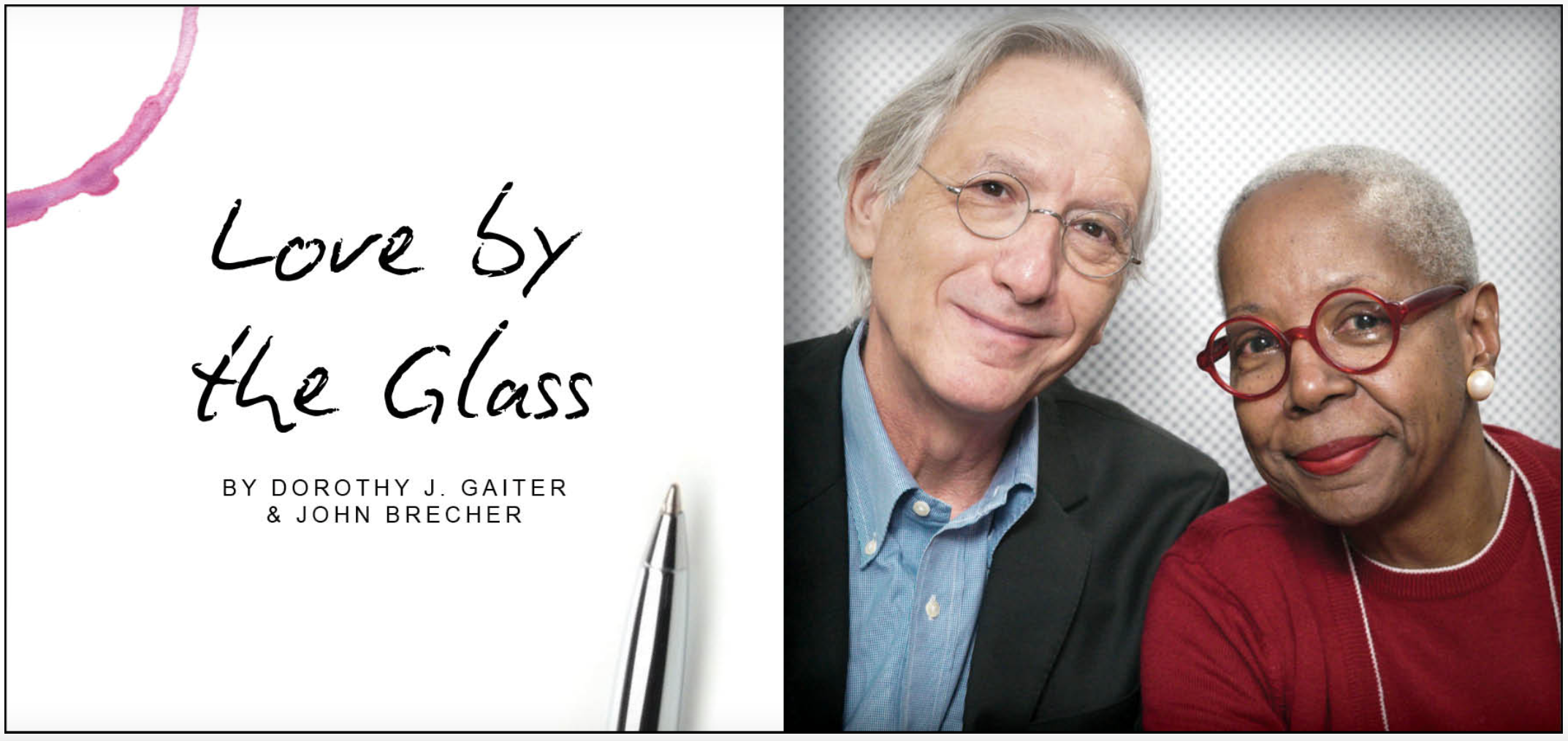 First, you must drop everything and watch this. It's just 87 seconds long.
"It's smooth."
"It's nice."
"It's got bubbles, too."
It also apparently requires two people, one on each end, to open it.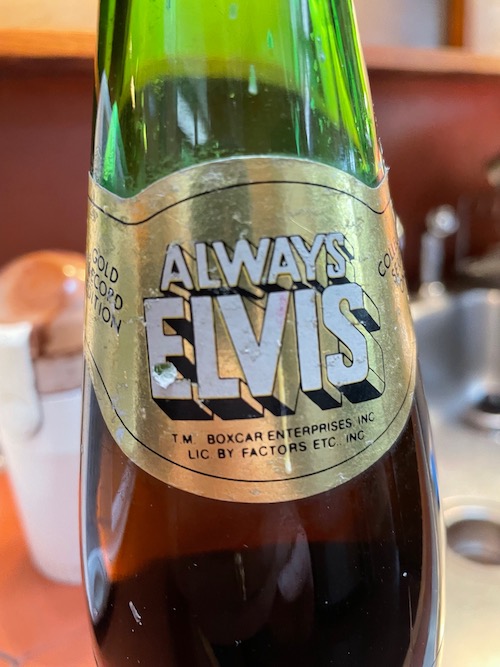 It's Always Elvis, the wine.
And, as it happens, most of our life story is in that bottle, from Miami to South Africa to Westchester, N.Y., and the Academy Awards.
Only the oldest of Miami old-timers will remember that there used to be a Grand Union on Coral Way. It was replaced long ago by a sad mall. We lived in Miami then and bought some of our wines at that Grand Union. On Jan. 3, 1980, we picked up a bottle of Always Elvis, an Italian white we carefully noted as "non-vintage," for $3.29.
It was bottled, as far as we can tell, by a Venice-based, family-owned company called Botter, for a bulk producer, Frontenac Vineyards of Italy. It was imported by International Wine & Liquor Co., of Detroit, and was 7 percent alcohol.
We were never huge Elvis fans, but the gold label – it was called "Blanc d'Oro" and "The Gold Record Edition" and "Collector Series One" – was amazing. And, on the back, there was a poem "Written for all the Fans Worldwide by The Colonel."
We will play your songs day to day
Because you never really went away.
We had been married for less than a year and were renting a small house in the Coconut Grove area of Miami. In what had been our landlord's darkroom, we stored about 50 bottles of wine in metal racks on a white shag rug. The Elvis wine went there. We didn't drink it because – actually, we have no idea why.
A few months later, around our first anniversary, we moved to New York, where the only apartment we could afford had one window and it overlooked a shaft, so all of our houseplants died. We put our wine in our bedroom and kept the air conditioning on all the time. Dottie, who likes warmth, complained of the cold and was constantly sick. John's mother lobbied him to heed his wife's complaints, but the wines were happy. That's where Elvis resided.
In 1984, we moved back to Miami to lend our abilities, as journalists, to help put the city back together after rioting, drug violence and official corruption had frayed it. We hated leaving New York, but, as a consolation, had a wine room built in our 1926 Spanish-style house with 990 spaces for bottles (we could hope). One of them was Elvis, who now had made a round trip.
Six years later, we moved back to New York City, where we kept our wine in a custom-made cellar that had been the costume closet of a famous opera singer. It had a moderate, fairly constant temperature. Elvis had made a second round trip.
He sat there for a decade. And then one day Dottie's cousin, Jon, called to say we simply must come buy a house in the historic neighborhood where he and his wife had a place. We rolled our eyes, but we rented a car and all of us, including Media and Zoë, fell in love at first glance. We made the biggest purchase of our lives before we went inside.
The house is in Westchester, less than an hour north of the city, easy to get to when there was no school. We had no idea at the time, but Kevin Zraly, the famous author of the Windows on the World Complete Wine Course, grew up down the street from our house. The late Howard Goldberg, the long-time New York Times columnist, was from the township, too. We bought a big wine cooler for our house – and into it went Always Elvis.
On Sept. 11, 2001, terrorists destroyed the World Trade Center across the street from our office while we were voting uptown. One of our very best wine-drinking buddies was killed. We picked our kids up from their school in Manhattan and rushed to the house. That was the first time we felt the house saved us.
The house became part of us and our columns. We spent hundreds of nights either watching the sunset from the deck or just sitting in front of the fireplace, taking notes on the wines we were having. All wines tasted better under those circumstances.
In 2020, we attended an event in Napa to honor the donation of our papers to the University of California at Davis and, as part of the event, celebrate Open That Bottle Night. John sat next to Kevin Zraly, who told us about drinking beer with his high school buddies at the end of our road. Just days later, by the time we were ready to return to Manhattan, the pandemic began in earnest in the U.S. Airlines were canceling flights. We felt lucky to get back home. But our daughters, now adults, said we must leave the city – it was too dense and wasn't safe for older people. We went directly to the house.
We did not return home for six months.
Then, John – dressed essentially in a spacesuit – went to our apartment to clean out the refrigerator and throw away all of our dead plants. At the house, we ordered food from restaurant wholesalers. Fortunately, we had plenty of wine. Many of our wines "to save" were no longer saved. Our cousin Jon who had told us about the house and with whom we celebrated our first Open That Bottle Night with a vertical of Chateau Musar from Lebanon, died suddenly last year.
But Elvis was still there.
When we visited South Africa last year, John decided to watch a movie on the 16-hour flight. "Elvis" was available, so he tried watching it, but he found Tom Hanks's accent so ridiculous that he couldn't stop laughing. That seemed like a bad idea on a full flight. Every year, we try to see all of the Oscar-nominated performances and films so when Elvis was free on a streaming service, we watched it in the city and thought it was quite good.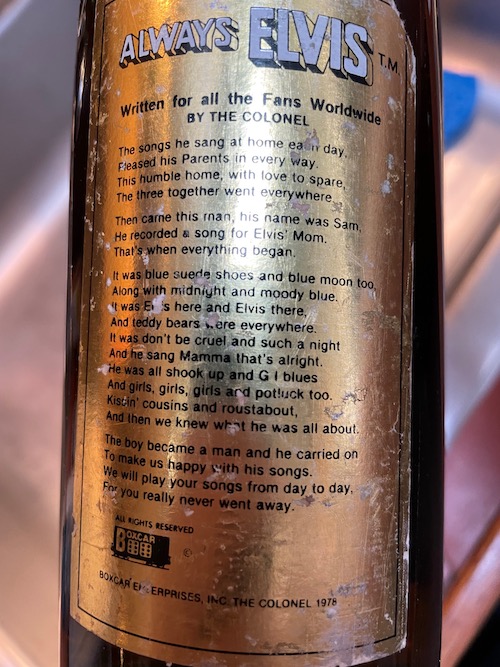 And then something struck John. The end of the movie is all about how Colonel Tom Parker ripped off Elvis. John wanted to take a look at our Elvis bottle, which we had not touched in years. Right there, on the golden front and back labels, it says "Boxcar Enterprises Inc. The Colonel 1978 and T.M. Boxcar Enterprises Inc. LIC By Factors Etc. Inc."
We Googled it. Boxcar Enterprises was set up to sell products that commercially exploited Elvis's likeness and name. Elvis, however, received a tiny fraction of the proceeds. After Presley's death in 1977, according to a record of a legal challenge, Boxcar sold the exclusive rights to use Presley's name and likeness to Factors. This became a matter of complex legal debate when a poster was printed with his likeness. All of this has been studied by law students. "Synopsis of rule of law," we read. "The death of a party does not preclude any action for the right of publicity for that person's identity."
To us, this made the bottle even more authentic, like our own little sliver of the whole drama.
We bought that wine when we were 28. We will turn 72 this year. We have no bottles that have been with us close to this long.
Keeping an apartment in the city, which is our home, and a house in the suburbs has become too much for us. We are selling the house we love. We believe we have found buyers who will cherish it as much as we have.
But we had one more task. This month, during a particularly lovely sunset, we opened our bottle of Always Elvis. We certainly didn't expect much. It was probably terrible the day it was bottled, and since then we assumed that it had turned ghastly. The fill in the green bottle was low and we could see that the wine had become golden, as happens often with older white wines. Hoping for the best, we opened it, cork intact, clinked our glasses and toasted our house.
The wine was pretty darn yucky, sweet and cider-like. And it was wonderful.
Dorothy J. Gaiter and John Brecher conceived and wrote The Wall Street Journal's wine column, "Tastings," from 1998 to 2010. Dorothy and John have been tasting and studying wine since 1973. In 2020, the University of California at Davis added their papers to the Warren Winiarski Wine Writers Collection in its library, which also includes the work of Hugh Johnson and Jancis Robinson. Dottie has had a distinguished career in journalism as a reporter, editor, columnist and editorial writer at The Miami Herald, The New York Times, and at The Journal. John was Page One Editor of The Journal, City Editor of The Miami Herald and a senior editor at Bloomberg News. They are well-known from their books and many television appearances, especially on Martha Stewart's show, and as the creators of the annual, international "Open That Bottle Night" celebration of wine and friendship. The first bottle they shared was André Cold Duck. They have two daughters.
Banner by Piers Parlett