The Friuli wine region, located in the northeastern part of Italy, is characterized by its diverse terroir, ranging from the Alpine foothills to the Adriatic Coast, which has a significant impact on the style and quality of wines produced in the region.
Friuli is known for producing some of the world's most elegant white wines, particularly those made from the native grape varieties of Friulano, Ribolla Gialla, and Malvasia Istriana. The region also produces some notable red wines, such as Refosco dal Peduncolo Rosso and Schioppettino.
The Friuli wine region is divided into several distinct subregions, each with its own unique microclimate, soil type, and grape varieties. The subregions include Collio, Colli Orientali del Friuli, Grave del Friuli, and Carso. Collio, located in the northwestern part of the region, is characterized by its hilly terrain and unique soil composition, which includes marl, sandstone, and clay. Collio is known for producing elegant white wines, particularly those made from Friulano and Ribolla Gialla, as well as complex red wines made from Merlot and Cabernet Franc.
In addition to its diverse terroir and grape varieties, the Friuli wine region is also known for its unique winemaking techniques. Many producers in the region practice skin maceration, a technique that involves leaving the grape skins in contact with the juice for an extended period to extract color, flavor, and tannins. This technique is particularly common in the production of orange wines, where the white grapes undergo skin maceration.
The Flaibani estate is located in Cividale del Friuli in the Colli Orientali del Friuli area very close to the Slovenian border. The Flaibani family have made a great commitment to biodynamics having worked closely with the of Italy's most revered practitioners of biodynamics, the Lucca based winemaker and consultant Saverio Petrilli.
The Flaibanis have three hectares of planted vineyards, all terraced and with steep slopes, that resemble a garden surrounded by six hectares of woods. They are working with vines over 100 years old with their youngest vines over 20 years. They produce less than 10,000 bottles of six different types of wine from Schioppettino, Merlot, Cabernet Franc, Friulano, and Refosco dal Peduncolo Rosso. Their wines have a vibrancy, energy and quality that validate all the passion and hard work behind them.
Christopher Barnes: Bruna, tell us a little bit about how you started making wine here.
Bruna Flaibani: I never thought in my life I would be able to be a winemaker, in fact it was very far in my mind. I found myself managing the vineyard from my husband's family and I discovered that I have inside me the ability to understand plants and to be able to work with wine. And it was an incredible surprise. And that I'm really home, although I am from Bologna, so 300 kilometers away from here. Here in Friuli, in this place in Cividale, I'm really at home.
Talk a little bit about the philosophy of viticulture and the philosophy of winemaking at the estate.
I approached viticulture without having knowledge and asking a lot of questions and observing a lot, so looking a lot at viticulture as naturally as possible. The meeting with Alex Podolinsky and with Saverio Petrilli was for me what allowed me to change, suddenly, to have a different point of view, to look at the things I do in a different way. It was then that it became almost natural all the processes I do, trying to intervene as little as possible in the vineyard and as little as possible in the cellar.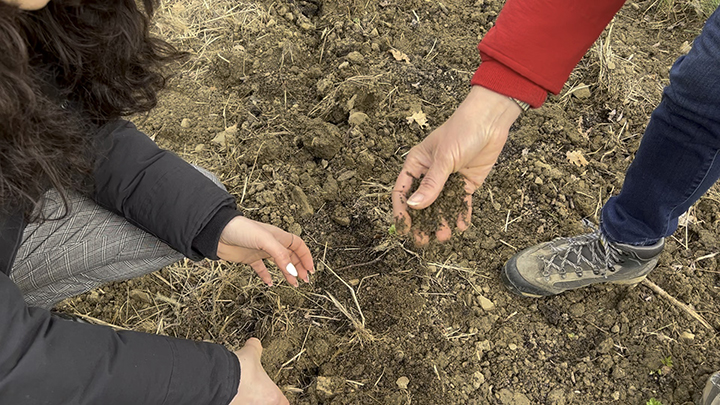 Talk a little bit about the soils and the climate that you have here.
Here we are in an area which is kissed by luck. It is a perfect area for viticulture, with soils that are in any case rich soils, even if they are heavy soils of both marl and clay. There is very high rainfall but in recent years it turned out to be a fortune because it allows us to have water when actually many are forced to irrigate. And this was still a territory that was already used in the early nineteenth century to make vineyards. So here the vineyard has always existed and we are in the perfect place to do viticulture.
Talk a little bit about the impact that biodynamics has on the wine, the sort of life that it gives it, the life that it gives the soil.
Biodynamics supports what the soil and nature would do without human intervention. Every time we go to cultivate on a soil, somehow the land becomes impoverished. Biodynamics allows us to not just enrich a land, but to try to keep its structure and vitality. If we can interpret correctly work in biodynamics, in reality what we bring to the cellar is already so alive that it is enough to simply observe the path, intervening as little as possible. You get a wine that in the bottle gives you the vitality that you find in the ground.
You have to do very little. But you have to work a lot in the vineyard. Alex Podolinsky said that we are health promoters and not curators of diseases with the biodynamics.
Do you feel there's something in the wine?
There's a liveliness to the wine that you may not see in conventional wines. It is something that goes beyond taste. I describe it as if it were a carbon paper. That is when I taste the wine, I experience the wine as an integrated experience and can feel the wine when I reflect on it moments later. This does not happen in conventional wines. You feel the acidity, the tannins, a perfume, but you don't feel all the wine. When you have to swallow a biodynamic wine you have the image of that wine in the present, even when the wine has already been swallowed for quite some time.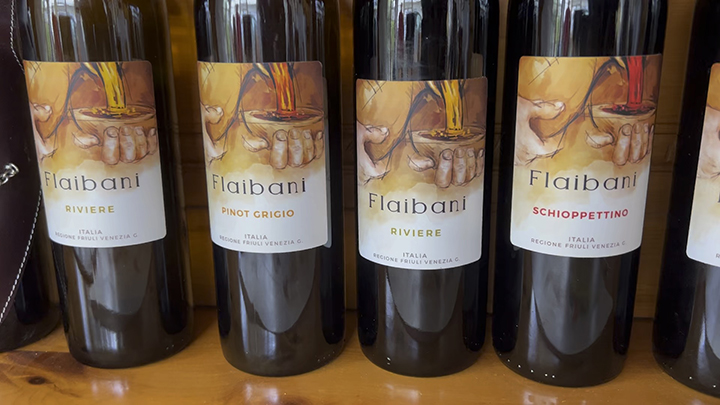 Let's talk a little bit about the specific grapes that you work with and what their characteristics are.
The Friulano is the only white wine we have in the company. It comes from old vines, from grapes of old vines of yellow Tocai with Peduncolo Rosso. It is characteristic of this area and it has scents and it has perfumes that do not resemble any other white. They are typical for this variety. Yet it has texture and is able to be tasted after a red wine.
Pinot Grigio, which is an international vine, but we found it is characteristic that with a short maceration it becomes this beautiful coppery color. With respect to the Pinot Grigio, you have delicate tannins and the scent of whites, so much to seem a white dressed in red.
The Merlot here is autochthonous, it is a vine that has been here since before the twentieth century. So here at home it manages to have this lightness and this playfulness which normally Merlot does not have. It manages to be very fresh with smooth tannins and very fragrant. In our case we put one small percentage of Bleu Francais which allows it to have even more characteristics of lightness, along with the substance which normally Merlot has.
Cabernet Franc is the real surprise, because you would expect a wine much wilder and less elegant. You actually find a very spicy and fragrant wine. Like the rest of the vineyards of the estate, they are quite old because they range from 60 to 100 years, and this allows us to have this spice. These absolutely unusual perfumes. It's an elegant Cabernet Franc and beautiful to drink.
And the last is the prince of the reds, and that is the Schioppettino. It is an autochthonous grape of this area, and very little is produced. There are also few estates that do this. It has a wonderful pepper feature which is the exact same note of pepper given by this molecule called rotundone. Schioppettino is the only vine in the world to have this concentration of rotundone and therefore of pepper. So it manages to be a spiced wine, but at the same time a wine that is also soft, fruity, with rose, violet and other types of notes. It is a unique wine which is not confused with anything else.
Talk a little bit about the size of the estate here in terms of you work basically by yourself with your family and then you have somebody come in and do some some of the vineyard work.
This is really very much a family business. The estate consists of two hectares planted and seven in total, therefore it's a very small estate, as is the norm in Friuli anyway. They are all very small estates and in each case almost three hectares. It can be very tiring because most of the activities are done by hand. There is a lot of work, especially in the summer, because it rains a lot here and the vegetation grows very much. So the help is from the family members who also have other things to do in life. The children study, my husband has another job but supports me in some ways, and my dad helps me with the activities during the day. It is a very tiring work, but it is a work that becomes light because the passion behind it is so great and it allows you to do even very tiring things, while looking at the result you want to achieve.